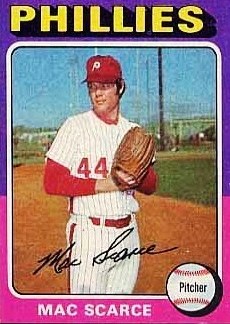 ---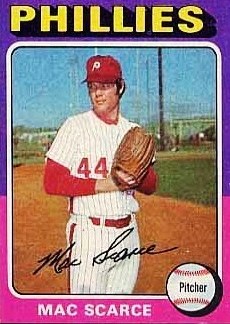 Guerrant McCurdy Scarce — the ornate Southern name could have been a Confederate general's. Instead, just over a century after the Civil War, it belonged to a tall lefty reliever known simply as "Mac."
The Virginian had a fine college career and a promising start in the minors. In the big leagues, however, he finished with a 6-19 record over one full season plus parts of four others. The record wasn't a good indication of his talent. The dreadful 1972 Phillies rushed him before he was ready and he never pitched for a winning team. Then, after 1974 Scarce had hurt his arm.
Scarce was born on April 8, 1949, in Danville, near the middle of Virginia's border with North Carolina. The Guerrant (of Huguenot origin) and Scarce families both had deep roots in Danville and neighboring Pittsylvania County. Mac's father, Lossie Guerrant Scarce, Jr., was a veteran of the Army Signal Corps who worked for the Chesapeake & Potomac Telephone Company after returning from World War II. Lossie married Gloria Frances Moore in 1946.[1] Mac — the McCurdy is for a great-uncle on his father's side — was the older of their twin sons. Brother Gordon Chandler Scarce was nicknamed "Mike."
After the boys had finished first grade, their father was transferred to Richmond, Virginia. Mac played baseball from childhood on. "Little League, Pony, Colt, American Legion — I played 'em all." He attended J.R. Tucker High School in Richmond, where he was an excellent all-around athlete. He lettered two years apiece in basketball, football (as the quarterback), and baseball (named to the All-District and All-Metro teams).
After graduating from Tucker in 1967, Scarce went to Manatee Junior College (now State College of Florida) in Bradenton, Florida. It was most unusual for the time, but Scarce became a reliever during his first year in college. Not long before the Phillies first called him up, he recalled, "I had some strained tendons in high school, but I worked out with weights and strengthened the arm. The trouble never came back. But I found out I liked relief pitching. . .I don't like the mental load of thinking about trying to pitch nine innings every fourth day. This way, when they tell me to warm up, that's when I start thinking about it. I enjoy it. It's a lot more fun than starting."[2]
The Manatee Lancers finished second in the National Junior College World Series in 1968. It was quite a team — four other men would play in the majors: outfielders Dave Moates and Johnny Grubb, third baseman Ron Cash, and pitcher Pat Osburn. Catcher Harry Saferight was called up by the Pirates in 1979 — but never got into a game. Grubb and Saferight were high school rivals of Mac's from Meadowbrook High in Richmond.
The Cincinnati Reds chose Scarce in the 26th round of the amateur draft in 1969, but he did not sign. "They didn't have much to offer," he said in 1972.[3] He put it even more bluntly in 2009: "They were notoriously cheap. I got an education instead."
That summer, he went to play with the Pierre Cowboys of South Dakota's Basin League, a high-quality circuit featuring mainly college players. Scarce had transferred to Florida State University in Tallahassee, and FSU's head coach, Jack Stallings, was also the manager at Pierre. "He made sure a lot of his guys played. Harry Saferight was there, so was Ron Cash. I met a lot of guys I played with and against in the pros out there. John Stearns was there. Mike Caldwell from North Carolina State was my teammate. It was a good experience, but out there on your own, 20 years old, it was like being on a different planet. There are about six or eight cities with nothing in between. Nothing! It's desolate, like the moon."
Jack Stallings had a pipeline into Manatee. He had brought his B team down the previous year — thanks to Lancers coach Bob Wynn, who had played for the Seminoles in the early '50s and coached their freshman team several years later.[4] Dave Moates, who was a year ahead, had jumped from FSU to the pros, but joining Mac again were Grubb, Osburn, Cash, and Saferight. Mike Scarce, who had previously sat out a year, would later follow the same route. Mike also pitched, but he was a righty.
"Landing that bunch of boys transformed us into a winner," said Stallings in 1970.[5] The Seminoles were 49-9 that year, led by two aces with sub-1.00 ERAs, Gene Ammann and Osburn. Mac saved 12 games, posting a 1-2, 1.62 record with 49 strikeouts in 33 1/3 innings.
That June Florida State won three straight in the District III tournament in Gastonia, North Carolina. In the last game against Mississippi State, Scarce preserved a 5-4 lead by getting the tourney's hottest hitter, Phil Still, to pop up with the bases loaded and two out. Said Jack Stallings, "There was just so much pressure surrounding that final game at Gastonia, let alone the championship aspect, that I'm not sure the kids were more pleased with the win or the championship."[6]
After final exams, then came the College World Series in Omaha, Nebraska. Florida State beat Arizona, Dartmouth, and Ohio University (starring Mike Schmidt, Mac's future roommate with the Phillies). Then they beat Texas, avenging a loss two days before to the Longhorns and Burt Hooton. They reached the final against USC.
The Trojans, a perennial college power under Coach Rod Dedeaux, featured three future big-leaguers: Dave Kingman, Jim Barr, and Brent Strom.[7] It was an exceedingly tense game that went deep into extra innings. Mac, "who had done a brilliant 7 1/3-inning relief stint," left it tied at 1-1 but took the loss as USC eventually won it in the 15th.[8] Nearly 40 years later, he still remembered the crushing defeat well.
"Pat Osburn tore up his knee in the 5th. Another guy [and a third] came in for a while, then it was me. Somebody told me later I retired 15 in a row at one point. But I was used to one, maybe up to three innings of work. I developed a blister on my middle finger. It got bad, it was bleeding pretty good. I walked the first guy in the 15th and Jack Stallings took me out. That walk came around to score." A Kingman bunt single loaded the bases.[9] The next batter hit a trickler down the third base line. "A little dew had settled and our pitcher, Carl Gromek, [son of former Cleveland Indians hurler Steve Gromek] slipped. Jim Barr was the winning pitcher."[10]
Following another summer with Pierre in the Basin League in 1970, co-captain Scarce was a dominant reliever again at FSU in 1971. In 36 innings across 29 games, the lanky lefty struck out 60, walked 15, and allowed just 15 hits and 4 earned runs. He had a 3-0 record and 18 saves — then an NCAA Division I record — to go with his 1.00 ERA. The 'Noles were 41-16, but Mississippi State represented the SEC in the College World Series that year.
On the recommendation of scout A.C. Swails, the Phillies selected Scarce in the 8th round of the 1971 draft. Having graduated, he turned pro, and he was assigned to Peninsula in the Carolina League. In 20 games, he was 3-0 with a 1.29 ERA. Even more impressive were his 42 strikeouts in 28 innings. He followed up with a dazzling run in the Instructional League, striking out 26 in 21 innings while allowing just six hits, five walks, and a single unearned run. League managers voted him the outstanding pitching prospect. The Philadelphia brass — farm director Paul Owens, manager Frank Lucchesi, and coach Billy DeMars — was full of praise. Lucchesi remarked, "I'd say he's the closest of any player in camp ready to help the big club next year."[11]
Scarce jumped to Triple-A Eugene to start the 1972 season. The early-season weather in the Northwest was rainy, though, and he also spent a stretch on the disabled list. Thus he pitched just 2 innings in 5 games for the Emeralds. "I'll tell you what else happened," Mac recalled. "In '72, I was the last player cut, the 26th man. Then we had the strike, and I was still in big league camp when it occurred. I was hanging around with the big leaguers doing nothing. I got a little out of shape. Then Bob Carpenter, who was the owner, saw me and said to Frank Lucchesi, 'What's he doing here? Do something with him!"
"Well, when I got up to places like Tacoma, it was freezing cold there. Andy Seminick, the manager, put me on the DL so I could throw BP and work on the side. Finally they sent me to Double A. Three days from when I got sent down, we were going to Hawaii, so I missed that!"
Once he was with Reading in the Eastern League, Scarce picked up where he'd left off in the fall: 4-0, 0.46 with 54 Ks in 39 innings. His manager that year was former Phillies star and future U.S. Senator Jim Bunning. "Playing for Bunning was the best thing that ever happened. I can tell you right now, he was a no-non-sense guy. If he told you didn't belong, you should be packin' a lunch, you knew."
Bunning told his biographer, Frank Dolson, a story about Mac during his first year as a skipper. It was the same message he gave Scarce in person.
"Mac Scarce was blowing the league away," Bunning remembered, "but he needed to fail a few times [before he got to the majors]. I told them he wasn't ready for the big leagues. I told Paul [Owens] that. I said, 'He's just blowing the league away, but you should leave him alone. Or take him to Triple A. Don't take him to the big leagues.'"
"Which, of course, is precisely what they did. It was, as Bunning expected, a bad move. Big league hitters didn't go fishing for Scarce's slider; when it broke away, they took it."[12]
Philadelphia gave in to temptation after losing two veteran lefty relievers. In mid-June, they traded Joe Hoerner to Atlanta, and a couple of weeks later Chris Short went down with back problems. On July 10 – the same day that Owens fired Lucchesi and took over as field boss — Scarce made his debut against the Dodgers at Veterans Stadium. He did well for three innings, allowing just one run, but took the loss as Willie Davis and Manny Mota singled to open the 11th and reliever Darrell Brandon could not strand them.
Scarce didn't pitch badly as a rookie (1-2, 3.44 in 31 games). He did walk a lot of batters but also struck out over one per inning. He got his first big-league win versus the Mets at Shea Stadium on August 2, and the more notable of his two saves came against Cincinnati's Big Red Machine on August 26. With the score 4-3 in the ninth inning, runners on second and third, and nobody out, Mac retired Pete Rose, Joe Morgan, and Bobby Tolan. Steve Carlton got his 21st win.
"There were two Steve Carltons in his career," Scarce says. "I knew the first one. Carlton helped me, he offered a lot of tips. After I left, that's when he became a physical fitness freak and didn't talk to the press any more because they labeled him unfairly.
"We were the best team in baseball when Carlton pitched that year. We were the worst team when he didn't. We had a lot of guys just putting in their time." On a lighter note, Mac remembers how the team "laid down the red carpet of towels" for pitcher Ken Reynolds on September 1, when he finally got his first win after an 0-13 start.
In the winter of 1972-73, Mac and several other Phillies went to play in Puerto Rico for the Caguas Criollos. "Billy DeMars was our manager. Bunning was there as a pitching coach. Bob Boone was there, Wayne Twitchell, Roger Freed. Mike Schmidt, who was also my roommate on the road for '73 and part of '74, and I lived together. We were in San Juan in a condo on the beach."
"I still remember that New Year's Eve, we had a party. Ron Cey was there, several other guys. We were out on the deck, looking down at the beach, and we saw flares going up. Do you know what those flares were? They were looking for Roberto Clemente's plane. We went — including Frank Robinson, who was managing Santurce — to look at where his plane went down. The whole island went into mourning."
Heading into the '73 season, Paul Owens continued to praise his reliever. "The Pope" noted how Scarce took the ball every day, challenged hitters, and kept his pitches down. "Not only does he get left-handers out, but [he] is almost as equally successful against right-handers. This again is because of his sinking slider."[13]
Mac said, "When I'm whistled in from the bullpen in a tight situation, I rely on my breaking ball. I don't really have a sidearm delivery as everyone says, but rather, you might call it a three-quarters delivery, as it's halfway between over arm and side arm."[14]
Despite a 1-8 won-lost record, the 1973 season was Scarce's best. He saved 12 games in 52 appearances and posted a 2.42 ERA. As Owens observed, both lefties (.216) and righties (.221) found him hard to hit — but many batters drew walks (47 in 70 2/3 innings). The bases on balls were a direct factor in only one of Mac's losses — but the book on him was still "Make him throw strikes."
"In A ball and Double A," Scarce commented, "you don't have to throw a strike. You're stupid to throw a strike. Those guys are hacking at everything. I would just throw my slider, like Sparky Lyle. It was a good slider, it was nasty. But the higher you go, the more disciplined the hitter is. A lot of them wouldn't even swing until they had two strikes. You gotta start making adjustments."
In 1974, Scarce appeared 58 times, with marks of 3-8, 4.99. That June, Phillies pitching coach Ray Rippelmeyer reportedly advised Mac to relax, saying "You're too tense on the mound. You're trying to make every pitch perfect and overextending yourself. . .Throw naturally."[15] In the middle of August, the Phillies sent him to Triple-A Toledo. Though he returned after eight games there, he remained hittable.
"I started having some arm problems that year. I was on the DL once or twice, and I had a cortisone shot, which is what they gave everybody. I still wonder, how did I end up with a 5 ERA? I wasn't that dismal. I just was not pitching as effectively."
Mac also pointed to another interesting factor. Baseballs with cowhide covers began showing up in the majors in 1974. "Horsehide is rougher than cowhide. Cowhide is slick. I liked the horsehide because it offered more resistance for my breaking ball." Also, like other pitchers, he found that balls stitched in Haiti were less friendly to curves and sliders because the seams were flatter. Furthermore, if his fielders flipped a foul ball into the dugout and he had liked the feel, "I'd think, 'I can't believe you did that. I loved that ball!'"
The real arm problems began for Scarce when he went to the Instructional League again after the '74 season. "I probably tore a rotator cuff down there. I was never the same after that. They didn't have the technology and the techniques back then. When you lose about two feet off your fastball, and the slider doesn't break like it did, and you change your delivery and arm motion, they hit you around pretty good. I still feel it [the shoulder] to this day."
On December 3, 1974, the Phillies made a trade with the New York Mets that would help them become a playoff team and eventually a World Series champ. They sent young catcher John Stearns, outfielder Del Unser, and Scarce to New York for Tug McGraw, Don Hahn, and Dave Schneck. Schneck never played again in the majors, and Hahn entered just nine games for Philly before finishing his big-league career in St. Louis and San Diego. Stearns and Unser would serve the Mets well, but fireman McGraw was vital.
The Mets had hopes that Scarce would be a key bullpen man in 1975, but he faced exactly one batter for them. On April 11 in Pittsburgh, the Mets were up 3-0 going into the bottom of the 9th inning. Then Jerry Koosman weakened, allowing three straight singles. Though reliever Rick Baldwin got one out, it came in between a walk and a single that tied the game. Scarce then gave up a game-ending single to Richie Hebner. Four days later, he was traded to Cincinnati for Tom "The Blade" Hall.
Mac would not return to the majors until 1978. He spent the rest of 1975 with the Reds' top farm club, Indianapolis. Following that season, he married Joan Clark Aaron of Atlanta on October 4. He then went back to Caguas, where Jim Bunning was managing (a few years later, he would also be Scarce's agent). "I hoped that under his tutelage, I could recover some of what I had before. But I was damaged goods. I left early."
Scarce returned to Indianapolis for 1976 but during spring training in 1977, he got strep throat, ran a 104-degree fever, and did not break camp with the Indians. "I drove up to Atlanta, recovered, and went up to Indianapolis. They were going to send me to Double-A in Three Rivers, Canada: 12- to 14-hour bus rides, 17-degree weather. I'd been in the Eastern League. I told them no way. I went home to Richmond and worked out with the Braves club there. Tommie Aaron, the manager, let me throw BP."
"The Reds said, 'OK, see if you can work out a deal.' But the trading deadline passed, and I said, 'Y'all win. Where do you want me to go?" That turned out to be Single-A Tampa for 11 games, followed by a return to Indianapolis.
The Reds granted Scarce free agency in October 1977, and a month later he signed with the Minnesota Twins. "I wrote letters to all the other clubs. Pittsburgh invited me to their minor-league camp. Minnesota was the big-league camp. I took it — big mistake. With the DH, it was a whole different game in the AL. And Minnesota [under tightwad Calvin Griffith] was the worst organization I was ever with."
Although he didn't make the Twins in spring training 1978, Mac was recalled in April. He pitched fairly well in 17 games for Gene Mauch, the last coming on June 25. Minnesota then farmed him out to Toledo, and following a trade to the Texas Rangers that December for Mike Bacsik, Scarce retired. "They weren't going to invite me to the big camp, and Sparky Lyle was there. The handwriting was on the wall."
Scarce worked for an electrical company for a few years and then went into the mortgage business. He became a broker in Alpharetta, Georgia, with his own company: McCurdy Mortgage, formed in 1990. Amid the turmoil in housing and financial markets of 2008-09, he said that business was good because a lot of people were refinancing, or wanted to.
Mac married his second wife, Kathryn Smith Scarce — "my soulmate, the love of my life" — on November 17, 1992. Although he and Kathy did not have any children, his daughter from his first marriage, Amanda, has given him two grandchildren. Kathy Scarce was diagnosed with breast cancer in May 2012. She passed away on December 30, 2014, aged just 63. Her loss left "forever emptiness in my heart," Scarce said.
The Florida State Athletics Hall of Fame inducted Mac Scarce in 1985. J.R. Tucker High School did likewise in 1998, and State College of Florida (which started its Hall only in 2006) followed suit in 2012.
Looking back on his playing days, Scarce said, "Being in the major leagues was never a childhood goal, I never thought I'd be there. It was a great ride, though I wish my career would have lasted longer. I don't qualify for the pension — I get nothing, I played before 1980. But baseball was great to me. It paid for my education. It was one of the highlights of my life."
Grateful acknowledgment to Mac Scarce for his personal memories (telephone interviews on April 16 and April 21, 2009) and e-mail (June 4, 2018). Updated again on July 2, 2018.
Sources
J.R. Tucker information: www.jrtboosters.com
Florida State stats: www.nolefan.org
SCF Manatees Athletic Hall of Fame: www.scfmanatees.com/athletics/halloffame/HOF_Class
www.retrosheet.org
SABR Minor Leagues Database
Tyler, Lyon Gardiner (editor). Encyclopedia of Virginia Biography. New York, NY: Lewis Historical Publishing Company, 1915.
---
Born
April 8, 1949 at Danville, VA (USA)
If you can help us improve this player's biography, contact us.
http://bioproj.sabr.org/bp_ftp/images3/ScarceMac.jpg
600
800
admin
/wp-content/uploads/2020/02/sabr_logo.png
admin
2012-01-04 20:32:34
2012-01-04 20:32:34
Mac Scarce