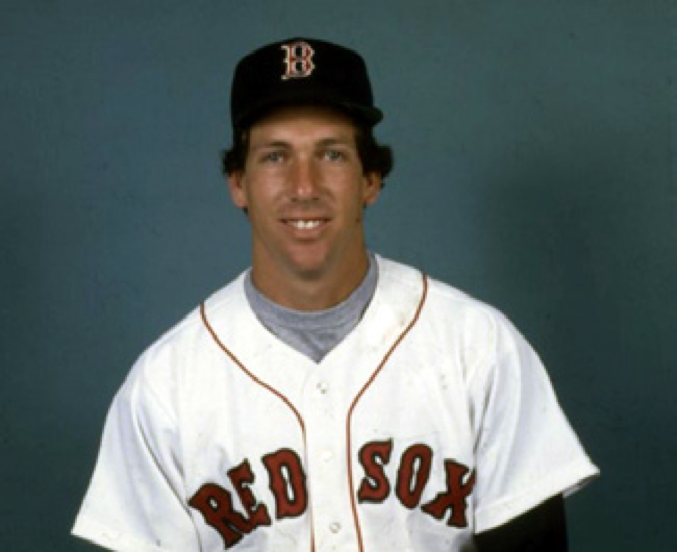 ---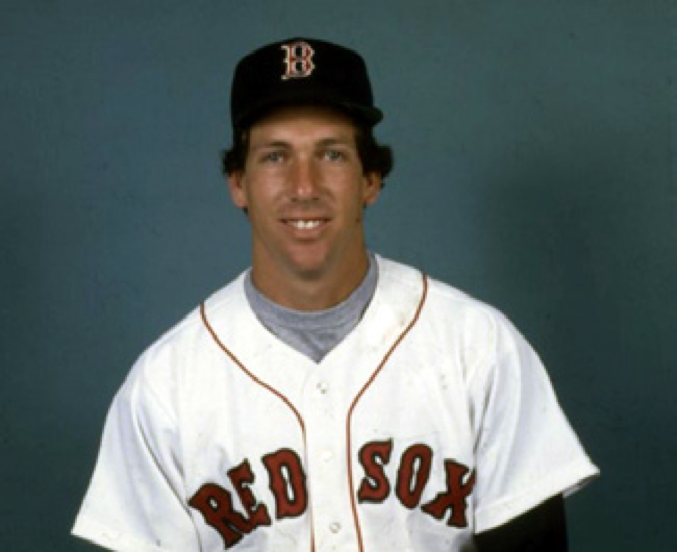 To say that right-handed pitcher Mike Trujillo was a key member of the 1986 Boston Red Sox would be an over-exaggeration; he appeared in only three games that season. However, you can't dispute the fact that he was a key ingredient in the biggest trade the pennant winners made during their stretch run toward the American League pennant.
On August 22, 1986, the Red Sox completed the deal that very likely propelled them into the postseason when they sent Trujillo and shortstop Rey Quiñones to Seattle for outfielder Dave Henderson and shortstop Spike Owen. Owen became the team's regular shortstop and Henderson hit one of the most important playoff home runs in Boston baseball history, while Trujillo went on to become simply a footnote in Red Sox lore. In five major-league seasons, parts of two of them spent with the Red Sox, he had a record of 12-12 with a 5.02 ERA and 96 strikeouts.
Michael Andrew Trujillo was born on January 12, 1960, in Denver, the son of Andy and Elaine Trujillo, and grew up in a small family with his only other sibling a sister, Julie. At the age of 6 he began playing in unorganized sandlot leagues in Denver, then moved up to a Bronco League team. (The Bronco League is a division of PONY Baseball.) 
 "When we were 12 our team traveled to Joliet (Illinois) for the regional championships and then moved on to St. Joseph, Missouri, for the Bronco League World Series," Trujillo recalled. "That was the first experience I had with a big-time format."1
At Mullen High School, Trujillo was a three-sport athlete, playing football, basketball, and baseball, and was offered athletic scholarships in all three sports. Proclaiming himself "a decent high-school player as a center fielder," he was named all-conference and all-state when Mullen captured the state championship during his senior season in 1978. "I was the number-two pitcher on the Mullen team behind Mike Deidel (brother of former major leaguer Jim), who was our number one (pitcher)," Trujillo said.
He was one of four players from his high school who went on to major-league baseball. Jim Deidel, Mark Holzemer, and Clint Zavaras were the others. "What people may not realize is how many major-league baseball players came out of the Colorado-Denver area," Trujillo said, rattling off the names of Goose Gossage, Tippy Martinez, Roy Halladay, Brian Fisher, Mark Knudson, and Danny Jackson.
Trujillo attended the University of Northern Colorado, where he pitched for the Bears from 1979 to 1982. "UNC was the best baseball program in the state," he said, noting that head coach Tom Petroff "was a father figure and mentor; next to my parents he was probably the most influential person through my college years. He was very knowledgeable about baseball."
"I was signed as an outfielder first and a pitcher second," Trujillo said. "I didn't throw real hard, even when I was in the big leagues, but I learned how to pitch well enough to be successful."
While in college Trujillo also played for the Boulder Collegians in a summer college league. He was drafted by the Chicago White Sox in the seventh round of the 1982 major-league draft.
It took Trujillo three years to reach the majors. After being drafted he joined the Niagara Falls Sox of the New York Penn League, where he posted a 5-4 record in 1982 with a 2.39 ERA and led the team in strikeouts with 100 in the 12 games he started. He moved on to Appleton (Wisconsin) of the Class-A Midwestern League in 1983, posting a 15-8 record and a 2.40 ERA. He led the team in starts (29) and complete games (11), and was second in strikeouts with 148. In 1984 he was promoted to Glens Falls (New York) of the Double-A Eastern League on a pitching staff that included future major leaguer Doug Drabek. Trujillo logged a team-best 13-3 record with a 2.37 ERA. He also pitched in eight games for the Denver Bears of the Triple-A American Association, with a 2-5 record and a 7.80 ERA.
The major leagues had beckoned early. "The first inkling that I may make it was when the White Sox called me up to start the Hall of Fame game against the New York Mets," Trujillo recalled. That game, played on August 2, 1982, resulted in a 4-4 tie that was ended in the eighth inning by rain.
On September 7, 1984, Trujillo was traded to the San Francisco Giants for third baseman Tom O'Malley. Then on December 3, he was selected from the Giants by the Red Sox in the Rule 5 draft. "For whatever reason, San Francisco traded for me but neglected to put me on their 40-man roster," Trujillo said. "I don't know if they were trying to sneak me through or if there was a clerical error on their part, but then Boston claimed me."
When the Red Sox brass saw the name Trujillo on the roster of the Phoenix Giants (Pacific Coast League), scout Ed Kenney recognized the hurler. Of all the pitchers in the White Sox system, Boston had rated Trujillo second only to Bruce Tanner. "There's got to be something wrong," Kenney told the gathering, and they tried to find out if Trujillo had some dark secret in his past.2
"No skeletons," Trujillo said. "At the time I had faced New Britain [in the Eastern League a number of times and did pretty well, so I'm sure (the Red Sox) would have watched me pitch quite a bit."
The 1985 Red Sox were looking for a fifth starter to go along with Roger Clemens, Oil Can Boyd, Bob Ojeda, and Bruce Hurst, since Al Nipper began the year on the disabled list. Among those looked to for the role were Bruce Kison, Mike Brown, and Trujillo.3
Manager John McNamara was unabashed in his praise for Trujillo after 1985 spring training, viewing him as a viable fifth starter. "I liked the way Trujillo pitched," said McNamara after the pitcher allowed two runs in a five-inning 8-7 exhibition victory over the White Sox. "With Nipper out, we have eight pitching spots set, two open. We also really have two starting spots open between Bruce Kison, Trujillo and Mike Brown."4
"I basically made it from Double-A to the big leagues. I probably could have used some more seasoning at the Triple-A level," Trujillo said. "Back in those days they had a pretty set schedule for guys to go through A, Double-A, and Triple-A ball, and I basically made it to the big leagues in 2½ years. Looking back, I probably could have used more seasoning, it was a big jump and I'm not sure I was ready."
Trujillo made his major-league debut against Chicago on April 14, 1985, in the fourth inning. He allowed six hits and four earned runs over three innings in an 11-6 loss to the White Sox. Despite the rocky start, Trujillo was inserted into the Red Sox starting rotation when Kison came down with a hamstring injury.
In his next start, against the White Sox on April 19, Trujillo lasted four innings and took the 8-1 loss. He made five more appearances before earning his first major-league win, on June 13 over Toronto. Trujillo relieved Bruce Kison in the fifth and pitched 2⅓ shutout innings, picking up the victory when the Red Sox scored four runs in the seventh for an 8-7 victory.
Trujillo spent the entire season with the Red Sox, making six more spot starts and doing a decent job out of the bullpen. On June 26 he threw 4⅓ innings of shutout relief of Al Nipper, but the Red Sox were blanked by Detroit, 3-0. He won his second game on July 12 in relief of Kison, pitching two innings in Seattle to keep the Red Sox close before some late-inning fireworks. Bill Buckner's two-run homer in the eighth and Rich Gedman's solo shot in the ninth led to a 5-4 Boston victory. Trujillo's third win came on August 22, when he worked eight innings, spacing eight hits and two runs on his way to an 8-4 win over the Texas Rangers.
As the season wound down, Trujillo began to show some of the promise the Red Sox had hoped to see from him. On September 1 he pitched a complete-game 10-3 win over Minnesota.
"While he is still in the fringe stage for 1986, and is mostly getting on-the-job training that he might have gotten in Triple-A this year, Trujillo is proving that the Red Sox were correct in their decision to keep him around, even if it meant sitting in the bullpen for over half a season," the Boston Globe wrote after that game.5
On September 15 Trujillo earned his only save of the season, pitching 2⅔ innings of one-hit, scoreless relief to help Boston to a 4-2 win over Milwaukee.
Trujillo pitched in five more games, getting a loss on October 4 against Milwaukee when he allowed a pair of 12th-inning runs. The loss evened his mark on the season at 4-4. He wound up his rookie year with an ERA of 4.82, recording 19 strikeouts in 84 innings pitched while allowing 23 walks and seven home runs.
"I had moderate success that first year, but I was used in a way where I was a spot starter, a long relief guy and I had a few chances for save opportunities," Trujillo said. "As a sinkerball pitcher, you needed to get regular work. It isn't an excuse, but I think if it was a situation where if I had been in a regular rotation or had a chance to pitch on a regular basis, there may have been a little more success."
After the season Trujillo, along with teammates Mike Rochfort, Tom McCarthy, and Mike Dodson, played winter ball for La Guaira in Venezuela.
In February of 1986, the Globe forecast a promising season for the Red Sox right-hander: "When going over the Red Sox' pitchers, don't count out Mike Trujillo, who reportedly pitched very well in winter ball," the paper said.6 However, when the season began, Trujillo found himself in Pawtucket, where he spent most of the season except for three relief appearances in late June after Sammy Stewart went on the disabled list.
"I pitched in Caracas and I was disappointed I didn't start the season with (the Red Sox)," Trujillo said. "I had a good spring training; I pitched well in Venezuela and was one of the top pitchers in winter ball. In 1985 the Red Sox had to keep me or offer me back to San Francisco, so I was basically going to stay in Boston regardless."
Following that brief call-up, Trujillo returned to Pawtucket and never made another appearance for the Red Sox. He was named the International League Fireman of the Year with a record of 8-9 and 12 saves. But he was no longer in the Red Sox system when the awards were announced.
On August 22 he was sent to the Seattle Mariners with Shortstop Rey Quiñones, pitcher Mike Brown, and minor league outfielder John Christensen (named later) for Seattle outfielder Dave Henderson and shortstop Spike Owen.
Trujillo spent the remainder of the 1986 season with the Mariners, where he had the chance to finally pitch regularly on a staff that included Mark Langston, Mike Moore, Bill Swift, and Matt Young. "When I got to Seattle (manager) Dick Williams sat me down and said, 'You know, you're going to get the ball every four or five days and we just want you to go out and pitch, and relax, and see what you can do,'" Trujillo said.
Trujillo earned his first major-league shutout with a one-hitter on September 20 against the Kansas City Royals, 3-0, and nearly had a no-hitter. With two outs in the first inning, Lonnie Smith reached on an error by Mariners first baseman. "Jamie Quirk was the next guy up and he hit a soft line drive to left field for a single and that was it," Trujillo recalled. If nothing else, I can say I went 8⅓ innings of no-hit ball."
Trujillo finished the season with a 3-2 record. "I would have loved the opportunity to have played in the [1986 World] Series, but being traded gave me the opportunity to pitch on a more regular basis with Seattle," he said. "It was decidedly different in going from a first-place team that was a World Series contender to a last-place team that was made up of a lot of guys in similar situation to my own in that we were two- or three-year players. I welcomed that opportunity and pitched well the remainder of the year. For the first time I thought I could go out, relax and be me, and pitch."
The 1987 season saw Trujillo appear in 28 games for Seattle, including 3-2 loss in a start against the Red Sox on May 12. Overall, he posted a 4-4 record and had a 6.17 ERA. The Mariners released Trujillo during spring training in 1988. "That came as a surprise because I had a really good spring training, but I was put in the bullpen. I think I was always better when I had the opportunity to pitch on a regular basis," Trujillo said.
The Detroit Tigers picked him up, and he spent most of the season in the minors with the Toledo Mud Hens, pitching only 12⅓ innings for the Tigers in a midseason call-up. "I had some success against the Tigers when I was with Seattle, but I think (Detroit) signed me more as an insurance policy. They had their rotation set, but in the event anybody got hurt they would have the ability to call somebody up that had some experience. That was my role."
In 1989, his final season in the major leagues, Trujillo pitched 25⅔ innings for the Tigers, allowing 35 hits. His last major-league game was on June 17, 1989, against the California Angels. He pitched the ninth inning, allowing one hit and striking out one batter.
On August 6, 1989, Trujillo was sold to the New York Mets. After two months pitching in 23 games for the Tidewater Tides, he was released, his baseball career brought to an end at the age of 29. "I got sold by the Tigers to the Mets with the plan to improve their bullpen for the playoff stretch," said Trujillo. "I was told I would go down, get some work and get the rust off. They were going to call me up for the playoffs, but it never happened."
Around this time, Trujillo began to develop some shoulder problems and he had surgery after the 1989 season. "I decided then to devote the rest of my time and energies to my wife and my daughter," Trujillo said.
He and his wife, Sandy, whom he had met while he was playing for the Tigers, were the parents of a daughter, Laura. Mike and Sandy later had a son, Drew.
Trujillo went into business for himself and in the mid-1990s became an agent for State Farm Insurance. As of 2015 he lived in Montrose, Colorado, about an hour away from the ski resort town of Telluride. "It's one of the most beautiful places in the world," he said. "You can ski in the morning and play golf in the afternoon."
Both of his children have had athletic careers of their own. Laura played basketball, golf, and softball, in which she was an exceptional catcher, and graduated from Wake Forest University. In 2015 she lived and worked in Chicago. Drew followed in his father's footsteps as a football, basketball, and baseball player and, like his sister, was a catcher. He had a golf scholarship to the University of Colorado.
Trujillo had the opportunity to return to Boston in 2012 for the 100th anniversary of Fenway Park and was impressed with the ceremony, which he called one of the greatest memories of his career. "What a class organization Boston is," he said of the commemoration. "What a great experience that was to come back, see all of the guys I played with and the other Red Sox greats. After (playing) baseball, it will be one of those things I'll never forget."
Notes
1 All quotations from Mike Trujillo come from an interview with the author on April 16, 2015.
2 Boston Globe, March 28, 1985.
3 Boston Globe, March 27, 1985.
4 Boston Globe, March 30, 1985.
5 Boston Globe, September 2, 1985.
6 Boston Globe, February 23, 1986.
Born
January 12, 1960 at Denver, CO (USA)
If you can help us improve this player's biography, contact us.
http://sabr.org/sites/default/files/Mike%20Trujillo.png
600
800
admin
/wp-content/uploads/2020/02/sabr_logo.png
admin
2012-01-04 20:00:15
2021-02-19 08:10:00
Mike Trujillo