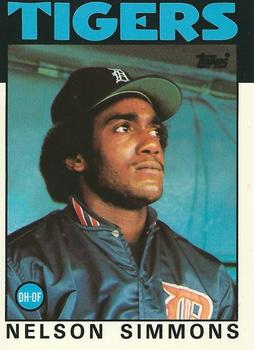 ---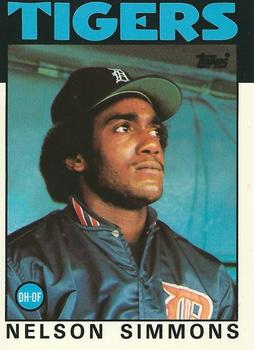 Outfielder Nelson Simmons parlayed a passion for pumping iron into a barrel chest, watermelon-sized biceps, and the ability to wallop baseballs a long way from home plate. In 1985, at the age of 22, the switch-hitter became the first Detroit Tigers player to hit a home run from each side of the plate in the same game. But too much work in the weight room and off-field problems combined to derail his promising major-league career less than two years later.
Nelson Bernard Simmons was born on Thursday, June 27, 1963, in Washington, D.C. That day at Metropolitan Stadium in Minneapolis, the ninth-place Tigers suffered their fourth consecutive loss. Detroit's slugging first baseman, Norm Cash, tied a record by playing the entire contest at first base without a single fielding chance. In some strange way, perhaps it was an omen for the dearth of opportunity awaiting Simmons when he grew up to be a big leaguer.
The story started well. After moving to San Diego, Simmons had such an outstanding baseball career at Madison High School that the Tigers made him their second-round pick in the June 1981 free-agent draft, on assistant general manager Bill Lajoie's recommendation. Catcher Kevin Perrett, another Madison High Warriors star, had been selected by Detroit a year earlier in the 13th round, but Simmons became the school's first alumnus to reach the majors since former Kansas City Royals right-hander Al Fitzmorris. As of 2009, there hasn't been a third.
Simmons signed quickly and joined the rookie-level Bristol (Virginia) Tigers in plenty of time to lead the Appalachian League in at-bats. In 69 games, the 6-foot-1 185-pounder — he would put on more pounds as he matured — batted .296 with 14 doubles, 10 home runs, and 45 runs batted in. When Detroit manager Sparky Anderson visited the Tigers' minor-league complex in Lakeland, Florida, the following spring, he noticed the 18-year-old Simmons and announced, "I guarantee you that kid is a big leaguer if I've ever seen one."
"It's the most important thing that happened to me," Simmons said. "From that point on, I wanted to make all his comments come true." He earned Florida State League All-Star honors in 1982, batting .293 for Lakeland and ranking third in the circuit in total bases. After an eight-game taste of Double-A ball with the Birmingham Barons late in the season, he returned to the Barons a year later to help them win a Southern League championship.
Baseball America rated Simmons' throwing arm the strongest among Southern League outfielders in 1983, but his .272 batting average and .401 slugging percentage were his worst figures since turning pro. "He went backward," Anderson said later. "Plus, he had a sour way about him." Sparky speculated that his own high praise for the teenage Simmons might have done more harm than good. "I think he got confused. No sooner did he have a good spring than some agent got his head turned around."
Simmons rebounded to lead the Tigers' Florida Instructional League club in RBIs that fall, but his star had dimmed enough that Detroit shopped him around in trade talks for pitching. No acceptable offers came in, though, and by the summer of 1984, the Tigers were awfully glad about that.
Moved up to the Triple-A Evansville Triplets in 1984, Simmons went through a slump in May that caused his manager to doubt whether Simmons could handle Triple-A. But Simmons got so hot in the second half that skipper Gordon MacKenzie called him "the most improved player in the American Association." Simmons earned player-of-the-week honors for the week of July 16-22 by mashing 15 hits in eight games, nine of them for extra bases. He finished with a league-leading 41 doubles, complementing a .307 batting average with 22 home runs and 83 RBIs. "He made a believer out of me," MacKenzie said. "He's a young Ken Singleton." (Singleton at the time was winding down a major-league career in which he hit 246 home runs and drove in 1,065 runs.)
Simmons made his major-league debut at Tiger Stadium on September 4, going 1-for-4 and driving in Detroit's only run against the American League's only 20-game winner of 1984, Mike Boddicker of the Baltimore Orioles. Simmons spent the next two weeks on the bench, watching the Tigers wrap up the AL East race they had seized control of early with a 35-5 start. "We won the championship at Double-A last year, but I got to tell you, it was nothing like this," Simmons said in the midst of the division-clinching celebration. "These people know how to party."
Simmons got into eight of Detroit's final 11 regular season games after the September 18 clincher, starting six, and notching a pair of three-hit games against the Milwaukee Brewers. In 30 at-bats overall, he batted .433 to solidify his reclaimed status as a top Tigers prospect. Though ineligible to participate in the playoffs, he got an up-close view from the dugout as the Tigers romped through the postseason, winning their first World Series in 16 years by beating Simmons' hometown San Diego Padres.
Simmons wore a different championship Tigers uniform after that, leading the Dominican Winter League in both RBIs and runs scored in helping the Tigres del Licey go all the way. He had nothing left to prove heading into spring training, but had no clear place on a Detroit team coming off 104 regular-season victories.
Anderson made it clear that he'd prefer to send Simmons back to Triple-A unless he could guarantee him at least 250 at-bats in the majors. Once Simmons got off to a hot start in Grapefruit League action, Detroit's skipper gushed that he might just give the 21-year-old 600 trips to the plate as the Tigers' everyday designated hitter. Before the ink was dry on Sparky's quotes in the Detroit News, however, Simmons was stuck in a 1-for-25 rut that nearly cost him his place on the Opening Day roster. Then he blasted homers in four straight exhibition contests to lock up a spot on the team, and finished spring training with more than twice as many RBIs as any of his teammates.
But adversity found him on Opening Day before the umpire had a chance to holler "Play ball!" "I was making throws from the outfield before the game when I felt something stretch and pop in my left side," Simmons said. "I threw the ball, but when I went to make the next throw, I could hardly lift my arm." He spent the afternoon with an ice pack on a pulled rib-cage muscle, needed help getting dressed to go home, and spent the first month of the season on the disabled list. "It can't get worse than this," Simmons said at the time. "Getting hurt before the first game. … I can't believe it."
Detroit had seven outfielders on the roster when Simmons returned on April 30. He hit his first big-league homer off the Chicago White Sox' Gene Nelson in a pinch-hitting role on May 4 and spent most of the next seven weeks as the left-handed half of a DH platoon with Alejandro Sanchez. After getting into 30 games with a .240 average and three homers, Simmons was demoted to Triple-A Nashville just before his 22nd birthday.
He batted just .245 in 49 games with the Sounds, but nine home runs in 188 at-bats got him back to the Tigers in mid-August. "I screwed up last time," Simmons said. "I tried to hit everything out of the park to impress Sparky and give him enough reasons to keep me around. I forgot about just being myself."
Given a second chance, Simmons drove in 11 runs in his first half-dozen games, and belted four home runs. With Detroit already trailing the division-leading Toronto Blue Jays by double digits, Anderson vowed that Simmons would get every opportunity to sink or swim. "I'm going to let him play every game the rest of the year unless he gets hurt," said Sparky. "What he does against the really good pitchers we face will tell me a lot. That's when you judge."
Despite a 2-for-30 slump at the end of the year that dropped his batting average to .239, Simmons' 10 homers in 75 games earned him Tigers Rookie of the Year honors. On September 16 against Baltimore at Tiger Stadium, he became the first player in Tigers history to homer from both sides of the plate in the same game. One of his blasts made him the first Detroit player since 1973 to clear the 440-foot barrier in straightaway center field.
But the same barrel chest and huge biceps that allowed Simmons to hit baseballs a long way got him into his manager's doghouse. Despite getting perennial all-star production out of devoted weightlifter Lance Parrish, Anderson believed too much iron-pumping was bad for baseball players, and told Simmons so after confronting him about his training habits.
"I feel so much better when I'm lifting," Simmons explained. "He [Anderson] did help me because he got me to stop bench-pressing, but when I'm strong I'm more confident. Look at all the guys who lift weights: Lance Parrish, Fred Lynn, a lot of guys."
Simmons hit the weights all winter and reported to camp even bigger in 1986. He hit .308 with three home runs in spring training, but Anderson was convinced that the added bulk was cutting into Simmons' already negligible speed. Coupled with the fact that Simmons was not a threat to win a Gold Glove, when the final roster cuts came, that got Simmons sent back to Triple-A for being too one-dimensional. A bitter Simmons told reporters, "It's obvious to me Sparky doesn't want me around," and announced his intention to request a trade.
Three weeks and a day after Detroit opened the season without him, Tigers fans were stunned to learn that Simmons had been released. General manager Bill Lajoie had taken a trip to Nashville, and come away unimpressed with the slumping slugger, who was off to a .200 start without a homer through 14 games. "I hadn't been satisfied with his effort since the third week of spring training," Lajoie said. "We don't think he has a chance of making our club in the near future, and this gives him a chance to go somewhere else."
Sparky was even more blunt. "I don't think anybody felt he could play in the big leagues," said the skipper who once called Simmons "a big leaguer if I've ever seen one." "There's no sense wasting time if someone can't play." When Sparky's apparent change of heart was pointed out to him, he explained, "I never said I thought he might become a good player. I said he might become a good hitter, but then his body got bigger than the moon."
The Baltimore Orioles signed Simmons five days later, and the nonbaseball reasons for the stunning release of Detroit's 1985 Rookie of the Year started to trickle out. What we know is this: In the early-morning hours of April 29, police were summoned twice to Simmons' hotel room at the Executive Inn in Nashville for a disturbance involving a female friend and, later, the overnight desk clerk. One source said the incident involved a spray-paint duel, but no police report was filed at the time and subsequent assault charges by the woman against Simmons were eventually dropped.
If Tigers fans were left scratching their heads by the events, so was Simmons. "I think it took half a season to get over it, and my stats reflected it," he said later. "I know in my heart I didn't do anything wrong. I think Sparky disliked my weightlifting so much; he was looking for an excuse to let me go. When I had some personal problems, that was the excuse he needed."
In 89 games with the Rochester Red Wings, Baltimore's Triple-A affiliate, Simmons hit .273, but with only 8 home runs and 37 RBIs. The next spring however, he was back in the mix for a big-league job, and Orioles skipper Cal Ripken Sr. explained why: "When you watch him hit ball after ball over the fence from both sides of the plate, you tend to notice."
With Baltimore outfielder Mike Young missing time early in the year with a torn thumb ligament, Simmons found himself back in the majors. He batted .265 with one home run in 16 games, but was sent back to Rochester when Young returned in the second week of May. There, Simmons hit .271 with just three homers in 64 games before being traded to the Seattle Mariners for pitcher Mike Brown on August 11. Simmons hit .306 with 17 home runs and 86 RBIs in 145 games over the next year and a half for Seattle's Triple-A Calgary Cannons, but never got the call to return to the big leagues.
In Mexican winter ball in 1988-89, Simmons won a batting title playing for Mazatlan and ranked in the top three in both homers and RBIs to earn an invitation to spring training from the St. Louis Cardinals. He survived until the final cut, but he went back to his hotel and smoked marijuana when he learned he'd been demoted to Triple-A Louisville. That came back to cost him when — after getting off to a .316 start five games into the season — he flunked a drug test and was released for violating the organization's substance-abuse policy.
Simmons spent 1990 and 1991 in the Oakland Athletics organization, batting .256 with 15 homers at Double-A Huntsville in '90, then .272 with eight homers at Triple-A Tacoma a year later. He played only 24 games with American professional clubs in the two years that followed, spending most of his time with Jalisco in the Mexican League, where he hit .382 with 34 home runs and 95 RBIs in 1993. That performance included another batting title.
"I've done a lot of things I'm not proud of, and I did test positive once for marijuana," Simmons admitted months later. "But I know guys who have crack in their back pocket and they're out there making millions. All I need is for someone to give me a chance." In 1994, the California Angels invited him to his first major-league spring training in five years, but Simmons didn't make the team.
With major leaguers still out on strike out the outset of 1995, Simmons joined his eighth organization, this time as a Pittsburgh Pirates replacement player. That was a largely forgettable chapter in baseball history, but Simmons' contribution deserves to be remembered. He hit .418 with seven homers and 28 RBIs that spring before the real Pirates came back, and, in the words of Pittsburgh baseball writer Joe Rutter, "also became the first replacement player to cop a big-league attitude by briefly refusing to talk to reporters."
"I almost wish I could change my name and go play baseball where nobody knows me," Simmons once said. "People have long memories in this game and, unfortunately, they still remember the bad things about me."
After wrapping up his Organized Baseball career by hitting .281 with nine homers and 58 RBIs in 107 games for Triple-A Calgary in 1995, Simmons toiled away for clubs like the Tri-City Posse of the now-defunct Western Baseball League. In 2007, at the age of 44, he was active in the San Diego Adult Baseball League, where a message board poster named "jballgame" reported that "Nelli is still hitting bombs."
His son Goldy, a 6-foot-5 right-handed pitcher who throws in the 90s, was drafted by the Oakland Athletics in 2006 and the Atlanta Braves in 2007, but didn't sign with either team. He spent 2008 pitching at San Diego City College and 2009 at San Diego State University, and was drafted by the Chicago White Sox in the 23rd round in 2009. The youngster spent the summer of '09 pitching for Bristol, Virginia, in the rookie-level Appalachian League.
Last revised: July 1, 2012
This biography is included in "Detroit Tigers 1984: What A Start! What A Finish!" (SABR, 2012), edited by Mark Pattison and David Raglin.
Acknowledgements
Mike Micheli of the San Diego Adult Baseball League.
Sources
Articles
Gage, Tom. "Fade Out For Tigers Fair-Haired Boy." The Sporting News, May 12, 1986: 58.
Gage, Tom. "Simmons Could Be Tigers' Regular DH." The Sporting News, April 1, 1985: 37.
Gage, Tom. "Simmons Might Not Find Any Room At The Top." Detroit News, March 1, 1985: 1C.
Gage, Tom. "Simmons Returns With A Bang — Or 3." The Sporting News, September 2, 1985: 30.
Gage, Tom. "Simmons Sidelined For 15 Days." Detroit News, April 9, 1985: 3D.
Gage, Tom, and Lynn Henning. "Simmons Released." Detroit News, April 30, 1986.
Henning, Lynn. "Hotel Scuffle Helped Finish Simmons." Detroit News, May 6, 1986: D1.
Justice, Richard. "Simmons' Bat and Glove Complicate Orioles' Outfield: Ex-Tiger May Be Ahead of Lacy, Sheets, Traber, Young." Washington Post, March 19, 1987: B3.
Nightengale, Bob. "Trying Again." The Sporting News, March 14, 1994: 18.
Ritter, Jon. "Major Replacements." Pittsburgh Tribune-Review, March 6, 2005.
Websites
http://www.baseball-reference.com
http://www.retrosheet.org
http://www.thebaseballcube.com
Born
June 27, 1963 at Washington, DC (USA)
If you can help us improve this player's biography, contact us.
https://sabr.org/sites/default/files/SimmonsNelson.jpg
600
800
admin
/wp-content/uploads/2020/02/sabr_logo.png
admin
2012-01-04 20:34:58
2012-01-04 20:34:58
Nelson Simmons