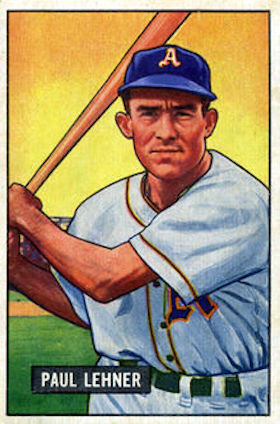 ---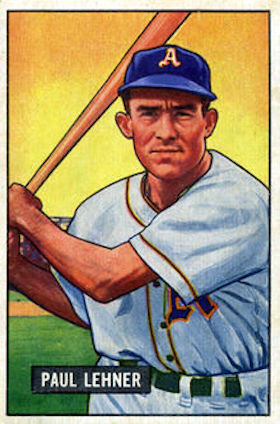 Paul Lehner grew up in a coal-mining family and likely was headed for a life in the mines, but a talent for baseball brought him to the big leagues and gave him the opportunity to play for five different teams over the course of seven seasons. He was a left-handed outfielder and occasional first baseman whose relatively small stature (5-foot-9 and 160 pounds) led to the nickname "Peanuts."
Lehner's father, George, came to the United States from Germany in 1900 and became a naturalized citizen in 1916. George married Alabama native Eva Eula Leslie and they raised four boys – George, Collis, John, and Paul, the youngest. Paul was born in Dolomite, Alabama, on July 1, 1920. Paul's father worked as a coal miner, and died very young – at age 42 in 1925, a few months after Paul turned 5.
Brother George had already begun work as an office boy for a local coal and iron company by the time of the 1930 census. Brother Collis became a professional ballplayer in 1938, pitching for the Greenville (South Carolina) Spinners, and worked on and off in pro ball until 1951.
Paul played semipro ball in an industrial coal and iron league outside Birmingham, playing first base for the high-level Acipco team (American Cast Iron Pipe Co.) He had actually signed a pro contract with Andalusia in the Alabama State League in 1940 'but never reported because he found he could make more money working in the mines and playing independent ball on the side."1
While he was still 21, Paul was inducted into the United States Army Air Force in February 1942. He had finished three years at Hueytown High School at the time, and gave his occupation on enlistment as "semiskilled miner" – indicating that he, too, had begun work in the mines. "I went to school until I was old enough to work in the mines," he told Frederick Lieb in 1947, "and then became an Alabama coal miner. I next became a soldier, and now I'm a ballplayer."2 In the Army, he had washed out as an air cadet but worked as an airplane mechanic and got the opportunity to play some baseball; he had been on the same service baseball team as Enos Slaughter, Howie Pollet, and Del Wilber at Kelly Field, San Antonio.3
Scout Jack Fournier of the St. Louis Browns saw him at Kelly Field and signed him to a contract, to take effect on his discharge. Lehner spent the last year of his service time on Guam, but returned back Stateside and let it be known he was ready to do his best. Coming off the 1945 season, in which they placed third (down from first place in 1944), Browns GM Bill DeWitt said he anticipated a "young, speedy, hustling team" in 1946.4 He added, "We will build our team around such speedsters as third baseman Bob Dillinger and outfielders Paul Lehner and Al Zarilla." Lehner was discharged two days before Christmas, 1945.
Lehner was placed in Triple A with the Toledo Mud Hens (American Association) and had a very good year, batting for a .317 average in 144 games, playing the outfield. He hit 10 homers and drove in 75 runs. It was the only year he played minor-league ball, until his very last year of professional ball, 1952.
Lehner was called up to the Browns in September. His debut, playing center field, came on September 10 at Sportsman's Park, St. Louis. He was 0-for-3 at the plate, but drew a base on balls and scored his first major-league run as the Browns beat the visiting Philadelphia Athletics, 5-1. The very next day, he got his first base hit – a single – and drove in his first run.
His work in Toledo, with the Browns in September 1946, and in spring training 1947 impressed St. Louis Post-Dispatch writer L. A. McMaster, who wrote he had "proved a windfall for the club…a brilliant fielder with great ground-covering ability" and "an accurate, rifle-like arm."5
He started the 1947 season as a utility outfielder and left-handed pinch-hitter, but manager Muddy Ruel shifted things around and Lehner soon became a fixture in center field. He played in 135 games – the most in any of his seasons – held back a bit by a couple of minor injuries to a wrist and a shoulder. There were also a couple of games for which he simply failed to show up.6
It wasn't the first time he'd gone wandering. In the Army he had risen to the rank of sergeant, but going AWOL three times saw him busted back down to private. His occasional absences from the Browns (twice he turned up visiting friends in Toledo) earned him another nickname: "Gulliver" (as in Gulliver's Travels). A full-page article in The Sporting News detailed some of his comings and goings, and excuses.7 A later article told of how he had used to play baseball barefoot, and how he explained a couple of absences by, first, saying he didn't know he was supposed to travel with the team (he flew by air and got to the next city before the team arrived) and, secondly, that in walking through the train he spotted an empty bunk so slept there and had in fact been on the train – just not where the traveling secretary had booked him.8
The first two African Americans to play for the Browns were second baseman Hank Thompson and, two days later, Willard Brown, who filled in for Lehner in center field on July 19 at Fenway Park. The Boston Herald noted that Lehner "was on the bench in civies. Then there was some hush-hush stuff and Lehner climbed into uniform."9 He pinch-hit and struck out in the ninth inning. The "hush-hush stuff" may have been Lehner saying he would quit the team rather than play on the same team as the two black ballplayers.10 Burt Whitman of the Herald suggested that some of the stories involving Thompson and Brown were "wholly fabrications."11
He hit for a .248 average (slightly better than the team's .241) and drove in 48 runs (fourth on the Browns), with seven homers. His first RBI of the year was a pinch-hit bases-loaded 10th-inning single that won the Opening Day game against visiting Detroit. Lehner's first home run came at Fenway Park, a three-run drive on May 16. It wasn't a good year for the Browns, however; the team finished in eighth place, last in the league.
Lehner's .980 fielding percentage pretty much matched his career .981 mark. (On June 25, 1950, Lehner tied an American League record by making 11 outfield putouts in one game.) After the season, he joined Bob Feller's barnstorming ball team to play in Texas, Mexico, and California.
Trade rumors abounded immediately after the season, but the Browns kept Lehner on throughout both the 1948 and 1949 campaigns. In March 1948, he disappeared again – turning up in Las Vegas where he married Patricia Wolfe of San Bernardino.12 The very next week, he suffered a fractured shoulder blade and didn't play again until May 23.
He had a good year once he got going, though, improving his batting average to .276 and driving in 48 runs. As a pinch-hitter he was 6-for-11 (.545), leading the major leagues.13
In 1949 his average dropped nearly 50 points, to .229. In almost the same number of games, he drove in 37 runs. He and Whitey Platt worked more as utility outfielders in 1949. The Browns finished in seventh place. In late October, the Browns announced that every player on their roster who was more than 28 years old was available for sale or trade.14
On December 13, 1949, the two rookies of whom so much had been expected back in 1946 were traded to the Philadelphia Athletics: Lehner and Bob Dillinger went to Philadelphia in exchange for four players and the not-inconsiderable sum of $100,000. Second baseman Jerry Priddy's contract had been sold, too. There was little doubt but that the money was the key ingredient, An INS story summarized as much: "The men received in return are hardly worth mentioning but some $200,000 came along with these guys named Joe and it looks good in the bank if not in the infield."15 It was Dillinger the A's were after; later stories said that Lehner had been "thrown in as 'extra baggage'."16
The Athletics, who had finished fifth in 1949, sank to last place in 1950, behind the Browns. Lehner, however, had done his part – from his first at-bat, a pinch-hit home run in the bottom of the 15th inning on April 22. He and Dillinger tied for the team lead in batting, each batting .309. (Dillinger was waived to Pittsburgh on July 20.) Lehner's .309 was a career high for him, as were the 52 RBIs and nine home runs he contributed.
On December 27, 1950, Lehner and his wife, Pat, were living in Glendale, California, and welcomed Paul Jr. into the family. He played in only nine games for the A's in 1951 before he was dealt to the Chicago White Sox on April 30. It was a complicated three-team trade, also involving the Cleveland Indians.17 As it worked out, he played for four different teams in 1951.
With the A's, in those nine games, he had hit .143 with one run batted in. With the White Sox, he played in 23 games, drove in three runs, and batted .208. On June 4, the White Sox traded him to the Browns (with maybe $50,000 in cash and Kermit Wahl) for Don Lenhardt. He hit .134 in 21 games when back in the Browns' uniform. He added two more RBIs to his 1951 total. The Browns placed him on waivers and the Indians selected him on July 19. He played in 12 more games, all but one in pinch-hitting and pinch-running roles, adding yet another run batted in. All in all, he had played for half of the teams in the American League in the same year, but only driven in seven runs in total. His combined batting average was .172 in 65 games.
Lehner played with even more teams in 1952. On February 25, the day he was supposed to report for spring training with Cleveland in Tucson, he couldn't get a room at the team hotel, so booked into another one nearby. Then he slept through the day. Manager Al Lopez asked him why he hadn't come to the ballpark. "Couldn't find it," he said. The year before, while with the Indians, he'd gotten off the team train to get a beer and didn't get back on time. He sent Lopez a telegram: "I know my reputation, but don't jump to conclusions. I'll see you soon and explain everything."18
On March 29, 1952, the Indians optioned him to Indianapolis. On May 16, he was optioned to Oakland. On June 24, the Toronto Maple Leafs purchased his contract on a 30-day trial. And the very next day, he was recalled to Cleveland from Toronto and sold to the Boston Red Sox, who had selected him off waivers. It's a little difficult to follow the thread of the transactions in 1952, but the record shows him playing 12 games for Oakland, 8 for Seattle, 27 for Toronto, and 22 for Indianapolis.
When he joined the Red Sox, Charley Maxwell was sent down to Louisville to make room for him on Boston's roster. Lehner joined Billy Goodman as the only other left-handed hitter on the Red Sox. He pinch-hit in the June 27 game, singling and driving in a run in the bottom of the seventh. He played the next day, also against Washington, and drove in another run. On June 30, he appeared as a late-inning defensive replacement in right field, but without a plate appearance. They were his final three games. On July 1 he was purchased again by Toronto.
In March 1953, Lehner signed with the Memphis Chicks. He played in 56 games before being released in July. He batted .262 with 17 RBIs. They were his last games in organized baseball.
We don't know for sure what form of work he may have pursued in his years after baseball. On his player questionnaire, marked "1965," he wrote on the line "Current occupation," "U.S. Marine Corps" and provided the address 2458 Carlton, San Bernardino, California, which is in 2016 very much a settled residential area. It was probably his home address at the time.
Lehner died after a long battle with malignant lymphoma at Veterans Hospital in Birmingham, two days after Christmas, on December 27, 1967. He is buried in nearby Bessemer. Like his father, he had died in his 40s; Paul was only 47 years old. His brother, John, had died at age 31 in an automobile accident, but their mother Eva had lived to age 78.
Sources
In addition to the sources noted in this biography, the author also accessed Lehner's player file and player questionnaire from the National Baseball Hall of Fame, the Encyclopedia of Minor League Baseball, Retrosheet.org, Baseball-Reference.com, Rod Nelson of SABR's Scouts Committee, and the SABR Minor Leagues Database, accessed online at Baseball-Reference.com.
Notes
Born
July 1, 1920 at Dolomite, AL (USA)
Died
December 27, 1967 at Birmingham, AL (USA)
If you can help us improve this player's biography, contact us.
http://sabr.org/sites/default/files/LehnerPaul.jpg
600
800
admin
/wp-content/uploads/2020/02/sabr_logo.png
admin
2016-11-17 17:07:51
2016-11-17 17:07:51
Paul Lehner