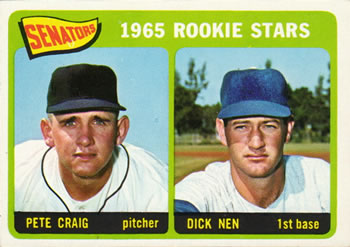 ---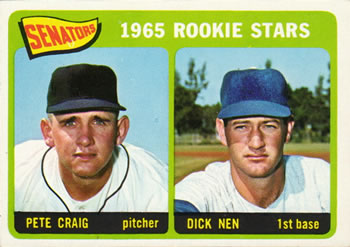 Assumption High School in Windsor, Canada, must have had some pretty good ballplayers in 1956 and 1957. "I never made the baseball team. I was cut in both my junior and senior years," said Pete Craig. "They had two really good pitchers and didn't need a third. I could throw hard, but had no control."1 That didn't stop him from fulfilling a lifelong dream to play major league baseball — which he did for six games from 1964 to 1966.
Peter Joel Craig was born July 10, 1940, in LaSalle, Ontario, the youngest of two boys and the second of six children: a brother Gerry, who became a Catholic priest, and younger sister Janet, Nancy (deceased), Mary Lou (deceased), and Cathy. His father Gerald and mother Janet owned and operated a six-lane bowling alley and sport shop in LaSalle, about 10 miles from Tiger Stadium. The family lived above the bowling alley. When not running the family business, Gerald, who stood 6-foot-3 and weighed 220 pounds, played baseball in Canada's county leagues. "He was a big influence on me," Craig recalled. "I used to be the bat boy when I was growing up."2
Like many Canadian kids, Craig played hockey in winter and baseball in summer. He pitched for River Canard in the Essex County Junior League in 1959 while also playing Class "A" baseball in the Detroit Federation League.3 He posted a combined record of 14-5 for the season. In 1960 he earned a tryout with the London Diamonds, but failed to make the team. He signed with the Listowel Legionnaires in the Senior Intercounty League instead, and led the Legionnaires to the league's championship. 4
These semipro games were scouted, and Craig caught the attention of a Tigers scout whose name is lost to time. But he took a personal interest in Craig and took him under his wing. Craig recalled, "He told me I had ability, but needed to throw more strikes. He said, 'I'll teach you.'"5 The scout came to Lasalle. Under his eye, Craig was instructed to throw seven consecutive pitches high in the strike zone, then seven in a row low, then seven outside, and seven inside. If he wasn't able to get seven straight pitches to one location, he'd have to start the count over again. Through this exercise, Craig eventually was able to spot the ball where he wanted. "That's how I learned control," Craig said.6 He threw three-quarters and mixed the occasional change-up with a two-seam fastball that would sink or ride in on a right-handed batter.
Craig had applied to the University of Detroit Mercy, but did not get accepted. Then, something strange happened. Another scout, one working for the University of Detroit Mercy baseball program, saw him pitch and asked Craig if he'd be interested in playing baseball for the university. Craig didn't take the man seriously, but the fellow returned one day and informed Craig he was in. Craig went to the school's admissions office, and sure enough, to his surprise, he was told that he was accepted and that the baseball coach was expecting him. When Craig mentioned that he had been declined admission the year prior, the admissions clerk checked the file. She explained that the school felt he was too immature a year before.7 Craig played three years for Michigan legend Lloyd Brazil before graduating with a B.S. degree in Foreign Trade. They were three exceptionally good seasons. In 1961 he teamed up with Dave DeBusschere to lead the school to a 19-3 season and a berth in the NCAA District Four playoffs. Craig compiled a 6-1 record as a starter and an ERA of 1.96. He kicked off the campaign with a 14-strikout no-hitter against Alma College in his first start in NCAA baseball.8
The following year was even better. In 1962, Craig improved his record to 8-1, this time with a 2.22 ERA, as the Titans again advanced to the NCAA District Four playoff. Craig's final season with the Titans saw him compile a 4-1 record and 2.57 ERA.9
When not pitching, Craig played some outfield (like his father) as well. "I was always a good hitter," Craig recalled. "I was a line drive hitter, not a power hitter, but one year I led the University of Detroit team with 7 or 8 home runs."10 Craig finished the 1963 season with a hefty .417 batting average.
The Detroit Tigers, Chicago White Sox, and newly formed Washington Senators each showed an interest in Craig. He flew to Chicago and worked out in Comiskey Park. "It came down to money," Craig said. "The Tigers offered me the most, so I signed with them."11 The contract signing took place at Tiger Stadium with renowned scout Lou D'Annunzio.
The Tigers assigned Craig to the Duluth — Superior Dukes, their single A affiliate in the Northern League. He played alongside Denny McLain, Jim Rooker, Joe Sparma, Ike Brown, and Pat Jarvis. He pitched well, compiling a 7-5 record with a league-leading 2.51 ERA, completing 10 of 14 starts with two shutouts. At season's end, the Tigers wanted to see what he could do at the Double A level. He was sent along with McLain to the South Atlantic League. Pitching for the Knoxville Smokies, In three games he went 1-1 with a complete game shutout and a 0.64 ERA.
Baseball Digest's 1964 "Scouting Report" said of Craig, "Has chance to become big league pitcher if he can improve control and curb weight."12 Craig was listed as 6-foot-5 and 240 pounds.
In the spring of 1964, Detroit found themselves with three bonus babies, Craig, Joe Sparma, and Fritz Fisher. The Tigers would not be able to protect all three. They wanted to see how each performed during spring training. "We all pitched like crap," recalled Craig. "We were young, nervous."13 The Tigers decided to protect Sparma, in whom they had more money invested, and asked waivers on Craig.
On April 11, 1964, the Washington Senators claimed him. He was optioned to their Class A affiliate in the Carolina League. Craig compiled a 14-13 record with the Rocky Mount Senators, managed by former major leaguer Owen Friend. "He was a great guy," Craig recalled. "We called him, 'The Owl.' He wore thick, horn-rimmed glasses. I enjoyed playing for him."14 Craig started 26 games and completed 20 of them, tossing three shutouts. His ERA was 3.07.
In June 1964, a friend set him up with Pamela Daniels, who lived near Rocky Mount. They hit it off, and soon the two were married.15
In August the Senators called Craig up to pitch in the Hall of Fame game in Cooperstown against the New York Mets. Craig pitched three scoreless innings in a 6-4 victory. Late in the 1964 season, Senators general manager George Selkirk (a fellow Canadian) contacted Craig with good news: he wanted Craig and Pamela to meet him at a hotel on Dupont Circle in Washington. He was being called up to the big club. The move came as a surprise to Craig. He made his major league debut on September 6, 1964, against his old team, the Detroit Tigers, in D.C. Stadium. Craig entered the game in the fifth inning. "I couldn't even spit, I was so nervous," he recalled.16 He walked Jerry Lumpe, gave up a single to Bill Freehan, and then Don Demeter hit a three-run homer. It was an inauspicious start, but Craig got out of the inning with no further damage.
Craig started the final game of the season on October 4 in Boston, but he lasted only 2/3 of an inning, charged with five earned runs. (He left the game with the bases loaded, and reliever Jim Hannan allowed all three inherited runners to score.) Looking back on it, Craig said, "I didn't do too good. I wasn't really ready for big league hitters. I still needed more seasoning."17
At season's end, Craig played winter ball for the Senators in the Florida Instructional League, a team managed by George Case. Craig remembers him as "A great man. He never got mad."18 Craig went 4-3 with a 3.95 ERA.
Craig began the 1965 spring training in Pompano, Florida, with the Senators. Baseball Digest's Scouting Report wrote of Craig, "Good arm and good size, deceptive delivery. Might make it but is 24 and has been slow to rise."19 It should be noted that Craig was down from 240 pounds in 1964 to 220 pounds in 1965.
He didn't make the trip north with the big club. Instead the Senators sent him to their Triple A affiliate in Hawaii, where he found himself again playing for manager George Case. "We were treated great, like rock stars," Craig reminisced about playing for the Hawaii Islanders. "It was a fabulous place to play. The players had a joke…don't play too well or the Senators will call you up! The travel was tough. We'd play six weeks on the island, and six weeks on the mainland. Two other players were married, Dick Nen20 and Tim Cullen. We all lived in the same complex and we went to the ballpark together. Our wives socialized."21
In 31 games, Craig finished with a 14-11 record and a 3.76 ERA. He struck out 154 batters in 218 innings. Again, the Senators called him up to the majors in September. He started three games, lost them all, and finished 0-3 with an 8.16 ERA.
Craig had hopes of making the big club in 1966. His Baseball Digest Scouting Report said, "Fair curve and fastball, outside chance only."22 Toward the end of spring training, Senators manager Gil Hodges called him into the office to tell him he'd be beginning the year in Hawaii. Craig has nothing but high praise for Hodges, describing him as "very fair, someone with a heart of gold. [Hodges] had a low-key demeanor, never showed favorites, was strictly business and was someone who knew the game of baseball inside and out."23
Craig pitched well for the 1966 Islanders. Despite losing several one-run games, he finished with 14 wins against 13 losses and a 3.48 ERA. For the third consecutive year, he was a September call-up. He pitched in one game, a 6-2 loss to the Chicago White Sox on September 24. Craig pitched two innings with no decision. It was the last time he appeared in the major leagues. It was also the year Craig became a father. In June, he and Pamela had a daughter, Jesma.
Sometime during the 1966 season, Craig felt a twinge in his shoulder. He ignored it and continued pitching. When he reported to spring training in 1967, he had rotator cuff damage. His final Baseball Digest Scouting Report said, "Control pitcher. Can field well. Has good breaking stuff. Has poise. Doesn't throw too hard."24 Craig had lost velocity off his fastball. There was also marital turmoil. He asked to be traded after Pamela and his daughter returned to North Carolina. Craig wanted to be nearer to them. He asked for a trade to Richmond but it didn't materialize. Instead, George Selkirk sent him to the White Sox organization.
Craig was optioned to their Indianapolis Triple-A team. From the start, he didn't get along with Indianapolis manager Don Gutteridge. Once, when Gutteridge walked to the mound to relieve him, Craig flipped him the baseball in disgust. That didn't sit well with Gutteridge. Selkirk worked his magic again, this time bringing Craig back to Hawaii, where he played out the string. In his last appearance, Craig took a 1-0 lead into the seventh inning, but lost it on a routine fly ball when the center and left fielder played Alphonse/Gaston and let the ball drop between them. After that, Craig told Islanders manager Wayne Terwilliger, "I'm hanging them up."25
George Selkirk wanted Craig to stay with the team in some capacity, but Craig was tired of the travel and was eager to return to North Carolina. He briefly settled in Rocky Mount and took a temporary job at Sears before moving to Wilson, about 20 miles south. There, he found work at BB&T (Branch Banking and Trust), a job better aligned with his college degree. BB&T transferred Craig to Raleigh in 1968.26 He continued in banking until a friend offered him a position with a new company, Metrolease. The firm leased office furniture to businesses. Craig was very successful. "I'm a good salesman," he said. "I love talking to people."27 The company grew too fast, took on too much debt, and folded. Craig then worked for an independent leasing contractor arranging financial transactions.
In 1999, Craig suffered a stroke. His entire left side was paralyzed. Craig fought back, eventually regaining movement in his entire body. He still walks with a limp as a result of the stroke, but that doesn't stop him from going to the gym four times a week and taking daily walks. He still lives in Raleigh. Craig marvels at today's players, and doubts he could have made it in today's game. "These guys throw too hard," he said.28 Most evenings, Craig watches baseball. During the winter, he watches hockey.
Craig recalled one memorable September 15, 1965, game against the Yankees. "Clete Boyer hit a home run off me, but I threw Mickey Mantle a changeup and he grounded out to first. And, I just missed hitting a home run off Mel Stottlemyre. It went off the top of the right field wall," Craig added proudly.29 He had an outstanding college career and played five seasons of professional ball. He finished his major league career 0-3, but he owns a lifetime .667 batting average. Not bad for a kid from a small Canadian town who couldn't make his high school baseball team.
Last revised: October 2, 2019
Acknowledgments

Grateful acknowledgment to Pete Craig for his memories (telephone interviews and emails). Thanks also to Rory Costello for vetting earlier drafts of this biography, which was also reviewed by Norman Macht and fact-checked by Alan Cohen.
Sources
Baseball-almanac.com
Baseball-reference.com
Detroit Mercy Titans (https://detroittitans.com/hof.aspx?hof=67)
Pete Craig, email to Bruce Harris (August 22, 2019)
Retrosheet.org
The Baseball Historian (http://baseballhistorian.blogspot.com/2011/11/pete-craig.html)
Parham, Tom. Play Is Where Life is (North Carolina: Catawba Publishing Company, 2008), 83-88.
Notes
1 Pete Craig, telephone interview with Bruce Harris, August 15, 2019 (hereafter Craig interview #1).
2 Craig interview #1.
3 A note about Detroit's sandlot programs from Ashlie Christian and Armand Peterson, SABR BioProject biography of Jim McDonnell:
"To most of us, the word "sandlot" brings up images of vacant urban lots where unorganized games were played. However, the Detroit Amateur Baseball Federation ran a well-organized sandlot baseball program, consisting of competition in multiple age groups and classifications, and in venues all over the city. Northwestern Field was the number one site, where all the top players hoped to play. Richard Bak, author of several books about Detroit and Detroit sports, wrote that "Organized league games were played on Northwestern's six diamonds from morning to night, with Detroit's three daily newspapers carrying news and box scores of the most important contests. The caliber of play was top-notch, and the diamonds were kept in tip-top shape." .
4 Windsor / Essex County Sports Hall of Fame (http://wecshof.org/inductees/pete-craig/).
5 Craig interview #1.
6 Craig interview #1.
7 Craig interview #1.
8 Windsor / Essex County Sports Hall of Fame.
9 Ibid.
10 Pete Craig, telephone interview with Bruce Harris, August 19, 2019 (hereafter Craig interview #2).
11 Craig interview #1.
12 Baseball Digest, March 1964, p.14.
13 Craig interview #1.
14 Craig interview #2.
15 Craig interview #1.
16 Craig interview #2.
17 Craig interview #2.
18 Craig interview #2.
19 Baseball Digest, March 1965, p. 106.
20 Craig appears on Topps Rookie cards three consecutive years: 1965 (with Dick Nen), 1966 (with Brant Alyea), and 1967 (alongside Dick Bosman).
21 Craig interview #2.
22 Baseball Digest, March 1966, p. 106.
23 Craig interview #2.
24 Baseball Digest, March 1967, p. 75.
25 Craig interview #2.
26 Pete Craig, email to Bruce Harris (August 27, 2019).
27 Craig interview #2.
28 Craig interview #2.
29 Craig interview #2.
Born
July 10, 1940 at LaSalle, ON (CAN)
If you can help us improve this player's biography, contact us.
https://sabr.org/sites/default/files/CraigPete.jpg
600
800
admin
/wp-content/uploads/2020/02/sabr_logo.png
admin
2019-10-02 14:04:02
2020-04-09 14:37:30
Pete Craig