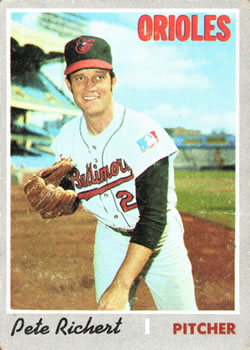 ---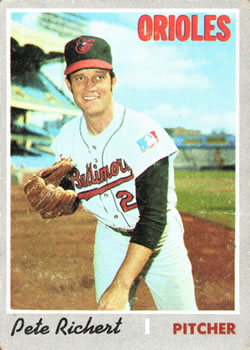 No one in the history of major-league baseball had a first appearance like that of hard-throwing left-handed pitcher Pete Richert. In his debut with the Los Angeles Dodgers on April 12, 1962, against the Cincinnati Reds at Dodger Stadium, Richert set a record by striking out the first six batters he faced. With the Dodgers trailing 4-0, he entered the game with two outs in the top of the second inning and struck out Vada Pinson for the final out. Richert then recorded a four-strikeout third inning in which his victims were Frank Robinson (his future Baltimore Orioles teammate), Gordy Coleman (who reached first base on a passed ball by catcher Johnny Roseboro), Wally Post, and Johnny Edwards; his record-breaking sixth strikeout was of Tommy Harper leading off the fourth.
Besides his record, Richert as of 2010 remained the only major-league pitcher to record a four-strikeout inning in his debut. He held the Reds hitless in his 3⅓ innings of relief, and became the winning pitcher after the Dodgers scored seven runs in the fifth inning. He threw 40 pitches to the 12 batters he faced and only seven were called balls, according to the scoresheet kept by the Dodgers' statistician, Allan Roth. (Four years later, while pitching for the Washington Senators, Richert tied another consecutive-strikeout record.)
Despite his strikeout heroics, it remains a question whether Richert is better known for his whiffs or for the bizarre play while he was on the mound in the tenth inning of the fourth game of the 1969 World Series that helped propel the New York Mets to the world championship.
Peter Gerard Richert was born on October 29, 1939, in Floral Park, New York. His father, Edward, had been a catcher on the Columbia University varsity, and played semipro ball on Long Island. Edward died when the young pitcher was 15. There had been a close relationship between the two. "He was a Yankee fan and so was I," Pete said. "He used to take me to Yankee Stadium when I was a kid. Like millions of kids who go to Yankee Stadium through the years, I imagined myself out there pitching. You know how kids are. My father actually believed I'd make it someday to the big leagues and that I would be pitching in Yankee Stadium. Life does some funny tricks."1
In high school Richert was not very big, standing 5-feet-7 and weighing 150 pounds. (By the time he reached the major leagues he was 5-feet-11 and weighed 165 pounds.) He was tough, though, and helped lead Sewanhaka High in Floral Park to the Long Island championship in his senior year. He also pitched in the Babe Ruth League and the Connie Mack division, for older teenagers, where he was scouted by Los Angeles Dodgers, the New York Yankees, and the Milwaukee Braves. In the end, the Dodgers' Al Campanis and Charlie Russo signed Richert. There were reports when he came up to the Dodgers that Richert got a $35,000 bonus from the Dodgers, but Richer later said it was actually $2,000.2
After graduating from high school it was onto the minor leagues, and the 18-year-old Richert's first stop was with the Reno Silver Sox of the California League. He handled himself pretty well, starting 27 games and going 10-13 with a 4.59 earned-run average with 215 strikeouts in 200 innings. He also walked 143 batters. The next season the Dodgers moved Richert up to the Green Bay Bluejays of the Class B Three-I League, where he improved his strikeout-to-walk ratio, fanning 173 in 156 innings and cutting his walks down to 99. He won 10 games and lost eight, and lowered his ERA to 3.29. At Double-A Atlanta in 1960, he had a breakout season, leading the Southern Association in victories (19), shutouts (6), complete games (18), and strikeouts (a league-record 251). He lost nine games. He added a 20th victory in the playoffs. He was named to the Southern Association All-Star team and the National Association's Double-A All-Star team. He was selected as the minor leaguer showing the greatest improvement during the 1960 season.
Richert was moved up to the Triple-A Spokane Indians in 1961 but was sidelined the first six weeks of the season with arm troubles. Only a quick finish allowed him to finish 5-10 with a 4.50 ERA in 21 starts. He stuck with the Dodgers after spring training in 1962 but despite his record-breaking April 12 debut he could not crack the Dodgers' starting rotation of Sandy Koufax, Don Drysdale, Johnny Podres, and Stan Williams, and two months into the season he was demoted to Omaha, where he experienced a career-threatening crisis.
"My arm snapped," he told The Sporting News. "I threw a pitch and the arm felt like it was broken. I was afraid to throw after that. I babied the arm. One day, [manager Danny Ozark] handed me the ball. 'Pete, he said, this is it. If you're going to pitch big-league ball, let's find out right now. Throw as hard as you can. If the arm snaps, goodbye. If it doesn't, you're free of this fear. Now throw as hard as you can.' I guess it was like a drowning man reviewing his life. I was 22 years old. All my life I wanted to be a major-league pitcher. My dad did too. It was his dream, his great ambition for me. He died before I made it to the big leagues. It was his faith that got me started in the first place. All this went through my mind. I told Danny I was ready. I fired as hard as I could. Nothing happened. I felt great. I risked my baseball life on that one pitch. I won."3 Eventually recalled by the Dodgers, Richert wound up getting 12 starts and won five games while losing four. The Dodgers blew a first-place lead and were tied by the San Francisco Giants. Then the Giants won the pennant in a three-game playoff.
In 1963 Richert again pitched sparingly with the Dodgers, going 5-3 with a 4.50 ERA and spending some time with Los Angeles' Spokane farm team (5-1, 2.25 ERA). The Dodgers won the pennant and swept the Yankees in the World Series. Richert did not pitch in the Series. He started the 1964 season with Los Angeles but after three games was sent down to Spokane after getting hit pretty hard (9.95 ERA). At Spokane he worked on his mechanics, wound up 7-8 with a 3.52 ERA, and earned a call-up to the Dodgers in September, when he struck out 22 in 28 innings with an ERA of 2.34. On December 15, 1964, he was traded along with Frank Howard, Ken McMullen, Phil Ortega, and Dick Nen to the Washington Senators for Claude Osteen, John Kennedy and $100,000.
Inserted into the Washington rotation, Richert won 15 games and lost 12 for the eighth-place (out of ten teams) club, with a 2.60 ERA, fifth best in the American League. He was picked to play in the 1965 All-Star Game at Minnesota's Metropolitan Stadium, and he responded with two scoreless innings, striking out Willie Mays and Willie Stargell.
The Senators finished in eighth place again in 1966 but Richert had another good year, finishing 14-14 with a 3.37 ERA. On April 24 he tied an American League record (since broken) by striking out seven Detroit Tigers in a row. He went to the All Star Game again, and was charged with the loss when former teammate Maury Wills drove in the winning run for the National League in the bottom of the ninth inning.
Richert credited his success to a change in outlook – "my mature attitude." He credited manager Gil Hodges for exiling him to the bullpen the season before, where "I got straightened out and started to pitch the way I should."4 With a fastball that had a lot of motion, a slider, a change-up, and a curve, Hodges said, "Pete is cocky, but he has something to back it up. He's confident when he steps out on the mound and he thinks he can beat anybody. That's the kind pf player I like. Pete is a good athlete and he is a good hitter. I'd rate him with Sam McDowell as the best left-hander in the league."5
Despite Hodges' high opinion of Richert, the pitcher was traded in May 1967 to the Baltimore Orioles for pitcher Frank Bertaina and first baseman Mike Epstein. Richert was 2-6 as a starter when the deal was made. The Orioles kept him in the starting rotation and though he had a decent ERA (3.00 for Baltimore, 3.47 for the season) and a good hits-to-innings ratio, he went 7-10 for the Orioles, and his 9-16 record was the worst he would put up.
Richert's 29 starts in 1967 were the last he would make in his career; in 1968 he became a reliever. He won six games out of the bullpen, four of them in the nine-day period beginning on August 5.
The Orioles won the American League pennant in 1969, 1970, and 1971, and Richert was a prominent member of their strong and flexible bullpen. In 1969 he won seven games, lost four, saved 12, and had a 2.20 ERA. In the World Series against the New York Mets, Richert relieved Dick Hall in the fateful 10th inning of Game 4 with runners on first and second and nobody out. When the Mets' J.C. Martin laid down a sacrifice bunt, Richert fielded the ball and his throw to first hit Martin, the error allowing the winning run to score from second. Television replays showed that Martin had been running inside the baseline, and should have been called out for interference.
The 1970 season was Richert's best as a reliever. Throwing his fastball 90 percent of the time, he won seven games, lost two, saved 13, and had a 1.98 ERA. He recorded the save for Jim Palmer in Game 1 of the World Series and the Orioles went on to defeat Cincinnati in five games.
Richert's pitching numbers slipped in 1971: 3-5 with a 3.47 ERA and four saves. He pitched briefly on Game 7 of the World Series, won by the Pittsburgh Pirates. In 1972 he was back in Los Angeles, sent to the Dodgers with Frank Robinson in a six-player deal. In two seasons with the Dodgers he had 13 saves. Before the 1974 season the Dodgers traded Richert to the St. Louis Cardinals for Tommy Agee. In June the Cardinals sent him along to the Philadelphia Phillies. He pitched sparingly for both teams. After the season Richert was found to have a blood clot in his pitching arm, and his career ended. He was 35 years old. He did get to work the World Series as a baseball analyst.
Pete started an organization called Athletes for Youth. Richert and others traveled to speak to young people about the dangers of drugs. They also visited methadone treatment centers and spoke with addicts.
Pete served as a pitching coach and assistant GM for many teams in the Pacific Coast League and the California League from 1989 to 2001. He and his wife, Adele, have raised three children and as of 2010 lived in Rancho Mirage, California.
Notes
Born
October 29, 1939 at Floral Park, NY (USA)
If you can help us improve this player's biography, contact us.
https://sabr.org/sites/default/files/RichertPete.jpg
600
800
admin
/wp-content/uploads/2020/02/sabr_logo.png
admin
2012-01-04 20:25:41
2012-01-04 20:25:41
Pete Richert