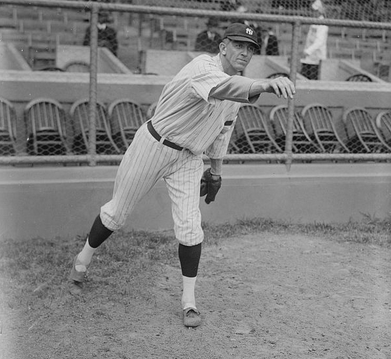 ---
"Caldwell could be as great as Matty or Walter Johnson,
but instead of choosing their careers, he is evidently going
to be another Rube Waddell."
— Grantland Rice, 1914
"Caldwell might have been the Mathewson of the Yankees,
but he turned out to be the Bugs Raymond of the local
Americans. …His irregular habits destroyed his effectiveness."
— Fred Lieb, The Sun (New York), December 19, 1918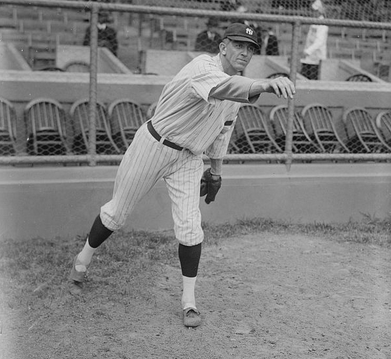 Ray Caldwell was a pitcher of immense talent who had an enormous appetite for nightlife and a weakness for alcohol. For his obituary The Sporting News wrote, "his escapades were legendary" (September 2, 1967). Over the course of two decades, from 1910 to 1933, he won nearly 300 games, 133 of them in the majors. As the ace of the New York Americans in the early 'teens, he was at times so dominant that Washington once offered Walter Johnson for him in a trade. Ray's flashes of brilliance were usually followed by "outbreaks of misbehavior," followed by repentance, recovery, and pitching excellence, before the cycle began anew.
Ray was born on April 16, 1888, in northwestern Pennsylvania, in the town of Corydon. (The town no longer exists; In 1965, it was put under water by the Kinzua Dam and the Allegheny Reservoir.) There's only one mention of his father, that he was a minister overseas. Ray's stepfather, Lewis Archer, was a telegrapher, and Ray followed in his footsteps in "the brass-pounding profession." Before, during, and after his baseball career, he worked a telegrapher for the B, R, & P (Buffalo, Rochester, and Pittsburgh) Railway.
Ray was a latecomer to baseball, starting in 1908 and then signing a contract for the Butler semi-pro club of Bath in 1909, at the age of 21. When he pitched well against an all-star team from the Pennsylvania League, Duke Servatius signed him for the McKeesport team of that league.
1910 was Ray's first professional season. The success of an 18-win campaign with McKeesport led to his acquisition by the New York Americans and their scout Arthur Irwin for $1,500. He joined the Highlanders that September, a tumultuous time for the New York team. Two weeks after Ray arrived, first baseman Hal Chase took over for George Stallings as skipper. Chase gave Ray his first start on September 21, a 6-4 loss to the White Sox. Ray always remembered his second outing, a win over the Red Sox, when Harry Hooper his very first offering for a home run.
In his first full season in the bigs, 1911, Ray became the Highlanders' number two starter, behind phenom Russ Ford, with 14 wins and a 3.35 earned run average. Twice in early May he faced another young pitcher, and both times Joe Wood shut out the New Yorkers. Ray had what would be a career-high 145 strikeouts that year and capped off his rookie season with a shutout over Washington on September 1. He served notice that he was skilled with the bat too. He was hitting .373 when The Sporting News featured his hitting on July 6; a few days later he three-hit the Browns and got three hits himself. He finished with a .272 batting average and 17 runs batted in.
The slender hurler threw with his right arm, yet hit left-handed. With a lanky 6′ 2″, 190-pound frame and an elongated face, he quickly earned the nickname "Slim." Baseball historian Fred Lieb once wrote that Ray had an easy, effortless delivery and a temperament to go with it. He had a disarming smile that the ladies found attractive. He also had a good fastball, sharp-breaking curve, and even an "underhand ball" which led the Detroit News to see him as "the second Matty" as early as May 6, 1911.
Ray was hampered by an arm injury the next two years. He started slowly in 1912. On June 7 in Cleveland, he finally had a strong outing, carrying a shutout into the fifth inning, when something popped in his shoulder. "Twisted muscles" was the way The World described it. He hardly pitched for about a month. In early July manager Harry Wolverton (who followed Hal Chase's unsuccessful tenure), fined Ray $250 and suspended him indefinitely for not reporting in Boston. Caldwell then sparkled in a July 20 double-header, when he stole home for the margin of victory in the first game and twirled a shutout in the second contest. While he threw a couple of shutouts after he came back from the suspension, he was also rocked for 12 or more hits three times. Ray finished the season with an 8-16 record and a 4.47 earned run average.
Just before the start of the 1913 season, Ray inaugurated Brooklyn's new ballpark, Ebbets Field, in an exhibition game with the Dodgers. After a 2-1 loss to Joe Wood and Boston on April 14, Ray's arm trouble resurfaced. The New Yorkers, who had another new manager in Frank Chance, were now called the Yankees and played their home games in the Polo Grounds. A St. Louis paper reported that Chance was considering converting Ray to an everyday outfielder (Globe-Democrat, June 6). The New York Times reported on June 15 that Chance had put Ray on waivers. He apparently went unclaimed. In the meantime, he made numerous appearances as a pinch hitter and pinch runner, as well as some relief appearances. In late July, Ray was leading the American League in hitting with a .421 batting average. He finished at .289. His season numbers reflected his versatility that year: while Ray pitched in 27 games, he appeared in 59 games.
On July 31, the "rejuvenated… discard pitcher" threw a four-hitter against Ed Cicotte and the White Sox. Ray was consistent the rest of the season, including two shutouts, a two-hitter and a three-hitter. He finished the season at 9-8 with a respectable 2.41 earned run average on a weak New York team. He also completed every game that he started, except for his final start. Ray Caldwell was back… and ready to make his mark in a big way.
Ray had a breakout season in 1914. Early on, he was spectacular: his first three games were shutouts. The New York Times described his three-hitter on April 17 this way: "Ray Caldwell teased the champs [Philadelphia Athletics] with a slow, hypnotic floater, which dipped over the plate so easily that spectators in the grand stand [sic] could read Ban Johnson's signature on the leather."
Slim achieved a record of 17-9 on the sixth-place Yankees. He had a sparkling 1.94 earned run average (fourth best in the league) with five shutouts. As in 1913, he completed all but one of the games that he started.
Ray pitched well that summer; he was now the Yankee's ace. Russ Ford had jumped to the upstart Federal League's Buffalo Bisons (the Buffeds). On July 27, Caldwell shut out the White Sox, and he beat the Indians on the 31st for his 17th win. The season had more than two months to go, yet Ray Caldwell had won his last game.
Ray showed his potential for greatness that year, but also his seeds of self-destruction. In August, after a couple of losses, Ray again "went by the wayside" and disappeared on a western roadtrip. Manager Frank Chance had warned Ray back in March that he wouldn't tolerate the pitcher's drinking or his "Broadway training." He twice fined Ray during spring training for "falling by the wayside" (violating curfew and then not reporting the next day).
The tension between the fun-loving pitcher and the club's stern taskmaster was never far from the surface. Ray was a happy-go-lucky fellow who loved the nightlife of the big city and never took training rules seriously. The Sporting News wrote in the summer of 1914 (on August 27), "He [Caldwell] is one of those fellows who can not say 'No.'" While the paper did not elaborate, Ray was known as a consummate "ladies' man." Sporting Life was probably understating his predilection for alcohol when it wrote of his "occasional flirtation with that which is amber and foamy" (September 12).
Frank Chance fined him $300. With penalties totaling $900 for the season, Ray left his team and responded to the overtures of the Federal League's Buffalo team. Two stars of the Bisons were former teammates of Ray's in New York, pitcher Russ Ford and first baseman Hal Chase. Another Buffed was pitcher Hugh Bedient, who was from Gerry, New York, near Ray's hometown.
Although Ray was under contract to the Yankees for the following season (not simply held by the reserve clause), he signed with Buffalo on September 12, 1914 and got a $2,500 advance. On that very day, Frank Chance announced his resignation as the Yankees' skipper. He had been lured out or retirement by a large contract, $20,000 a year for three years. His New York Americans were a team of modest talent at the plate. While his pitching staff was decent (Caldwell, Ray Fisher, Ray Keating, and —in 1913 —Russ Ford), Chance was frustrated with his owners for not spending more money on player payroll. He was angry with his scouts for not showing more skill in evaluating talent; he wanted scout Arthur Irwin fired. Shortly after taking over the team, which started 2-15 in 1913, he told Sid Keener, the sports editor of The Times (St. Louis): "I know there are boneheads in baseball, but I didn't believe so many could get on one club. Mine."
Ray Caldwell could have been included in that group, and he was also involved in a key incident that triggered Chance's resignation. Ray appealed to team owner and president Frank Farrell to rescind his 1914 fines. Farrell agreed, perhaps hoping such a reversal would prevent Ray from jumping to the rival Federal League and secure his return to the Yankees. When Chance learned of this overruling of his authority, it was the proverbial "last straw." The World wrote, "The Caldwell matter was the real reason for Chance resigning." (September 13, 1914)
As 1915 began, the New York Yankees had new owners, brewer Jacob Ruppert and engineer Til Huston. They hired former Detroit pitching star Wild Bill Donovan as manager. Jovial and easygoing, Donovan immediately set out to bring Ray Caldwell back to the team. Sportswriter James Isaminger wrote, at least partly in jest, that Ray returned when he learned that a brewer bought the Yankees (Sporting Life, January 23, 1915). More persuasive was the contract Ray was offered by New York: three years at $8,000 or $9,000 each, which was more than Buffalo had offered. The deal was finalized by early January. The Yankees sent $2,500 of that first year's salary back to the Bisons. The Buffeds sued Ray for breach of contract —he had signed for three years with them —but didn't file suit to force his return.
The World reported that Ray "had taken a liking to" his new manager and that he declared he'd win 30 games this season… with ease (March 14, 1915). Grantland Rice was just one observer eagerly anticipating the start of the season (Washington Post, March 12, 1915): "With the tall Yank in condition, a [Walter] Johnson-Caldwell battle will acquire as much class as the bygone duels between [Christy] Mathewson and [Mordecai] Brown."
Unknown to most people at the time was that Johnson and Caldwell were being compared in another way. Like Ray, Johnson had jumped to the Federal League and also eventually returned to the American League. A few years later, both Fred Lieb (Evening Telegram, New York, January 15, 1922) and Joe Vila (The Sun, March 16, 1919) told a remarkable story:
Washington team president and manager Calvin Griffith offered Walter Johnson to the new owners of the Yankees for Ray Caldwell during the time that both pitchers were flirting with the Federal League. American League president Ban Johnson advised the New York owners not to accept the deal because Ray was so talented and had so much potential. Ray's 17-9, despite missing two months of the season, and his 1.94 ERA compared favorably with Johnson's 28-18 and 1.72.
Griffith wasn't the only manager interested in Ray, even after he had gone AWOL on his team. Sporting Life reported on September 12, 1914 that Branch Rickey and the Browns wanted to trade for Slim.
On April 24, 1915, Ray Caldwell bested Walter Johnson with a two-hit shutout, and the Yankee owners must have felt good about Ban Johnson's advice. Wild Bill Donovan's Yankees got off to a terrific start, with a record of 10-4, then 17-9. In June, Ray put on an amazing hitting exhibition:
June 10: Ray hits a pinch-hit home run in a loss to the White Sox
June 11: Ray's 3-run pinch-hit home run helps beat Chicago, 10-9
June 12: Ray pitches and hits a homer in a 9-5 win over St. Louis
The World's sports editor, Walter Trumbull, showed remarkable insight into the essence of Ray Caldwell (June 13, 1915). "Caldwell is a boy who really likes to play baseball. When he is in condition, he is a great pitcher, —one of the greatest in the game. This season he appears to be taking his profession seriously.
"Certain men, such as Ty Cobb and John McGraw, cannot bear to lose. If it is only pitching pennies at a crack, they put their whole heart into it. If the soul of Caldwell ever burns with this flame; if he ever acquires this fierce ambition to be better than the best, he will make a name for himself that will last as long as the game endures."
In late August, Ray had a remarkable stretch of non-support. Over five games, the Yankees scored only one run for him. Ray garnered only one win in that stretch, 1-0 over Detroit. Even then, he had to help himself: he tripled and scored the game's only run. Ray earned a cover of a 1916 Baseball magazine, with the headline, "Hard Luck Pitcher." He finished the 1915 season with a 19-16 record in 305 innings and a 2.89 earned run average. The Yankees faded to 69-83 and finished in fifth place.
Ray opened the 1916 season with a classic 11-inning loss to Walter Johnson and Washington, by the score of 3-2. In early July, Ray beat Johnson and the Nationals with a 1-0 three-hitter, also an 11-inning game. His lack of support from Yankee bats continued, as he lost by the scores of 2-1 and 1-0 in the next few days. Once again, Donovan's Yankees started strong and held onto first place into July. Then the team experienced a tidal wave of injuries to many of its key players, including a shattered kneecap to Ray Caldwell. He returned on July 25 and was hammered by the White Sox, 13-8.
Starting on July 29, the Yankees lost six close games to the Browns. Ray dropped the first game, 3-1, and the next five were by the scores of 3-2, 2-1, 2-0, 4-2, and 3-2. Dave Davenport won three of the games, including both ends of a double-header on the 29th. The Yankees were still in first place on the 29th. By August 15th, they were in sixth place.
The team fell out of the pennant race, and the pitcher fell off the wagon. Ray took "French leave" from his team, and the genial Yankee manager felt forced to fine and suspend a player for the first time. It was Ray's first punishment in a long stretch. The Sun reported of Ray's "breaking out" and "failing to keep in condition" (August 2), as the press continued to use code words for drinking and partying. When Ray didn't report to the team in mid-August, after a $100 fine and 15-day suspension, Donovan suspended him again, this time for the balance of the season. Ray finished with a 5-12 record, though his 2.99 earned run average was only slightly higher than the previous year's. The Yankees did finish in the first division (4th place) for the first time since 1910, at 80-74.
The Yankees were reeling, and their ace hurler was nowhere to be found. Where was Ray Caldwell? The Sporting News reported on September 21 that Ray had been a patient for alcohol treatment in a St. Louis hospital. The paper wrote that his cure was complete.
There was no word that winter of Ray's whereabouts. Then reports came back to the states that an American pitcher by the name of Collins was pitching for Colon in Panama. Collins was pitching well… and bore an eerie resemblance to Ray Caldwell (The Sun, March 4 and March 6, 1917). As spring training 1917 approached, the missing Yankee ace got plenty of press, and most of it was negative. Here was the Washington Post on February 25: "Caldwell is an example of a great pitcher going to ruin by his failure to take care of himself."
The Yankees' co-owner Til Huston was still seething over Ray's leaving the team in the lurch the previous summer. He wondered aloud to New York reporters (The World, The Sun, March 2, 1917) why the team should pay a high salary to such a bad influence on other players. Even Bill Donovan announced that he would no longer tolerate Ray's "foolishness." The Sporting News' Joe Vila minced no words, writing about Ray's "desertion and dissipation" on March 8:
"This fellow Caldwell is a most peculiar chap. He is sensitive and boyish, although he is 29 years old. He is good natured, intelligent and nervy when he faces the opposing batsmen. But he lacks self control when temptation is near at hand— and for that reason he has fallen from grace on several occasions."
When Ray finally showed up at the Yankees' camp in Macon, he was tan and fit, ready for a big season, and a week late. He said he'd been in New York during the winter, though The World called him "the Pearl of Panama." The Yankees decided to give him another chance, in part because so much of their success depended on his arm and in part because he was in the last year of his contract. The hope was that latter reality would keep Ray focused. And, as many times in the past, he was contrite, saying he had earned his lesson, though he never elaborated just what the lesson was.
Once again there were those in the press who welcomed Ray back. The very issue of The Sporting News that had Vila's critique had a more favorable article on the "erratic but brilliant" hurler, who, "in spite of his waywardness, is a good fellow at heart, popular with those who know him and all will welcome his return."
Even Joe Vila was willing to forgive. He wrote of Ray's recovery in late April, that the pitcher was in superb condition and "seemed determined to live down the unpleasant incidents of the past." That very week Ray was involved in another 1-0 decision. As so often in the past, he was on the losing end, this time to Joe Bush and the Athletics.
On June 17, Ray pitched in Manhattan's first Sunday game, a 2-1 loss to the Browns. On June 23, he beat the Athletics twice. He was lifted after six innings of the first game with a 9-0 lead, and then threw a complete-game 2-1 victory. Ray often seemed to do his best against the A's and had a real admirer in their manager, Connie Mack. "Put Ray Caldwell on a winning team and he would be one of the greatest pitchers of all time," said Mack.
Just a few days later, Ray Caldwell was fined $100 and suspended for ten days. He was out all night with young Yankee pitcher Urban Shocker, whom manager Donovan didn't suspend (but did fine $50). Ray once again missed curfew and failed to report the next day. Joe Vila saw Caldwell's fall from grace as "the last straw," Caldwell having "lost his senses completely" (The Sporting News, July 5). He urged that Ray be traded or permanently banned. Connie Mack then offered outfielder Amos Strunk, who had hit .316 in 1916, in trade for Ray. The Yankees turned the deal down.
Flashes of brilliance interspersed with legendary escapades. The day Ray returned from his suspension, July 10, he pitched 9⅔ innings of shutout ball in relief, winning a game against veteran Eddie Plank and the St. Louis Browns. That very night, Ray was arrested by St. Louis police and charged with grand larceny, stealing a $150 ring from Mrs. Lucy Dick (The World and The Sun, July 11). New York immediately offered to trade Ray to the Browns for second baseman Del Pratt, but St. Louis turned this deal down.
Ray still had some good pitching in him. In early August, "the slugger from Salamanca" (in western New York, where Ray lived) hit a home run, yet lost to Stan Coveleski and Cleveland, 2-1. A week later, Ray's wife Nellie charged abandonment and sued for support, demanding more than $100 of his monthly salary for herself and her seven-year-old son.
After not winning for almost a month, Ray won twice in early September, including a shutout over Washington. Then, once again, he went off the wagon. He was scheduled to pitch for a group of all stars in an exhibition game, to benefit the family of the late Boston sportswriter Tim Murnane, against the Red Sox in early October. With the Yankees unable to count on Ray, let alone locate him, they sent young pitcher Urban Shocker in his place.
Ray ended 1917 with a 13-16 record. For the third year in a row, his earned run average fell between 2.86 and 2.99 (2.86 in 1917). Bill Donovan did not survive past the end of the season. Once again, the Yankees were a disappointment; only this year, they were never in the thick of the pennant race. Miller Huggins, the skipper of the St. Louis Cardinals, replaced Donovan as Yankee manager.
Ray Caldwell was the first player Huggins met with, and the skipper set out his expectations. Huggins had considered including Ray in the big Del Pratt trade he pulled off in January, but instead included another Yankee pitcher, Urban Shocker. After Huggins signed Ray to a 1918 contract, Ray told the Washington Post he'd win 30 games that year.
Huggins assigned two private detectives to Ray, to keep him out of trouble and away from bars, yet Ray was often able to elude them. After tearing a muscle in his knee during spring training, Ray was totally ineffective in his first few starts. He developed a lame arm, and the Yankee skipper considered converting Ray into an outfielder. Ray's bat was as effective as ever— on May 13, his pinch-hit double cleared the bases and beat Detroit, 3-2. On July 1, his win over the Athletics put New York in first place. Yet the Yankees once again had a summer fade, and by the start of August, they were in fourth place, ten games back.
Ray threw his only shutout of the season on August 1, yet in mid-August he left the Yankees and joined the Tietjen and Long Drydock Company of New Jersey. Yankee teammates Ping Bodie and Hank Thormahlen were already working there. Both the shipbuilding and steel industries had baseball teams and were considered "essential services," vital to the allied war effort. During World War I, a number of players joined such companies and were thus able to avoid the military draft. They had what were considered "soft jobs" and often earned $500 a week, representing their companies on the ball field.
Yet Ray had left without notice before the end of the season. He finished with a 9-8 record, and once again, his earned run average was around 3.00, at 3.06. Joe Vila again declared that he should be banned from the game and brought up Ray's past. "Caldwell never should have been taken back after Frank Chance suspended him in 1914," he wrote on August 29. Miller Huggins had enough of Ray too, and in December he sent the talented yet troubled hurler to the Red Sox in a multi-player deal that brought Duffy Lewis and Ernie Shore to New York. It was the first of many trades that Boston owner Harry Frazee would make with the Yankees from late 1918 to early 1923. Fred Lieb wrote the comments at the top of this article when this trade was consummated.
Dan Daniel of The Sun commented that Boston would be Ray's final chance and that tough Red Sox skipper Ed Barrow would not put up with his antics. Ray's stay in Boston was short. The team released him in early July. While he had a 7-4 record, his earned run average was 3.96. His Boston road roommate was another lover of nightlife, Babe Ruth. It now appeared that Ray Caldwell's major league career had come to an end.
Yet on August 19, Tris Speaker, the manager of the Cleveland Indians, signed the 31-year-old. There was no question that Ray still could contribute. The question revolved around his erratic behavior, repeatedly "falling off the wagon." Speaker used a remarkable approach of reverse psychology. In his team history, The Cleveland Indians, Franklin Lewis relates the story of Ray's reviewing the contract.
"Slim buried his head in the printed sheet. 'After each game he pitches, Ray Caldwell must get drunk. He is not to report to the clubhouse the next day. The second day he is to report to Manager Speaker and run around the ball park as many times as Manager Speaker stipulates. The third day he is to pitch batting practice, and the fourth day he is to pitch in a championship game.'
"Slim looked up 'You left out one word, Tris,' he said. 'Where it says I've got to get drunk after every game, the word not has been left out. It should read that I'm not to get drunk.
"Speaker smiled. 'No, it says that you are to get drunk.' Slim shrugged his shoulders. 'Okay, I'll sign,' he conceded."
It worked. Ray started six games at the end of the shortened (because of the recently concluded World War) season. He won five of them, with a 1.71 earned run average. "There was nothing more remarkable in the 1919 campaign… than the remarkable 'Slim' Caldwell," wrote umpire and columnist Billy Evans on January 11, 1920 (Detroit News).
More remarkable than Babe Ruth's stunning 29 home runs? Yes, especially because two of the six games were exceptional. On August 24, in his first start in Cleveland's League Park, Ray led the Philadelphia Athletics 2-1, with two outs in the ninth. Suddenly, bolts of lightning clustered over the ballpark. Sparks danced along the metal railings. Then Ray was hit by the lightning and knocked down, unconscious. One account said that the bolt had entered the metal button on the top of his cap and exited the metal spikes of his shoes. Ray later told the Cleveland Press, "It felt just like somebody came up with a board and hit me on top of the head and knocked me down." A few minutes later, he arose and insisted on finishing the game. He quickly retired the final batter, Joe Dugan, to preserve the win. Years later, Robert Ripley of "Ripley's Believe It or Not" paid Ray $100 to appear on his radio show.
Then, on September 10, Ray tossed a 3-0 no-hitter against his old team, the New York Yankees. The game propelled the Indians to a 10-game winning streak that brought them just short of the pennant.
Ray and the Indians picked up in 1920 where they left off in 1919. He had picked up the spitball in 1919 (taught by his new teammate Stan Coveleski?) and was designated as one of the 17 pitchers who could continue to throw the pitch even after it was banned early in 1920.
Ray was not overpowering during the 1920 season. Opponents had a .303 batting average against him this year, and he gave up well over a hit an inning. Fred Lieb once wrote that there seemed to be an unwritten rule when Ray pitched for New York, "Thou shalt score no runs for Caldwell" (The Sun, June 18, 1917). Only now Ray had an offensive powerhouse behind him — —the 1920 Indians also hit .303. The man who had lost his share of 1-0, 2-0, and 2-1 games won this year by scores of 9-7, 9-6, 8-5, and 7-5. He was effective the last few weeks of the season and never once did he violate training rules nor was he disciplined. On August 19, he gave up Babe Ruth's 43rd home run and still beat the Yankees, 3-2 to hold onto first place for Cleveland. Lieb then wrote in the Evening Telegram,
"Ray Caldwell is one of the marvels of the age. For years, he was in a class by himself for failing to take care of himself….  Caldwell never looked better. …He has his old smoke and his famous hop on the ball."
Despite the death of shortstop Ray Chapman in August, the Indians won their first pennant, edging the White Sox by two games and the Yankees by three. Cleveland was led by three 20-game winners. One was Ray Caldwell at 20-10. His 3.86 earned run average was almost a full run higher than his previous seven seasons, yet this was the first year of the Lively Ball Era. The league's earned run average rose about one run higher than it had been in the previous decade.
After the Indians and the Brooklyn Robins split the first two games of the World Series (won by staff aces Stan Coveleski and Burleigh Grimes), Ray Caldwell got the nod to start Game 3. After a decade in the majors, he had finally reached the big stage. He did not make it out of the first inning. Ray gave up two runs in 1/3 of an inning on a walk, a Joe Sewell error and two hits (one a bloop single). Perhaps because Ray had been less effective as the regular season came to a close, Speaker did not stay long with him. He really couldn't be faulted for making a change in pitchers. In 6⅔ innings of scoreless relief, Duster Mails gave up only three hits. But Brooklyn's Sherry Smith tossed a three-hitter, and the Robins won, 2-1. Ray did not appear again in the World Series, which the Indians won. In the off-season, he worked in the auto business with teammate Steve O'Neill.
In 1921, Tris Speaker moved Ray to the bullpen. After starting 33 of his 34 games in 1920, he started only 12 of his 37 appearances in 1921. In early September, Speaker suspended Ray for violating "rules of discipline." He was "up to his old tricks," wrote Joe Vila in The Sun (September 7). When Ray begged for forgiveness, Speaker reinstated him. The cycle that had been vintage Ray Caldwell was playing out again.
Ray bounced back with two of his six 1921 wins, his only shutout of the year, over the Athletics, and a 5-1 win over Boston. The latter game pulled the Indians into a tie for first place with New York. A few days later, Ray went to the mound against the Yankees, with his Indians still tied for first. Ray was driven from the mound in the second inning, and the Yankees went on to slaughter the Indians, 21-7. The Tribe never recovered, the Yankees won their first pennant, and Ray Caldwell never started another major league game.
Ray next embarked on a twelve-year minor-league career, primarily in the Southern Association, and also the American Association. Despite twice winning 20 or more games, he never again was proffered a major league contract. His reputation for drinking and partying and his pattern of falling off the wagon kept the scouts away. Still, he stayed in the game he loved for more than a decade, winning more than 140 games.
From 1922 to 1924, Ray pitched for Kansas City. He won 22 games in his first year, and he won 16 games in 1923, when his team won the AA pennant. That team, with a record of 112-54, is considered one of the greatest minor league teams of all time, yet they barely nosed out St. Paul (111-57) for the pennant. The Blues then faced the International League's Baltimore Orioles in the Little World Series. The Orioles has just set a record by winning their fifth straight IL pennant. They were led by fireball phenom Lefty Groves (spelled with an 's' in those days). Groves beat Ray in Game 2, 3-1, and Ray returned the favor in Game 6. The Series went the full nine games, with Kansas City taking the title. Their 19-game winner, who won three games in the series, was another New York (Giants) hurler of the 'teens, Ferdie Schupp.
The following spring, in early April 1924, the Blues' Ray Caldwell shut out the Pittsburgh Pirates in an exhibition game, 2-0. Still, no invitation came from any big league club. The following year, Ray moved on to Little Rock of the Southern Association for three seasons. His Travelers finished in last place all three years, and Ray led the league in losses in both 1926 and 1927, with 22 and 20, respectively. His earned run average rose from 3.41 to 5.27 in 1927. Late in that season, the Milwaukee Brewers of the American Association picked up Ray for their late-season pennant run. He went 0-3 in five games, and at the age of 39, his baseball playing days seemed over.
Yet Ray hooked up with Memphis in 1928. He won 10 games, and the Chickasaws finished in second place. The following year, he dropped down to Akron of the Central League, managed by the venerable John McCloskey. Ray appeared in only eight games, had a 6.29 earned run average, and then drifted to a semi-pro ball club. It was here that Johnny Dobbs, former major leaguer and now manager of the Birmingham Barons, spotted Ray. Dobbs felt that Ray could still pitch and signed him for the Southern Association team late in the 1929 season.
Ray responded with a 4-2 record and a sparkling 1.79 earned run average. The Barons won the pennant and went on to beat the Dallas Steers 4 games to 2 in the Dixie World Series. Ray won two of the four games. In 1930 Ray continued his impressive comeback with a 20-12 record for the third place Barons, though his earned run average jumped to 4.43. In 1931, Ray pitched 248 innings, just two innings less than the prior year. Ray won 19 contests and lowered his earned run average to 3.45. His Barons, now managed by Clyde Milan, won their second pennant in three years.
Their opponents in the Dixie Series were the Houston Buffaloes, led by a 21-year-old pitcher named Dizzy Dean, with his 26-10 record, 11 shutouts, and 303 strikeouts. The brash hurler predicted (quoted in Robert Gregory's Diz), "If I don't beat them Barons, I'll join the House of David and grow a beard and never, never shave it. It would hide my shame."
Ray was 43 and a grandfather now. He had just gotten married for the third time a couple of weeks earlier (Gregory). More than 20,000 fans crammed into Birmingham's Rickwood Field to see Dean vs. Caldwell in Game 1. Veteran sportswriter Zipp Newman called it "strength of youth vs. the guile of the years." Ray's fastball was a thing of the past, with only 57 strikeouts that year. He threw a lot of off-speed pitches and had mastered control, with only 36 walks that season.
Ray beat Dean 1-0 in the ballgame, and his eighth-inning hit set up the winning run. Dean came back to beat Ray in Game 4, 2-0. With the series tied at three games apiece, Dean started the deciding game. The Barons called on "old man Caldwell" in the ninth inning, to protect the lead. He struck out the Texas League's home run and RBI leader, Joe Medwick, and preserved the win for Birmingham.
Early in 1932, Ray injured his knee and was on crutches the rest of the season. In April of 1933, the Barons released him, and he briefly joined his old manager, Johnny Dobbs, with Charlotte of the Piedmont League. Ray finished his playing career later that year with Keokuk of the Mississippi Valley League. He had pitched more than 2,200 innings with 133 wins in the majors and 2,200 innings with 159 wins in the minors.
The following year Ray was involved in a short-lived barnstorming Old-Timers' Club, based in Los Angeles. Ray hoped it would provide a venue for him to continue playing ball after retirement. Other former players involved in the ill-fated venture included Ivy Olson, Chief Meyers, and Mike Gazella. Ray then umpired in the Michigan State League. A few years later, during July 4 weekend, 1938, Ray surfaced in a Cleveland exhibition game, pitting the 1908 Indians (who fell just short of the pennant) and the 1920 Tribe (who won the World Series). Ray managed a ballclub only briefly, when he skippered Fremont of the Ohio State League early in the 1940 season. The 52-year-old even pitched a game for his team and was knocked out of the box.
Ray settled near where he grew up, only now he was across the border in the Jamestown, New York area. In 1940, he had a farm in Frewsburg, New York. He enjoyed hunting, chopping wood, and playing handball. Ray returned to telegraphy, his trade both before his baseball career and during the off-seasons. (Passengers would send messages while they were travelling.) He worked at the Asheville, New York station, near Jamestown.
In 1939 Ray married for the fourth time, to Estelle Sheppard of Lorain, Ohio. She too was a divorcee, and Ray now helped raise his four stepdaughters. One of them, Irene, recalled that he was a perfect gentleman and often reminded the girls to behave like "ladies." Another stepdaughter, Jacqueline, remembered her stepdad's modesty; he wasn't a braggart. Yet he loved to talk baseball.
Ray worked as the steward of the Lakewood, New York (suburb of Jamestown) Rod and Gun Club. He tended bar, and Estelle did the cooking. He also ran the Red Wing tavern in nearby Onoville, which was owned by local ballplayer Ty Crandall. Both Ray's birthplace, Corydon, Pennsylvania, and Onoville, New York, were put underwater in the 1960s by the Kinzua Dam and the Allegheny Reservoir.
In 1948, Ray Caldwell was named to the all-time Kansas City Blues team, along with Vince DiMaggio, Al Rosen, and Wilcy Moore (Chicago Tribune, August 4, 1948). In 1950, the 40th anniversary of Birmingham's Rickwood Field, Ray was honored at a pre-game ceremony. A year later, he and Dizzy Dean appeared together at a Birmingham dinner commemorating the 20th anniversary of the '31 Dixie Series.
In 1953 Jamestown started a "Sports Hall of Fame Night," when the locals honored two sports figures, a veteran and a modern-day player. Erik "Swat" Erickson and Irv Noren, respectively, were the first honorees. Ray received the veteran's award the following year, and Hugh Bedient got it a year later.
In 1961 Ray needed a cataract operation, and the Randolph, New York Lions Club raised money for the surgery with a big barbecue. Hal Leibowitz, a sportswriter for the Cleveland Plain Dealer, publicized his plight. Ray had spent time in Ohio, where two of his stepdaughters lived. He had conducted free baseball clinics in Fremont, during summers. The successful operation was done at the Cleveland Academy of Medicine by Dr. Charles Thomas. Chic Thomas was a big Indians' fan and had treated Herb Score a few years earlier.
That same year Ray spoke out in favor of legalizing the spitter. The movement, which ultimately failed, included American League president Joe Cronin and commissioner Ford Frick in its ranks. In the 1960s, Ray was a greeter at the Golden Nugget Casino in Las Vegas. He died of cancer in Salamanca, New York on August 19, 1967 and was buried in Randolph. Estelle, who died in the early 1990s, is buried at his side. Ray's son by his first marriage, James, also passed away in the 1990s.
Ray Caldwell was known as much for his extracurricular activities as for his mound exploits. Fred Lieb wrote in The Sporting News (April 27, 1933), "He was one of the playboys of his time. Caldwell loved baseball, but he loved the high lights better." He never realized the potential of his incredible baseball talent, which seemed so promising in the mid-'teens. In 1924, Miller Huggins looked back at his erratic pitcher:
"Caldwell was one of the best pitchers that ever lived, but he was one of those characters that keep a manager in a constant worry. If he had possessed a sense of responsibility and balance, Ray Caldwell would have gone down in history as one of the greatest of all pitchers." (San Francisco Chronicle, serialized column, March 14, 1924)
Caldwell, the Guy Called Slim
There he slouches, cool and grinning,
In the straining, crucial inning,
For there's nothing in the world that bothers him;
With a careless swing he meets it,
Like a streak of light he beats it;
Something happens when they send the call for Slim.
He's the reinforcing propping
When the Yankees take to dropping;
He's a bunch of nerve and made-to-order vim;
It is certain while they've got him
That the Yankees won't hit bottom;
When they're in a hole they'll simply call on Slim.
By Right Cross, 1914, quoted by Frank Hyde, Jamestown Post-Journal
Partial Bibliography
In preparing this article, the author relied heavily on biographical clipping files from the Baseball Hall of Fame Library, Cooperstown, New York, The Sporting News, St. Louis, and the Jamestown Post-Journal. Frank Hyde, a longtime sportwriter for the Post-Journal, wrote extensively about Ray Caldwell for more than 30 years.
The author also conducted telephone interviews with Caldwell relatives: Irene Moore (stepdaughter), Jacqueline Christenson (stepdaughter), Ellen Yannie, and Jeannie DeFranco (step-granddaughters). He also interviewed sportswriter Hal Leibowitz.
Newspapers and Magazines:
ProQuest: Chicago Tribune, New York Times, Washington Post
New York Evening Telegram
Sporting Life
The Sporting News
The Sun, New York
The World, New York
Baseball Magazine
Zipp Newman, "September Memory," Birmingham Barons 1985 Souvenir Program
Books:
Mark Gallagher, New York Yankees Encyclopedia, Champaign: Sagamore, 1996
Frank Graham, The New York Yankees, an Informal History, New York: Putnam, 1958
Fred Lieb, The Detroit Tigers, New York: Putnam, 1946
Franklin Lewis, The Cleveland Indians, New York: Putnam, 1949
David Mule, Across the Seams: Professional Baseball in Jamestown, New York, Amereon, Mattituck, New York
Bill O'Neal, The American Association, Austin: Eakin, 1991
Bill O'Neal, The Southern Association, Austin: Eakin, 1994
Bill O'Neal, The Texas League, Austin: Eakin, 1987
David Pietrusza, Matthew Silverman, and Michael Gershman, editors, Baseball:
The Biographical Encyclopedia, Kingston, New York: Total Sports Illustrated, 2000
Lyle Spatz, Yankees Coming, Yankees Going, Jefferson, North Carolina: McFarland, 2000
Timothy Whitt, Bases Loaded with History, 1975
Statistics:
www.baseball-reference.com
Carlos Bauer, Bob Hoie, Historical Register, San Diego: Baseball Press Books, 1999
Lloyd Johnson and Miles Wolff, Encyclopedia of Minor League Baseball, Durham: Baseball America, 1997
John Thorn, Pete Palmer, Michael Gershman, editors, Total Baseball, 7th Edition, New York: Total Sports, 2001
Full Name
Raymond Benjamin Caldwell
Born
April 26, 1888 at Croydon, PA (USA)
Died
August 17, 1967 at Salamanca, NY (USA)
If you can help us improve this player's biography, contact us.
http://sabr.org/sites/default/files/Caldwell-Ray-LOC.png
600
800
admin
/wp-content/uploads/2020/02/sabr_logo.png
admin
2012-01-04 20:32:14
2021-09-20 05:33:55
Ray Caldwell