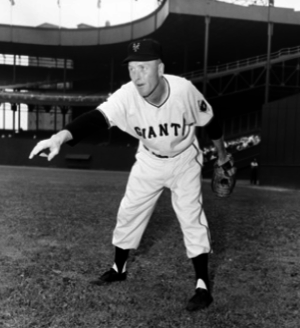 ---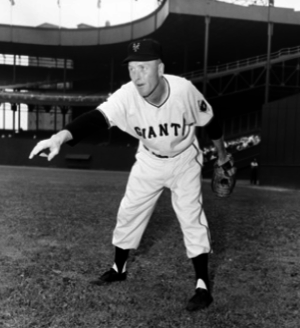 A pitcher can be labeled a ".500 pitcher" if he is considered to be of average ability, or his number of wins equals, or nearly equals, his losses Right-handed pitcher Red Hardy, whose major-league career consisted of just two games with the 1951 New York Giants, was literally a .500 pitcher during his minor-league career. With Minneapolis and Jersey City at the Triple-A level from 1946 through 1950, Red's pitching records were 0-0, 9-9, 10-10, 4-4, 8-8, and 13-13. His won-loss record may have been consistently average, but Red Hardy's life and career in professional baseball was anything but.
Francis Joseph Hardy was born on January 6, 1923 in Marmarth, North Dakota, a small community in the far southwestern corner of the state, to Frank and Helen Hardy. He had a sister, Grace, born three years earlier. She was born in Montana, so the family may have lived there prior to moving to North Dakota. His father was of Irish ancestry and a native of New York. His mother was born in Germany, having arrived in the United States when she was about 12 years old. Because of young Francis's hair color, he soon acquired the nickname Red.
Frank Hardy was a mechanic for the Chicago, Milwaukee & St. Paul Railroad, which had a roundhouse in Marmarth. He was also a member of the state legislature. In 1925, when Red was 2 years old, the railroad transferred his father to Minneapolis. While attending South High School there, Red excelled in all sports, and developed into a skilled pitcher. There his catcher and best friend was Don Wheeler, who also later played professional baseball. Wheeler and Hardy were minor-league teammates at one point. Wheeler's brief major-league career saw him play in 67 games with the 1949 Chicago White Sox.
In 1942 Hardy was signed by the New York Giants' organization and assigned to Eau Claire, Wisconsin, in the Class C Northern League. There he won three and lost four in 14 games before joining the US Navy in August. He was considered for an appointment to the Naval Academy, but was assigned instead to Camp Croft in South Carolina. After completing training, he saw active duty during World War II as a Navy pilot.
Around this time Hardy married Beverly Mae Wilson, a Minneapolis native. Eventually the couple had three children, Barbara (born 1947), James (1950), and Susan (1951). Beverly died in 1968 and later Red remarried. His second wife was named Virginia. After his discharge from the Navy, Hardy attended college at the University of St. Thomas in St. Paul, Minnesota. He pitched for the St. Thomas team in the spring of 1946, once throwing a 13-inning complete game in a 3-2 loss to the University of Minnesota.
After his college season ended, Hardy resumed his professional career with the Minneapolis Millers, the Giants' affiliate in the Triple-A American Association. After just five games with the Millers, he returned to the Class C Northern League, with a new Giants affiliate in St. Cloud, Minnesota. There he had a 7-0 record with a 1.70 earned-run average.
After St. Cloud's season ended, Hardy was recalled to Minneapolis, and was a regular in the Millers' starting rotation the next two years, going 9-9 in 1947 and 10-10 in 1948. His Minneapolis club was a .500 team as well, finishing 77-77 each year.
After again starting the 1949 season in Minneapolis, Hardy was shipped to the Jersey City Giants, the Giants' other Triple-A franchise. He won eight games the rest of 1949 and 13 back there in 1950. In the winter he pitched for Cienfuegos in the Cuban Winter League.
Around this time Hardy decided to try another sport. During the winter of 1949-1950, he played hockey for the semipro Minneapolis Bermans in the American Amateur Hockey League, scoring one goal and recording two assists in nine games. A great all-around athlete, he had the opportunity to play hockey professionally, but turned that offer down to concentrate on his baseball career.
The Giants began to realize that they had a pitcher who could be successful at the major-league level and invited Hardy to spring training in 1951 expecting that he would compete for a spot in the starting rotation. Manager Leo Durocher had three quality starters, Sal Maglie, Larry Jansen, and Jim Hearn, but little depth behind them. Durocher kept only one rookie pitcher on the Opening Day roster, George Spencer, but liked what he saw in Hardy.
To get a better look at all his prospects, Durocher scheduled a game between New York's two Triple-A franchises, Minneapolis and Ottawa (which had replaced Jersey City). Hardy got the call to start for Ottawa and believed that, with a good showing, he would get an early call-up by the Giants. He was breezing along until in the late innings he faced a fellow rookie, a 19-year-old outfielder named Willie Mays. Hardy had retired Mays twice earlier in the game on his best pitch, a side-arm curve. He challenged Mays again with another curve, but this time Willie hit it over the clubhouse in left field for a home run.
Hardy started the 1951 season in Ottawa and flirted with no-hitters three times in a one-month span, only to lose all three no-hit bids in the late innings. On April 28 he had a no-hitter through six innings until he gave up a single in the seventh, and finished with a one-hitter, beating Springfield, 4-0. In his next start, on May 4, he again had a no-hitter through six innings but surrendered two singles in the seventh, the only two hits he allowed in the game. Hardy's best opportunity for a pitching gem occurred on May 29 against Syracuse. He did not allow a hit through 8⅓ innings, until Vic Power stroked a single with one out in the ninth to spoil his no-hitter. If his third baseman, Billy Gardner, had not earlier committed two errors, Hardy would have completed his no-hitter before Power came to bat.
A 2.05 ERA in 13 games for Ottawa earned Hardy a June call-up to the Giants. In his first game, against the St. Louis Cardinals at Sportsman's Park on June 20, he started the seventh inning and gave up a hit, intentionally walked Stan Musial, and hit the next batter. He was relieved by Dave Koslo, who induced an inning-ending double play without any runs being scored. .
Hardy's second appearance came three days later, against the Cubs on June 23. He entered the game with two on and two out in the bottom of the fifth and recorded the final out. He started the sixth and surrendered three singles and two line-drive outs before manager Leo Durocher removed him from the game. Hardy was charged with one earned run. These two games were to be his only major-league appearances.
Hardy had been unable to pitch effectively in his brief time with the Giants because he had developed a sore arm that would cut his career short. He even changed his pitching style in an attempt to prolong his career and earn another shot at the major leagues. Early in his career, in addition to his side-arm curve, Hardy had a great fastball, and was often described as a "fire-baller." Later, when sportswriters described Hardy's pitching, he was called a "slow-baller."
Hardy's arm would not come around, and on July 1, 1951, the Giants traded him and Spider Jorgensen to the Oakland Oaks in the Pacific Coast League for outfielder Earl Rapp. Still bothered by a sore arm, Hardy pitched poorly for Oakland, going 3-5 with a 5.56 ERA. In the offseason he tried to regain his form by playing winter ball in Ponce, Puerto Rico, but in 1952 his arm problems kept him out of action all year. Only 29 years old, Red permanently retired from baseball.
By this time, he and his family had moved from Minneapolis to Phoenix, Arizona. After his baseball career, Red worked as a salesman and was a business owner. He and his wife opened a novelty store and also operated a jewelry store in Phoenix. He was also a member of the local Elks Lodge and the Major League Baseball Players Alumni Association. He became an outstanding golfer, participating in tournaments all over the country.
In 2002 Hardy attended a reunion with 11 other former Giants teammates at Pacific Bell Park in San Francisco. The occasion was the 50th anniversary of "the shot heard round the world," Bobby Thomson's dramatic home run that gave the Giants the 1951 National League pennant.
Hardy died a year later in Phoenix on August 15, 2003, at the age of 80, and was buried in St. Francis Catholic Cemetery in Phoenix. He was survived by his wife, two daughters, a son, seven grandchildren, and six great-grandchildren. Red Hardy's career in baseball was a classic example of "what might have been" – one of countless pitchers whose promising career was cut short by an arm injury. By all accounts, he had tremendous potential that the Giants recognized when he was still in his teens. Had he played 50 years later, his injury likely could have been easily diagnosed and treated. However, according to Red's daughter, he enjoyed his baseball career, had no regrets, and was thankful for every opportunity he had.
This biography appears in "The Team That Time Won't Forget: The 1951 New York Giants" (SABR, 2015), edited by Bill Nowlin and C. Paul Rogers III.
Sources
Unless otherwise noted, information in this biography was taken from: Curt Eriksmoen, "Pitcher Made Try for Big Leagues," Bismarck (North Dakota) Tribune, March 29, 2008.
Information was also taken from telephone and email correspondence in 2013 with Barbara Groff, Red Hardy's daughter.
ancestry.com
familysearch.org
baseball-reference.com
Francis "Red" Hardy obituary, published in the Arizona Republic, August 17, 2003.
Born
January 6, 1923 at Marmarth, ND (USA)
Died
August 15, 2003 at Phoenix, AZ (USA)
If you can help us improve this player's biography, contact us.
https://sabr.org/sites/default/files/HardyRed.png
600
800
admin
/wp-content/uploads/2020/02/sabr_logo.png
admin
2012-01-04 20:45:33
2012-01-04 20:45:33
Red Hardy