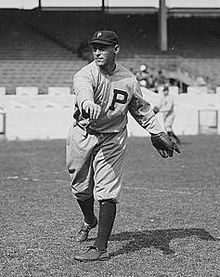 ---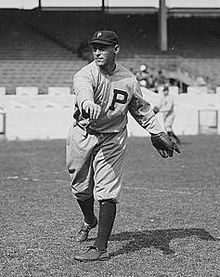 Many early ballplayers who were foreign-born, or first-generation immigrants, Americanized their names. Usually the new last name they took bore some resemblance to their original surname. Hall of Fame outfielder Al Simmons was born Aloysius Szymanski and his manager with the Philadelphia Athletics, Connie Mack, started out as Cornelius McGillicuddy. One Deadball Era spitball pitcher who appeared in thirty-nine major league games in parts of four seasons made quite a leap when Albert Horazdovsky played under the name Red Nelson1. He once claimed that he chose the new moniker to make it easier for home plate umpires to announce the batteries before games.2
Despite his brief big-league career, Nelson was a participant in one of the most controversial events in baseball history. At the start of the final day of the 1910 season, Ty Cobb led the American League batting race with an average of .385. Cleveland's Napoleon Lajoie was nine percentage points behind at .376. Stakes were high as the winner would be awarded a new Chalmers Model 30 automobile. Cobb elected to sit out his team's final two games while Lajoie's Cleveland Naps were scheduled for a doubleheader against the Browns at Sportsman's Park in St. Louis to wrap up the season.
As most baseball fans are now aware, Lajoie got eight hits in the doubleheader, six of them bunts that Browns' third baseman Red Corriden was unable to field because he was playing so deep. This allowed Lajoie to raise his batting average to .384 and prompted accusations that the Browns intentionally allowed Lajoie's hits because they wanted him to win the batting title (and the car) instead of Cobb, who was not well-liked by other players.3
Red Nelson was the starting pitcher for the Browns in the first game of the doubleheader against Cleveland. In an interview with his hometown paper a week later, he had a slightly different recollection of the events. "This talk of Lajoie being helped to those hits is all wrong," said Nelson. "Lajoie hit the ball hard and Corriden would have been foolish to have played up close every time the Frenchman was at bat. As it was Larry beat out two hits by crossing the infielders.
"This is the way Lajoie hit: The first time up he hit a screeching three-bagger over [left fielder Hub] Northern's head which hit the fence. Northern did not misjudge the ball. The second time up he hit between short and third. Wallace [shortstop Bobby knocked it down with one hand but could not head off Larry. Hit No. 3 was to Wallace's right which he stopped, but could not recover in time to throw. The fourth hit was an infield tap, which Lajoie beat out. I used some curves when Lajoie was at bat, but he hit them easier than the straight ones."
Some suggested that St. Louis manager Jack O'Connor ordered rookie third baseman Corriden to play deep when Lajoie was at bat. In the same article, Corriden defended his defensive positioning saying, "I want to remain in baseball for some years. I was not going to get killed playing in on Lajoie. I might have got some of the bunts, and at the same time have a broken nose or lost a couple of teeth. Lajoie is known as a hard hitter and I played far back."4
Albert Francis Horazdovsky5 was born May 19, 1886, in Cleveland, Ohio. His mother, Marie, was a native of Ohio, but his father, Joseph, emigrated from Bohemia in 1869 and worked as a policeman in Cleveland. Albert had five younger brothers, Joseph, Louis, George, Walter, and Frank, and a younger sister, Carry. George followed his big brother's footsteps and became a very good pitcher in the Cleveland amateur leagues. Red arranged for a professional tryout for him but he didn't make the team. Albert still went by the last name Horazdovky in the 1910 census records, but by 1920 he was Albert Nelson.
The name Nelson appeared in box scores as a pitcher for various amateur teams in Cleveland in 1904 and "Red" Nelson was identified as pitching for the Fremonts in 1905.6 Sources indicate that he was briefly a member of both Waterloo of the Iowa League of Professional Baseball Clubs and Des Moines of the Western League in 1906 but apparently left each club before pitching in any games. (He may have tagged along to Waterloo with childhood friend and fellow Cleveland native Rube Marquard, who began his professional career there that year.) Nelson left Waterloo because he was upset about being farmed out to independent teams7 and left the Des Moines club due to a disagreement with manager Joe Cantillon.8 By July he had returned to Cleveland where he pitched on amateur teams the rest of the summer.
Nelson returned to Des Moines in 1907 but was farmed out to the Three-I League, first with Bloomington, then Decatur, and finally finishing the season with Peoria. He won fifteen games overall and after throwing shutouts in both ends of a doubleheader, Charles Comiskey of the White Sox reportedly showed some interest in signing him.9 He returned to Peoria in 1908 and had another strong season, winning seventeen games, eleven of them shutouts.10 One of the shutouts was a twenty-two inning complete game he eventually won, 2-0.11
In March 1909, Peoria traded Nelson to St. Paul of the American Association for first baseman Dave Rowan, but the Saints turned around and traded him to Columbus. His record with the Senators is not known but a news report said, "Nelson has not been delivering, showing faint heartedness in the pinches."12 Another report said that a suspension due to an altercation with an umpire led to his departure from Columbus.13 In July Columbus farmed him out to the Lima Cigarmakers14 in the Ohio State League. After originally balking at the demotion, and threatening to return home to Cleveland, Nelson reported to the club and won nine-of-ten games for Lima.15
Columbus still held his rights, so he began the 1910 season with the Senators, but they traded him to Akron of the Ohio-Pennsylvania League in June.16 St. Louis Browns manager O'Connor was in the stands on July 30 when Nelson pitched both ends of a doubleheader against Erie, winning 11-1 and 3-0, one of five times he won both ends of a doubleheader for Akron17. Impressed by his performance, O'Connor dispatched scout Billy Doyle to sign Nelson,18 but with the Browns in last place in the American League standings, the plan was for Nelson to finish the season with Akron before joining the big league club. He almost single-handedly pitched Akron to the league pennant, at one point winning six games in nine days.19
The Browns were wrapping up one of the worst seasons in major league history, eventually finishing with a record of 47-107, 57 games behind the pennant-winning Philadelphia Athletics. After arriving from Akron, Nelson made his major league debut against the Chicago White Sox in the second game of a doubleheader on September 9. He scattered nine hits in a 5-2 complete-game win at Sportsman's Park. He followed that up with an even more impressive performance, outdueling White Sox ace Ed Walsh, 1-0, in Chicago in his next start. He ran his winning streak to three with a 6-3 win over the New York Highlanders on September 18 and won his fourth consecutive start beating the league leading Athletics, 2-1, on September 28.
Nelson's hot start to his big league career began to get national attention. Some papers called him the "Find of the Season,"20 umpire Billy Evans called him " …one of the best looking pitchers, young or old, he had ever seen,"21 and local writers compared his curveball to that of Philadelphia Athletics ace Jack Coombs.22 He came back to earth a bit when the Detroit Tigers pummeled him for 20 hits, including five by Sam Crawford and four more by Cobb, in a 12-7 loss on October 2. His last start, the earlier-mentioned game against the Naps on the season's final day, was a 5-4 complete-game win for Nelson. Considering he was hurling for a tail-ender, Nelson's 5-1 record and 2.55 ERA in seven games was remarkable.
After the season, St. Louis owner Robert Hedges signed Nelson to a $2,100 contract23 and he was being counted on to be one of the Browns top pitchers for the 1911 season. He spent the winter in his hometown of Cleveland but in the spring he contracted a severe bout of rheumatism, blamed on his offseason job as a brakeman on a freight train.24 He lost considerable weight and strength, was not healthy enough to participate in spring training, and didn't rejoin the team until midseason. Still weakened from his illness, Nelson never got untracked, struggling to a 3-9 record in sixteen games.
Fully healthy again in 1912, Nelson experienced some more bad luck when he twisted his knee in a game in early May, and was used sparingly the first month of the season, going 0-2 in seven games. George Stovall replaced Bobby Wallace as Browns manager in early June and Nelson was one of several veteran players caught up in house cleaning by Stovall25. He was released to Sioux City, Iowa, but he refused to accept any assignment until his knee was healed. Eventually the Browns gave him his unconditional release26 and he went home to Cleveland and worked out with the hometown Naps. Finally healthy, he approached Roger Bresnahan, manager of the St. Louis Cardinals, about a job, but eventually signed with the Philadelphia Phillies in late August. He had two relief appearances for the Phillies and two starts, winning both.
Nelson took a less physically-demanding job that offseason, that of an elevator operator in a Cleveland department store, and reported to the Phillies spring training camp in 1913. He appeared in two early season games but was caught up in a numbers game, and Philadelphia sold him to the Cincinnati Reds on May 15. He pitched in just two games for the Reds, (his last major league appearance was on June 9) and after that there were reports that he had joined clubs in Indianapolis and Buffalo, but likely he returned to semipro ball in Cleveland the rest of the summer.
He had an operation on his injured knee that offseason, and, hoping a warmer climate might be beneficial, Red signed with the Montgomery Rebels of the Southern Association in 1914.27 He managed just a 1-5 record in nine games before being released in June. One report had him joining the Fort Worth club of the Texas League28 but he finished up the year with Minneapolis of the American Association. He was released by Minneapolis the following spring and signed with both Des Moines and Wichita. According to rules of the time, he would become the property of the club that notified the National Association first. Secretary Farrell determined that Wichita beat Des Moines by a few hours, so he was awarded to the former club.29
In what was described as a roster cutdown and salary limit move, Nelson was released by Wichita in May.30 At some point he played briefly with Topeka, Kansas,31 32 later hooked on with the Superior, Wisconsin, club of the Northern League and later moved to the Fargo-Moorhead Graingrowers of the same league for the rest of 1915. Although it is not reflected in his record, Nelson played part of the 1916 season with Erie, Pennsylvania, of the Interstate League.33
Nelson played semipro ball in the Akron and Cleveland areas for a few more years. He listed his occupation as the proprietor of a pool room on the 1920 census and enjoyed participating in old-timers events with other Cleveland baseball luminaries including Lajoie, Jesse Burkett, and Cy Young. It was not clear if he worked in an official capacity, but in 1922 Nelson served as a volunteer pitching coach for Cleveland player-manager Tris Speaker, teaching young recruits his curveball. Around this time Nelson also began a career in law enforcement (his father and two of his brothers were members of the Cleveland Police Department) as town marshal in Newberg Heights, a suburb of Cleveland.
Sometime in the mid-1930s he and his wife moved to the Tampa/St. Petersburg area of Florida. They lived in the retirement communities of Pass-a-Grille and later Don Ce-Sur on the gulf coast where Red continued to work part time in law enforcement and as a bus driver. No marriage certificate could be found, but an item in the local paper in 195634 noted that Red and his wife Helen (maiden name Zolnowski) were celebrating their 50th wedding anniversary. In 1908, while playing in Peoria, the couple had a daughter named Alice, and a son, Albert, Jr, was born in 1918. Less than six months after their anniversary, Helen died on October 6, and Red died of a heart attack less than three weeks later on October 26, 1956, at his home in St. Petersburg. They were survived by their children, Alice and Albert, Jr., and two grandsons. Services were held at St. John's Catholic Church and Red was buried at Woodlawn Memorial Cemetery.35
Acknowledgments
This biography was reviewed by Bill Lamb and Joel Barnhart and fact-checked by Kevin Larkin.
Author's note
Unless otherwise noted, all playing statistics taken from Nelson's player page in Baseball-Reference.com (Chadwick ID: 8ea1300f) and family and geological information from ancestry.com.
Notes
1 "Al Horazdovoksy, Red Nelson's Name." Mansfield (Ohio) News-Journal, September 17, 1910.
2 "Al Horazdovoksy, Red Nelson's Name."
3 American League President Ban Johnson declared all batting averages official, with Cobb leading Lajoie, .385 to .384, but both players were awarded the automobile. In 1978, Pete Palmer discovered that statistics from one of Cobb's games in 1910 was counted twice. The revised figures lowered his season batting average to .383, one point behind Lajoie.
4 "Red Nelson Describes Hits Made By Lajoie at St. Louis on Sunday." Cleveland Plain Dealer, September 12, 1910.
5 The surname had several variations in census records and newspaper accounts including Horazdosky, Horazdowski and Horazdorky.
6 "Among the Amateurs." Cleveland Plain Dealer, June 26, 1905.
7 "Back From Iowa League." Cleveland Plain Dealer, July, 1906.
8 "Sox Get New Pitcher." Topeka (Kansas) Daily Herald, July 5, 1906.
9 "Comiskey After Nelson." Springfield (Illinois) Daily Illinois State Register, August 25, 1907.
10 "Red Nelson Holds Record." Rock Island (Illinois) Argus, August 13, 1908.
11 "Nelson Holds One Record." Portsmouth (Ohio) Daily Times, July 28, 1909.
12 "Slab Staff Cut To Five Toilers." Columbus (Ohio) Dispatch, July 16, 1909.
13 "Red Nelson Likely to Play His Part With The Phillies." Duluth (Minnesota) News-Tribune, March 30, 1913.
14 Nelson, p in box score and "Red" Nelson in game story for Lima vs Mansfield, Mansfield (OH) News-Journal, July 26, 1909.
15 Red Nelson does not appear on the Lima roster in Baseball-Reference.com. A pitcher named Robert Nelson with a record of 8-2, does. This player was likely mistaken for Red Nelson.
16 "Red Nelson Goes to Akron." Lima (Ohio) News, June 10, 1910.
17 "Nelson Wins Five Double Headers." East Liverpool (Ohio) Evening Review, September 3, 1910.
18 "St. Louis Buys Red Nelson." Cleveland Plaindealer, August 17, 1910.
19 Nelson is not listed as being on the Lima roster in Baseball-Reference.com, and his record with the club is not known.
20 "Think Red Nelson is Find of Season." Canton (Ohio) Repository, September 14, 1910.
21 "Red Nelson Resembles a Find For O'Connor — Wins Third Game." St. Louis Star and Times, September 19, 1910.
22 "Red Nelson Resembles a Find For O'Connor — Wins Third Game." St. Louis Star and Times, September 19, 1910.
23 "Red Nelson will Draw $2,100 Salary." East Liverpool (Ohio) Evening Review, November 22, 1910.
24 "Nelson Will Rest For Month." Cleveland Plain Dealer, March 8, 1911.
25 "Stovall Starts To Clean House In Browns Camp." Detroit (Michigan) Times, June 10, 1912.
26 "Red Nelson Is Free To Sign Up Anywhere." St. Louis Post-Dispatch, July 30, 1912.
27 "Red Nelson Is Landed By Montgomery Club; Comes With Good Major League Record." Montgomery (Alabama) Advisor, February 1, 1914.
28 "Red Nelson Leaves For Forth Worth, Texas." Montgomery (Alabama) Advisor, July 6, 1914.
29 Topeka State (Kansas) Journal, March 31, 1915.
30 "Red Nelson Is Released." Wichita (Kansas) Daily Eagle, May 27, 1915.
31 "Savage Signs Red Nelson." Minneapolis Star and Tribune, March 16, 1915.
32 Nelson, p, in box score and "Red" Nelson in game story for Topeka vs Denver, Topeka (Kansas) State Journal, May 12, 1915.
33 Erie (Pennsylvania) Times-News, May 13, 1916. Nelson? And Nelson (no last name) appears on the Erie roster in Baseball-Reference.com with a 5-8 pitching record in 21 games and a 2.45 ERA.
34 "Happy Anniversary!" Tampa Bay Tribune, May 11, 1956.
35 "Former Major League Hurler Red Nelson Dies." Tampa Bay Times, October 26, 1956.
Born
May 19, 1886 at Cleveland, OH (USA)
Died
October 26, 1956 at St. Petersburg, FL (USA)
If you can help us improve this player's biography, contact us.
/sites/default/files/NelsonRed.jpg
600
800
admin
/wp-content/uploads/2020/02/sabr_logo.png
admin
2012-06-09 20:33:52
2020-06-09 20:43:21
Red Nelson