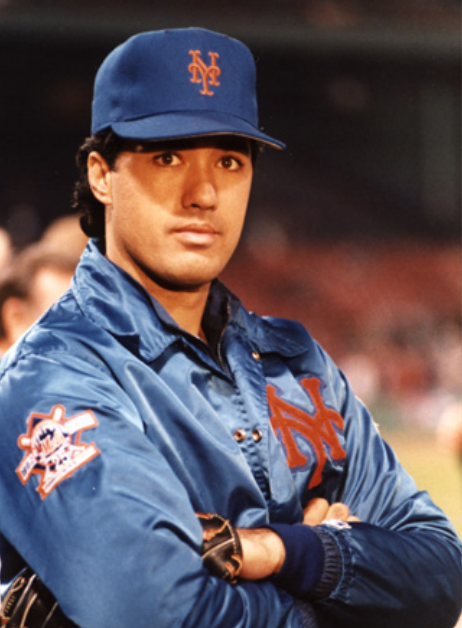 ---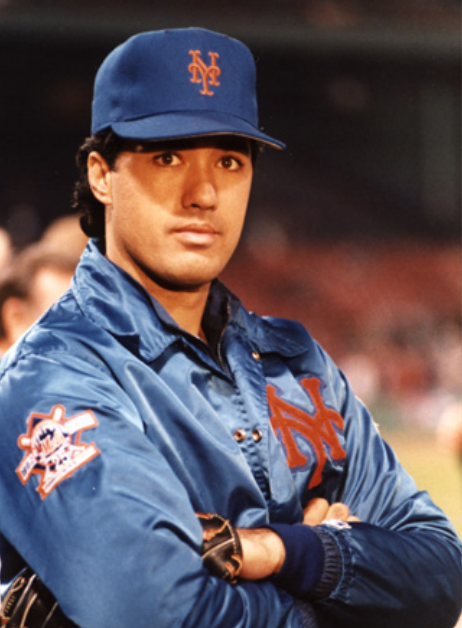 If you were lucky enough to bring Ron Darling to a party, how would you introduce him? Especially if the party was outside the New York City area, it's possible you would have to do just that. While he has numerous accomplishments on and off the baseball field, he hasn't grabbed the headlines (for all sorts of reasons good and bad) like other members of the 1986 Mets, Dwight Gooden, Darryl Strawberry, etc. So, what would you say? All-Star? Gold Glove recipient? World Series ring holder? Ivy League All American with the longest no-hitter in NCAA history? Emmy award winner? All would be true and might leave your friends wondering why they wouldn't have known all of this before.
At every point along the way, there seemed to be just a few things burning brighter in Ron Darling's vicinity, something that stole some of the spotlight. Perhaps in '86 (and after) it was all the attention paid to the other members of that famous (or sometimes infamous) team. Or that though he started the seventh game in the '86 World Series, more people remember the Bill Buckner blunder in Game Six. Or that the longest college no-hitter actually ended up in a loss for the Yale Bulldogs, Darling's team. Or perhaps it is just that there is little in the way of "negative press" that might have made even bigger headlines.
In total though, it all adds up to the solid, successful multifaceted career of someone who left a positive mark wherever he went. His life before and after baseball has had highs and lows but his achievement continued with a level of consistency most pitchers would love when standing on the mound. The best introduction might just be, "This is Ron Darling. Have a chat with him. He's smart, accomplished, and has some great stories to tell."
Ronald Maurice Darling Jr. was born on August 19, 1960, in Honolulu but grew up in Red Sox country — Millbury, Massachusetts. His mother was Hawaiian-Chinese, while his father was French Canadian, leading Darling to be fluent in Chinese and French as well as his native English.1 When asked what the best 10 years of his life were, he said, "Right now I think from 10 to 20 were my favorite years. I had an idyllic family life, great parents, three younger brothers who adored me, thought I was the cat's meow. Went to an amazing high school. Went to Yale between those years. Played in the Cape Cod League, which was the last time I had fun. Now we use that term loosely. The last time I had fun playing the sport, you know, because it was before I was a professional. Yeah, 10 to 20 was amazing, because it got real serious after that."2
While Darling called his stretch in the Cape Cod League the last time he had fun in baseball, the league is serious business for major-league prospects. Part of the fun may have been due to the many roles he got to play. His major-league career as a starting pitcher overshadows the versatility he displayed throughout his years in the Cape Cod League. As an example, in the league's all-star game at Yankee Stadium, he played left field but jumped in to pitch and retire the final two batters in a one-run game. It is also worth mentioning that he came close to hitting for the cycle in this game, missing only a triple.3 In 2002 Darling was inducted into the Cape Cod Baseball League Hall of Fame along with 11 others, including Nomar Garciaparra, Jason Varitek, and Buck Showalter. At the time, he was considered "one of the best-all around players in Cape league history." His league statistics include a .336 batting average, six home runs, and a 4-3 pitching record.4
Darling attended Yale University from 1979 to 1981, leaving after his junior year for professional baseball. He majored in French and Southeast Asian history. Upon entering Yale, his plan was to play both football and baseball. Once there, though, he focused on baseball, not for lack of love of the sport. A Yale sports department publication quoted him as saying, "If there were five or six regrets in my life, one is that I didn't continue to play football at Yale. I would've loved to play for Carm [referring to legendary Yale football coach Carmen Cozza]."5
At Yale Darling was a strong hitter (usually hitting second or third in the lineup) and a top pitcher. He was the Yale pitcher on the mound for an NCAA regional tournament game against St. John's in 1981, called by some the "greatest college baseball game ever played." Darling was up against opposing pitcher Frank Viola, who later became a fellow Met and a very good friend. For 12 innings the two teams fought until St. John's eked out a 1-0 victory. In a powerful display of pitching prowess, Darling pitched a no-hitter for 11 of those innings and struck out 16. The game ended on a double steal by St. John's.6 
In 1981, after his junior year at Yale, Darling was drafted by the Texas Rangers in the first round of the amateur draft. That year he pitched for the Rangers' Double-A affiliate, the Tulsa Drillers of the Texas League, where he ended with a 4-2 record as a starting pitcher. Before the 1982 season he was traded to the Mets along with pitcher Walt Terrell for infielder-outfielder Lee Mazzilli, and pitched in 1982 and '83 for the Tidewater Tides. Called up to the Mets in September 1983, he made his major league debut on September 6, starting and losing to the Philadelphia Phillies, 2-0. Darling gave up one run in 6⅓ innings with six strikeouts and one walk. He started five games for the Mets in September, ending up with a 1-3 record and a 2.80 ERA.
In 1984 Darling won a spot in the starting rotation, but had a mediocre start to the season. In April and May he had a 3-3 record and a 4.61 ERA. But in June and July he won seven straight and finished the season 12-9 and with a 3.81 ERA. He finished fifth in the voting for the Rookie of the Year Award; teammate Dwight Gooden was the winner.
In 1985 Darling shaved almost a run off his earned-run average (2.90) and had a 16-6 record despite giving up a league-leading 114 walks. He was the number-two starter behind Gooden and made the All-Star team that year. He made his first major-league relief appearance in a celebrated 19-inning game against the Atlanta Braves, which the Mets won 16-13. Although the Mets (98-64) did not make the postseason, the strong season and Darling's continuing improvement left them positioned well for the future.
The next year the Mets won the World Series over the Boston Red Sox with Darling as a key contributor. After posting a 15-6 record and a 2.81 ERA, he started World Series Games One, Four, and Seven, losing Game One, winning Game Four, and getting a no-decision in Game Seven. He posted a 1.53 ERA.
The years after the 1986 World Series were tough ones for the Mets and for Darling, described as "the dynasty that never happened." While the team remained competitive for a few more years, the decline was clear. Darling continued to pitch solidly in 1987 with a 12-8 record but a 4.29 ERA. His highest career win total came in 1988 when he recorded a 17-9 record with a 3.25 ERA in 240 innings, another career high. Darling followed up in 1989 with a .500 record (14-14) and 3.52 ERA.
The 1990 season saw the Mets in transition, coming off a lackluster 1989 and management uncertainty. Darling found himself split between starting and a new role as a relief pitcher. The bullpen did not serve him well, and 1990 went down as Darling's first losing season (7-9) with a bloated 4.50 ERA.
In 1991 Darling was again a starting pitcher; in fact, he started games for three teams. On July 15 he was traded along with pitcher Mike Thomas to the Montreal Expos for pitcher Tim Burke. Two weeks later, at the trading deadline, the Expos sent him to the Oakland Athletics for minor-league pitchers Matt Grott and Russ Cormier. With all the moving, Darling was 5-8 in the NL and 3-7 in the American league.
Darling had some success as a starter in Oakland, particularly in 1992, going 15-10. With his best stuff behind him, he made the adjustments that all major-league pitchers with long careers need to make. The A's led the AL West Division that season. (Darling lost his only start in the ALCS as the Athletics fell to Toronto.)
Darling found the A's welcoming and family-friendly.7 The good times in Oakland may have just added to the somewhat disheartening way that his playing career ended. On August 19, 1995, which also happened to be his 35th birthday, he was released; he chose to be released rather than be placed on the disabled list, which would have allowed him to remain with the team for the rest of the season. (He later admitted that he wasn't prepared for the ending when it finally came, still believing he could fight his way back to a semblance of his prior performance. However that was not to be.8)
Darling won 136 major-league games and lost 116. His career ERA was 3.87. His performance on the mound could never be called flawless. There were times when he struggled with control (leading the National League in walks in 1985 was an example) but his "stuff" could be counted on to keep enough batters from putting together enough hits that runs would generally still be hard to come by. He also contributed through effective fielding, which earned him a Gold Glove in 1989. Darling was always a game-smart pitcher who was always ready to take the ball, and said he as proud of having a career that never included a trip to the disabled list.
For Darling, the 1986 Mets season and World Series win were important moments, but were just one stop in his multifaceted career of highs, lows, and reinvention. "I'm not always great at things, but I'm smart," he told the New York Daily News.9
His post-baseball life has been active and never too far from the sport. He moved into broadcasting and was involved with various sportscasts and shows for several years. In 2005 Darling was the color commentator for the first Washington Nationals season. In 2006 he joined Gary Cohen and Keith Hernandez in the broadcast booth for Mets games on the SNY network, and has won an Emmy award. As of 2015 he continued in the role of commentator/analyst.
In between the baseball, there was family, philanthropy, and writing a book. Darling and Antoinette Reilly, a model, were married in January 1986. They had two sons, Jordan and Tyler. They later divorced and in 2004 Darling married Joanna Last, a TV makeup artist.
In 2009 he founded the Ron Darling Foundation to help fund diabetes research (which his son Jordan contracted as an 11-year-old). The foundation later expanded its work to include collaborating with and donating to several organizations including Habitat for Humanity, the NYPD Foundation and Hurricane Sandy Relief.10
In 2009 Darling published a book, The Complete Game: Reflections on Baseball and the Art of Pitching, in which he gave a detailed view of what is going on inside the head of a major-league pitcher — inning by inning, pitch by pitch. He combined moments from his own games with the Mets and the Athletics as well as key innings he witnessed as a broadcaster.
With his current days full as a New York Mets broadcaster, active philanthropist, father, and husband it seems his spectacular baseball career is certainly not Ron Darling's whole story, but just an important chapter among many.
Sources
In addition to the sources cited in the Notes, the author consulted the following:
Darling, Ron.  The Complete Game: Reflections on Baseball and the Art of Pitching (New York: Random House, 2009).
newyork.mets.mlb.com/team/broadcasters.jsp?c_id=nym.
"The Web of the Game," The New Yorker, July 20, 1981.
All stats come from:  baseball-reference.com.
Notes
1 diabetesresearch.org/Ron-Darling-bio.
2  blogs.villagevoice.com/runninscared/2010/06/ron_darling_on.php?page=2.
3  capecodbaseball.org/about/welcome/#sthash.DPgtxjXY.dpuf.
4 capecodbaseball.org/news/league/?article_id=241.
5 yalebulldogs.com/sports/m-basebl/2014-15/releases/20150227l81ndr).
6 nytimes.com/2012/06/09/sports/baseball/darling-viola-pitchers-duel-lives-on-in-st-johns-baseball-lore.html?_r=1.
7 nytimes.com/1992/10/10/sports/sports-of-the-times-darling-s-chess-comeback.html).
8 deadspin.com/5912078/how-a-career-ends-ron-darling-celebrated-his-35th-birthday-by-getting-cut-and-being-left-alone-at-home.
9 nydailynews.com/blogs/bitterbill/ron-darling-talks-mets-sny-blog-entry-1.2168993.
Born
August 19, 1960 at Honolulu, HI (USA)
If you can help us improve this player's biography, contact us.
http://sabr.org/sites/default/files/Darling-Ron.png
600
800
admin
/wp-content/uploads/2020/02/sabr_logo.png
admin
2012-01-04 20:31:50
2021-03-01 06:38:47
Ron Darling