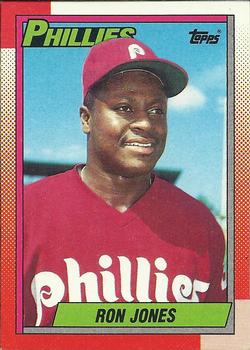 ---
"It's a shame … he would have been a helluva player if he hadn't gotten hurt. Ron Jones was a hitting machine." — Lee Thomas, general manager, Philadelphia Phillies (1988-1997) 1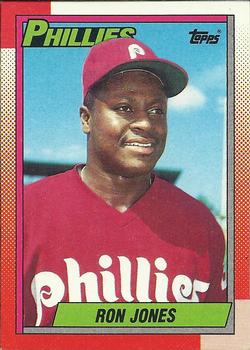 Ron Jones was a stocky outfielder from Seguin, Texas. Shortly after he reached the majors, in September 1988, the Philadelphia Daily News wrote, "Jones, who homered twice in his first week with the Phillies, doesn't inspire adjectives such as 'lithe' and 'graceful.' He looks sort of like a sawed-off nose tackle. But he has a powerful stroke."2 That sweet lefty swing and a physical resemblance won comparisons to Tony Gwynn.3
His career was spoiled, however, by two severe knee injuries. He tore his right patellar tendon in April 1989, running into the outfield wall at Shea Stadium in New York. After coming back from that mishap, he tore his other patellar tendon in June 1990, catching his leg in the artificial turf at Philadelphia's Veterans Stadium. He was out of the major leagues after 1991.
Jones persevered in the minors, Mexico, Taiwan, independent leagues, and semi-pro ball through 2000. He then turned to coaching youth baseball in the Houston area, eventually becoming partners in an academy with his old teammate from Philadelphia, third baseman Charlie Hayes. With his genial and open personality, the hard-working Jones related well and drew praise as an instructor.
Like his time in the majors, though, this man's life was cut short. He died suddenly in 2006, aged only 41.
Ronald Glen Jones was born on June 11, 1964. His birthplace, Seguin, is one of the oldest towns in Texas. It is the seat of Guadalupe County, adjoining San Antonio. His mother, Erna Jones, worked for poultry processor Holly Farms, one of Seguin's biggest employers.
Ron had one sister named Lisa. The children's true father figure (from when Ron was about two years old) was a man named Arthur "Flute" Calvert, who worked for Southern Pacific Railroad. Calvert, who married Erna in 1970, wanted to adopt them, but they kept the Jones family name. Ron's natural father "tried to get back into his life when he was in the pros, but Ron didn't want to talk to him," said Lisa.4
As Jones himself said in 1988, Seguin is "mostly a football town." Its most notable baseball player is Freddie Patek, the little shortstop whose major-league career ran from 1968 through 1981.5 Pitcher Chuck "Twiggy" Hartenstein (1965-70, 1977) is the other graduate of Seguin High School to play in the majors.
Still, there was a distinct baseball scene in Seguin, and the family of Ron Jones was right in the middle of it. As many Seguin Gazette-Enterprise stories show, Flute Calvert was a pitcher of some note locally. The Pittsburgh Pirates signed him in March 1961, but Calvert never played in the minor leagues because the Pirates released him after several weeks of training camp.6 Instead, the righty hurled for various semi-pro teams in the 1960s and '70s. He was on the same pitching staff with Hartenstein for the Seguin White Sox in 1960 and the SMI Steelers in 1961. Patek was a teammate with the Steelers in 1962 and 1963.
Calvert's job as truck driver for railroad maintenance crews meant that he traveled a lot and had to work on some weekends. Nonetheless, according to sister Lisa, "My dad took a lot of time with Ron in the backyard, in Little League, all the way up, ever since he was little." Calvert noted, "He could throw pretty good when he was three or four years old." 7 From that early age, Jones's work ethic was visible.
Another longtime member of the SMI Steelers was Ron's uncle, Alvin "Boomer" Jones, who was born a little less than 10 years before his nephew. Boomer was a minor-league outfielder in the Atlanta Braves organization from 1973 through 1976, ultimately reaching Class A; he later scouted for the Braves. Ron's cousin, Alvin Jones Jr., was a fourth-round draft pick of the Chicago White Sox in 2000 and pitched three years at the rookie-ball level (2000-02).8 Of interest, Ron Jones and his uncle both threw right-handed but batted lefty.
With these influences, it was no surprise that Ron Jones also joined the SMI Steelers as early as spring 1981. This carried through to his work as a youth coach. As Charlie Hayes said, "We would always talk about when we all started."9
Jones played baseball and football at Seguin High. He was a running back on the gridiron, and a good one. "Jones has the capability to turn second and third efforts into long touchdowns," the Gazette-Enterprise wrote in December 1981 after he was named unanimously to the All-District team. "Great balance and deceptive speed combined with power made Jones the hardest runner to tackle in the district."10 He was fast enough to be a sprinter on the track team.
"He could play basketball too," said David Hamilton, a friend from childhood. "He could dribble and shoot." Hamilton added with a laugh about how smart and competitive Jones was in all games. "We'd play dominoes, and I'd win maybe 12 out of 100." Hamilton, who played rookie ball in the Cincinnati Reds chain in 1987 and 1988, was also an SMI Steeler. Though Jones was a fine all-around athlete, he clearly had a vocation – "we knew he was going to play baseball," said Hamilton.11
Weight was an issue for Jones at times, however, as it would be later in his pro career. Ahead of the 1981 football season, coach Rodney Hayden said, "Last year Ronald reported at 220 pounds and this year he's down to 201. I think his playing with the Steelers baseball team really helped him."12 The team, which played in a central Texas circuit called the Zaragoza League and took part in National Baseball Congress competition too, then had Alvin Jones at first base and DH. Boomer's enthusiasm made him the heart and soul of the club.13
Ron Jones also had good character. In 1982, he won the Zack Williams Award, given since 1968 to a Seguin High football player who has exhibited good citizenship and hard work in the classroom and on the field.14
Yet as much attention as he got in football, he was All-State in baseball.15 He hit .490 as a senior, with eight home runs. In the June 1982 amateur draft, the Toronto Blue Jays selected Jones in the 14th round. Veteran scout Al LaMacchia, who'd signed Cito Gaston (among others) out of the San Antonio area, had seen Jones's potential with the bat.16 Ron wanted to sign out of high school, but as Alvin Jones later said, "We wanted him to hold out until he was ready."17
Accordingly, Jones attended Wharton County Junior College (WCJC), in the Houston metropolitan area. "Our dad told him to have education to fall back on," said Lisa. When asked why Jones didn't go to a major college program, since he was talented enough and good academically, she responded, "Junior college was better for him."18 The following January, the Montreal Expos used their second-round pick in the secondary draft on Jones, but again he decided to stay in school. Looking back in 1986, he said simply, "I didn't get the right offers."19
Jones went undrafted after his second year at WCJC, so he went back to Seguin and played again with the SMI Steelers.20 Finally, on October 20, 1984, the 20-year-old Jones turned professional. Scouts Doug Gassaway and Rudy Terrasas signed him as an undrafted free agent for the Phillies.
The following summer, Jones was assigned to the Phillies farm team in Bend, Oregon. Playing in the Northwest League (short-season Class A ball), he hit strongly: 10 home runs, 60 RBIs, and a .315 average in 73 games. In the field, he committed 11 errors. Granny Hamner, then minor-league supervisor for the Phillies, attributed that to weight. "He was heavy when he first reported last year," Hamner said in 1986. "We asked him to lose 20 pounds during the winter. He lost 18."21
Jones moved up to Class A in 1986. With Clearwater of the Florida State League, he hit an eye-catching .371 in 108 games. With his short, quick stroke, he was a line-drive hitter. He hit just seven homers that season but drove in 73 runs and stole 33 bases as well. "He has power. He has speed. You don't see that in A-ball that often," said Dave Rowan, the Clearwater GM. "He's the best minor-league player I've seen." Granny Hamner added, "He's as good a natural hitter as you'll ever see." For good measure, manager Ron Clark said, "I played with Rod Carew and I played with Tony Oliva – and Jonesy, at this point, is ahead of both of them."22
Jones jumped past Double-A ball in early August, joining the top Phillies farm club then, the Maine Guides. Shortly thereafter, he was named Most Valuable Player in the Florida State League. The vote (by league managers, official scorers, and broadcasters) was all but unanimous. Jones got every vote but two because Clearwater representatives could not vote for their own players.23
Jones also won the Paul Owens Award, given to the organization's top minor-leaguer.24 He continued his heavy hitting that winter in Mexico. With Mazatlán in the Mexican Pacific League, he matched his Clearwater average of .371; his 40 extra-base hits included 18 homers.25 The Venados (Deer) became league champions that season.
Returning to Maine in 1987, Jones had an off-year. Hampered by knee and hamstring injuries, he got into just 90 games and his output was diminished (.247-7-32). That December, Guides manager Bill Dancy said, "It was a tough year because he was hurt twice. But he was swinging the bat much better and driving the ball late in the season. He came to the Instructional League at 196 pounds, and the real Ron Jones came out again – awesome with the bat."26
Jones then returned to Mexican winter ball and continued to hit well.27 In February 1988, Phillies manager Lee Elia said that he wanted a long look at "the organization's best young hitting prospect in years."28 However, Jones started that season in Maine again.
This player was known for being approachable. As blogger Chad Finn wrote in a personal obituary:
In Old Orchard Beach, Jones made a habit of hanging around in the parking lot after Guides games, sitting on the hood of his pickup truck, enjoying a beverage or two, and shooting the breeze with anyone who wanted an autograph, to talk baseball, or just to say hi to a ballplayer. My dad and I got to know him well enough that he'd greet us by name when he ran into one of us at the ballpark or around town. (He lived at a hotel just a few dunes down the beach from our house, and I can't count the times I saw him playing pinball at the downtown arcade.) Jones was just a kid then, 21 or 22 years old. Baseball stardom seemingly was only a few line drives away, and yet he was content being a regular guy, another friendly summer resident in a small community.29
Jones played well in spurts for the Guides in 1988. His average was modest for him at .267, but he hit 16 homers and drove in 75 in 125 games, including a late surge of 27 in 27 games.30 His RBI total led the International League.
As a result, the Phillies called him up that August, shortly after trading outfielder Mike Young. Lee Elia said, "Jones isn't coming up here to sit."31 He made his debut at Veterans Stadium on August 26, starting in right field. He got his first big-league hit in his second at-bat against Tim Belcher of the Dodgers: a solo homer to deep right. He also just missed a second homer on another at-bat when his long fly went foul.32
Early that September, the Philadelphia Daily News noted that the Phillies – a last-place team that year – were "interested in making changes…putting a premium on youth." The rookie's stature also drew notice. "Jones's listed height of 5-10 seems at least a couple of inches on the optimistic side, perhaps so that his listed weight of 200 pounds won't seem quite so jarring." Jones said, "The pitchers up here are around the plate more [than in the minors]." He was reluctant to make more assessments until he had spent more time in the majors, but observed, "If you do well, everything will take care of itself."33
Indeed, for the Phillies in '88, Jones hit .290-8-26 in 33 games. Lee Elia said, "Jonesy keeps putting his bat on the ball and making things happen."34 His performance made him an early candidate for NL Rookie of the Year in 1989.
Jones went on to play winter ball again, this time in Puerto Rico with the Mayagüez Indios.35 The Phillies gave him frequent outfield duty after he made the team for Opening Day 1989. He was off to a good start – .290-2-4 in 12 games – when he sustained his first damaging injury. In the eighth inning of a game against the New York Mets on April 18, Dave Magadan lofted a long fly ball to right center. Jones had been playing in, following the scouting report on the spray-hitting Magadan.36 He raced back, made the inning-ending catch, but crashed into the wall. He hit knee-first and fell to the ground. Stadium attendants carried him off on a stretcher through the right field bullpen.37 Phillies broadcaster Harry Kalas said, "Oh no…oh no. This just doesn't look good."38
The Mets were sympathetic too – one of them said, "I guess they don't make enough money here to pad the outfield walls."39 That was actually true of quite a few big-league parks then. The fences at Shea – and at Veterans Stadium – got padding in direct response to the Jones accident. In 1991, when Philadelphia's Len Dykstra broke a collarbone after running into the fence at Cincinnati's Riverfront Stadium, it prompted an acid remark from Lee Thomas. "It took Jonesy getting hurt in New York for them [the Mets] to do it, and now it's taken Lenny getting hurt in Cincinnati. Better late than never, right?"40 Indeed, Mets Vice-President Joe McIlvaine said the idea had not been considered before Jones got hurt.41
After surgery, Jones worked very hard at rehab. He began taking batting practice during the summer, and there was talk that he might return to action in Triple-A or even for the Phillies before the season ended.42 As it developed, however, he began his comeback in Instructional League that fall.43 After spring training in 1990, he started the season with Scranton/Wilkes-Barre, which had become Philadelphia's Triple-A team the year before (the franchise relocated from Maine). Jones played in 44 games with the Barons. In mid-May, he admitted that he still wasn't 100% ready to return to the majors, especially in terms of running the bases and making cuts in the outfield. He still ran with a noticeable limp.44
Even so, near the end of that month, the Phillies made moves with two slumping veteran outfielders. Carmelo Martinez went on the disabled list and Curt Ford was sent down to Scranton/Wilkes-Barre. To replace them, Jones and Jim Vatcher were called up.45 Jones got into 24 games, starting 16, and was again hitting well: .276-3-7, including two homers on June 13. He lacked mobility in the field, however, and appeared hesitant at times when going after balls.46 In fact, he'd been playing with a cumbersome knee brace until just a week before the Phillies recalled him.47
Jones suffered his other grave injury on June 30. In the seventh inning of what became an 8-3 loss to the Houston Astros at the Vet, Franklin Stubbs hit a sinking liner to right. According to Phillies manager Nick Leyva, Jones "said he misplayed it. He went back on it and then tried to come in and play it on the hop – and the knee gave out." As Jones later said, he tried to stop for the ball and felt something pull.48 One theory held that he caught his shoes in a very noticeable seam in the carpet.49 It was a classic artificial turf injury in which the stress was transferred upward from a planted foot. Various NFL players have suffered similar blowouts, even without being hit.50
As Jones crumpled to the carpet, the ball hit about eight feet in front of him, bounced over his head, and went to the wall. Stubbs wound up with a three-run inside-the-park homer. Again Jones was carried off on a stretcher. Just before that, he "sat helplessly on the turf and asked nobody in particular: 'Why? Why me? Why?'"51
At Philadelphia's Methodist Hospital, it was discovered that he'd suffered the same injury as he had in 1989 – only to the other knee. Leyva said, "I feel sorry for the young man. You're talking about trying to rehab two knees." A teammate, pitcher Marvin Freeman, added, "The guy works his butt off to get back in there, and to get hurt again…it's devastating."52
Again the season came to an abrupt end for Jones. Again he had to battle back from surgery. Phillip Marone, the Phillies team physician who performed both operations, called the second injury "more severe" than the first (torn cartilage was also involved). Marone added, "With time and patience I feel very confident that Ron will be able to play baseball again. As far as a timetable, I can't really say at this time. Knowing him and how hard he worked last year, he'll work as hard this time around."53
The surgeon had another interesting and ironic observation: that Jones was simply too strong. "If you've seen his thighs, you know what I mean when I say they are monstrous. Quite simply, the quadriceps was stronger than the bone to which it's attached. It actually pulled the patellar tendon away from the bone."54
Lee Thomas speculated about what the future would hold. "I still think Ron Jones can play in the big leagues…Maybe he'll have to do it as a DH in the other league…He can hit; there were clubs that wanted him." Thomas added, "The mental aspect is the big thing. His mind has to be going bonkers." Nick Leyva agreed. "Mentally, he's got to be thinking what it's going to do to his career…he's got a battle ahead of him."55
Leyva also expressed concern that Jones would grow rusty. "How much time is it before your baseball reflexes go?" he asked. "In order to be successful and stay sharp in this game, you have to play it. You're talking about sitting out another year. In a two-year period, you're talking about playing only two months. That makes it tough. You can lose a lot."56
During his first rehab, Jones had said, "I've learned I don't want to go through this again."57 Yet he wasn't deterred – he worked so hard at his second comeback that he wore out an exercise bike at home. He said, "Maybe some people felt I'd give up. Well, they couldn't have been more wrong."58 He was back in action during camp in 1991 and went to extended spring training to continue his recovery. After that, he went on a rehab assignment in Clearwater and returned to Scranton/Wilkes-Barre.
The Phillies recalled Jones in mid-June. He was with them for roughly a month but did nothing but pinch-hit. He went back to Triple-A on July 12.59 When the rosters expanded in September, Jones came back for his last 10 games in the majors. These, too, were all pinch-hitting appearances. For the season, he was 4-for-28.
Philadelphia sent Jones outright to Scranton/Wilkes-Barre that October. "I just think he has to get his knees a whole lot healthier," said Lee Thomas. "They tell me it can be done, but he has a tough road ahead of him." Jones said simply, "All I want do to is get my knees healthy."60
Jones refused his assignment and became a free agent. The Cleveland Indians signed him and gave him a non-roster invitation to spring training in 1992. After nothing came of that, he joined the San Francisco Giants organization in late April, playing 66 games for their Double-A team in Shreveport. He hit a mild .242-4-25 and was released at the end of July.61
Following another winter in Mexico (this time with the Navojoa Mayos), Jones climbed back to Triple-A in 1993, getting a job in the Atlanta Braves chain. The results were better (.291-10-41 in 79 games for Richmond), but that was the last Jones played in the U.S. minor leagues.
Starting in 1994, Jones began a seven-year odyssey across baseball's hinterlands:
Independent leagues: Texas-Louisiana League (1994 and 2000 – Rio Grande Valley WhiteWings); Northern League (1998 – Thunder Bay Whiskey Jacks, 1999 – Sioux Falls Canaries).
Mexican League: 1994 – Yucatán Leones, 1997 – Tabasco Olmecas, 1998 – Saltillo Saraperos, 1999 – Dos Laredos Tecolotes. He played 193 games in Mexico's summer league. They were all short stints except for '98 with Saltillo, when he hit .349 in 120 games. Overall, he batted .302 with 17 homers and 116 RBIs.
Taiwan: 1995 – Jungo Bears, 1996 – Sinon Bulls. His totals in Taiwanese ball were a .285 average with 18 homers and 75 RBIs in 134 games. The salaries were rather attractive in Taiwan, although the shadow of gambling hung over the game there.
Despite the different languages and cultures, Jones found his foreign experience pleasant. "He enjoyed playing in all those places," Erna Calvert said. "He never did complain."62
Jones also made at least two pit stops (in 1994 and 1997) with his old hometown team, the SMI Steelers, which were then managed by his uncle Alvin.63 According to Charlie Hayes, Jones probably did not receive any offers to return to the U.S. minors – it never came up in conversation, at least. But Hayes said, "I'm sure his thinking was he could still play. From everything he said, he loved it – he was still doing what he loved." Yet despite this, "his knees told him to stop."64
After quitting as a player, Jones got into coaching youngsters. (He never married nor had children of his own.65) He worked for Home Plate Inc., a baseball school in The Woodlands, a community in the Houston area. A local coach named Dom Sylvester had glowing words about Jones, a happy and smiling man with patience, perseverance, and a positive outlook who was proud to say, "All my kids hit!"66
The brothers who owned Home Plate, former pros Ray and Robert DeLeon, sold it in 2002 and started a bigger facility called Future Baseball Stars Academy. Jones stayed with that outfit, and another of the instructors was his good friend Charlie Hayes.67
Jones approached Hayes in 2005 about starting their own baseball school. Initially, Hayes was reluctant to get involved, but the tight bond between the two men convinced him to go ahead. They opened the Big League Baseball Academy in Tomball, Texas (also outside of Houston).68 A colleague named Randy Wade said of Jones, "He not only taught his kids non-stop to do it right, but kids he did not even know who came in for tryouts. His devotion was unparalleled."69
On June 4, 2006 – just a week short of his 42nd birthday – Jones worked with a high school group while Hayes helped younger players. At the end of the day, Jones said, "Man, I don't feel good. I'm tired. I'm just going to go home." The next day, a Monday, Jones did not come to the academy. That was not immediate cause for alarm because he often took Mondays off. But when Jones did not turn up on either of the following two days, concern mounted, not least because Hayes' son Tyree had been drafted and it was out of character for Jones not even to call. Hayes also had a notion that something bad might have happened because Jones was living in a tough part of Houston.
Finally, on Thursday, Hayes and his wife, Gelinda, drove to the building where Jones lived. The manager of the apartment complex went to check on Jones and came running back after finding him dead. He had collapsed while getting ready to take a shower.70 Accounts vary as to the cause of death; Jones's family doesn't know whether it was an aneurysm, heart attack, or stroke. Ron may have been suffering from hypertension. About a month before, Arthur Calvert had told him to go to the doctor and get a checkup. 71
Jones was laid to rest in Seguin's Garden of Memories Cemetery.72 Meanwhile, Hayes could not bring himself to go back to the academy for months. He initially wanted to close it down after the loss of his best friend. Yet he heard from his wife that because Jones talked him into doing it, he should keep it open – which it still is. In 2015, Gelinda and Charlie's youngest son Ke'Bryan, who was also very close with Jones, became a first-round draft pick of the Pittsburgh Pirates. The motto "We leave no kid behind" carries on the Ron Jones work ethic.73
Acknowledgments
Grateful acknowledgment for their input to Charlie Hayes and David Hamilton, as well as the family of Ron Jones: Lisa Crutcher (sister); Erna and Arthur Calvert (parents). Without the sequence of introductions, this story would not have been the same.
This biography was reviewed by Jan Finkel and fact-checked by Kevin Larkin.
Sources
Books
Pedro Treto Cisneros, editor, Enciclopedia del Béisbol Mexicano (Mexico City: Revistas Deportivas, S.A. de C.V.: 11th edition, 2011).
Internet resources
newspapers.com (provided access to stories from the Seguin Gazette-Enterprise and Shreveport Times)
comc.com (baseball card vendor's website)
sortedbyname.com (provided marriage record for Arthur Calvert and Erna Jones)
findagrave.com
http://twbsball.dils.tku.edu.tw/wiki/ (Taiwanese baseball website)
Notes
Born
June 11, 1964 at Seguin, TX (USA)
Died
June 4, 2006 at Houston, TX (USA)
If you can help us improve this player's biography, contact us.
https://sabr.org/sites/default/files/JonesRon.jpg
600
800
admin
/wp-content/uploads/2020/02/sabr_logo.png
admin
2017-06-24 14:51:29
2017-06-24 14:51:29
Ron Jones