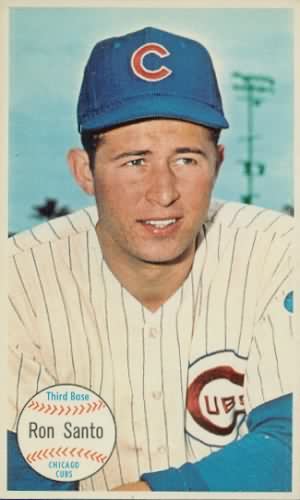 ---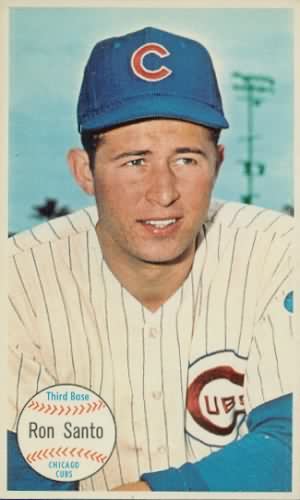 On June 26, 1960, Ernie Banks sat next to the recent call–up in the visitors' dugout at Pittsburgh's Forbes Field. "Are you nervous, kid?" Banks asked the rookie. The kid was making his major-league debut for Chicago against the first-place Pirates and facing their two best hurlers for the afternoon twin bill, Bob Friend and Vern Law.   Was he nervous?    When he took batting practice, he didn't hit a ball out of the cage.    But instead of putting up a facade, Ron Santo answered, "Oh yeah, Ernie."   Mr. Cub instructed Santo to just view the two pitchers as if they were minor leaguers. It seemed like a simple suggestion for Banks, the reigning two- time Most Valuable Player of the National League, to pass on to the green rookie. 
Cubs manager Lou Boudreau penciled Santo in as his starting third baseman, occupying the sixth slot in the batting order. With two outs in the top of the second inning, Santo stepped into the box to face Friend. The crafty right-hander froze the newcomer with a curveball for a strike. As Pirates catcher Smokey Burgess threw the ball back to the mound he informed Santo, "That was a major-league curveball, kid."   Santo composed himself and laced Friend's next offering into center field for a single.  Santo collected two hits and drove in three runs in his debut. In the nightcap he added two more RBIs on one hit off Law. The Cubs swept the Pirates, putting a halt to their nine-game losing streak.
Ron Santo was in the big leagues to stay. For 15 seasons he was the consistent professional. He made all the plays that came his way at the hot corner and swung the lumber with authority. Ron gobbled up Gold Gloves as easily as a two-hop ground ball, and All-Star appearances became as regular as a day game at Wrigley Field. He was adored by the Cubs fans for his all-out effort on the field, as well as for his presence in the city of Chicago.  
What made Santo's accomplishments even more amazing was the secret he kept for many years: his battle with diabetes since he was a teenager. He kept the matter out of the public eye, but later became a champion in the fight against the disease, raising millions of dollars for research. When it became apparent that his celebrity could enhance awareness, Santo became a driving force in the fight against diabetes, as well as an inspiration to others who were burdened with it .
Ronald Edward Santo was born on February 25, 1940, in Seattle, Washington.  He was the second child born to Louie and Vivian Santo, who also had a daughter named Adielene.  Louie Santo's primary job was that of a truck driver for an ice cream company, but he also worked as a bartender.  Ron's parents divorced when he was a young boy, leaving him to live with his mother and sister.  His mother married John Constantino a few years later, giving Santo a male role model whom he became very close to, often referring to Constantino as Dad.
Santo grew up near old Sicks Stadium in Seattle, where he worked as an usher, in the press box, and in the clubhouse. The Seattle Rainiers were then the top farm team for the Cincinnati Reds. Santo would say, "I shined Vada Pinson's shoes and then three years later I am playing against him."    Ron was a three-sport star at Franklin High School. He excelled at football and basketball in addition to baseball. He made the varsity baseball team as a freshman, playing third base until his senior year. In that year the team's starting catcher was lost to an injury and, because Ron had such a strong throwing arm, he took over the position. By that time major-league scouts were hovering, waiting for the chance to sign Santo. He received the Hearst All Star Award and, in competition with other Hearst Award winners, was selected as a catcher for a national all-star team that played the New York All Stars in New York. It was the first time Santo had been away from home. His talent impressed the many scouts who were in attendance,
During his sophomore year at Franklin, Santo and Dave Kosher, who was a bird-dog scout for the Chicago Cubs, became close friends. Santo respected Kosher both as a person and as a sound baseball man. Roy "Hardrock" Johnson, the Cubs' lead scout, offered Santo a signing bonus of $20,000, less than was being offered to other players, and told Santo he would sign him as a catcher, because "I don't think you can play third base in the big leagues." Although Cincinnati offered much more money, as did most of the other teams, Santo chose Chicago. Money was not the important matter. Santo believed signing with the Cubs would provide the shortest path to the majors.  He also felt a sense of loyalty to Kosher, who believed in him and encouraged him from the start.
In 1959 Santo went to the Cubs' rookie camp in Mesa, Arizona. There he became acquainted with Hall of Famer Rogers Hornsby, the Cubs' hitting instructor, and future Hall of Famer Billy Williams, a fellow rookie. Williams and Santo formed a solid friendship. After a week of inactivity, Santo was installed as the catcher and began hitting the ball all over the park. At the conclusion of the three-week camp, Hornsby assembled the prospects in the bleachers. He went down the line, critiquing each player: "You might as well go home"; "You won't get by A ball"; "Forget A ball, you won't get past C ball." He got to Santo and said, "You can hit in the big leagues right now." He made similar comments to Williams, the only other player Hornsby said would make the major leagues. These were all of the top prospects for the Cubs, but Rajah was right. Of the whole group, only Santo and Williams made it to the major leagues.        
Santo's rise through the system took just a year and three months, as he excelled at San Antonio of the Texas League (Double-A) and Houston of the American Association (Triple-A).   In anticipation that he would replace Alvin Dark, the Cubs third baseman, who was winding down his career, Santo had been moved from catcher back to third. In San Antonio he learned how to field the position. At first he was having a hard time with his throwing. But manager Grady Hatton, a former third baseman, worked with him. "He helped me tremendously at third, especially in correcting my throwing," said Santo. "I had been taking my time, daring the runner to beat my throw. It was strictly high-school stuff. Grady taught me to come up throwing and get rid of the ball immediately."   
In January 1960, before reporting to spring training, Santo married Judy Lynn Scott, his high-school sweetheart. They had three children.
At spring training in 1960 the Cubs thought Santo needed some more seasoning. They acquired Don Zimmer from the Los Angeles Dodgers as a stopgap at third until the team thought Santo was ready. Then during the season the team fell into last place, 16½ games off the pace, and decided there was no purpose in keeping Santo in the minors anymore.   He was called up and assumed the duties at third base. Zimmer was moved to second.  
Santo hit a meager .251 in 95 games that rookie season, but made enough of an impact to be named to both The Sporting News and the Topps All Rookie Teams. The Cubs continued their mediocrity, finishing with a record of 60-94. It was the 14th straight year they finished under .500.  
Lou Boudreau, who left the broadcast booth for one year to manage the Cubs, returned to his announcing chores. For 1961 Cubs owner Philip K. Wrigley designed a plan under which the Cubs would operate without a manager "as that position is generally understood."     There would be a an eight-man coaching staff that would take turns directing the major-league team and rotating through the minor-league system. This unique and radical idea was called the College of Coaches. The eight coaches were Charlie Grimm, Harry Craft, Rip Collins, Bobby Adams, Vedie Himsl, El Tappe, Verlon Walker, and in the minors, Goldie Holt.   To this group Wrigley added coaches Lou Klein, Freddie Martin and Charlie Metro. Wrigley called this approach "business efficiency applied to baseball." The idea was questioned by most, ridiculed by others. One Cubs player who was especially critical of the new system was Zimmer. And he used the maturation of Santo as an example.   "I've seen one coach wagging at Santo to play deeper at third base while another one was motioning him to come in further," said Zimmer. "I've heard them give that kid completely contrary instructions and then chew him out because he couldn't follow both. He's a great prospect, but they are driving him crazy."
The system was employed for two seasons with little success. If Zimmer's claims were correct, Santo seemed unfazed by the setup. He won Sophomore of the Year honors in 1961. He started 152 games for the Cubs, appearing in all 154. He hit 23 home runs and batted.284. Santo's offensive numbers were the result of his mental approach to hitting, the belief in his ability that he could hit major-league pitching. "If there is such a thing as a take-charge hitter, it has got to be Santo," said Cincinnati's Johnny Temple.   "When he steps to the plate, the kid literally defies the pitcher to throw the ball because he isn't bashful when it comes to swinging the bat."     
Although the Cubs were again dismahttps://sabr.org/node/15342/editl in the standings, they had a good core of young players to surround Ernie Banks. Williams and second baseman Ken Hubbs won back-to-back Rookie of the Year honors. George Altman was steady in right field and Lou Brock joined the team in 1962. Dick Ellsworth won 22 games and seemed poised to lead the pitching staff. Santo was just 22 years old, and already was being groomed as a star. After Wrigley's failed experiment, Bob Kennedy was named manager in 1963 and provided a steadying influence for the young team. "If a guy can't play for Bob Kennedy, he can't play for anyone," said Santo.  
Santo was named to the National League All Star team in 1963. In his only at-bat, Santo singled and drove in a run as the National League topped the American League, 5-3 at Cleveland Stadium. It was the first of nine All-Star nominations for Santo. For the third straight year he played in every game. He excelled in June, collecting 44 hits in 28 games for a .383 batting average. He hit six home runs and had 22 RBIs. He was named the National League Player of the Month.
Kennedy had the Cubs on the right path to success. Even though they placed seventh in the standings in 1963, they finished above .500 for the year at 82-80. It was the first time the team had finished above .500 since 1946.
Two events in 1964 set the Cubs' progress back. The first was the death of Hubbs on February 13, when a plane he was piloting crashed into an ice-covered section of Utah Lake, killing Hubbs and a friend. He was 22 years old.
The second event was the Cubs' trade of Lou Brock to St. Louis on June 15 for pitchers Ernie Broglio and Bobby Shantz. Shantz was at the end of his career and finished the year in Philadelphia. Broglio was considered the key to the trade. The Cubs were in sixth place, but only 5½ games off the pace. They were trying to bolster their pitching corps, but instead got a pitcher whose arm was shot. Broglio was out of baseball two years later. 
As for Santo, he had his best offensive season to date in 1964. He smacked 30 home runs, 33 doubles, and 13 triples, drove in 113 runs and hit .313. He led the league in walks with 86. And his work in the field got rave reviews. Santo displayed great range at the hot corner. His arm was a cannon that fired accurately from any position he found himself in on the diamond. He led the league in assists (367), putouts (156), and double plays by a third baseman (31). His .963 fielding average earned him his first of five straight Gold Glove Awards. Clearly, he was the king among the National League third sackers. "He always was a good hitter, but his arm seems to be stronger and more accurate then ever," said St. Louis Cardinals manager Johnny Keane.    
Williams and Santo became one of the most dangerous hitting duos in the National League. Hitting third and fourth respectively, they put up very impressive numbers. Compared with the top slugging twosomes of other NL teams in 1964, they ranked first in combined hits (388), doubles (72), and total bases (677). They finished second in home runs (63), runs batted in (212), and extra-base hits (150). 
Manager Kennedy was let go after 56 games in 1965. Lou Klein managed the team the rest of the season, and Leo Durocher took over in 1966. Durocher had been a hard-nosed player and manager, and encouraged a physical brand of baseball. That fit Santo's style of play in a nutshell. Durocher took to his third sacker right away. "When it comes to all-around work, nobody is close to him," said an admiring Durocher. "Ron is the best in the league, both offensively and defensively. He's one of the most aggressive players in the league – a born leader."
Santo was also keeping busy in the offseason. He helped form Old Heritage Corp., a specialty insurance company for which he was vice president in the Chicago area.   He also opened Santo's Pizzeria, a takeout and home delivery business in Park Ridge, a Chicago suburb.
Santo was the only Cubs player to hit over .300 in 1966, thanks in part to a 28-game hitting streak. It was the first of three consecutive seasons in which he led the league in walks.   On June 26 Santo was struck on the cheek by a pitch from the New York Mets' Jack Fisher and suffered a fractured cheekbone. Santo sat out seven games, the first time he had missed significant playing time in his career   He was named to The Sporting News' National League all-star team for the first of four consecutive years. But not one Cubs starter pitched over .500 that season as Chicago lost 103 games. The Cubs improved, finishing in third place in 1967 and 1968, as their infield became stabilized with the steady play of Glenn Beckert at second base and Don Kessinger at shortstop. The duo formed a solid keystone combination to complement Banks and Santo. Randy Hundley was a rock-solid backstop.   Ferguson Jenkins, Ken Holtzman, and Bill Hands were key contributors in the starting rotation. 
The National and American Leagues were split into divisions for the first time in 1969, creating a playoff system. Each league had an East and West Division, six teams in each division.   The Cubs were poised to end a long postseason drought on the North Side, battling the New York Mets the entire season. Santo stirred some controversy in midseason. The Cubs had a five-game lead as they arrived at Shea Stadium on July 8 for a three-game series with the Mets.   In a pitchers' battle between Jenkins and Jerry Koosman, the Mets scored three runs in the bottom of the ninth inning to win 4-3.   Ken Boswell pinch-hit for Koosman to lead off the ninth and sent a soft line drive to center field. Don Young, who was playing deep to guard against the possibility of an extra-base hit, raced in but the ball dropped and Boswell raced to second base.   Donn Clendenon sent a drive to the wall in left-center that Young caught reaching across his body, then dropped as he crashed into the wall. Both plays were crucial to the Mets' win, and deflating to the Cubs. After the game the fiery Santo did not mince words about the Cubs center fielder.   "He was just thinking of himself, not the team," said the Cubs captain. "He had a bad day at bat, so he's got his head down. He's worrying about his batting average and not the team. All right, he can keep his head down, and he can keep right on going, out of sight for all I care. We don't need that kind of thing." Although he apologized the next day, Santo's words rang hollow. He was roundly criticized for taking a teammate to task.  
Santo began the practice of celebrating a Cubs victory by leaping in the air and clicking his heels. Although he did it by accident initially, the Bleacher Bums at Wrigley Field loved it and cheered for Santo to continue the gesture after every Cubs triumph. Cubs fans had so little to cheer about that they were enjoying their afternoons at the park, soaking up all that came with a winning team. After the Don Young incident, the Mets visited Wrigley Field a week later for a three game series.   At the conclusion of the first game, hard-fought 1-0 Cubs victory, Santo clicked his heels several times, seemingly rubbing the Mets' noses in the loss. Mets coach Joe Pignatano called Santo "bush."    The comment was relayed back to Santo and put in print as well. The next game, as Mets manager Gil Hodges and Santo exchanged lineup cards at home plate, Hodges deadpanned, "You remind me of someone. You remind me of Tug McGraw. When he was young and immature and nervous, he used to jump up and down. He doesn't do it anymore."   The Mets again took two out of three games, and Tom Seaver did a little dance of his own, clicking his heels, adding insult to injury. 
The Cubs held a slim lead in early September, but the Mets went 22-5 to finish the season, topping the Cubs by eight games.   Speaking about the season, Santo said, "I believe it left its impression on our players.   It showed them that it takes more than talent to win. You've got to have determination and desire."  
The Cubs suffered a late-season swoon and the Mets beat them out for the East Division title, then won the pennant and World Series, The Cubs suffered through another late-season swoon in 1970, this time losing out to Pittsburgh. Chicago ended the season with a 14-game road trip. In the midst of the trip, Santo received a death threat; he was told he would be killed in New York if he played in a game. Suddenly Santo found himself surrounded by police and a security detail at all times. With the Cubs out of the race, Santo sat out the four-game series against the Mets, ending his season.
It was a tough year for Santo on the field. His batting average slipped to .267. Also, his popularity took a hit with the hometown fans. The boo-birds came out at Wrigley Field. Fans were still sore over the Don Young incident, and Santo was being mocked for his heel-clicking routine. The same fans who cheered Santo for his victory jig were now letting him have it. When the Cubs failed to make the playoffs, Santo and his leap were no longer appreciated.   Throw in his subpar year (by Ron Santo standards), and the season took its toll and proved a heavy burden for him.   
Santo, who learned that he was a diabetic just after he graduated from high school, came out with the secret of his diabetes in August 1971, on a special day for him at the ballpark. Explaining why he hadn't gone public about it before, he said, "I didn't want anyone to know about the diabetes because I felt that people would think that I was copping out, using it as an alibi if I was going bad. But I want to make it clear that being a diabetic hasn't affected my career in the slightest. As long as I take care of myself properly, I'm as good physically as any other player." Although most players and media knew of his condition, they respected his wishes to not make it public. 
Manager Durocher, not one to avoid altercations, accused Santo of going to general manager John Holland to demand that a day be held in his honor. The remark infuriated Santo, who answered writers' questions with a terse "No comment."   Holland intervened to say that the Diabetes Association of Chicago had initiated the Ron Santo Day. 
Durocher and Santo made peace in 1972 spring training, vowing to put the past behind them.   Durocher was fired in late July with the team playing just above .500. Instead of hitting in his customary cleanup spot, Santo was being placed anywhere from fourth to seventh in the batting order. He collected his 2,000th career hit on August 26, a three-run homer off the San Francisco Giants' Ron Bryant.   He hit .302, the first time he had exceeded .300 in five seasons. Although his power numbers were decreasing every season, he was still recognized by The Sporting News as the third baseman on its National League all-star team.
Tragedy struck the following year during spring training. News reached Ron that his mother and stepfather had been killed in a four- vehicle accident on March 19 in California.   They had been driving from Seattle to Scottsdale to visit Ron.
The 1973 season was the last on the North Side for Santo. The Cubs at one time celebrated their core of youthful talent. But now they started trading players away, among them Jenkins, Hundley, and Beckert. Santo was believed to be on his way to the California Angels, but vetoed a trade as allowed under the Players Association contract because he had ten years in the league and five with the same team. Santo did approve of a trade to the White Sox on December 11. The Cubs received pitchers Steve Stone, Ken Frailing, and Jim Kremmel and catcher Steve Swisher.     
Although the trade caused much celebration on the South Side, it proved to be premature jubilation. Santo spent most of the 1974 season as a utility infielder, spelling Bill Melton at third base or Jorge Orta at second. His primary position was that of designated hitter. 
Santo retired as a player on December 13, 1974. He said his new job as vice president of sales at Torco Oil would occupy much of his time.   He added that his confidence on the baseball diamond had been shaken by his diminished role the past year. His role with the White Sox may have been even harder for him to adapt to after starring for the Cubs for 14 seasons. For his career, he smacked 342 home runs and drove in 1,331 runs.   His career fielding percentage was .954, with 4,581 assists. In 1999 he was named to the Cubs All-Century Team. His number 10 was retired on September 28, 2003.
Santo's health suffered in his retirement. Because of his diabetes both legs were amputated just below the knee. He had his bladder removed and had heart bypass surgery.  He plunged into fundraising for the Juvenile Diabetes Research Foundation, and as of 2010 had raised more than $60 million. The Ron Santo Walk to Cure Diabetes was in its 32nd year in 2010. 
Santo also found a home in the radio booth. The 2010 baseball season was his 20th providing color commentary for Cubs games on WGN Radio. He remained as popular as ever with Cubs fans, and continued to wear his love for the Cubs on his sleeve. 
"When I was a ballplayer, I was very intense," said Santo. "When I walked across those white lines, nobody was my friend. Once the game was over, off the field, I was a different guy. But on the field, I was very intense.   I think that showed. I think that's why a lot of pitchers didn't like me.   They threw at me a lot. I didn't like them either. That was the kind of player I was."       
Ron Santo passed away on December 3, 2010, after a battle with bladder cancer. He had spent most of his adult life associated with the Chicago Cubs, and team and all its fans mourned the death of the beloved figure and self-avowed "greatest Cubs fan."
In 2012 he was posthumously inducted into the National Baseball Hall of Fame.
Sources
Stout, Glenn, and Richard A. Johnson. The Cubs. New York: Houghton Mifflin Company, 2007.
Golenbock, Peter. Wrigleyville. New York: St. Martin's Press, 1996.
Freedman, Len. Game of My Life.  Champaign, Illinois: Sports Publishing LLC, 2007.
SABR. The National Pastime.  Lincoln: University of Nebraska Press, 2006.
National Baseball Hall of Fame Archives
The Sporting News
Sports Illustrated
Baseball Digest
Born
February 25, 1940 at Seattle, WA (USA)
Died
December 3, 2010 at Scottsdale, AZ (USA)
If you can help us improve this player's biography, contact us.
http://bioproj.sabr.org/bp_ftp/images4/SantoRon.jpg
600
800
admin
/wp-content/uploads/2020/02/sabr_logo.png
admin
2012-01-04 20:34:15
2022-12-03 06:48:27
Ron Santo