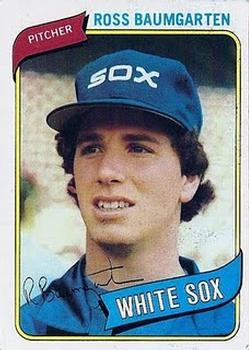 ---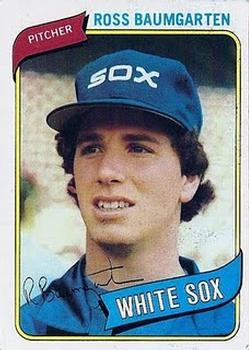 While growing up in Chicago's affluent North Shore suburb of Glencoe, Ross Baumgarten hardly looked like a kid who would live the American boy's dream of playing major-league baseball one day. "I was small for my age," recalled Baumgarten. "I was only 5 feet tall and weighed 90 pounds when I was a freshman in high school. I pitched on the freshman B team and didn't get much playing time as a sophomore. I didn't play my junior year. I started my senior year on the junior varsity."1
"Ross definitely does not come from a family of athletes," admitted his father, Robert Baumgarten. "I didn't push him or coach his teams or anything. I wasn't even much of a baseball fan. As long as I could remember, he wanted to be a major leaguer. Most boys just dream about it, but Ross was very determined."2
Ross Baumgarten was born on May 27, 1955, in Highland Park, Illinois. The Baumgartens lived in Skokie, Illinois, before moving to Glencoe when Ross was 8 years old. It was there that he began his athletic career as a left-handed shortstop for his 12-year-old softball team before becoming a pitcher in the village's summer baseball league. "It wasn't Little League," said Baumgarten. "Glencoe youth baseball was far behind Wilmette, Winnetka, and other local suburbs. Just something very raw, very sandlot. No uniforms, no pitching mounds, no fences. My team happened to need a pitcher. I volunteered and I did well."3
Throughout his childhood, Baumgarten was a "tremendous" Cubs fan who admired the team's pitching staff. "I liked Ferguson Jenkins and Bill Hands, but since (Ken) Holtzman was the only left-handed starter, I identified with him. I'd emulate his mannerisms. He used to throw something like 90 percent fastballs, and I'd do the same until I couldn't get away with it. I even started wearing number 30, and I've had that number with every team that had that number available."4 Was Holtzman also his favorite player because, like himself, he was Jewish? "The Jewish thing was never really that big to me," answered Baumgarten.5
At age 14, Baumgarten entered New Trier East High School, one of the best academic schools in the country, although the scholastics never appealed to him. "I just wanted to play ball," he said. "All my friends were going to become doctors or lawyers or accountants. New Trier is a high-pressure place – the education is fantastic – but I never got into the complete thing. I never did care much for school. I just did what work I had to do."6
During high school, Baumgarten began to grow, and reached 6 feet and 150 pounds by his senior year. "I looked like a rail," he said.7 He improved his game through his summers at the Mickey Owen baseball school. After an injury that cost him his junior season (he slipped on the ice and broke his arm), he started his senior year on the junior varsity, but was quickly elevated to the varsity, "because I was striking everyone out."8 New Trier East's head baseball coach, Ron Klein (a member of the Illinois High School Hall of Fame), wasted no time placing Baumgartner into the varsity's starting rotation. Baumgartner made his first start against Oak Park in a game that matched two top teams in the Suburban League.9 Baumgartner got a win, allowing just four hits and striking out eight.10
That New Trier East varsity team was loaded, featuring three future professional baseball players: Baumgarten; John Castino, an infielder for the Minnesota Twins for five years before injury forced his retirement; and Dave Hall, who played three years in the Montreal Expos organization. They finished the season with a 15-5 record. Baumgartner contributed five victories, pitched three of the team's seven conference wins, and struck out 43 batters in 40 innings. He made All-Conference and was voted the most improved player by his teammates.11
Baumgarten intended to pursue his pitching career, believing he could do the job at a small college, which was why he was surprised when coach Klein told him that the University of Arizona had sent him a questionnaire regarding the All-Conference hurler. "I thought Arizona was nuts," said Baumgartner.12 He chose Florida Southern University in Lakeland, Florida, which didn't work out. "Their top three pitchers were juniors," said Baumgartner. "I wanted to go somewhere where I could pitch. I told them I was going to pitch elsewhere my sophomore year and then return to Florida Southern. But I had no intention of coming back. Florida Southern was very institutionalized, very rigid, very conservative, and no room for self-expression."13 He transferred to Palm Beach Community College, where he got a chance to pitch often and pitched well enough to attract interest from the University of Florida. He transferred to Gainesville the following year, and was greeted with a surprise: "I was declared ineligible by the NCAA [for the spring 1976 season] because I didn't take a required course," Baumgarten said. "I took them to court but lost. I hired a 23-year-old lawyer to represent me. It was my inexperienced lawyer against their seven lawyers."14
Disappointed over the ruling, Baumgarten turned to his high-school coach. "I've been grossly manipulated and stepped on. I'm thinking about quitting baseball. It is not worth it," he told Klein in a letter. Coach Klein immediately phoned Baumgarten. "Why quit the one [sport] you want to do?" Klein said. Baumgarten thought it over and agreed.15 He sat out a year, and then came back in 1977 to earn All-Conference honors. He had one season of collegiate eligibility remaining, but finished school in four years, getting his degree in sociology, and entered the baseball draft.
He was not considered much of a prospect. Marv Samuel, the manager of one of the Baumgarten family's furniture stores, was involved in White Sox charity work, and touted Ross to GM Roland Hemond. The Sox took him in the 20th round essentially as a favor to Hemond's friend.16 "Yeah, it was discouraging," said Baumgarten, who expected to be picked higher. "I always felt I was a lot better than that, and I was going to prove it." The White Sox assigned him to the Appleton Foxes, not one of the better teams in the Class A Midwest League. "We went something like 53-87. In the month of August, we won only four games."17 Pitching for a last-place team, Baumgarten gave up fewer hits (82) than innings pitched (84), struck out 65, walked 37, and experienced a turning point. "Up to then I'd throw three-quarters across my body a lot," said Baumgarten. "Ken Silvestri (a White Sox minor league instructor) got me to throw more overhand and more with my body. I worked a lot on that during (the following) winter. It was a hard adjustment – trying to incorporate this new release point. In spring training, it all came together. That's when it started happening."18
In 1978 Baumgarten marched up the minor-league ladder, pitching in Class A, Double A, and Triple A before reaching the major leagues. "I was told that I was only the second player ever to go through every minor-league level to the majors in the same season," he said.19 After starting the season in Appleton, he was promoted to Double-A Knoxville. Following four well-pitched games, he was promoted again, this time to Triple-A Des Moines. And then came the call from the White sox. "I can remember the day so vividly – Monday, August 14, 1978 – the Triple-A team was supposed to go to Indianapolis on a 6:00 A.M. flight. I lived in the same apartment complex as my coach, and he told me, 'You're not going; you've been called up to the big leagues.' My luggage was already on its way to the airport, so I had to go to the airport to get it. I'll never forget that feeling. It was great.
"That night in Texas, I walked into manager Larry Doby's office, and he said, 'You're the starting pitcher Wednesday night.' I won on Wednesday, 6-2, and pitched well,"20 allowing one run in six innings. [It was actually two runs. The White Sox defeated the Texas Rangers in Arlington.) "The kid has an idea what to do with the ball," said White Sox veteran hurler Lerrin LaGrow, who pitched the game's last three innings. "It was a pleasure to bring on the victory for him."21 Sneaking in with the crowd that night were Ross's father, Robert, and his older brother, Craig, a production supervisor with Paramount Pictures. "We didn't want to put any extra pressure on him," Robert Baumgarten said. "I knew he was nervous."22
"I wasn't as uptight for this one as I was when I pitched my first game in Iowa (with Des Moines)," Baumgarten said after the game. "I tried to keep my mind off the game all day. There were so many calls, though. One was from my high-school coach, Ron Klein. Others were from friends all over the country. They wanted to wish me luck. I kept reminding myself to concentrate on fundamentals and poise."23
His next start was in Chicago against the division-leading Kansas City Royals. It was Irish Night at Comiskey Park, "But the White Sox pitched Baumgarten, a fine broth of a Jewish kid," quipped Chicago Tribune sportswriter Bob Logan.24 The Royals roughed him up for nine hits in the first 3⅓ innings for Baumgarten's first major-league loss. Five days later, he faced the minimum in five of the first six innings en route to his first shutout and complete game in the majors, 6-0 over Cleveland. "He's a very talented young man," said teammate Steve Stone. "He knows how to pitch."25
"I just have to go at the hitter; get ahead of 'em by trying to hang a strike on the outside corner," Baumgarten told reporters after his shutout win. He added that this was the same method used by his boyhood idol, Ken Holtzman. "I patent myself after him," Baumgarten said. "I've gotten away from a lot of his mannerisms, but there is still some of him in me."26
Baumgarten made one more start, against Baltimore on September 1, but didn't make it out of the first inning in a 9-3 loss. He pitched out of the bullpen for the rest of the season.
In his first starting assignment of the 1979 season, Baumgarten held a 4-1 lead over the Yankees, only to have the White Sox bullpen cough it up. A few weeks later the bullpen once again failed him when it was unable to hold a 6-2 lead. However, despite the team's bullpen woes, Baumgarten won his first four decisions of the season, his second win coming at Comiskey Park on April 29 with the temperature at 36 degrees and a wind-chill of 19. "I hate it," Baumgarten said before the game. "It reminds me of those cold March games in high school, when it would be 25 degrees and the wind would be blowing." Three hours later, after he pitched a six-hit shutout against the Texas Rangers, he said, "I still hate it." He also mentioned that he was no longer in awe of major-league hitters, saying, "I'm in more control of myself."27 After upping his record to 3-0 with a win at Detroit, Baumgarten held Oakland to three hits through eight innings on his way to his fourth straight win. "He had everything," said White Sox catcher Bill Nahorodny. "His slider was so good that he wasn't getting the questionable calls from the umpire. Otherwise he would have had more strikeouts tonight." (Baumgarten fanned eight.)28 In his next start, he had his own cheering section at Anaheim against Nolan Ryan and the Angels. Craig Baumgarten had purchased 50 tickets and rented a bus to bring his guests to the game. "Craig said many of them will be stars," said Ross, noting that Robin Williams, Ron Howard, James Caan, and Richard Gere would be among the celebrities.29 Craig and his guests saw Ryan fan 11 and allow just two hits in a 4-0 Angels win. On May 25, Baumgarten got his revenge when the Angels came to Comiskey Park by pitching a one-hitter over eight innings in a 6-1 win. Bobby Grich got the Angels' only hit, on a grounder that bounced twice before barely skimming the third-base line and lazily rolling into left field. "Got to give the kid credit," said Grich. "He throws a sneaky fastball and a sharp breaking ball. I was glad to break up the no-hitter because it saves the club. No one wants a no-hitter thrown against them."30
"Disappointed? Sure," Baumgarten said. "I wish I could have had the no-hitter. But I just wanted to win." He said he had pitched better in the loss to Ryan, adding, "What pleases me is I have had eight good starts this season."31 He then went into a slump, losing his next four decisions, due in part to a mysterious throat ailment that caused him to lose weight. He bounced back to win four more and improve his season record to 9-5. On August 12 he posted his 10th win, a two-hit shutout against the Toronto Blue Jays. Five days later he hurled another win, against the Red Sox at Fenway Park. "I finally beat that mysterious illness that had cost me 17 pounds," he said.32
On September 19 Baumgarten shut out Minnesota on four hits for his 13th win. "Ross's 13-8 record does not indicate how good he has been," opined Chicago Tribune sportswriter Richard Dozer, who tabbed Baumgartern as a strong candidate for the American League's Rookie of the Year Award. "I think my main competition is John Castino," said Baumgarten, "and if I don't get it I hope he does."33
Baumgarten finished the season with a 13-8 record, three shutouts, and a respectable 3.54 ERA. On November 26 came the announcement that Castino, his old high-school teammate, and Alfredo Griffin had tied for the Rookie of the Year honor. Baumgarten finished third. He harbored no bitter feelings about the award and praised Castino: "He had a great year and I am glad he won it. I thought I merited some consideration and I got it."34
The 1980 season was a strange one for Baumgarten, owing to a sore shoulder and a lack of run support. In his 24 starts, Baumgarten received just 25 runs from his teammates. "Some hard-hitting teams can score that amount in just two games," said Baumgarten.35 Things started off well when he won his first start, against the Orioles. Then the White Sox posted 13 runs in Baumgarten's next 10 starts, saddling him with five defeats. On July 2 the Angels came to Comiskey Park, and caught the White Sox left-hander at his best. Baumgarten retired the first 17 Angels, not allowing a baserunner until he walked .187-hitting catcher Tom Donahue in the sixth. Baumgarten retired Dickie Thon on a grounder to end the inning.
With the game still scoreless, Rod Carew lifted a high fly to left field to lead off the Angels' seventh. After making a long run into foul territory, White Sox left fielder Wayne Nordhagen dropped the fly ball, giving Carew new life, and as luck would have it, Carew hit a hard grounder through the middle. Baumgarten reached across his body with his glove hand in an effort to stab the ball, but he wasn't close, and the Angels had their first hit. Baumgarten retired the next three batters to keep the Angels off the scoreboard. In the bottom of the seventh, the White Sox scored an unearned run. The Angels went down in order in the eighth inning and Baumgarten retired the first two men in the top of the ninth. With two outs and the White Sox clinging to a 1-0 lead, Carew came to the plate, and he grounded one up the middle. This time Baumgarten managed to tip the ball with his glove hand to slow it down for second baseman Jim Morrison to field and throw the ball to first base to end the game.
The postgame talk was about what could have been. "I should have had it," said Nordhagen. Baumgarten shrugged it off, saying the Chicago outfielder "made a great try. … I wasn't disappointed when Carew got the hit. He's the best hitter in baseball."36
"Strictly an accident," Carew said of his single. "It was a cheap hit."37
Losing pitcher Frank Tanana, who allowed just four hits and was victimized by an unearned run, scribbled a few words on a sheet of notebook paper: "You pitched a hell of a game. Nice going. Tanana." He asked someone to deliver the message to the game's winning pitcher. "That's class," Baumgarten said after reading the note. "That's really class. Frank pitched a great game. I'd like to feel sorry for him, but I can't. I lost a 1-0 game to (Jim) Clancy in Toronto last week."38
The lack of run support continued through Baumgarten's next two starts. the White Sox were shut out by Tommy John and scored only two in a one-run loss to drop Baumgarten's season record to 2-7, with a 2.95 ERA. On July 23 Baumgarten was forced to retire after just one inning due to excruciating pain in his left shoulder. The pain was so great that he couldn't even lift his arm, and he was placed on the 21-day disabled list. "Every pitcher in the big leagues feels pain," Baumgarten said. "I can't imagine any pitcher in the big leagues not having a sore arm or shoulder. When you hurt your arm, you wonder if it will ever be better again."39 When he returned to the rotation in mid-August, his teammates continued to struggle in producing runs, causing him to lose his last four decisions and finish the season with a 2-12 record. However, the pitcher managed to maintain his spirit. "I'll be back," he assured, "and I'll win 20 (games) one of these years."40
When Baumgarten arrived for spring training in 1981, the first question was about his shoulder. "It couldn't be better," he said. "There is no pain at all. I started working out with (team trainer) Herman Schneider after the season ended. I've been throwing since January 5th, and there is no pain at all."41 He began the season by pitching the White Sox' home opener. "The pressure is not pitching the home opener," he said. "The pressure is facing the Milwaukee Brewers, because they have one of the best teams in baseball."42 The Chicago batters gave Baumgarten more than enough run support in a 9-3 win. "I just enjoyed it," he said with a big smile. "I just sat there and watched every run come across. I just loved it."43 Eleven days later, he hurled seven shutout innings in a 4-0 win at Detroit. He pitched well in his next start, but lost a tough 3-2 game at Cleveland, a home run by Indians third baseman Toby Harrah being the difference. On May 11 the White Sox scored just one run in a 3-1 loss to Cleveland to drop Baumgarten's season record to 2-4. Six days later, he got back on the winning track by hurling a four-hit shutout against Texas. He won again in his next start when his teammates scored 15 runs against the Angels, and then made it three wins in a row when he and LaMarr Hoyt combined on a five-hit shutout of Oakland. On June 7 Baumgarten and Ron Guidry locked horns before 52,367 at Yankee Stadium, with the Yankees winning, 3-1.
A week later came the players strike, causing a two-month layoff. Baumgarten struggled when the teams returned. The White Sox also fell back into their habit of being unable to score for Baumgarten. "He was too good to lose on Saturday night," wrote Chicago Tribune sportswriter Robert Markus after a 3-1 loss on September 4. "For three innings, he baffled the Blue Jays so thoroughly that he had six strikeouts, five of them on called strikes."44 Baumgarten's season record was an unsightly 5-9.
Baumgarten reported to spring training in 1982 primed for a good season, for himself and for the White Sox, who were rated as a strong contender in the American League West. But Baumgarten wouldn't be in Chicago in '82. On March 21, he was traded to the Pittsburgh Pirates for infielder Vance Law. "We spent two years trying to get Vance Law," White Sox manager Tony La Russa said. "The only way to get him was to use Ross. I think the Pirates got a guy who will win in double figures. He's due for a stretch of good luck."45
Looking back at the trade, Baumgarten said, "That was a shocker."46
Pittsburgh and the Pirates did not work out for Baumgarten. "The first time I arrived in Pittsburgh, it was snowing," he recalled.47 He got hit hard in his first outing, but offered no alibis. "I didn't pitch well," he admitted.48 On April 28 he pitched for the first time at Wrigley Field. In the bottom of the third, with runners on second and third, Bill Buckner grounded one that was earmarked for a hit into center field. Baumgarten crouched and made a barehanded stop, and then while still in a reclining position like a catcher behind the plate, he managed to make a throw to home plate in time to catch the runner attempting to score. On the play, however, the momentum of making a strong throw while crouched caused Baumgarten's hand to smack the ground hard enough to crack a few knuckles and place him on the disabled list. He didn't pitch again until June 18, and was done after August 23. For the season he was 0-5 with a 6.55 ERA.
Baumgarten finished the 1982 season and his major-league career with the Pirates, who released him in 1983 spring training. That season he spent time pitching in the A's and Tigers organizations before calling it a career. "When I was through with baseball, I sent my résumé out everywhere, and that was kind of ridiculous because the only thing the résumé said was 'baseball, baseball, baseball.'" He made a successful career transition by becoming a financial adviser. "Basically, it has been my ability to make money for people that has gotten me to where I am today, not my name. I guess that's because I honestly did not have a 'marquee' name; I was just a local boy who made good."49 He and his wife, Nancy, started a family. They moved to Glencoe, Ross's hometown, and raised a family of three sons and a daughter.
As of 2018 the Baumgartens resided in Naples, Florida, and Ross remained engaged in his career as a financial adviser. "I'm proud of what I did and I had a good time," he said as he looked back on his baseball career. "I'm glad I did it. It was a dream come true."50
Last revised: August 1, 2018
Acknowledgments
This biography was reviewed by Len Levin and fact-checked by Stephen Glotfelty.
Notes
1 Author's telephone interview with Ross Baumgarten, January 6, 2017. (Baumgarten interview).
2 Clifford Terry, "Ross Baumgarten: Rookie on a Fast Track," Chicago Tribune, June 10, 1979.
3 Terry; Baumgarten interview.
4 Terry; Baumgarten interview.
5 Baumgarten interview.
6 Terry.
7 Ibid.
8 Baumgarten interview.
9 Wilmette Life, May 10, 1973.
10 Wilmette Life, May 17, 1973.
11 Wilmette Life, June 7, 1973.
12 Baumgarten interview.
13 Baumgarten interview; Terry.
14 Baumgarten interview.
15 Terry.
16 Bill Veeck with Ed Linn, Veeck as in Wreck (repr. Chicago: University of Chicago Press, 2001), 391.
17 Terry.
18 Ibid.
19 Baumgarten interview; Terry.
20 William Blair, "Father of Four. An Account Executive," Sports Collectors' Digest, March 4, 1994.
21 Richard Dozer, "Sox's Baumgarten Debuts Stylishly," Chicago Tribune, August 17, 1978.
22 Terry.
23 Dozer, "Sox's Baumgarten debuts stylishly."
24 Rob Logan, "Royals' McRae Corks Up Sox," Chicago Tribune, August 23, 1978.
25 Dave Nightengale, "Sox Rookie Sells Self, but Not Enough Tickets," Chicago Tribune, August 28, 1978.
26 Ibid.
27 Richard Dozer, "Baumgarten, Sox Hitters Burn Rangers in Cold," Chicago Tribune, April 28, 1979.
28 Richard Dozer, "Sox Bats Guard Baumgarten Win," Chicago Tribune, May 16, 1979.
29 Richard Dozer, "Sox' Baumgarten to Make His Pitch in Hollywood," Chicago Tribune, May 20, 1979.
30 Cooper Rollow, "Baumgarten Just Two Inches Away," Chicago Tribune, May 26, 1979.
31 Ibid.
32 Richard Dozer, "Boston Left Stranded by Baumgarten," Chicago Tribune, August 18, 1979.
33 Richard Dozer, "Baumgarten Stifles Twins," Chicago Tribune, September 20, 1979.
34 Tribune Wire Service, "Castino Rookie Co-Star," Chicago Tribune, November 27, 1979.
35 Baumgarten interview.
36 Neil Milbert, "Baumgarten Gives Angels One Lucky Hit," Chicago Tribune, July 3, 1980.
37 Ibid.
38 Los Angeles Times, July 3, 1980.
39 David Israel, "Ross Baumgarten Exiled on 35th Street," Chicago Tribune, July 23, 1980.
40 Robert Marcus, "Baumgarten Bites Bullet Again," Chicago Tribune, September 15, 1980.
41 Robert Marcus, "Baumgarten Figures Pain Is Behind Him," Chicago Tribune, February 22, 1981.
42 Robert Marcus, "Sox Open New Act at Home," Chicago Tribune, April 14, 1981.
43 John Husars, "Baumgarten Basks in White Sox Hitting Support," Chicago Tribune, April 15, 1981.
44 Robert Marcus, "Blue Jays Turn Out to Be Bad Medicine for the Sox," Chicago Tribune, September 6, 1981.
45 Robert Marcus, "Baumgarten Glad to Be an Ex-Sox," Chicago Tribune, March 22, 1982.
46 Baumgarten interview.
47 Baumgarten interview.
48 Charley Feeney, "Bucs Trade Law, Will Keep Parker," Pittsburgh Post-Gazette, April 11, 1982.
49 William Blair, "Father of Four. An Account Executive," Sports Collectors' Digest, March 4, 1994.
50 Ibid.
Born
May 27, 1955 at Highland Park, IL (USA)
If you can help us improve this player's biography, contact us.
https://sabr.org/sites/default/files/BaumgartenRoss.jpg
600
800
admin
/wp-content/uploads/2020/02/sabr_logo.png
admin
2018-07-31 16:43:41
2020-04-09 14:38:42
Ross Baumgarten