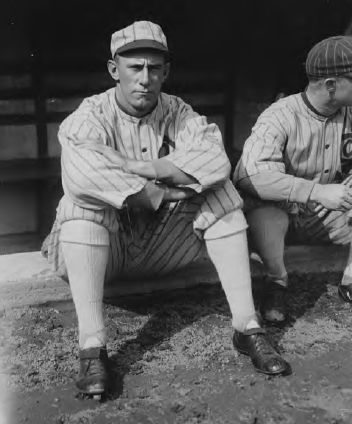 ---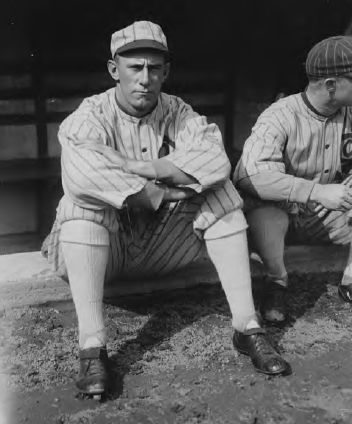 The names of baseball's most famous lineups are familiar: Murderers' Row, the Big Red Machine, the Black Sox. The people who make up those lineups are familiar, too: Ruth, Rose, Shoeless Joe.
However, even baseball's most prominent teams include men more or less forgotten to history. Of the nine men in the starting lineup for the American League champion Chicago White Sox in Game One of the 1919 World Series, only one did not end up either banished from baseball for life or elected to the Hall of Fame. His name is Shano Collins.
John Francis Collins was born on December 4, 1885, in Charlestown, a Boston neighborhood with a heavy Irish-American population. The Collins family fit in with the profile of the neighborhood: All four of his grandparents were born in Ireland. Shano's father, Joseph, was born in Rhode Island and his mother, Mary, was born in Massachusetts. Shano was the third of five children, along with Joseph, Mary, William, and Henry. Joseph Collins the elder provided for his family as a salesman, while Mary worked as a housekeeper.[fn]1900 US Census.[/fn]
Shano's connection to baseball began at a young age. He sold peanuts at Boston's Walpole Street Grounds, home to the city's National League club.[fn]Bill Nowlin, Red Sox Threads: Odds & Ends From Red Sox History
(Burlington, Massachusetts: Rounder Books, 2008), 178-79.[/fn] Collins excelled as a semipro pitcher, then signed with Haverhill of the Class B New England League in 1907. He played one season at Haverhill,[fn]"Shano Collins," The Sporting News, September 21, 1955, 26.[/fn] where he was a teammate of future Hall of Famer Sliding Billy Hamilton, then apparently dropped out of Organized Baseball for a year before he was purchased by Springfield of the Connecticut State League in 1909. There, his .322 batting average in 88 games caught the eyes of Lou Barbour and Bob Connery, former players with connections to Chicago White Sox owner Charles Comiskey.[fn]Ernest J. Lanigan, "Shauno' Collins Broke Into Pro Ball 22 Years Ago," Hartford Courant, January 8, 1928.[/fn]
An arm injury eventually forced Collins off the mound;[fn]"Collins Is Named Sox Manager, Does Not Sign Contract," Lewiston (Maine) Daily Sun, December 2, 1930, 19.[/fn] he played mostly shortstop and second base in the minors before moving to the outfield and occasionally playing first base in the major leagues.
As for Collins's nickname, most sources agree that "Shano" (sometimes spelled "Shauno" because it was pronounced that way) came about as a clubhouse corruption of Sean, the Gaelic equivalent of John and a nod to his Irish heritage.[fn]Mike Shatzkin, ed., The Ballplayers (New York: Arbor House, 1990), 213.[/fn]
Collins made his major-league debut with the White Sox on April 21, 1910, a 4-1 loss to the Browns in St. Louis. That season the 24-year old played in 97 games for the White Sox, hitting.197 in 315 at-bats. Collins played about two-thirds of his games in the outfield and the balance at first base, where he substituted for Chick Gandil.
In 1911 the White Sox finished nine games better than in the previous season, tying Boston for fourth place in the American League. Collins improved marginally along with his team. Playing first base consistently in place of Gandil, who had been sold to Montreal of the Eastern League, Collins raised his batting average by 65 points to .262 and his slugging percentage over 100 points to .403. He hit a career-high four home runs, good for eighth in the league.
Throughout the decade, the 6-foot-tall, 185-pound Collins established himself as a solid if unspectacular major-league player. He was a strong defensive outfielder, possessing the versatility to play all three outfield positions as well as first base, and was a good teammate. Collins also showed hints of solid offensive production, placing third in the AL with 34 doubles in 1914 and fourth with 85 RBIs a year later.
Under first-year manager Pants Rowland, and with newly acquired stars like Shoeless Joe Jackson and Eddie Collins, the White Sox finished third in 1915. A second-place finish followed in 1916, and in 1917 Chicago captured the pennant with a 100-54 mark. In the team's pennant clincher, on September 21 against Boston, Collins came through with the game-winning hit in Chicago's 2-1 victory.
After platooning with Nemo Leibold throughout the regular season, Collins led off and played right field in all six games of the 1917 World Series against the New York Giants. He had a rough day in the White Sox' 2-0 loss in Game Three, making two errors in right field and going 0-for-4 at the plate. Collins hit .286 and scored two runs The White Sox downed the Giants in six games.
Two years later, the White Sox found themselves back in the World Series, this time against the Cincinnati Reds. To increase revenue, which had fallen off after World War I, the Series was a best-of-nine contest, which the Reds captured five games to three. Collins was the first batter of the Series, leading off Game One at Cincinnati's Redland Field (later renamed Crosley Field), and played in four of the eight games, hitting .250 (4-for-16) with a double and two runs scored.
No evidence exists to suggest that Collins was a part of the plot to throw the World Series to the Reds or had any knowledge of the plot. Despite their talent, the White Sox were a fractured lot, with the gentlemanly, sophisticated crowd embodied by the Columbia University-educated Eddie Collins and the rough-and-tumble crowd led by first baseman Chick Gandil. Shano fit in more with the Eddie Collins crowd, and was never offered a role in the fixing of the World Series.
Collins spent most of the 1920 season at first base in place of Gandil, who abruptly retired from baseball before the season began. In that first year of the liveball era, Collins put together one of his best offensive seasons, hitting over .300 for the only time in his career. The White Sox remained in the pennant race the entire season, right up until the 1919 conspirators were suspended during the season's final week as the scandal came to light. Chicago finished two games behind pennant-winning Cleveland.
In March 1921 Collins was traded to his hometown Red Sox along with his platoon partner, Nemo Leibold, in exchange for Harry Hooper, the aging former star outfielder for Boston. The Red Sox of the early 1920s were a dreadful squad, and finished last in the American League in three of Collins's five years with the team. The best record the Red Sox posted during that span was 75-79 in 1921, before Boston had finished selling off its best players to the New York Yankees.
Collins was a part of a scary moment in July 1921, when he was hit above the left ear and knocked unconscious by a pitch from Detroit's Jim Middleton. The concerned crowd kept silent for several moments, memories of Ray Chapman's fatal beaning a year earlier still fresh in their minds. Adding insult to the injury, the game was wiped out by rain in the fifth inning.[fn]Michael Lynch, Harry Frazee, Ban Johnson, and the Feud That
Nearly Destroyed the American League (Jefferson, North Carolina: McFarland, 2008), 154.[/fn] Collins recovered and again showed his versatility, playing first base and all three outfield positions, and hitting .286 in 141 games.[fn]Collins played in 464 games for the Red Sox in his career, and as of 2014 had the most career at-bats (1,599) for the Red Sox of any native Bostonian. Nowlin, Red Sox Threads.[/fn]
Collins remained with the Red Sox until 1925, when at the age of 39 he was released in June after having played in only two games. He signed with the Pittsfield (Massachusetts) Hillies of the Eastern League, played more than 100 games in the outfield and also took over as manager. For the next two seasons he was the player-manager of Des Moines of the Western League, and managed Pittsfield again in 1928 and '29.[fn]"Shano Collins," The Sporting News, September 21, 1955, 26; "Six Red Sox Rookies to Work With Hillies," Boston Globe, April 7, 1929; "Hillies Drill at Fenway Park," Boston Globe, April 9, 1929, 14.[/fn]
In the winter of 1926-27, Collins was called to testify before Commissioner Kenesaw Mountain Landis about allegations that the White Sox had paid the Detroit Tigers to throw a late-season series in 1917 when Chicago was fighting for a pennant.[fn]Don Maxwell, "26 Deny Charges of 'Thrown' Games," Chicago Tribune, January 6, 1927, 15.[/fn] Numerous White Sox players, along with manager Pants Rowland, denied the allegation, which had been made by exiled Black Sox infielder Swede Risberg. Landis exonerated the White Sox, deciding that the money was not paid to the Tigers for throwing the series to Chicago, but for beating their top rivals, the Red Sox, later in the season.[fn]"Landis Exonerates 21 Ball Players," Chicago Tribune, January 12, 1927, 21.[/fn]
Collins began 1930 as manager of Nashua of the New England League, but when the league folded he moved back to Des Moines for the remainder of the season. Collins took Des Moines from last place to third place by the end of the season.[fn]"Collins Is Named Sox Manager."[/fn]
In 1931 Collins returned to the major leagues as the manager of the Red Sox. Owner Bob Quinn had attempted to fill a managerial vacancy by hiring Joe McCarthy of the New York Yankees, but he was unable to lure McCarthy away from The Bronx. Quinn cited Collins's success as a minor-league manager when he announced the hire. Quinn said, "I have not signed him for any year or term of years but have promised him the job as long as I live if he hustles and runs the club to my satisfaction. I am tired of engaging managers and have high hopes that I have solved this managerial problem for the remainder of my baseball career."[fn]"Collins Is Named Sox Manager."[/fn]
Unfortunately for Collins, this stability never materialized and he lasted just parts of two seasons as the Red Sox manager. He resigned in the middle of the 1932 season after compiling a record of 73-134. Under Collins and his successor, Marty McManus, the Red Sox went 43-111 in 1932.
Collins was called out of retirement briefly to manage Pittsfield again in 1942. But his career in uniform was otherwise over. He remained involved with baseball, scouting for the Detroit Tigers and participating in wartime exhibition games in the Boston area.[fn]"Shano Collins," The Sporting News, September 21, 1955, 26.[/fn]
Tragedy fell upon Collins and his family in the spring of 1945. His son, Marine Private Robert D. Collins, was killed in action on March 11 at Iwo Jima.[fn]The Sporting News, April 12, 1945, 15.[/fn] Robert, who had played baseball in high school before attending Providence College and Yale, was 20 years old.[fn]"Shauno Collins' Son, Ex-Newton Athlete, Killed on Iwo Jima," Boston Globe, April 6, 1945, 15.[/fn]
On September 10, 1955, Collins died suddenly at his home in Newton, Massachusetts, at the age of 69. He was buried at St. Mary's Cemetery in nearby Needham. He was survived by his wife, Elizabeth, three daughters, a son, four sisters, and a brother. One of his grandsons, Bob Gallagher, played for four seasons as an outfielder for the Red Sox, Mets, and Astros in the 1970s.
This biography appears in "Scandal on the South Side: The 1919 Chicago White Sox" (SABR, 2015). Click here for more information or to order the book.
Acknowledgments
Special thanks to Michael Lynch and Bill Nowlin for their assistance.
Sources
In addition to the sources listed in the notes, the author also consulted Ancestry.com and Baseball-Reference.com.
Born
December 4, 1885 at Charlestown, MA (USA)
Died
September 10, 1955 at Newton, MA (USA)
If you can help us improve this player's biography, contact us.
Tags
http://sabr.org/sites/default/files/ShanoCollins.JPG
600
800
admin
/wp-content/uploads/2020/02/sabr_logo.png
admin
2012-01-04 20:25:14
2012-01-04 20:25:14
Shano Collins