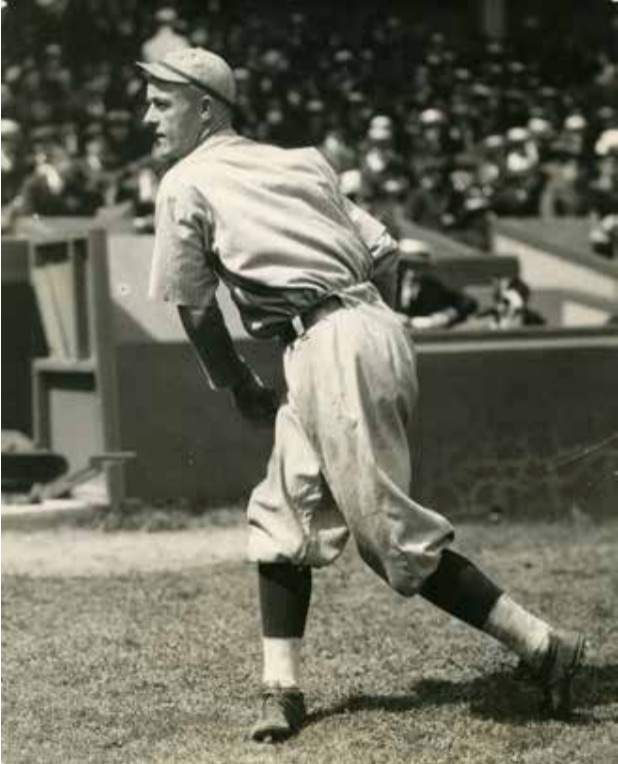 October 1, 1919: Favored White Sox, Cicotte pummeled by Reds in World Series opener
---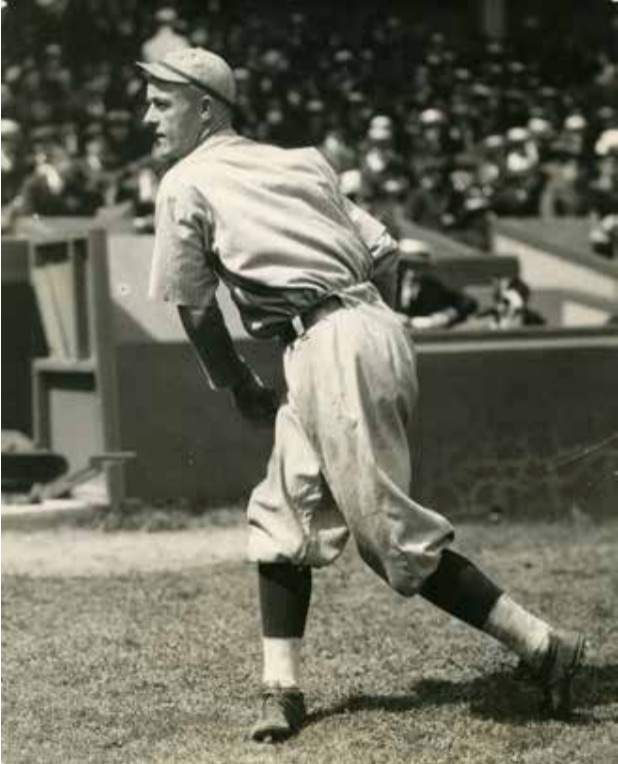 When Eddie Cicotte's first pitch crossed the middle of home plate for a strike, everything appeared normal to the 30,511 fans at Redland Field for Game One of the 1919 World Series.
It was a festive day in Cincinnati, and one long overdue. The city was celebrating its first pennant winner since 1882 as well as the 50th anniversary of the legendary undefeated Red Stockings team that dominated the baseball world. One of the old-timers from that 1869 team, first baseman Cal McVey, was in attendance for the Reds' 1919 World Series opener.1 He was one of the lucky ones who didn't have to pay scalpers' rates that were going as high as $40 for a $5 box seat. Around the ballpark, as the sounds of a German parade band provided pregame entertainment, the roofs of neighboring buildings were jam-packed with rooters "straining their eyes to observe" the game from afar.2
Despite a thin starting rotation that relied heavily on Cicotte and Lefty Williams, the White Sox were expected to dispose of the surprising NL champion Cincinnati Reds with relative ease in this best-of-nine World Series.3 Cicotte, the Chicago White Sox' ace right-hander, had been baseball's best pitcher in the regular season, compiling a 29-7 record with a 1.82 ERA and five shutouts in the American League. But his second pitch of the game — which nailed Reds leadoff hitter Morrie Rath in the back — could be interpreted as a warning sign of things to come.
Up in the press box, a handful of the country's leading sportswriters were paying extra attention to Cicotte's actions. Hugh Fullerton of the Chicago Herald and Examiner had advised his editors not to bet on the World Series, wary of the dark rumors he had heard that the games might be fixed. But gambling was the national pastime in 1919 just as much as baseball was, and many wagers were placed on the White Sox, who were favored by odds as high as 10 to 7 in the days leading up to Game One.4
Hours before the first pitch, scheduled for 2 o'clock on Wednesday, October 1, the odds shifted ominously. A report had surfaced that Cicotte's arm was sore and bettors began to favor the Reds in "a mad rush."5 Nearly a full calendar year would pass before the ramifications of this sudden surge were fully revealed to the public: The World Series had been fixed, and Eddie Cicotte was in the middle of it all.
---
---
No one at Redland Field that afternoon could have predicted how the Black Sox Scandal would eventually unfold. But Cicotte's plunking of Morrie Rath was the first subtle sign that something was wrong.6 He had hit just two batters during the regular season in 306⅔ innings and was known for his impeccable control. Rath quickly came around to score on Heinie Groh's sacrifice fly, but the White Sox tied it up in the second inning on a Chick Gandil RBI single off Reds starter Dutch Ruether.
The 26-year-old Cincinnati left-hander had a breakout year, going 19-6 with a 1.82 ERA in the regular season. Ruether earned the nod to start the fall classic after his complete-game win over the New York Giants to clinch the NL pennant on September 16. The White Sox, led by Eddie Collins and Shoeless Joe Jackson, were said to be vulnerable to left-handed pitching.7 But it was Ruether's bat, not his arm, that turned out to be the big story of Game One.
Ruether had a perfect day at the plate, finishing 3-for-3 with two triples, a walk, and three RBIs. His two-run triple in the fourth inning was the decisive blow in a string of five consecutive Reds hits that knocked Cicotte out of the box.
The White Sox should have been out of the inning long before. After rookie Pat Duncan reached on a one-out single, Cicotte induced the weak-hitting Larry Kopf to bounce a comebacker to the mound. But Cicotte made a low throw to second base, and shortstop Swede Risberg — another one of the Black Sox fixers — double-clutched before making his relay to first base. Kopf beat it out by a half-step and kept the Reds' rally alive. "The hesitation was so slight that nine fans out of ten failed to notice what happened, but it was enough to spoil the double play," wrote Thomas S. Rice of the Brooklyn Eagle.8
Watch the double-play attempt from the fourth inning of Game One below:
Given new life with two outs, the Reds promptly lit into Cicotte's famous "shine ball," a trick pitch that had bedeviled American League batters. Greasy Neale and Ivey Wingo followed with singles before Ruether smashed a triple off a temporary wire fence in left-center field that held back the overflow crowd. Rath doubled home Ruether and then scored on Jake Daubert's single to right field. Cicotte was lifted with the score 6-1.
The Reds tacked on three more runs against relievers Roy Wilkinson and Grover Lowdermilk, with Ruether contributing another RBI triple in the eighth inning to make the final score 9-1. Ruether went the distance and held the White Sox to six hits, all singles. His game "was a marvel of steadiness and skill and could not have been improved upon," wrote Jack Ryder of the Cincinnati Enquirer.9 The bottom third of the Reds' lineup — Neale, Wingo, and Ruether — went a combined 7-for-10 with four runs scored and four RBIs.
Reds manager Pat Moran exulted in the stunning Game One win, claiming that "it surprised a lot of people but it did not surprise me." His team had "outclassed the White Sox in every department of play."10
Cicotte had "no excuse to offer" in a clubhouse interview afterward: "Everything I pitched they hit and it was always between somebody, never at him," he said.11
Experts close to the White Sox blamed their loss on overconfidence. "The best thing that could have happened to the Sox in their present mental condition was the crushing defeat today. From now on, they will fight," wrote James Crusinberry of the Chicago Tribune.12
It remained to be seen, however, which team some of the Chicago players would be fighting for.
This article was published in "Cincinnati's Crosley Field: A Gem in the Queen City" (SABR, 2018), edited by Gregory H. Wolf. To read more articles from this book at the SABR Games Project, click here.
Sources
In addition to the sources listed in the Notes, the author also consulted Baseball-Reference.com and Retrosheet.org.
Notes
1 W.O. McGeehan, "Dutch Ruether's Pitching and Batting Rout Favorites," New York Tribune, October 2, 1919.
2 Jack Ryder, "Chicago, Outclassed, Loses First Game 9 to 1; Reds Quickly Hammer Eddie Cicotte From Box," Cincinnati Enquirer, October 2, 1919.
3 The World Series used an experimental best-of-nine format between 1919 and 1921 before returning to the current seven-game system.
4 "10 to 7 Series Odds," Chicago Tribune, September 26, 1919; "Backers of Reds Are Hard to Find," New York Times, September 27, 1919.
5 "Red Money Appears," Chicago Tribune, October 1, 1919; "Gothamites Dig Up Bets on Reds," New York Times, October 1, 1919.
6 It is commonly believed that Rath's HBP was a sign to gamblers that the fix was on, but there is little evidence to support this story. Cicotte later testified that he was trying to walk Rath, but he got nervous and hit him instead. Cicotte also said under oath that after Rath's at-bat, he pitched to win but he "tried too hard" and the Reds "made clean base hits." Portions of his grand-jury testimony were first made available in 2007 by the Chicago History Museum. See also: Gene Carney, "Eddie Cicotte on the Day That Shook Baseball," Base Ball: A Journal of the Early Game (Jefferson, North Carolina: McFarland & Co., Fall 2009), 99-103.
7 See, for example, Jack Ryder's prediction column in the Chicago Tribune, September 28, 1919. This supposed vulnerability was accepted as fact in baseball circles, but the reputation was undeserved; the White Sox had a .615 winning percentage against left-handed starters in 1919. But they had trouble shaking the rap, even after the New York Giants started southpaw pitchers in all six games of the 1917 World Series — which the White Sox won.
8 Thomas S. Rice, "When Risberg Hesitated the White Sox Were Lost," Brooklyn Eagle, October 2, 1919. Footage of the disputed double play was discovered in 2014 and can be viewed in slow motion at sabr.org/latest/rare-footage-1919-world-series-action-discovered-canadian-archive.
9 Ryder, "Chicago, Outclassed, Loses."
10 Pat Moran, "Gameness of My Boys Won, Says Moran," Washington Post, October 2, 1919.
11 Chicago Daily News, October 2, 1919.
12 James Crusinberry, "Defeat to Spur Gleason's Team to Real Fighting," Chicago Tribune, October 2, 1919.
Additional Stats
Cincinnati Reds 9
Chicago White Sox 1
Game 1, WS
---
Redland Field
Cincinnati, OH
Box Score + PBP:
Corrections? Additions?
If you can help us improve this game story, contact us.
Tags
https://sabr.org/sites/default/files/Dutch%20Ruether.jpg
600
800
admin
/wp-content/uploads/2020/02/sabr_logo.png
admin
2019-09-17 14:04:51
2020-04-17 13:33:57
October 1, 1919: Favored White Sox, Cicotte pummeled by Reds in World Series opener