---
With a graceful and deceptive side-arm delivery, Tex Carleton was a tough, no-nonsense right-handed pitcher who enjoyed an eight-year major-league career between 1932 and 1940. Notching exactly 100 career victories, Carleton was a member of the St. Louis Cardinals' Gas House Gang championship team in 1934, helped lead the Chicago Cubs to the World Series in 1935 and 1938, and pitched a no-hitter for the Brooklyn Dodgers in his final season, 1940.
As his nickname suggests, Carleton was a Texan. Born on August 19, 1906, in Comanche, a town southwest of the Dallas/Fort Worth complex, James Otto Carleton was the first of two children born to Ed Carleton, manager of a large ranch, and his wife, Annie. Otto, as his parents called him, and his younger brother, Scecil, grew up on the ranch. As a youngster Otto rode horses, herded cattle during the day, and milked cows in the morning and evening. When he was about 11 his family moved to Fort Worth, a fast-growing city of almost 100,000 where his father took a job in a rail yard. Otto played baseball in high school, seeing action as a catcher and infielder, then attended Texas Christian University in Fort Worth, where he played basketball, football, and baseball, and launched his career as pitcher.
Attracted to the pay and lifestyle playing semipro baseball in Newport, Arkansas, Carleton quit college after two years to sign with the Texarkana Twins in the Class D East Texas League in 1925. However, after a contract dispute he switched teams, moving to the Marshall Indians in the same league.1
The tall (6-feet-1) and lanky (180 pounds) Carleton won three of five decisions for Marshall, but also had a stroke of luck: Legendary scout Jack Ryan spotted him and recommended him to the St. Louis Cardinals, who were in the initial stages of building the first modern farm system. Reporting to the Cardinals' spring-training site in San Antonio, Carleton was transferred to the Syracuse Stars in the International League, then was assigned to the Austin Senators in the Class D Texas Association to start the 1926 season. There the 19-year old Carleton pitched his first full season in Organized Baseball, winning 11 of 20 decisions and logging 202 innings.
Carleton pitched for the Houston Buffaloes in the Class A Texas League in 1927 and 1928, winning ten games each season as a starter and occasional reliever. The 1928 Buffaloes, sporting one of the best pitching staffs in minor-league history, boasted four 20-game winners (Frank Barnes, Bill Hallahan, Jim Lindsey, and Ken Penner), won 104 games (lost 54), and defeated the Birmingham Barons in the Dixie World Series. Carlton was promoted to the Cardinals' top minor-league affiliate, the Rochester Red Wings in the International League, for the 1929 season.
At the Red Wings' spring training camp in Plant City, Florida, Carleton struggled and appeared to be overwhelmed by more seasoned competition. However, when the season commenced, he settled down and won 13 consecutive decisions, including a no-hitter against Toronto on September 14, wining 3-1 (the sole run was the product of a walk and two errors). He and fellow 22-year-old Paul Derringer, dubbed the "$100,000 twins" because of their ability, led the team to the International League pennant.2 Named to the league all-star team, Carleton finished with an 18-7 record and a 2.71 earned-run average in 262 innings. He won two more games as Rochester lost to the Kansas City Blues in the Junior World Series, 5 games to 4.
Anticipating an invitation to the Cardinals' spring-training camp in 1930 and eventual spot on the team, Carleton was sorely disappointed when he was bypassed in favor of seasoned veterans from the team's deep farm system stacked with pitchers. The success of 1929 was soon covered by his rocky performance for Rochester in 1930. Suffering through a series of arm and hand ailments, Carleton slipped to 13-13 and his ERA rose to 5.01, which earned him a demotion back to Houston for 1931.
Carleton's year with Houston was the turning point in his baseball career. The Buffaloes, powered by Carleton (20 wins and a 1.90 ERA) and 21-year-old phenom Dizzy Dean (26 wins and 1.57 ERA), won 108 games and the Texas League title before they were upset in the Dixie Series by Birmingham in seven games. From June 25 to August 13, Carleton won 13 consecutive starts before fracturing a finger on his pitching hand and missing the last five weeks of the season and the postseason. The Sporting News wrote before his injury that Carleton was "regarded by many as the equivalent of Dean" and on pace to win 30 games.3 In light of his success the previous seasons, Carleton acquired the nickname Tex from the well-known sportswriter Ernest J. Lanigan, nephew of the founders of The Sporting News, and the moniker remained with him the rest of his life.4 "Three New Cardinals Pitchers Won 66 Games. Dean, Carleton and Starr will Bolster Champs on Mound" read the headline in The Sporting News announcing St. Louis's purchase of Tex's contract for the 1932 season.5
Arriving at the Cardinals' spring-training site in Bradenton, Florida, Carleton baffled teammates and opponents with his smooth side-arm delivery. Deceptive and with a low release point, he generated unexpected speed and reminded some players of the Deadball Era side-arm hurler and strikeout artist Cy Falkenberg.6 "He seems to have everything – speed, curves, poise, and self-confidence without being cocky," The Sporting News wrote.7 On April 17 Carleton made his major-league debut by pitching six hitless innings against the Cubs, but issued a career-high nine walks in eight innings and lost the game, 4-1. Over the next two months he pitched mostly in relief, and didn't get his first victory until a start on June 19 when he shut out the New York Giants on two hits. Carleton hurled a ten-inning complete-game 8-7 victory over the Boston Braves on August 20 in St. Louis, followed by a 3-0 shutout of the Braves just two days later. He finished the season with a 10-13 record and 4.08 ERA in 196? innings for the Cardinals, World Series champions in 1931 but a disappointing 72-82 in 1932.
With a dark complexion, closely cropped black hair, and steely blue-gray eyes, Carleton brooded over losses. Moody, he could be filled with good humor at one moment and then be snippy to teammates in the next. He was especially belligerent to coaches who voiced any criticism of his pitching. A confident yet cantankerous pitcher, he became increasing resentful of the attention Dizzy Dean received during their three years together on the Cardinals (1932-34) and felt Dizzy and his brother Paul were coddled by the organization. Distrustful of the Deans and insulted by their braggadocio, Carleton didn't want to pitch in their shadow; consequently, he often feuded with teammates who questioned his ability. No doubt St. Louis fans were astonished when Carleton and teammate Joe Medwick got into a slugfest at home plate during batting practice on May 15, 1934, after an argument.8
Before the 1932 season Giants manager Bill Terry called Carleton one of the "hurling stars of the National League" and attempted to acquire him from the Cardinals, but St. Louis general manager Branch Rickey wasn't listening.9 Carleton threw a two-hit shutout against the Cubs on April 22 to win his first start of the season, and won his first five decisions before losing to the Braves, 3-1, despite pitching a ten-inning complete game. He notched his league-leading 11th win on June 29 against the Giants, then, on two days' rest, squared off with Giants ace Carl Hubbell in an epic battle on July 2. In front of an estimated 50,000 fans at the Polo Grounds, Carleton and Hubbell pitched scoreless ball through 16 innings. Jesse Haines relieved Carleton to start the 17th and surrendered a walk-off single to Hughie Critz in the bottom of the 18th. Hubbell went the distance, tossing an 18-inning, six-hit shutout. Carleton had held the Giants to eight hits (plus seven walks) in his 16 innings. Carleton went just 6-8 the rest of the season but finished with career highs in victories (17), innings pitched (277), games (44), and starts (33); he recorded a 3.38 ERA and tossed 15 complete games.
At the age of 21 while still in the minor leagues, Carleton had married Fannie Francis Major of New Orleans. In the offseason, they lived in Forth Worth, where Tex enjoyed hunting and fishing. He also played in exhibition games in Texas and throughout the South to earn extra income. Feisty and combative, Carleton took all games seriously. When he was on a barnstorming tour in Mexico City in the fall of 1934, he flattened the home-plate umpire after it was discovered that he had been betting on the games.
In an era when staff aces were expected to complete two-thirds of their starts, the high-strung Carleton had a reputation for lacking stamina, which may have been one of the reasons why Branch Rickey had been dilatory in promoting him to the major leagues. A worrier, Carleton reported to the Cardinals' 1934 spring-training camp 15 pounds under his normal playing weight of 180. (To solve the problem in 1933, Dr. Robert Hyland, the Cardinals' team physician, had recommended that Carleton have a few drinks to stimulate his appetite. "I used to get prescription whiskey – it still being Prohibition," Carleton said, "and carry it with me on the road."10 The constitutional amendment ending Prohibition went into effect at the end of 1933, and Carleton no longer needed a prescription.)
Despite his "frail" appearance, Carleton got off to a fast start in 1934, completing eight of his first ten starts, but his record stood at just 6-5 in early June owing to weak run support in three of his losses (and one loss in relief).11 After a poor June and media reports that he was "short winded," Carleton was maddeningly inconsistent for the rest of the year, winning nine games (seven of them complete games) but surrendering at least five runs in each of his five losses. Finishing with 16 wins (third on the team behind Dizzy's 30 and Paul's 19) and 240? innings pitched, Carleton helped the Cardinals overcome a seven-game deficit to win the pennant in dramatic fashion on the last weekend of the season.
The Gas House Gang, one of baseball's most memorable and enduring teams, beat the Detroit Tigers in seven games to win the 1934 World Series. Game Four pitted two side-arm hurlers against each other: Carleton and "Submarine" Elden Auker in his first full season. In his first start in almost two weeks, Carleton was chased in the third inning after surrendering four hits, two walks, and three runs, but was not charged with the loss. The following night Carleton relieved Dizzy Dean and pitched a scoreless frame in a 3-2 loss. It proved to be his last game as a member of the St. Louis Cardinals. In a surprise move, Rickey dealt Carleton to the Chicago Cubs for pitchers Bud Tinning and Dick Ward plus cash on November 21, a day better remembered for the Yankees' acquisition of Joe DiMaggio.
Excited to leave St. Louis, Carleton joined a strong pitching staff in Chicago. "I just throw a little bit of everything when I'm out there on the mound and try to keep right on throwing," Tex, known for his stylish haberdashery and Sunday cowboy boots, told his new fans in the Windy City.12 For most of the season, manager Charlie Grimm employed a five-man rotation headed by 20-game winners Lon Warneke and Bill Lee, and 17-game winner Larry French with the rest of the starts divided among Roy Henshaw (13 wins), 36-year-old Charlie Root (15 wins), and Carleton, who won 11. For the second consecutive year, Carleton was involved in a dramatic comeback. Down 2½ games on September 2, the Cubs reeled off 21 consecutive victories to capture the pennant in convincing fashion. Tex started just once during the historic winning streak, tossing a complete game against the Braves on September 9, triumphing 5-1. With the Cubs down two games to one, Carleton was given the start in Game Four of the World Series against the Tigers. Holding the vaunted Detroit offense to six hits, but walking seven in seven innings, Carleton surrendered just two runs (one earned); however, the Tigers General Crowder held the Cubs to one run in a complete-game victory. The Tigers finished off the Cubs two games later to capture the Series.
The Cubs were picked by most to win their second consecutive pennant in 1936. The pitching staff was nearly intact from the previous season other than newly acquired Curt Davis replacing the aging Root as a spot starter. On his way to a league-leading four shutouts, Carleton blanked the Reds on four hits for his first victory of the season on April 26. As an encore he tossed an 11-inning complete game to defeat the Dodgers 2-1 on short rest four days later. It appeared as though the Cubs were on their way to another pennant when Carleton threw a masterful 11-inning shutout against the Braves on August 1, surrendering just five hits and giving Chicago a two-game lead over the Cardinals. However, it was the Cubs' last lead of the season as they lost their next five contests and played sub-.500 ball for the remainder of the season.
After an episode in June when he tried to go into the stands in Boston to confront a heckler, Carleton was involved in a fight with his old nemesis Dizzy Dean on August 10 in St. Louis. Dean left the mound in the top of the first inning after continued taunts and barbs from Carleton (who was not pitching that day and thus in the dugout) and a brawl ensued near the first-base line. Neither player was injured, and umpire Larry Goetz ejected both. In an odd twist of events, Cubs manager Charlie Grimm persuaded Goetz in the name of sportsmanship to allow Dean to remain in the game. Dean pitched a complete game for his 19th victory.13 For the season, Carleton had a 14-10 record and a 3.65 ERA in 197? innings as the Cubs finished a disappointing second to the New York Giants.
After the Cubs' shocking four consecutive losses to the crosstown White Sox in the annual city series at the conclusion of the regular season, the 1936-37 offseason was a difficult one for Carleton. With rumors swirling that he'd be traded with Curt Davis to the Dodgers for pitcher Van Mungo, Carleton joined several teammates in a contract holdout when the Wrigley family, frustrated by the regular-season finish and embarrassed by the losses to the White Sox, vowed to cut salaries. The contract squabbles were resolved by mid-February. Bothered by elbow soreness in March and early April, Carleton was diagnosed with a chipped bone in his elbow, which required potentially career-threatening surgery. He opted for rest and a plaster cast, which sidelined him until he pitched in relief on May 11. On the 19th, with the season almost a month old, Carleton tossed a complete game against the Dodgers in his first start of the season, winning 3-1. Despite constant pain, Carleton enjoyed his best season, winning 16 games with 8 defeats, registering a career-low 3.15 ERA in 208? innings, notching a career-high 18 complete games in 27 starts and pitching four shutouts for the third time in his career. On August 8 he threw a one-hitter to beat the Boston Bees 3-0 in Chicago. Finishing with seven complete games in his last ten starts, Tex took revenge against the Cardinals on September 10 when he struck out a career-high 11 batters in a six-hit shutout. Still, the Cubs squandered a seven-game lead in August to finish in second place for the second consecutive year.
Forgoing elbow surgery again, Carleton was bothered by pain which worsened as the 1938 season progressed. After a complete-game 6-2 loss to Cincinnati in his first start, on April 21, he tossed a ten-inning complete game to defeat the Pittsburgh Pirates 5-3 on the 26th. Despite completing seven of his first 12 starts, Carleton was not able to pitch as often as he had in previous years and was surrendering more hits than he ever had. Consequently, when Gabby Hartnett replaced Grimm as player-manager on July 20, he relegated Carleton (whose ERA was hovering around 6.00) to the role of spot starter and long reliever. While the Cubs rolled to the pennant by playing 44-27 ball for Hartnett, Carleton limped to a 10-9 record with a career-high 5.42 ERA in 167? innings. He was relegated to mop-up duty in the Cubs' four-game sweep by the New York Yankees in the World Series. Relieving Larry French in the eighth inning of Game Four with the Yankees leading 4-3 and two runners on base, Carleton faced three batters, walked two of them, uncorked two wild pitches, and surrendered a double before being relieved having given up two runs (on a double by Frank Crosetti off Carleton's successor, Dizzy Dean) as the Yankees took a commanding 8-3 lead and sewed up the Series. In December, citing Carleton's poor attitude and inadequate "zeal for work" the Cubs sent him outright to the Milwaukee Brewers, their affiliate in the American Association.14
The demotion was frustrating and disappointing for Carleton, who contemplated retiring. "I've been in the game 14 years and that is a long time," he said. "I just can't convince myself to keep on."15 He finally reported, won 11 games, including a one-hitter on July 7 against the Louisville Colonels, and tossed a team-high 202 innings, but he was in pain all season.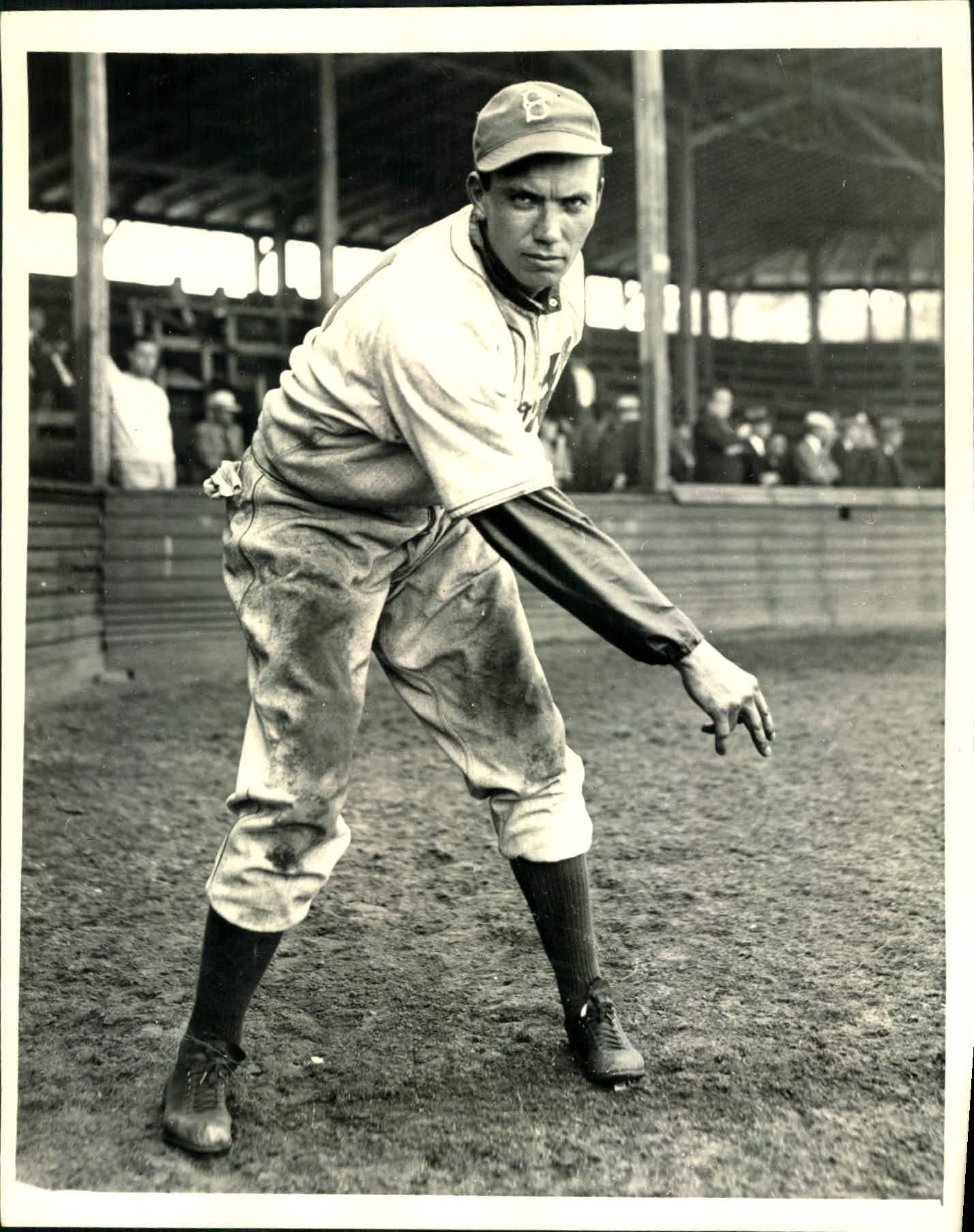 Anticipating retirement in Fort Worth, Carleton was surprised when Brewers owner Henry Bendinger arranged a tryout with the Brooklyn Dodgers and sold his contract conditionally to Brooklyn. Carleton reported to the Dodgers' spring training in Clearwater and impressed manager Leo Durocher, who unexpectedly named him to the starting rotation. Carleton tossed a complete game in his Dodgers debut, beating the Boston Bees 8-3 on April 23. In his next start, on April 30, Carleton, considered washed up after the 1939 season, extended the fairytale motif by pitching a 3-0 no-hitter against the reigning World Series champion Reds in Cincinnati, striking out four and walking two. Carleton was in trouble in each of the first four innings because of three Dodger errors and two walks, but he retired the final 17 batters he faced.16
Pitching on five or six days' rest, Carleton pushed his record to 4-1 by tossing a three-hit complete game to defeat the Phillies 4-1 on July 2. It was his last victory as a starting pitcher in the big leagues. As his arm pain worsened, his effectiveness waned and he was forced into the bullpen by the end of the July. On September 23, in his last appearance in the major leagues, Carleton went out in a blaze of glory. He relieved Vito Tamulis with the score tied in the top of the ninth inning, intentionally walked the Giants' Joe Moore to load the bases, and then completed an unassisted double play by catching Johnny McCarthy's bunt attempt and racing to first base to retire Moore. The Dodgers scored a run in the bottom of the ninth to defeat New York 3-2 and give Carleton the victory, his sixth of the season and 100th and last in the major leagues.
With coaxing from Durocher, Carleton unexpectedly agreed to report to the Dodgers' spring training in 1941 and made the Opening Day roster. But a week later, on April 23, he was optioned to the Montreal Royals. He won his debut, on May 4, but by midseason he was barely able to throw. He stayed on as an unofficial pitching coach, but before the end of the season he was released so he could pursue a career in radio in his hometown. Carleton retired with a 100-76 record and a 3.91 ERA in 1,607 innings in his eight-year major-league career. His statistics in nine seasons in the minor leagues are remarkably similar: 100 wins, 73 losses 1,625 innings, and a 3.00 ERA.
After retiring from baseball, Carleton engaged in various professions, working for Consolidated Aircraft in Fort Worth, operating sporting-goods stores, and owning an insurance agency. He died in Fort Worth on January 12, 1977, at the age of 70. He was buried at Oakwood Cemetery in Comanche.
This biography is included in "The 1934 St. Louis Cardinals The World Champion Gas House Gang" (SABR, 2014), edited by Charles F. Faber.
Sources
Ancestry.com
Baseball-Almanac.com
BaseballLibrary.com
Baseball-Reference.com
NYTimes.com
Retrosheet.com
The Sporting News
Notes
Born
August 19, 1906 at Comanche, TX (USA)
Died
January 12, 1977 at Fort Worth, TX (USA)
If you can help us improve this player's biography, contact us.
http://dev.sabr.org/wp-content/uploads/2012/09/CarletonTex.jpg
600
800
admin
/wp-content/uploads/2020/02/sabr_logo.png
admin
2012-09-11 18:11:14
2012-09-11 18:11:14
Tex Carleton