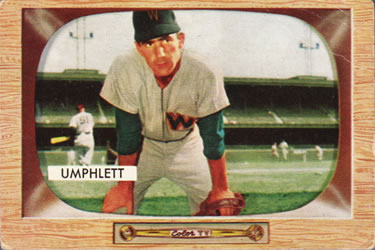 ---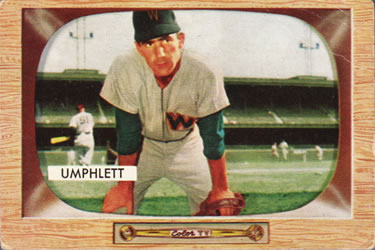 Tommy Umphlett had a superb rookie year in 1953, finishing second to the Detroit Tigers' Harvey Kuenn, in American League Rookie of the Year voting. It wasn't close. Kuenn received 23 first-place votes and Umphlett received the other one. Umphlett drove in more runs (59 in 137 games, compared to Kuenn's 48 RBIs in 155 games), but Kuenn was perceived as the better ballplayer. Kuenn hit .308 to Umphlett's .283 and his impressive 209 base hits led both leagues in 1953.
Kuenn went on to an excellent 15 seasons of major-league baseball. Umphlett's career declined dramatically and he only worked two more years in the majors. He put in 12 more seasons in the minors, but never made it back to the big leagues.
He picked up his middle name from his mother, Daisy Ruth Mullen, and his last name from his father, Willie Ligie Umphlett. Thomas Mullen Umphlett was born in Scotland Neck, North Carolina, on May 12, 1931. Scotland Neck was a small rural town of 2,339 in 1930. His father was a barber, somehow managing to support Daisy and their eight children. The three oldest children were boys, followed by four daughters, and then – finally – Tommy. At the time of the 1940 census, the family lived in Holland, Virginia, about 60 miles northeast, where the eldest child, Truitt, owned a filling station.
Tommy attended elementary school at Holland, but graduated from high school at Ahoskie, North Carolina, roughly between Holland and Scotland Neck. He was a three-sport star in high school, captaining the baseball, football, and basketball teams.1 It took him five years to graduate – though he played six years on the high school baseball team. In an era of looser eligibility rules, Umphlett managed to get on the team as a catcher the year before he began high school. He grew to 6-feet-2 and 180 pounds.
He graduated, but it wasn't easy. "I guess I was the worst student in Ahoskie High history. I flunked here and there. I liked to read books all right, but somehow I didn't like to do them book reviews."2 A local merchant, Phil Woodley, took Tommy in to live at his house in town and made sure he got to school. It became his second home, and when Shirley Povich wrote a story about Umphlett for The Sporting News in February 1954, he still lived with the Woodleys.
In high school, Umphlett attracted the most attention with football. He was the quarterback, the kicker, and did most of the running. "We built a team around Tommy," said Phil Woodley. Reportedly, Duke, North Carolina State, and Wake Forest all offered football scholarships, but he enjoyed playing baseball more – and earning some money playing semipro ball. "I don't know why I played the game," he said of his gridiron time. "I never did like football."3
In June 1949, he played on the Tarheel team as North Carolina high school boys squared off against those from South Carolina in the Carolinas All-Star baseball championship, and scored the winning run in the 2-1 game.4
Former Red Sox pitcher Heber "Dick" Newsome farmed tobacco in Ahoskie and kept his eye on Umphlett, who caught, pitched, and played the outfield. He saw him play American Legion junior ball, and in high school. When Umphlett was only 16 years old, Newsome brought him to Washington when the Sox were there on a road trip.5 Sox scouts followed Umphlett through high school, and Mace Brown signed him when he graduated in the spring of 1950.
He was due to play in the state All-Star basketball game in August 1950, but announced he would be unable to do so, having just signed to play baseball for the Red Sox.6
For the 1950 season, the Red Sox assigned Umphlett to the Class-D Ohio-Indiana League's Marion (Ohio) Red Sox. He acquitted himself well, playing outfield in 94 games and hitting .319. Marion won the pennant and the playoffs.
Umphlett started the 1951 season by playing three games for Class-B Roanoke. Then he was sent back to Class D, to the North Carolina State League's High-Point-Thomasville Hi-Toms. He played center field, hit .310 in 112 games, but lost about 25 games to bursitis. The Hi-Toms won the pennant and the playoffs, and Umphlett was named to the league All-Star team.
He worked in the offseasons as an electrician and said he liked working outdoors "because I have Indian blood."7
In 1952, the Red Sox invited Umphlett to their rookie camp at Sarasota. He showed well and was kept on for the start of spring training. At the end of February, John Drohan of the Boston Traveler wrote, "If and when Dom DiMaggio hangs up the spikes…there's a boy in the Red Sox camp veteran observers believe will take over Dom's center-field patrol."8 An Associated Press report tamped down the enthusiasm a bit, saying of the Sox, "They don't know whether they have another Mickey Mantle or another Joe Blow who glitters briefly under the Florida sun and then fades into oblivion."9 Umphlett agreed he needed to see how he would fare against better pitching. With the war in Korea, he was a more valuable commodity because, for whatever reason, he had been rejected for military service.10
Umphlett joined Gene Stephens and Faye Throneberry as the team's leading prospects that spring. He seemed to have so much potential that Boston briefly considered converting Jimmy Piersall from an outfielder to a shortstop. "Umphlett's got a good chance of sticking," said Red Sox manager Lou Boudreau.11 And there he was taking batting practice alongside Ted Williams and Dom DiMaggio.
In part because Stephens was thought more likely to take Williams' place when the veteran was recalled to the Marines for Korean War service, Boston sent Umphlett to Deland, Florida, in mid-March to join the Louisville Colonels for the remainder of spring training. This represented a promotion all the way to Triple A, and he stuck with the Colonels. Umphlett led off the Louisville batting order and started strongly, hitting safely in five of his first six games. He was leading the team with a .323 average when an attack of appendicitis struck him in the midst of a June 3 game. After having his appendix removed, he lost some time, but was back in early July. He may have lost a bit of his strength, and finished the season batting .278 with eight home runs and 80 RBIs. He could still come up with some big hits, though, such as the inside-the-park grand slam he hit against Indianapolis on September 2.
When 1953 spring training began, Umphlett reported to Deland, not to Sarasota. He was destined for another year of development at Louisville. But Dom DiMaggio, the oldest player on the team, entered Beth Israel Hospital in Boston for treatment of an inflamed right eye on February 22. The 36-year-old DiMaggio rebuffed rumors of impending retirement, but Piersall became an understudy of sorts that spring. A month later, DiMaggio reported to camp but admitted his vision was still blurred. On March 27, the Red Sox asked Umphlett to report to the major-league camp. He began to play center, with Piersall moving over to right field. With Ted Williams flying combat missions in Korea, Gene Stephens played left field.
Piersall, at age 23, was the oldest of the three. It was Boudreau's "youth movement," necessitated by circumstances.
On April 6, Boudreau named Umphlett his starting center fielder. Once so ensconced, he played in every one of the first 39 Red Sox games, through the first game of the Memorial Day doubleheader. He debuted at Connie Mack Stadium in Philadelphia on Opening Day, April 13. He batted seventh and grounded out to second base in his first at-bat. Third time up, in the fifth, he singled in a run, giving the Red Sox a 5-4 lead. He drove in another run in the top of the eighth, with a double.
He was batting .326 at the end of April, and .297 at the end of May. DiMaggio came back briefly, but retired on May 12 after appearing in only three games. When Ted Williams returned from Korea after the All-Star break, he joked, "Who is this guy Umphlett? I see where he has forced Dom DiMaggio into retirement and is keeping Jim Piersall out of center field for the Red Sox. He must be the world's greatest ball player."12
The ever-astute Ed Rumill of the Christian Science Monitor noted Umphlett's success in late April. In a June 23 column, he wrote about Umphlett stepping into DiMaggio's shoes, "hitting and fielding like a boy who has been doing it for years…already the popular DiMaggio is forgotten."13 In late June, Cleveland Indians manager Al Lopez called him the key to Boston's strong first half of the season; "They came up with that kid in center field and he gave them a tremendous lift."14 On June 25, Umphlett led the American League in batting. Teammate George Kell praised him as a smart hitter who knew he didn't have much power and focused on swinging smoothly to try and meet the ball. "I can't even hit over the left field wall in batting practice," Umphlett said.15
As early as the All-Star Break, Steve Snider of the Associated Press tabbed Umphlett, Kuenn, and Billy Hunter of the St. Louis Browns as "three of the best-looking youngsters in years" and as candidates for Rookie of the Year honors.16
In the July 29 game, in a futile attempt to catch a Minnie Minoso home run, Umphlett slammed into the Fenway Park center-field bullpen fence so hard that Red Sox coach Oscar Melillo said the team could hear it from the dugout bench, and that Umphlett dented the screen where he hit.17 He was held overnight at the hospital but only missed one game.
There were quite a few stories praising this catch or that catch, but when all was said and done, Umphlett committed seven errors in center field, tying him for fourth among all league outfielders. But right fielder Piersall complimented the rookie's outfield play: "I got so confident playing with Tom, that we never got crossed up or bumped into each other even once during the whole season."18 Several former teammates recall being impressed with his fielding.19
By season's end, Umphlett played in 137 games, with a .283 batting average. He drove in 59 runs, fourth on the ballclub.
On December 8, he was dealt to the Washington Senators, with pitcher Mickey McDermott, in exchange for Jackie Jensen. It was, thought the AP's Jack Hand, a "head-scratching trade."20 Umphlett outhit Jensen by 20 points in 1953, but Lou Boudreau saw (correctly) Jensen as someone who could drive in more runs. In his two years managing the Red Sox, no one had come close to 100 RBIs and, with Ted Williams back, Boudreau felt he needed someone with more power to hit behind him. Jensen drove in 84 runs for the Senators in 1953, and Boudreau believed he could become a 25-homer, 100-RBI man for Boston. He was right. Jensen averaged over 26 homers and 111 RBIs for the next six seasons. Umphlett did not.
The Boston chapter of the Baseball Writers voted Umphlett the Red Sox rookie of the year and honored him at their dinner on January 28.
Senators manager Bucky Harris said he planned to use Umphlett as his right fielder. He added, "Valuable as Mickey McDermott is, I wouldn't have made the Jackie Jensen trade with Boston unless they gave us Umphlett, too."21
Umphlett struggled at the plate, though, enduring a rough sophomore season. By the end of April, he was batting .167. He brought it up to .206 by the end of May, and to a high of .263 in late July. At the end of the season, his average stood at .219. He had 33 RBIs in 114 games. There were highlights, of course. On July 15, he provided all the offense in a 3-2 win over the White Sox, but all in all, it was a disappointing season. And McDermott went 7-15. After hoping to place in the first division; the Senators instead finished seventh. Sportswriter Bob Addie's conclusion: "Umphlett has been a .220 hitter all season and hasn't been much of a help."22
On October 16, 1954, Umphlett married Mary Ann Godwin.
When the 1954 Winter Meetings got underway in December, Senators VP Calvin Griffith said (true or not) that five clubs had inquired about acquiring Umphlett.23
Things got worse in 1955, both marginally for Umphlett and significantly for the Senators, who lost 101 games and finished in last place. Umphlett played in 110 games and hit .217, while driving in only 19 runs. In many of the games, he worked as a late-inning defensive replacement.
A few months later, looking back on his two seasons with the Senators, he said, "I don't know what happened to me when I went to Washington. But I do know I didn't do a thing to help their club."24
In November, Tom Umphlett was back with the Red Sox. The Senators and Sox swung a nine-player deal: Bob Porterfield, Johnny Schmitz, Mickey Vernon, and Umphlett were traded to Boston for Dick Brodowski, Neil Chrisley, Tex Clevenger, Karl Olson, and minor-league pitcher Al Curtis. The Boston newspapers focused on Vernon and Porterfield, and made little mention of Umphlett.
Umphlett stayed in the Red Sox system for the next 6½ years. It was clear at the time of the trade that Umphlett was, most accurately, likely to be a "reserve outfielder."25 As it happens, he never reached the big leagues again.
He became the "forgotten man" on the Red Sox, wrote Mike Gillooly. But with Ted Williams, Jimmy Piersall, and Jackie Jensen in Boston's outfield, where was he going to go? San Francisco. He was the first player the Red Sox cut in spring training 1956, optioned to the San Francisco Seals on March 23 – the day his wife gave birth to their first child, a son, Michael.
He performed well at the Triple-A level, and as a full-time outfielder, averaged over 130 games each year during his six seasons.
He spent 1956 and 1957 in the Pacific Coast League with the Seals, batting .285 with 61 RBIs in the first year, but hampered by injuries in 1957 (appearing in only 102 games and batting .233). With the Minneapolis Millers in 1958 through 1960, he recovered nicely, batting .257, .265, and then .304. In 1961, his average dropped to .266 but he drove in 83 runs, a career best.
On June 12, 1962, the Red Sox traded Umphlett to the Yankees for Billy Gardner, throwing in some cash as well. Before the deal, he played in 50 games for Minneapolis (batting .253). The Yankees assigned him to the Triple-A Richmond Virginians, where he played in 55 games and hit .222. In 1963, again in Richmond, he hit .235 in 117 games.
He was released in the spring of 1964, but got in touch with GM Phil Howser of the Charlotte Hornets.26 It paid off in a hire, and Umphlett played ball for four more seasons, 1964 through 1967, all back home in North Carolina for the Southern League's Hornets, a Minnesota Twins Double-A club. He did a bit of double duty as an assistant coach. Two events highlighted his 1964 season. First, he was named to play in the league's first All-Star game. Second, after an umpire ejected regular first baseman Dan Hagan during a game against Knoxville, Umphlett was asked to play first base. With runners on first and second and nobody out, Bud Zipfel hit a ball hard to Frank Quilici at second base. Quilici caught the ball in a diving catch and threw to the shortstop, who doubled up one runner, and then threw to Umphlett at first base to double off the other runner. After the game, Umphlett said, "It was the first time I had ever played first base, and the first play to come my way was a triple play. You can't beat that."27
His 1967 season only lasted 31 games. He was named manager of the Auburn (New York) Twins in the New York-Penn League. The team finished with a record of 52-26 (.667), and 10 ½ games ahead of second-place Batavia.
He worked three more years managing Single-A teams for the Twins. It was the Midwest League in 1968, managing the Wisconsin Rapids Twins. In 1969, the Red Springs (North Carolina) Twins in the Carolina League, and in 1970 the Lynchburg Twins in the same league (the Twins relocated the team from Red Springs). The latter two teams struggled badly, barely winning 40% of their games. On June 23, 1970, Umphlett was dismissed. "It was a simple matter," he said. "I was brought here to do a job and I didn't deliver. I wouldn't think of putting the blame on anyone but myself."28
After baseball, he worked at several positions. "He was a craftsman," remembers his sister Sara. "He built beautiful furniture."29 He worked in the men's department at Belk's Store in Ahoskie, and taught sports at Ahoskie High School, particularly girls' tennis. He enjoyed hunting and fishing.
On September 21, 2012, Tom Umphlett suffered a stroke and was taken to Norfolk General Hospital in Norfolk, Virginia, where he died of a heart attack. He was survived by Mary Ann, his wife of 57 years, his son Mike, two grandsons, and three of his sisters.
Acknowledgments
This biography was reviewed by Phil Williams and fact-checked by Warren Corbett.
Sources
In addition to the sources noted in this biography, the author also accessed Umphlett's player file and player questionnaire from the National Baseball Hall of Fame, the Encyclopedia of Minor League Baseball, Retrosheet.org, Baseball-Reference.com, Rod Nelson of SABR's Scouts Committee, and the SABR Minor Leagues Database, accessed online at Baseball-Reference.com.
Notes
Born
May 12, 1931 at Scotland Neck, NC (USA)
Died
September 21, 2012 at Norfolk, VA (USA)
If you can help us improve this player's biography, contact us.
https://sabr.org/sites/default/files/UmphlettTom.jpg
600
800
admin
/wp-content/uploads/2020/02/sabr_logo.png
admin
2017-07-18 12:18:06
2020-04-09 14:43:04
Tom Umphlett