---
When people think of Nicaragua and baseball, the first name that comes to mind will always be El Presidente, Dennis Martínez. The second Nicaraguan in the majors was Tony Chévez, who signed together with Martínez with the Baltimore Orioles in 1973. Chévez was the bigger star at home, and expectations were higher for him.[fn]Hernández, Gerald. "Everth Cabrera es el décimo nicaragüense en Grandes Ligas, quiere triunfar en San Diego". Puro Béisbol website (http://purobeisbol.com.mx/content/view/1255/1/). See also Vecsey, George. "Nicaragua's Best Pitcher". New York Times, September 27, 1981: S3.[/fn] Yet after a fine early minor-league career, he pitched just four games with the 1977 Orioles. He hurt his shoulder in the fourth outing and was never the same.
Silvio Antonio Chévez was born on June 20, 1953.[fn]Although baseball references give 1954 as his year of birth, Tony states that his birth certificate (which he provided when he was scouted and when he became an American citizen) shows 1953. He did not change his age for professional purposes.[/fn] His hometown is Telica, in the northwestern corner of Nicaragua, near one of the country's most active volcanoes. He was the third of six children (four boys and two girls) born to Luis Aguilera and Clarisa Chévez. The couple never got married until shortly before Luis passed away, and that is why Tony bears his mother's family name. "I never went back and got it changed," he notes.
Telica is a small town in a rural area. "My father was a farming man," Chévez recalls, "with cattle and horses and cotton fields. He was always very busy. He was a big guy who looked like John Wayne, wearing a big hat, a long raincoat, and chewing on a cigar, even though he didn't smoke."
"I used to go play ball in a cornfield. There were no bases, we had to make our own. It was all ages, but at 12 to 14, if you're good enough, you can play with the older guys. I used to play left field and catch. The first time I pitched was when I was 15. I was put in relief, and I struck three guys out. After that they needed me to pitch. I only weighed about 150 pounds then. I had a high kick like Juan Marichal — when you're 5'11", you need help. My coaches later asked me why I was imitating Marichal, but it was natural."
By that time, Nicaragua had lost its winter professional baseball league due to economic problems and the loss of government subsidies. The league, which operated from 1956 to 1967, attracted many American players. Tony remembers seeing Lou Piniella when his brothers brought him to games in the nearest city, León. Although Nicaraguan baseball historians look back on this time as a "golden age," attendance was not always robust. While bleacher tickets cost just a few córdobas — back then the exchange rate was C$7 per U.S. dollar — bringing the family would still take too big a bite out of the average working man's wages.
Just in time for Tony, however, an amateur summer league emerged in 1970. With Major League Commissioner Bowie Kuhn watching, Bob Feller threw out the first ball with Joe DiMaggio in the batter's box.[fn]Tijerino, Edgard. "Chévez fue el primero". El Nuevo Diario (Managua, Nicaragua), February 24, 2008.[/fn] The whole league, including Chévez, was on hand in Managua's National Stadium.
At age 16, "Silverio" Chévez (as his mother called him) had made the club in León after a big tryout. "I got a chance to pitch, and my town was supporting me. I went 12 innings and left with the game tied 1-1. So they wanted me, but I said, 'I need transportation.'" The 10-minute trip cost a couple of córdobas, but the fares added up, so the team supported its rookie.
Tony first represented Nicaragua in international competition in 1971 at the Torneo de la Amistad (Friendship Tournament), held in Managua that year. He was also on the national team that went 3-5 at the 1971 Pan-American Games in Cali, Colombia. The Nicaraguans battled the U.S. hard in the opener, but a scoreless tie ended in the ninth as Fred Lynn and Alan Bannister walked and came around to score. Jackson Todd then finished his shutout.[fn]"U.S. Baseball Team Opens With Triumph". United Press International, August 1, 1971.[/fn]
In 1972, the Nicaraguan playoffs featured star performances from Chévez and skinny 17-year-old Dennis Martínez, who pitched for his hometown team, the Granada Tiburones (Sharks). It was a four-team round robin. Tony outdueled Granada's Paco Gómez 2-0 on June 15, and though he lost to Flor de Caña pitching on just two days' rest, he came back with another shutout over the Sharks in the best-of-three tiebreaker. After Martínez won Game 1, the series finished with a doubleheader on June 22 at the National Stadium. In the opener, Tony worked his way out of a bases-loaded, nobody-out jam in the eighth inning and went on to win 5-0. In the nightcap, though, Granada beat León with five innings from Martínez in relief.[fn]Ruiz Borge, Martín. "Asoma el tercer duelo". El Nuevo Diario, March 16, 2003.[/fn] "You just took the ball," says Tony. "Everybody was watching."
Pro scouts from the U.S. noticed the pair for the first time that year. Rafael "Ralph" Ávila, the Cuban who established the concept of training academies in the Dominican Republic, recalled in 2008 that he and his Dodgers colleague Tony Martínez were interested in several Nicaraguan players, but national team manager Tony Castaño warned them not to meddle because the Amateur World Series was a top priority for dictator Anastasio Somoza Debayle. If anything happened, Somoza would "lock the players up, throw the key in the lake, and they'd never get out of jail." Nicaragua had strict rules about amateur standing, and there had been problems in 1971.[fn]Tijerino, Edgard. "¿Por qué no firmé a Green?" El Nuevo Diario, October 4, 2008.[/fn]
Chévez recalls that he had a meeting scheduled with Tony Martínez, "but I chickened out and didn't show up." He was partly aware of the pressure from on high. "A scout from the Yankees was also interested in me that year, but Carlos García [the organizer of the Nicaraguan league] wouldn't let him in for another meeting."
The twentieth Amateur World Series was held in Managua from November 15 through December 3, 1972. The hosts, Nicaragua, won the bronze medal with a 13-2 record. The United States also went 13-2 but took silver thanks to a head-to-head victory in extra innings. Tony took that loss in relief but contributed wins as a starter over the Dominican Republic and Honduras. He added a save against Brazil and also relieved Dennis Martínez in a loss to Japan.[fn]Tijerino, Edgard. "Aquel mundial que nos atrapó en 1972". La Prensa, December 2, 2002.[/fn] The Nicaraguans then handed Cuba (14-1) their only defeat in the closing game of the tournament. As Julio Juárez shut out the Cubans 2-0, the crowd at the National Stadium was deafening. "You couldn't hear yourself talking to the guy next to you," says Chévez.
Less than three weeks later, on December 23, 1972, Managua suffered its devastating earthquake. That New Year's Eve, Roberto Clemente's plane went down off Puerto Rico as he left for Nicaragua on his mercy mission. The aftermath of the disaster was felt on many levels in the nation's society — including baseball. In 1973, there was a split in the top amateur ranks that would last through 1977. Two leagues evolved under rival federations: the Roberto Clemente League and the Hope and Reconstruction League.
Chévez led the León club to the Clemente League championship in 1973 with his dominant pitching. He won 20 games in the regular season that year and lost just 1, while throwing two no-hitters. The first came on April 10 against Chinandega, and the second on May 26 versus Carazo. Four days later — "Mother's Day at home" — Tony married Halyma Romero from León. He went on to complete 19 of 20 starts, post a 0.93 ERA, and save two games. With 172 strikeouts in 186 innings, he completed the Triple Crown of pitching. In the playoffs he won four more games, including a third no-hitter on August 7 against San Fernando.[fn]Ruiz Borge, Martín. "La división, y dos campeones". El Nuevo Diario, March 17, 2000.[/fn], [fn]Hernández, Gerald. "Récords imposibles de tumbar". La Prensa, February 18, 2008.[/fn]
Owing to a conflict between international baseball organizations FIBA and FEMBA, two Amateur World Series were held in parallel in 1973. The FEMBA event took place (without Cuba) in Managua from November 22 through December 5. Following the quake, the National Stadium was in ruins and the Nicaraguan economy was still suffering. Yet the hosts still spent a precious $500,000 to stage the tourney.[fn]Jordan, Pat. "Dubious Triumph In Florida". Sports Illustrated, December 9, 1974.[/fn]
Tony beat Honduras again, lost to Chinese Taipei, and might have had a no-hitter against Guatemala. Oddly, a difficult scoring decision in the sixth inning was postponed until Guatemala connected for a clean hit with one out in the ninth. Chévez finished with a two-hit, 8-1 win[fn]"Deportes al Bolsazo". Bolsa de Noticias (Managua, Nicaragua), October 13, 2003.[/fn], which set up a match with the U.S. for the gold medal. Although the makeshift stadium held just 9,000, the partisan crowd was estimated at 28,000.[fn]Jordan, op. cit.[/fn] The Nicaraguans had to settle for silver, though, as Dennis Martínez lost a 1-0, 10-inning duel to Rich Wortham.
Chévez remembers what Tony Castaño told him: "You gotta go north. There's nothing for you here." The manager tipped off his fellow Cuban, Julio Blanco Herrera, a regional scout for Baltimore.[fn]Tijerino, Edgard. "¡Qué difícil fue!" La Prensa, January 13, 2003.[/fn] Both Martínez and Chévez then signed with the Orioles; scout Ray Poitevint made the deal in the lobby of Managua's InterContinental Hotel. Each man received a bonus of $10,000.[fn]Blair, Jeff. "Nicaragua: Poor Country Has Love Affair With 'Beisbol'". St. Louis Post-Dispatch, September 1, 1991: 6F.[/fn] Although Nicaraguan papers give the date as December 10, Chévez says, "We'd already signed with a couple more games to go, but we kept it quiet."
The Nicaraguans reported to Miami in the Florida State League (Class A) in 1974. They had traveled the world before with the national team and had pitched in big stadiums, so they were not overwhelmed. Tony (who had flipped his name around to Antonio S. Chévez) did face a language barrier, though. This was the case even in Miami. "In the restaurants, even the Cubans wanted to speak English, or maybe they were told to. I used to point to what I wanted. I ate a lot of chicken and fish."
Chévez worked mainly in relief, starting just three times in 41 games. He excelled that year (9-6, 1.57 ERA) and the next (14-6, 2.08), when he made 18 starts in 33 games. In 1976, after another hot start at Miami (9-2, 2.11), he was promoted to Charlotte in the Southern League (7-3, 1.87). Tony came out of the bullpen only once that year.
Chévez then played winter ball for the first time. He was supposed to pitch for the Caguas Criollos in Puerto Rico, but remembers, "I was out of shape when I got there, hanging out, eating, being with friends. They told me they couldn't use me!" He then joined the Mayagüez Indios, thanks to a good word from their catcher, Rick Dempsey of the Orioles.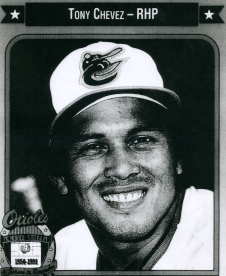 Baltimore promoted Chévez to Triple-A Rochester for 1977. On May 24, they placed pitcher Fred Holdsworth on the 21-day disabled list and called up Tony from Rochester. He rejoined Dennis Martínez, who had advanced to the majors the previous September. "When I came to the big leagues, I felt like I was walking in flowers. They were very nice people, especially Mark Belanger and Brooks Robinson." When asked about manager Earl Weaver, Chévez replies diplomatically, "I don't know how I can say this. . .he believed in the old players."
On May 31, Tony made his debut against the Minnesota Twins at Metropolitan Stadium. In relief of Rudy May, he allowed two inherited runners to score plus one more of his own. The Twins added another run the next inning.
Chévez appeared in three more games in early June, all on the road after a Baltimore starter got bombed early. The opponents scored more against him each time; Tony's last outing, on June 8 at Fenway Park, was especially rough. "In Boston, I felt something pop in my shoulder," he recalls. "It was a cold and rainy day there in Massachusetts, and I slipped on my follow-through. That's when I felt it, like a sharp needle in my shoulder. George Bamberger, the pitching coach, came out and asked, 'Are you all right?' But I couldn't hide the expression on my face."
Chévez would never again take the mound in the majors. He remained on the Baltimore roster until June 23, when the Orioles reactivated Fred Holdsworth. He returned to Rochester and continued to pitch despite the injury. He finished the year at 5-9, 4.46.
In the winter of 1977-78, Tony enjoyed a revival while pitching again for Mayagüez. He and Baltimore teammate Scott McGregor each won eight games, tied for second in the league. Tony lost just twice and had a good ERA of 2.92. The Indios were 29-31 during the regular season, but they came together during the playoffs, winning the league championship. They then went on to take the Caribbean Series in Mazatlán, Mexico. Chévez made a key contribution by pitching 9 1/3 innings of two-run ball against the Dominican champs, Aguilas Cibaeñas. Although he did not get the win, he held a powerful opponent in check.[fn]Tijerino, Edgard. "Se fajó Antonio Chévez". El Nuevo Diario, February 4, 2008.[/fn]
Unfortunately, that good experience did not carry over. While George Bamberger expressed confidence, Tony was the last cut in the spring of 1978. The arm problem then proved to be too much. He was just 6-11, 4.19 for Rochester in 1978, gave it one more go in Mayagüez that winter, but in the middle of 1979, was demoted to Charlotte.
Even though Nicaragua was in revolution at this time, it didn't really affect Chévez on the field. "I was concerned about my family," he says, "but I knew they were OK. We talked every couple of days. We tried to go in '78, but no planes were allowed to land. We had to go back to Puerto Rico."
Tony's pro career concluded with five games for the Mexico City Tigres in 1980. "I tried to make a comeback down in Mexico," he says, "but the shoulder had just gotten worse and worse. There were calcium deposits. I could have had an operation, but I kept hearing different percentages, and no one really knew. My wife said, 'Honey, we can always find something else to do.' I missed baseball for a couple of months, but I made my dream, my dream came true."
He then returned to Rochester, "where everybody has always been good to us." In 1982, Tony and Halyma became American citizens. They have three children: Tony, Anielka, and Kelly, who married Tampa Bay Rays shortstop Jason Bartlett in 2008. (Bartlett played several stretches for Rochester from 2004 through 2006 while also spending time with the Minnesota Twins; he then made the majors for good.) Tony has worked all along for the same tool and die manufacturer in Rochester, while Halyma is a social worker.
The Chévezes have never forgotten their homeland. In their words, they have "a need to serve." In 2003, Tony and Halyma returned to Telica with a small group of friends from their church. Their mission: to build homes for the neediest. Since then, they have returned periodically with growing support; December 2009 will be the fifth trip. The good works have expanded to include donations of medicine and clothing, along with Bible school. Tony and his brother Óscar also support baseball for youths aged 13-15, and they hope to add older teens as well.
Tony and Halyma say, "Our fondest memory of our travels is seeing all the smiling faces of all the children in the town and their sense of joy when they have nothing to smile about. It has made us aware how many blessings we have when we think we have none. It has made us grateful and thankful."
As of 2016, Nicaragua had sent 14 men to the majors. In years to come, perhaps another young man from Telica may make it, thanks to local hero Tony Chévez.
Acknowledgments
Grateful acknowledgment to Tony Chévez for his memories (telephone interviews, April 23 and 28, 2009, plus e-mail).
Sources
http://telicamission.wordpress.com
www.steeplepeople.org
www.baseball-reference.com
Photo Credits
Courtesy of the Chévez family and Trading Card Database
Full Name
Silvio Antonio Aguilera Chévez
Born
June 20, 1953 at Telica, Leon (Nicaragua)
If you can help us improve this player's biography, contact us.
https://sabr.org/sites/default/files/ChevezTony.jpg
600
800
admin
/wp-content/uploads/2020/02/sabr_logo.png
admin
2012-01-04 20:34:30
2012-01-04 20:34:30
Tony Chévez