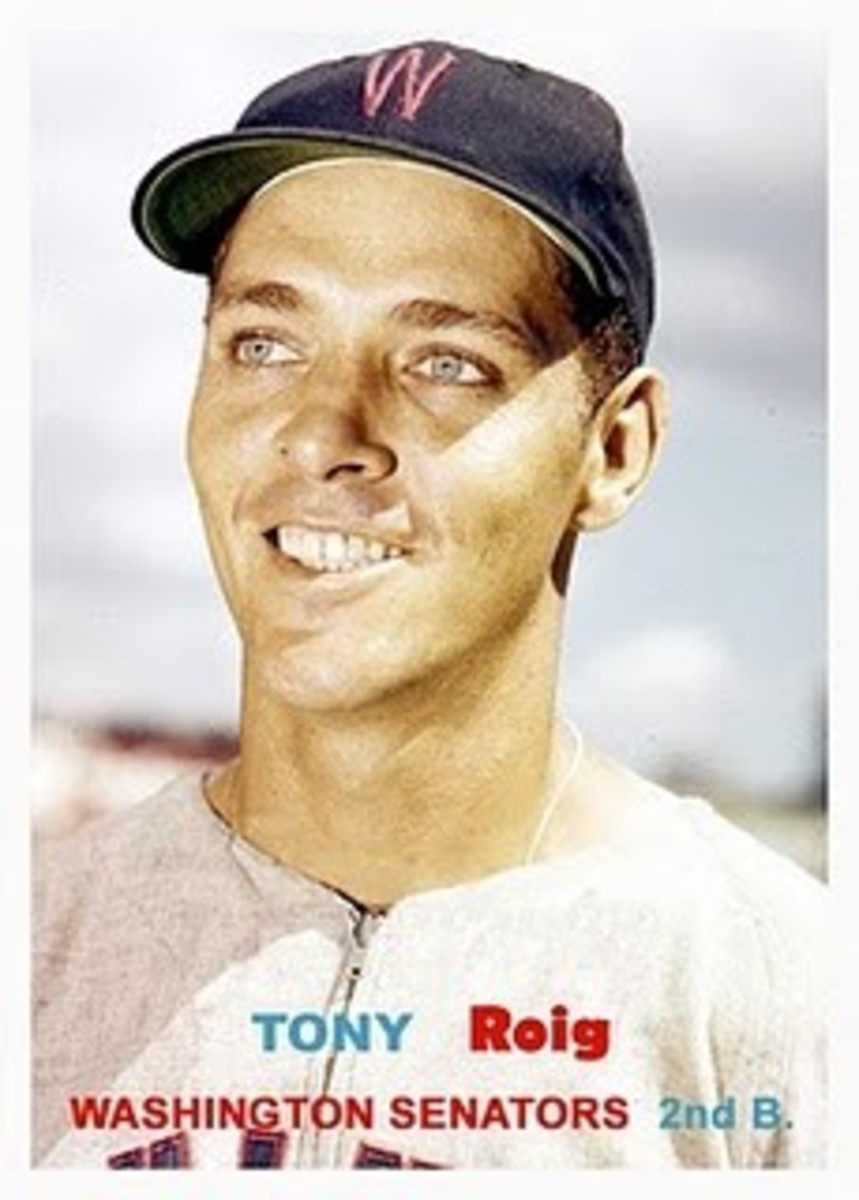 ---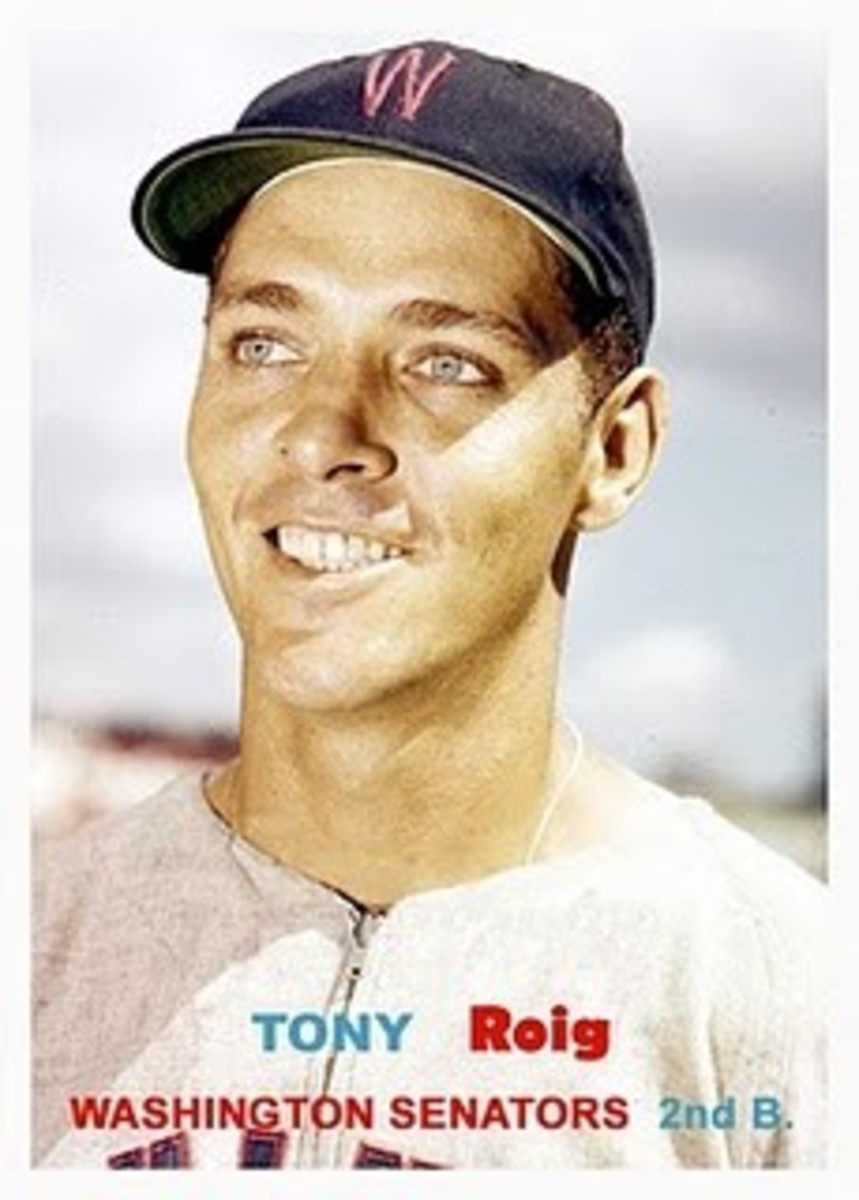 The talent-starved Washington Senators of the early 1950s recognized Tony Roig's potential early in his professional career. But after giving the infielder several opportunities in the majors, the Senators eventually gave up on him because of weak hitting at the top level. Roig adjusted his approach at the plate, and the result was increased offensive production with the Dodgers and White Sox organizations. Alas, by that time his age was working against him—he never reached the majors again.
Yet after 13 years in Organized Baseball, including his three partial seasons with the Senators, Roig finally gained distinction as a player. It came in Japan, where he played for six seasons until age 40. He ultimately spent nearly 40 years in professional baseball, which also included a renowned career as a scout spanning 20 years. He served as an instructor too, using his own early struggles with consistency as guidance.
Anton Ambrose Roig was born in New Orleans, Louisiana, on December 23, 1928, one of nine children born to Anton and Caroline (Dintrous) Roig.1 Roig's Sporting News player contract card refers to French-German ancestry. However, the surname is of Spanish origin—Catalan, to be exact. The Roig surname has been visible in New Orleans for several generations, as newspaper and census records show. Information on his parents' occupations has not yet come to light.
The first documented accounts of Roig's baseball career date from 1947. He was the star pitcher for Fortier High School, which had previously sent Howie Pollet and Al Flair to the majors. He was named to the third team of the Times-Picayune's All-Prep Team.2 Playing for Fortier in a summer prep league game, he attracted attention when he struck out 15.3 Later that summer he was a member of the St. Aloysius Crusaders, which represented New Orleans in the All-American Amateur Baseball Association tournament in Johnstown, Pennsylvania. They lost in the finals to the Marx Jewelers squad from Washington D.C.4
Roig was initially signed as a pitcher by the Detroit Tigers in 1948. He played two mediocre seasons in the minors for several Class D teams, eventually converting to the infield after hurting his arm.
He started the 1950 season in the Senators organization with Rome of the Georgia-Alabama League (Class D). There he showed dramatic improvement in his hitting with a .327 average and 15 home runs. He was acquired late in the season by Chattanooga in the Southern Association (Class AA), which represented the Senators' highest minor-league classification at the time. He hit .304 in seven games with the Lookouts.
Roig missed two of his prime baseball years, 1951 and 1952, after enlisting in the Army. According to his obituary, he served in a military police unit and also played baseball on service teams.5 However, details about where he was stationed have also not surfaced yet.
When Roig completed his military commitment, he resumed his career with Chattanooga. The parent club in Washington was perennially in the American League's second division. Except for an occasional all-star, they had an overall talent shortage. The situation gave Roig several opportunities to gain a roster spot with the Senators, despite his relative inexperience.
Lookouts manager Cal Ermer predicted that Roig might do more than earn a utility infielder role with Chattanooga.6 He made good on his opportunity to get playing time at second and third base, turning in a fine season: .303 with 60 RBIs in 132 games.
Anxious to find alternatives at second base for the next season, the Senators purchased Roig's services for the month of September. He made his major-league debut on September 13 in the second game of a doubleheader against Detroit, going hitless in three at-bats. His first major-league hit was a double in a pinch-hit role against Philadelphia on September 26.
Competing against Jerry Snyder and Wayne Terwilliger for the second base job during the spring of 1954, Roig failed in his bid because of poor hitting. He was on hand for the Senators' Opening Day game against New York, and he let President Dwight Eisenhower's ceremonial pregame toss to the players bounce away from him (it was claimed by Yankees pitcher Johnny Sain).7 However, Roig didn't get into a Senators game before being sent back to Chattanooga a few days later. He spent the entire season with the Lookouts and batted .272 after battling a knee problem.
In looking ahead to the 1955 season, Senators executive vice-president Calvin Griffith mentioned that Roig's chances looked good for making the team. He said, "We've got some young boys coming out for spring training that might surprise a few people. Like Tony Roig. He has the possibilities to become a major league star."8
New Senators manager Charlie Dressen wasn't satisfied with shortstop candidates Snyder and rookie Bobby Kline during spring training, so he experimented with Roig, normally a second baseman. Coach Cookie Lavagetto spent extra time with Roig in practice sessions and became convinced Roig could do the job adequately in the field, but conceded that Roig might struggle at the plate.9
Kline and Snyder each got their turns as the starting shortstop for the first two weeks of the regular season. Roig got his chances later in two different stints at short, but his anemic bat kept him from maintaining the starting job. Frustrated with the situation, Dressen agreed to promote 21-year-old José Valdivielso from Class A Charlotte to take over at short. Having batted only .228 with two extra-base hits, Roig became the odd man out. He was optioned to Charlotte on June 20.
Roig took the demotion hard. After almost two weeks with Charlotte, he left the team, saying "baseball is for the birds." He resentfully criticized the Senators for "kicking him back to the minors after having two good seasons" with Chattanooga. He said, "They said I needed experience, as if those two good years I had at Chattanooga didn't show them I could play ball. It doesn't make sense. I have a good record in Class AA ball so they send me to Class A. The bush leagues … riding buses night after night, beating yourself to death … I won't do it."10
A week later, Chattanooga president Joe Engel decided he'd take Roig back when Snyder was recalled to the Senators.11Roig finished the season with the Lookouts, although he suffered a wrist injury from a slide into second base in mid-August.
Discontented with his handling in the previous season, Roig was one of several Senators who didn't initially sign his contract for 1956.12 Eventually he did and was assigned to Louisville, the franchise's new triple-A affiliate. He batted .286 in 55 games with the Colonels, earning him a call-up at the end of June for his third stint with the Senators.
With Washington in last place, Dressen was continually tweaking the lineup. Pete Runnels had been the Senators' regular second baseman, but when he was switched to first base, it created an opportunity for Roig to step in as the starter. Dressen was initially pleased with the insertion of Roig at second base. He felt the infield's overall defense improved, particularly the double play production with shortstop Valdivielso.13 However, Roig's slash line was a paltry .200/.307/.253 in 22 games during July. When Roig came down with an injured hand in early August, Dressen went with rookie Herb Plews as his regular second baseman for the balance of the season. Roig primarily made substitute appearances during the last two months and did little offensively to reclaim his starting job from Plews.
Roig re-signed with the Senators in January 1957 and found himself in a familiar situation: a four-way competition with Runnels, Snyder, and Plews for the second base job. He suffered a broken right index finger early in the spring workouts, which affected his ability to claim a spot on the roster that broke camp for Washington. In the Senators' first roster cut, he was assigned to Chattanooga. He reinjured his finger and eventually spent time on the disabled list. In his limited season, he put together one of his best batting averages (.300) to that point, although he didn't get a chance to rejoin the Senators. During the winter Roig played the first of four seasons in the Occidental League in Venezuela, in order to continue to hone his skills.
In preparation for the franchise's first year in Los Angeles, the Dodgers purchased Roig in the December minor-league draft.14 The 29-year-old was assigned to Triple A Spokane for the 1958 season, the Indians' first in the Pacific Coast League. He teamed with future major leaguers Jim Gentile, Maury Wills, and Jim Baxes to create a formidable infield. Before the season started, Spokane's manager, Goldie Holt, was high on Roig, saying, "We have a fine second baseman. He's a rugged guy and he came to play … a fine double-play man. He'll hit for a high average."15 Roig finished at .282 with five home runs and 48 RBIs. His performance earned him a spot on the Pacific Coast League All-Star team.
Roig also found personal happiness in Spokane, meeting his future wife, Jaclyn "Jackie" Yeo.16 They got married on August 2, 1958, and had three children: Michael, Rick, and Lisa.17 Roig made Spokane his permanent home.
Encouraged by his previous year's production, Roig went to spring training with the Dodgers in 1959 looking for a backup role, but he wound up playing the entire season with Spokane again. There was no room for Roig at the major-league level, with veterans Charlie Neal, Don Zimmer, Jim Gilliam, and Bob Lillis manning the infield jobs. Wills got called up during the season to replace Zimmer and became an All-Star shortstop two seasons later. Roig's role evolved into more of a super-utility player with the Indians, getting starts at second base, third base, and the outfield. He hit a solid .281 with 15 home runs and 63 RBIs. He attained local popularity when the Tony Roig Fan Club formed with an adoring female contingent.18
The Dodgers won the National League pennant and captured the World Series championship over the Chicago White Sox. The champions' infield remained intact for the 1960 season, and Roig was relegated to Spokane for a third season. Now 31, he watched as additional future Dodgers passed through Spokane, including Willie Davis, Ron Fairly, Frank Howard,and Charley Smith. In a game on September 8 against Seattle, Roig entertained the fans by playing all fielding positions without committing an error in five chances.19 Despite his third consistent season at the plate (.278, 16 home runs, 90 RBIs), Roig never got his long-awaited promotion. His only consolation was that Spokane won the Pacific Coast League championship.
Roig was purchased by the Chicago White Sox in the minor-league draft after the 1960 season, He was a hedge against the possible loss of shortstop Sammy Esposito to the new Washington Senators franchise in the upcoming expansion draft.20
As it turned out, Esposito remained with Chicago, and Roig played second and third base for Triple A San Diego in the Pacific Coast League. There he continued his late-career power surge with a career-high 19 home runs.
In 1962 Roig was assigned to the White Sox's triple-A affiliate in Indianapolis, where he became the fifth infielder. The Indians finished in first place in the American Association during the regular season, but were defeated by Louisville in the playoffs. At age 33, it was Roig's last season in Organized Baseball. His major-league career stats included a slash line of .212/.295/.283 and 11 RBIs in 76 games.
Roig decided to take his services to Japan in 1963 when he received a significant offer to play for the Nishitetsu Lions of the Japan Pacific League. Along with former major leaguers Jim Baumer and George Wilson, they were among the first wave of Americans to play in Japanese professional leagues.21
Roig played five seasons for Nishitetsu, mainly at short in his first three years, though he switched to third in 1966 and played all infield spots. He switched to the Kintetsu Buffaloes and first base in 1968, when he finished his playing career. He was a popular player overseas, since it was unusual at that time for Japanese shortstops to hit as many home runs as he did.  His career stats in Japan included a slash line of .255/.309/.437 with 126 home runs and 414 RBIs in 779 games.
Upon Roig's retirement as a player, he initially thought his future would be in a Spokane lumber yard he purchased.22He eventually got the itch for baseball again and signed with the Milwaukee Brewers organization as a scout for the 1974 season. He became well-known within the scouting community, also working in various scouting and instructor capacities for the California Angels and Philadelphia Phillies until 1994. In addition, he managed the Class A Newark Co-Pilots (New York-Pennsylvania League) in the Brewers organization in 1975 and 1976.
Roig was one of the major-league scouts featured in Kevin Kerrane's 1983 book about scouting, Dollar Sign on the Muscle. Kerrane wrote about Roig's dual role as a scout and minor-league hitting instructor for the Philadelphia Phillies, where he got a chance to teach young prospects in addition to discovering them.23
In the book, Roig described using his own experience as a player to illustrate one of his philosophies on teaching hitting. "I started when I was seventeen, and I've stayed with baseball all my life, and I wasn't a real gifted player so I helped myself by trying things. And I think that instruction work is trial and error. I tried enough things myself that, if a hitter's in trouble, I can usually suggest something." He added, "People think it's funny that teachers like me batted about .220 when they were in the majors, what little time they were there. But the great hitters usually don't know how they did what they did; we're the ones who had to work at it and try different things."24
Roig remained a celebrity in Spokane after his playing career. He threw out the first pitch when the Spokane Indians celebrated the 50th anniversary of the ballpark built for their first season in the PCL in 1958.25
Tony Roig died on October 20, 2010, at age 81—but his memory remained alive. In March 2019, his son Rick and grandson Clint made a trip to Japan (where Rick had spent much of his youth) during the Major League Baseball series between Seattle and Oakland. Their goal: to discover more details about Tony's career. A television station in Kintetsu offered to document their visit, which included a meeting with Roig's 85-year-old former manager, Futoshi Nakanishi.26
Acknowledgments
This biography was reviewed by Rory Costello and Joel Barnhart and fact-checked by Chris Rainey,
Sources
In addition to the sources listed in the Notes, the author also consulted Baseball-Reference.com, Findagrave.com, Rootsweb.com, and Archives.com.
Albright, Jim. "All-Time Foreign Born Team," Baseball Guru.com. http://baseballguru.com/jalbright/analysisjalbright05.html. Accessed August 20, 2019.
Official Website of the AAABA Tournament. https://aaabajohnstown.org/tournament/1947/. Accessed August 20, 2019.
Notes
1 Anton "Tony" Roig obituary (www.dignitymemorial.com/obituaries/spokane-wa/anton-tony-roig-4417959). Accessed August 20, 2019.  Baseball Reference incorrectly lists Roig's birth year as 1927.
2 Charles Wicker. "Jesuit Jays Gain Five Berths on '47 All-Prep Baseball Team," Times-Picayune, June 1, 1947: 23.
3 Edwin Fricke. "Roig Fans 15, Tarps Upset Easton by Shutout, 3-0," Times-Picayune, July 23, 1947: 16.
4 "KC to Honor Aloysius Nine," Times-Picayune, September 7, 1947: 28.
6 "Tony Roig Going Great Guns for Lookouts," Times-Picayune, April 1, 1953: 23.
7 "Sain Grabs Ike's Pitch," Boston Daily Record, April 14, 1954: 14.
8 "Senators Seem Becalmed After Rivals' Big Deals," Evening Star, November 19, 1954: C1.
9 Burton Hawkins. "Dressen Tries Roig as Plug for Shortstop Gap," Evening Star, March 31, 1955: C1.
10 "Player Says Baseball for 'Birds'," Durham Sun, July 7, 1955: 3D.
11 "Roig Decides to Play for Chattanooga," Fort Worth Star-Telegram, "July 13, 1955: 16.
12 "Snyder Comes to Terms, But Tony Roig a Holdout," Times-Picayune, February 14, 1956: 11.
13 Shirley Povich.  "Victory-Poor Nats Rich in Backstops – Three Good Ones," The Sporting News, July 25, 1956: 10.
14 Clifford Kachline. "Minor Clubs' Draft Picks Decline to 45," The Sporting News, December 11, 1957: 12.
15 Harry Missildine. "Twice Over Lightly," The Spokesman-Review, March 30, 1958: 21.
16 Tony Roig obituary. Jaclyn Ann "Jackie" Roig obituary, The Spokesman-Review, November 23, 2014 (https://www.legacy.com/obituaries/spokesman/obituary.aspx?n=jaclyn-ann-r…).
17 Jim Price. "Ex-Indian Tony Roig Dies at Age 81," Spokesman-Review, October 25, 2010. (www.spokesman.com/stories/2010/oct/25/ex-indian-tony-roig-dies-age-81/). Accessed August 20 2019.
18 The Spokesman-Review, May 2, 1959: 11.
19 "Giants' Hopes For Second Fade With Loss to Padres," Daily Olympian, September 9, 1960: 13.
20 Edward Prell, "Sox Owner Out of Order, Decision of Commissioner," Chicago Tribune, November 29, 1960: 2.
21 "Japan Club Inks Major League Trio—Wilson, Baumer, Roig," The Sporting News, February 23, 1963: 40.
23 Kerry Kerrane. Dollar Sign on the Muscle. (New York: Beaufort Books, 1983): 56.
26 Jason Shoot. "Clint Roig's family earns unique opportunity to retrace his baseball days in Japan," Spokesman-Review, March 17, 2019 (https://www.spokesman.com/stories/2019/mar/17/clint-roigs-family-earns-u…). Accessed August 20, 2019. 
Born
December 23, 1928 at New Orleans, LA (USA)
Died
October 20, 2010 at Liberty Lake, WA (USA)
If you can help us improve this player's biography, contact us.
https://sabr.org/sites/default/files/RoigTony.jpg
600
800
admin
/wp-content/uploads/2020/02/sabr_logo.png
admin
2012-01-04 20:42:38
2020-06-23 18:02:20
Tony Roig