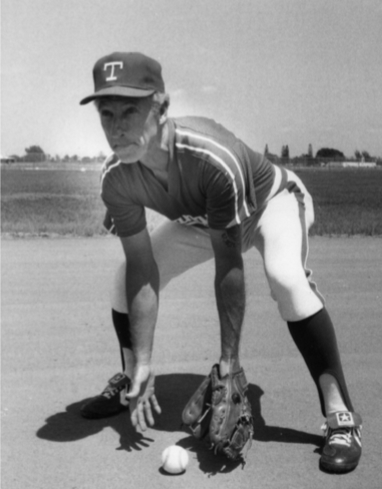 ---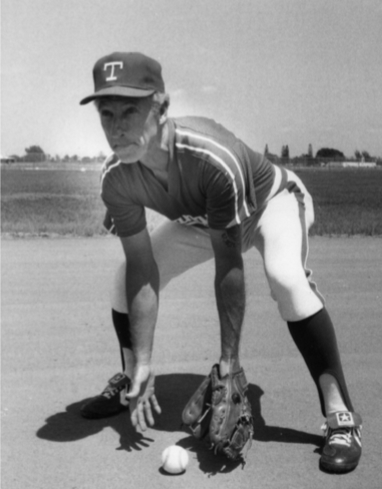 A baseball lifer, Wayne Terwilliger found himself with more notoriety at age 80 than he had garnered in his previous 56 seasons in Organized Baseball combined when he agreed to return for the 2005 season as manager of the Fort Worth Cats in the independent Central League.1 In doing so, he joined the legendary Connie Mack as the only 80-year-old managers in baseball history. And after he led the Cats to the Central League championship that year, he became the only manager in his 80s to manage a championship team. After that season, Terwilliger gave up the managerial reins but returned to the Cats as the first-base coach, still pitching batting practice and jogging to the first-base coaching box before every inning.
Terwilliger's years with the Cats were the culmination of a journey that began when he was born on June 27, 1925, in the small central Michigan town of Clare, about 85 miles north of Lansing. He was the oldest of two children born to Ivan and Doris Terwilliger. When he was about a year old his family moved to Charlotte, Michigan, a slightly larger town about 20 miles south of Lansing. His father ran a bar in town while his mother played the piano and violin and wrote poetry. On Sundays when the bar was closed, Wayne's father listened to the Tigers games on the radio and Wayne began listening as well when he was about 5 or 6. Charlie Gehringer, the Tigers' great second baseman of the 1930s, soon became his hero. Ivan took Wayne to a couple of Tigers games in Navin Field and he also went annually to a game with his Cub Scout troop. Once, as father and son sat in the upper deck of the right-field bleachers, Lou Gehrig blasted a home run right at them, landing only a couple of rows in front.2
Early on, Terwilliger developed his hand-eye coordination by bouncing a rubber ball against the front steps of his house, hour after hour, day after day, imagining that he was playing in a big-league game. In high school, basketball became his best sport, although he wasn't very tall. He also played football and by his senior year had "ballooned" to 147 pounds and made all-conference playing quarterback in a single-wing offense on a team that finished 6-1-1.3
Baseball remained Wayne's favorite sport, although it was not his best sport. He made the high-school varsity as a utility infielder as a freshman, even though he had skipped a grade. Terwilliger's team won the conference championship his senior year and he played well enough to decide to focus on baseball during college.
He graduated from Charlotte High School in 1942 and headed for Western Michigan College of Education in Kalamazoo (now Western Michigan University) just after he turned 17. Terwilliger wasn't ready for the rigors of college academically. He flunked a course in Western Civilization in the fall, which made him ineligible to play baseball in the spring. With World War II well underway, Terwilliger, after he learned he would be ineligible, went straight to the Marine Recruiting Office in Kalamazoo and joined the Marines. He was not yet 18 so he went home and waited.4
In August 1943, two months after his 18th birthday, Terwilliger was ordered to report to boot camp in San Diego. After boot camp, he trained to be a radio operator and a machine gunner in an amphibious tank unit.5 In March 1944 he was assigned to the 2nd Armored Amphibian Battalion of the 2nd Marine Division, where he learned to operate amphibious tanks. Their role was to lead the way for the infantry assault on the Pacific Islands the military needed for airstrips. Terwilliger saw heavy action on Saipan, Tinian, and later Iwo Jima.6 On Saipan, his tank became bogged down in a mortar shell hole while under heavy fire, forcing its evacuation.7 It took 26 days of intense fighting to secure the island. On Iwo Jima Terwilliger's tank unit led the way for the infantry who captured Mount Suribachi and eventually took control of the entire island.8 In fact, Terwilliger was in one of the first tanks, if not the first, to go ashore there.9
After the Marines secured Saipan, Terwilliger was able to play some baseball on the island on makeshift fields and his battalion team went 28-0 to win the 2nd Division championship.10 Even though he had not played above high school, he was chosen to go to Guam to play in an all-star game.
After Iwo Jima, Terwilliger's unit was sent to Maui to prepare for the expected invasion of Japan. He was playing baseball there when he heard that the Japanese had surrendered.11 After returning to the mainland, he was discharged from the service in Chicago on December 5, 1945, and hitchhiked the 200 miles home to Charlotte, Michigan.12 In February 1946 he married Mary Jane Locke, whom he had started dating after high school, and thanks to the GI Bill enrolled at Western Michigan for the spring term.13 The couple were married for 25 years before divorcing and had two children, Marcie and Steve.
In Terwilliger's first year back at college, he played end on the freshman football team and played varsity basketball and baseball. He excelled on defense in basketball and had an outstanding game against Indiana State with steals, assists, and a few baskets. Afterward, the Indiana State coach complimented Twig on his great game. He turned out to be John Wooden, who would leave to coach UCLA in a couple of years.14
Playing baseball in the Marines had helped Terwilliger's confidence and he developed into an outstanding second baseman who hit about .350 in college. In 1947 the Terwilliger-led Western Michigan team twice beat Michigan State and its future Hall of Famer Robin Roberts. In 1948, Terwilliger's final year, the Broncos defeated both Michigan State and Michigan and finished 16-5, just missing out on the Mid-American Conference championship.15
In the summers during college Terwilliger played for the semipro House of David team in Benton Harbor, about 50 miles from Kalamazoo. In addition to playing in the semipro Michigan-Indiana League, the club also played a number of exhibition games against barnstorming Negro League teams. Terwilliger had planned to return to Benton Harbor for the 1948 summer, but by then he had attracted some professional scouts. After a tryout in Wrigley Field for the Cubs, the club offered him $450 a month to play for the Des Moines Bruins in the Class-A Western League.
Terwilliger signed but then played sparingly in Des Moines because he was blocked by Red Treadway, a former major-league second baseman who was hitting well over .300.16 His first professional RBI occurred when he was beaned with the bases loaded.17 Remarkably, however, in 1949 Terwilliger jumped from not playing in Class A the previous year to becoming the starting second baseman for the Los Angeles Angels in the Triple-A Pacific Coast League. He started the season like a house afire and three weeks into the season was hitting a robust .412. Although his average tapered off, he was selected to play in the PCL All-Star game in Seattle, in which he doubled, scored a run, and played well defensively.18
Terwilliger was hitting .275 in 115 games and 432 at-bats for a last-place team when on July 31 the Chicago Cubs purchased his contract after an injury to their second baseman, Emil Verban. It was a little over a year since Twig had signed a professional contract and then not been able to crack the lineup in Class-A Des Moines. He first appeared in a major-league game on August 6 as a late-inning pinch-hitter for Gene Mauch in a game the Cubs were winning 10-0 against the Boston Braves in Wrigley Field. He struck out against Braves bonus baby Johnny Antonelli on three swinging strikes.
The next day Terwilliger relieved Mauch at second base with the Cubs losing 7-0 and, after flying out to left field in the sixth inning, connected for his first big-league hit, a blooper to right field against Bill Voiselle. He got his first big-league starts on August 10 and 11 against the Pittsburgh Pirates, going a combined 2-for-6. Then, beginning with his last two at-bats in a game against the Pirates in Pittsburgh, Twig ran off eight straight base hits to become only the fourth rookie to have eight or more consecutive base hits.19 The string upped his batting average to .364 after just 11 games in the major leagues.
Terwilliger tailed off from that hot start and hit .223 in 36 games and 112 at-bats in his abbreviated rookie campaign. Included in that hit total were his first two big-league home runs: a three-run shot against Dave Koslo in the Polo Grounds on August 23 and another three-run blast against the Pirates' Bob Chesnes in Wrigley Field on September 4.
The Cubs had finished in last place in 1949 and were committed to a youth movement in 1950 under manager Frankie Frisch. Terwilliger had a strong spring and won the starting second baseman job. A month into the season he was hitting about .290 but for the season leveled off to .240 in 480 at-bats in 133 games. Although listed at 5-foot-11, 165 pounds, he showed surprising power, slugging 10 home runs and connecting off the likes of Curt Simmons, Don Newcombe, Larry Jansen, and Dave Koslo. He also showed good baserunning ability, stealing 13 bases. Late in the season his hometown and surrounding communities gave him a Wayne Terwilliger Day before a Sunday afternoon game in Wrigley Field.20
Terwilliger began the 1951 season as the Cubs' regular second baseman, but struggled at the plate, batting only .214 in 50 early-season games. Then on June 15, the trading deadline, the Cubs made a major trade and dealt him and Andy Pafko, Johnny Schmitz, and Rube Walker to the Brooklyn Dodgers for Joe Hatten, Bruce Edwards, Gene Hermanski, and Eddie Miksis. Once with the Dodgers, Terwilliger played sparingly since somebody named Jackie Robinson was manning second base there.21 On July 21 he did win a game for the Dodgers with a bases-loaded pinch-hit single off Harry Brecheen of the Cardinals. In 37 games, Twig hit .280 in just 50 at-bats. He was on the Dodgers bench when Bobby Thomson hit the famous Shot Heard 'Round the World to snatch the pennant away from the Dodgers on October 3.
Terwilliger faced stiff competition to make the Dodgers in 1952 with Rocky Bridges and Bobby Morgan also on the roster and so was sent to the St. Paul Saints of the American Association just before the season began. Once there he played behind Jack Cassini, who was having an outstanding year at second base.22 During the season, Terwilliger saw firsthand the fierce rivalry between the Saints and the Minneapolis Millers, suffering a beaning that he believed was intentional.23 Terwilliger finished the season with a hot bat and by going 3-for-3 the last day of the season, boosted his average to .312 in 125 at-bats.
His performance with the Saints caught the attention of the Washington Senators, then officially called the Nationals, who purchased his contract from the Dodgers and ordered him to report to their 1953 spring training in Orlando.24 In that spring training he beat out Mel Hoderlein and a rookie named Leroy Dietzel for the starting position at second base.
Terwilliger started the season with a hot bat and was hitting .360 a week into the season before cooling off. On May 28, he smashed a first-inning home run on a hanging slider from Whitey Ford of the Yankees in a game the Senators lost 7-2. In later years, Twig recalled that home run as his greatest individual thrill in baseball.25 He played well in the field in 1953 and continued to get timely hits, including a 10th-inning game-winning bloop single against Satchel Paige of the Browns on June 3. Two days later Twig hit the only grand slam of his career, off Saul Rogovin in Chicago against the White Sox. That blast even caught the attention of President Dwight Eisenhower, who, when told of it, said, "And isn't that Terwilliger playing grand ball?"26
Terwilliger slumped in July and Senators owner Clark Griffith arranged for Ted Williams, who had just returned from active duty in Korea, to work with him before a game in Boston. It was the beginning of a very positive relationship between the two. Terwilliger finished 1953 with the best season of his career, hitting .252 in 134 games and 541 plate appearances, both career highs. He smacked four home runs and drove in 46 runs, also tops in his career, as the Senators finished in fifth place with a 76-76 record. A Washington team would not have another .500-plus season until 1969 when Ted Williams was the manager and Terwilliger was his third-base coach.27
During the offseason Terwilliger and his wife returned to Kalamazoo where Twig worked in the paper mill and officiated high-school basketball games to keep in shape. For his efforts in 1953 he finally received a $500 raise to $8,500 for the '54 season.28 He began the season as the Nationals' regular second baseman but struggled at the plate. In late May he hit home runs in three consecutive games against the Philadelphia Athletics in Connie Mack Stadium, but hit only .208 for the season in 106 games. He even suffered the indignity of batting ninth in the lineup late in the year, behind pitcher Mickey McDermott.29
After the season, the Senators sold Terwilliger to the New York Giants, who promptly optioned him to the Minneapolis Millers of the American Association. Terwilliger played well on a team loaded with former and future major leaguers and was batting .297 in late June when the parent Giants came to Minneapolis for an exhibition game. Giants second baseman Davey Williams was having back problems and so after the game, Giants manager Leo Durocher told Twig, "Get on the bus, you're coming with us."30
In his first game with the Giants, Terwilliger made a brilliant backhand play on a hard grounder by Red Schoendienst with two outs in the ninth and the tying and winning runs on to preserve a 1-0 victory. He went on to field .985 in 78 games to tie Schoendienst for the highest fielding percentage in the league by second basemen.31 He struggled at bat after his callup, hitting in the low .200s until he was seriously beaned by Johnny Klippstein of the Cincinnati Reds. The pitch broke the batting helmet but kept Terwilliger out of the lineup for just three days.32 When he returned, Frankie Frisch, who was then a radio announcer for the Giants, suggested that he back off from the plate a little more than usual until he got back into the swing of things. It turned out to be good advice because Twig hit .300 for the last two months of the season and finished at a solid .257 in 80 games.33
Terwilliger played sparingly early in the 1956 season as new Giants manager Bill Rigney started the season with Daryl Spencer at second base. Twig had only 18 at-bats by mid-June and requested reassignment to Minneapolis so he could play.34 Once back with the Millers, he batted .245 in 344 plate appearances. That winter he ventured to Venezuela and played for the Maracaibo Centauros in the Venezuelan Winter League.35
Terwilliger returned to the Millers in 1957 as the regular second baseman and batted .270 in 144 games and 614 plate appearances while leading the American Association in fielding at second base. That winter he accepted an offer from longtime baseball man Salty Parker to play with Los Leones del Escogido in Santo Domingo, the capital of the Dominican Republic, where his teammates included a 19-year-old Juan Marichal as well as several of his teammates on the Millers such as future major leaguers Felipe Alou, Ozzie Virgil, Bill White, and Willie Kirkland. The loaded team swept to the league championship.
After the 1957 season the Giants traded Terwilliger to the Detroit Tigers for fellow infielder Jack Dittmer. Although Terwilliger had grown up rooting for the Tigers, he was not destined to play for them. Instead he was assigned to the Charleston, West Virginia, Senators, the Tigers' Triple-A team in the American Association. There he had a banner year for a team that won the American Association regular-season championship. He led the league in virtually every defensive category as well as in runs scored with 103 and stolen bases with 24. Although his batting average was just .269, he was named the league's Most Valuable Player for 1958.36
That performance convinced the Kansas City Athletics to take Terwilliger in the Rule 5 draft heading into the 1959 season. Although plagued by a midseason finger injury, Twig hit .267 in part-time duty in 74 games, the highest average of his major-league career. Highlights included a solo home run in Detroit's Briggs Stadium against future Hall of Famer Jim Bunning on May 9.
Terwilliger began the 1960 season with the A's but early in the season wrenched his back trying to field a bad-hop groundball. He stayed in the game and popped up in his only at-bat before telling the trainer about his back injury. That at-bat would be the final one of his big-league career.37 He was sold a few weeks later to the New York Yankees who promptly optioned him to their Richmond Triple-A farm club. He played regularly for the Virginians for about a month before reinjuring his back, which limited his playing time. For the year he batted .206 in 277 at-bats.
Late in the season the Yankees asked Terwilliger if he would be interested in managing their Class-B team in Greensboro, North Carolina. Terwilliger was 35 years old and plagued with a bad back, so he accepted the offer.38 He immediately loved managing and drew upon what he had learned from his major-league managers. Those included Frankie Frisch, Bucky Harris, Leo Durocher, Eddie Stanky, Harry Craft, and Charlie Dressen. His first team finished third in the Carolina League with a 70-68 record but, perhaps because the team had won the pennant by 10½ games the year before, the Yankees fired him at the end of the season.39
The Washington Senators' farm director, Hal Keller, however, soon offered Twig a job managing their Pensacola club in the Class-D Alabama-Florida League.40 Pensacola had a banner year under Terwilliger's tutelage and won the pennant by a whopping 22 games, finishing with a 79-38 record.41 That earned Twig a promotion for the 1963 season to Wisconsin Rapids in the Class-A Midwest League. He then spent two seasons, 1964 and 1965, managing the Geneva Senators in the Class-A New York-Pennsylvania League. In 1966 he was back in the Carolina League managing the Burlington, North Carolina, Senators.
Burlington finished in second place with a 76-62 record and earned Terwilliger a promotion all the way to the Triple-A Hawaii Islanders of the Pacific Coast League for 1967. The Senators moved their Triple-A affiliate to Buffalo for 1968 and Terwilliger moved with them. Although the team finished in seventh place, Twig was set to return to the Bisons in 1969 when Ted Williams intervened.
Williams had been named manager of the parent Senators when Bob Short purchased the club after the 1968 season. Terwilliger went to spring training with the parent team to help out before his Buffalo team reported. Twig impressed Williams with how much energy and hustle he displayed so one day Williams sidled up to him and told him he was going to be his third-base coach with the Senators.42 That year the team won 21 more games than the year before and finished 10 games over .500 with an 86-76 record as Williams was named American League Manager of the Year.43
Terwilliger continued to coach with Williams for three more years, including 1972 when the Senators moved to Arlington, Texas, and became the Texas Rangers. That was also the year when Terwilliger and Mary Jane, his wife of 25 years, separated and divorced.44 Although out of his big-league job when Williams resigned as manager, the Houston Astros hired Twig to manage their Columbus, Georgia, club in the Double-A Southern League for the 1973 season. The club finished in third place, just below .500 with a 69-70 record.
Terwilliger stayed out of baseball in 1974, returning to his hometown, Charlotte, Michigan, and taking over and running his father's tavern full-time. He also rewed, marrying a woman named Lin whom he had met in Arlington. When Hal Keller called and offered Terwilliger the opportunity to return to baseball in 1975 and manage the Rangers' Lynchburg, Virginia, farm club in the Class-A Carolina League, he eagerly accepted.45 He moved with the Rangers' Class-A affiliate to Asheville, North Carolina, in 1976 and managed the Tourists in the short-season Western Carolinas League for four years through 1979, finishing with a winning record each year.
That stretch earned him a promotion to the Tulsa Drillers of the Double-A Texas League for 1980, where he managed future big leaguers Wayne Tolleson and Nick Capra. The following year Twig was back in the big leagues and back with the Texas Rangers as the third-base coach for manager Don Zimmer.46 He remained with the Rangers for five seasons, working under four managers.47 When Texas manager Bobby Valentine decided not to bring Twig back for 1986, Minnesota Twins manager Ray Miller quickly hired him to work with the club's young infielders and to coach first base.
Tom Kelly replaced Miller as manager late in the season and kept Terwilliger on his coaching staff for 1987. It turned out to be a monumental year for the Twins as they won the American League West Division by two games, defeated the Detroit Tigers for the American League pennant, and then beat the St. Louis Cardinals in an exciting seven-game World Series. Terwilliger remained on the Twins coaching staff for a total of nine years, including 1991, when Minnesota again won the World Series, defeating the Atlanta Braves in another thrilling seven-game Series.
Late during his time with the Twins, he began experiencing excruciating pain from two of his toes while pitching batting practice. He very much wanted to be able to continue to throw batting practice, and eventually had parts of the two toes amputated to relieve the pain.48
Terwilliger's run with the Twins ended after the strike-shortened 1994 season. The Twins let it be known that Twig would be "retiring" and on August 10, the day before the strike began, the Twins players and coaches surprised him with a fishing boat and accessories in a pregame ceremony. He was 69 years old.49
Terwilliger was not long retired because in November St. Paul Saints owner Mike Veeck hired him to coach first base under manager Marty Scott.50 The Saints had been re-established in 1993 and played in the independent Northern League. Terwilliger spent the next eight years coaching for the Saints, who were a perennial pennant-winner or contender in their league. During his years there, the Saints had many former major leaguers, including Jack Morris, Darryl Strawberry, Glenn Davis, Dan Peltier, and Matt Nokes. J.D. Drew, the first pick in the draft in 1997, played for the Saints that season when he could not come to terms with the Phillies, who had drafted him.51
Late in the 2002 season Terwilliger announced that he would not return to the Saints. He was moving back to Texas with his wife, Lin, because her father was ailing. On Labor Day of that last season, the Saints held a day for Twig and officially retired the number 5 that he had worn for the organization.52
Terwilliger was 77 years old when he left the Saints and settled in Weatherford, to the west of Fort Worth. Marty Scott, the manager Twig worked under in St. Paul, was also back in Texas as the president of the Fort Worth Cats of the independent Central League. Although Terwilliger had not managed in 22 years, he approached Scott and Cats owner Carl Bell about managing the Cats and, after a lunch meeting, they agreed. Thus, in 2003 Terwilliger became the oldest minor-league manager in baseball history and the second oldest ever, after Connie Mack, who retired from managing the Philadelphia Athletics at 87. His first season he hired former major leaguers Toby Harrah and Dan Smith as his coaches and the club won the second half of its division before losing in the playoffs.
In 2004 Terwilliger returned to manage the Cats and the team finished 51-43 but just missed the playoffs.53 He was diagnosed with bladder cancer that year, but after surgery recovered and was back managing the Cats in 2005.54 That year the team won its division in both halves of the season and then defeated Pensacola and San Angelo in the playoffs to win the league championship for their 80-year-old manager. Not surprisingly, the league named Terwilliger manager of the year and he drew coverage in the New York Times for his accomplishment.55
Twig stepped down as manager after the season, finishing with a combined 162-120 won-lost record for his three seasons as Cats manager. However, new Cats manager Stan Hough, who had been Terwilliger's third-base coach with the Cats, persuaded him to return as his first-base coach. The Cats had joined the now independent American Association, named for the Triple-A league that Terwilliger had played in in the 1950s. He stayed on as a coach for the Cats for five years before retiring from baseball for good after the 2010 season.56
In 2006 Terwilliger published his autobiography, Terwilliger Bunts One. It was written with the help of two longtime St. Paul Saints fans, Nancy Peterson and Peter Boehm. The title arose from Annie Dillard's memoirs called An American Childhood. In it, Dillard wrote that her mother once heard "Terwilliger Bunts One" on a radio broadcast of a game and asked, "Is that English?" Thereafter, her mother repeated the phrase regularly.57
Altogether, Terwilliger spent 62 years in professional baseball before retiring to his home in Weatherford, Texas, to play golf. Four years later he made news when, tired of sitting at home, he re-entered the workplace in 2014 at age 88, going to work sacking groceries at a local grocery store.58
Terwilliger died on February 3, 2021 at the age of 95.
Last revised: February 7, 2021 (ghw)
This biography was published in "1972 Texas Rangers: The Team that Couldn't Hit" (SABR, 2019), edited by Steve West and Bill Nowlin.
Notes
1 Ira Berkow, "At 80, a Manager Keeps Going and Going and …," New York Times, December 7, 2005: D-1.
2 Wayne Terwilliger with Nancy Peterson and Peter Boehm, Terwilliger Bunts One (Guilford, Connecticut: Insiders' Guide, 2006), 8-12.
3 Terwilliger, 14.
4 Terwilliger, 17-18.
5 Terwilliger, 17-18.
6 Terwilliger, 19-38.
7 Terwilliger later described what happened: "We had to abandon the tank. Everybody scattered into the nearest foxholes. But at just about that time a Jap tank rolled up and began blasting away. I knew I had to get out of there, so I ran for the beach, zigzagging in and out with the tank chasing me. I'm sure I'd be lying out there somewhere now, if it hadn't been for one of our own tanks, which luckily showed up while I was doing all that broken-field running. They knocked out the Jap tank." baseballinwartime.com/player_biographies/terwilliger_wayne.htm.
8 Terwilliger, 34-37.
9 Steve Wilstein, "Time Rolls On and So Does Twig Terwilliger," Boston.com, February 3, 2005.
10 Terwilliger, 32-33.
11 Terwilliger, 37.
12 Terwilliger, 38.
13 Terwilliger, 39.
14 Terwilliger, 40.
15 Terwilliger, 40-41.
16 Treadway ended up hitting .352 for the year at Des Moines.
17 Ray Buck, "At 88, Wayne Terwilliger Forgets to Act His Age," Fort Worth Star Telegram, February 19, 2014.
18 Terwilliger, 49-56.
19 Babe Herman had nine straight hits as a rookie in 1926 while Ted Williams (1939) and Glenn Wright (1924) also had eight consecutive hits as rookies. Terwilliger later recalled that one of his hits went right through Ted Kluszewski, who was one of the best fielding first basemen in the league. "They probably gave me a break on that call," he remembered. Brent Kelley, "Wayne Terwilliger Interviewed: It Took 40 years to Get to the Top," Sports Collectors Digest, May 1, 1992: 120.
20 Terwilliger, 70-71.
21 Terwilliger considers Dodgers manager Charlie Dressen to be the worst manager he ever played for. According to Twig, Dressen just ignored him for the 3½ months he was with the Dodgers in 1951. Buck.
22 Cassini hit .308 for the year for the Saints and was one of a number of Dodgers infield prospects blocked by the team's outstanding major-league infield of the 1950s. He played 14 years in the minor leagues, but had a very abbreviated major-league career, appearing in eight games for the 1949 Pittsburgh Pirates, all as a pinch-runner.
23 Terwilliger, 95.
24 Bucky Harris was the Nationals manager and asked the club to buy Terwilliger's contract. He had seen Terwilliger play in the Pacific Coast League in 1949 when he managed the San Diego Padres. Terwilliger, 96.
25 Drew Davison, "After 62 Years in Baseball, Twig Ready to Step Away," Fort Worth Star-Telegram, August 6, 2010.
26 Eisenhower was attending the annual Congressional baseball game in Washington and was sitting with Senators owner Clark Griffith when word came about the Senators win and Terwilliger's grand slam. Terwilliger, 99-100.
27 The Washington Senators that Terwilliger played for moved to Minneapolis after the 1960 season to become the Minnesota Twins. The Washington Senators team that Terwilliger later coached for was actually a different team, formed in 1961 as an American League expansion franchise.
28 Clark Griffith initially offered Terwilliger no raise, but increased the offer just prior to spring training. Terwilliger, 107-08.
29 Terwilliger 109.
30 Terwilliger, 111-12.
31 Terwilliger did not, of course, play in enough games to officially tie for the lead. He also turned 70 double plays in his 78 games at second.
32 It was the third and, thankfully, last time Terwilliger suffered a beaning in his baseball career, although the first time he had been hit with a batting helmet on. Unfortunately, the third beaning was the most serious. Terwilliger, 117.
33 Terwilliger, 117.
34 Terwilliger, 122.
35 Terwilliger, 128-29.
36 Terwilliger, 137.
37 Terwilliger's final major-league batting average was .240 in 666 games and 2,091 at-bats. He had 501 hits, 93 doubles, 10 triples, and 22 home runs spread over his 10-year big-league career.
38 Terwilliger, 144, 146-47.
39 Terwilliger, 149-50.
40 Don Keller was the third baseman on Terwilliger's Greensboro team and told his father, Charlie Keller, the former Yankees slugger, that he liked Terwilliger as a manager. Charlie Keller passed that information on to his brother Hal Keller, who was the farm director for the Senators and Hal hired Terwilliger. Terwilliger,150.
41 Pensacola did, however, lose to the Selma Cloverleafs in the league playoff finals.
42 Terwilliger, 169; Berkow.
43 One day Williams was talking hitting with Terwilliger and asked him what he looked for when he was at the plate. Terwilliger answered, "Fastball." Williams said, "Why only fastball?" Terwilliger said, "Because I couldn't hit that other thing [curve]." Williams replied, "Hmm. That's a good answer." Berkow.
44 Terwilliger, 193-94.
45 Terwilliger, 200.
46 Terwilliger considers Zimmer to be the best manager he ever worked under. Terwilliger, 205-06.
47 They were, in addition to Don Zimmer, Darrell Johnson, Doug Rader, and Bobby Valentine.
48 Terwilliger, 283.
49 Terwilliger, 233-34.
50 Morley Safer of CBS's 60 Minutes did a feature on the Saints in 1995 in which Terwilliger was prominently featured.
51 Drew hit 18 home runs in 44 games for the Saints in 1997.
52 Terwilliger, 256.
53 Kevin Sherrington, "Twig Knows His Way Around," Dallas Morning News, June 27, 2004.
54 Ray Richardson, "Book It: Twig's Story Is Unique," St. Paul Pioneer Press, May 26, 2006; Terwilliger, 282-83.
55 Berkow.
56 Davison: 1.
57 Berkow.
58 Buck.
Full Name
Willard Wayne Terwilliger
Born
June 27, 1925 at Clare, MI (USA)
Died
February 3, 2021 at Weatherford, TX (USA)
If you can help us improve this player's biography, contact us.
https://sabr.org/sites/default/files/TerwilligerWayne_0.jpg
600
800
admin
/wp-content/uploads/2020/02/sabr_logo.png
admin
2012-01-04 20:32:26
2022-04-04 13:52:43
Wayne Terwilliger