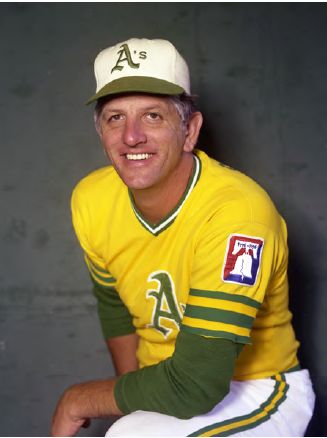 ---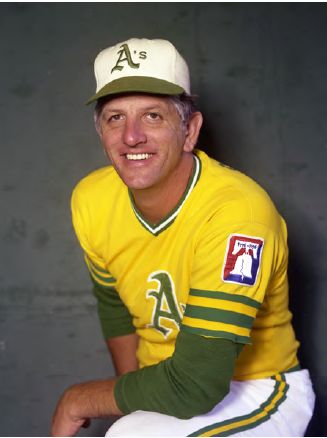 In the spring of 1972, Wes Stock worked as pitching coach for the Milwaukee Brewers, a four-year-old team with a roster of unproven throwers in need of tutelage. A year later, he had the same job with a different employer — the world champion Oakland A's.
"Wes Stock must feel like the auto mechanic who changes jobs from working in a back-alley garage with grease-covered floors to fixing Rolls-Royces in a spotless shop," Ron Bergman wrote in The Sporting News.1
Stock inherited a staff whose colorful monikers had become household names the previous October — Vida Blue and Blue Moon Odom, Catfish Hunter and Rollie Fingers, Dave Hamilton and Ken Holtzman. Hired to replace retiring 66-year-old Barnacle Bill Posedel, Stock was expected only to tinker with a staff in no need of an overhaul.
Stock signed a two-year contract with the A's, winning the World Series in both seasons. Stock would stay for four seasons in what would be the second of three stints with the club. He had been pitching coach for the Athletics earlier (in 1967, when the franchise was still in Kansas City) and he would return to Oakland for another three seasons beginning in 1984.
One of Stock's projects for the 1973 season was to rehabilitate Blue, a hard-throwing left-hander whose 24-8 record in 1971 was followed by a frustrating 6-10 in a 1972 campaign before which he had been a holdout. Stock's ambition was to transform Blue from a pitcher who could overpower batters to one who would overmatch them. "We've got him throwing a changeup and a hard-breaking ball," Stock said. "Vida's made up his mind he wants to be a good pitcher. Eighty percent of pitching is determination and he has all the determination in the world. He wants to prove that he's as good as he ever was."2 Blue finished the 1973 season with a 20-9 record, joining Holtzman (21-13) and Hunter (21-5) in the 20-win club. Stock and Hunter had been teammates in Kansas City when Catfish was a 19-year-old rookie in 1965. 
While Catfish and other A's famously adopted a more hirsute look in the swinging '70s, Stock retained the close-cropped, military-style haircut of his playing days.
Wesley Gay Stock was born on April 10, 1934, in Longview, a mill town and port in southwestern Washington state. He grew up in Allyn, where his father operated a tavern, grocery, and service station that included a post office, for which his mother served as postmistress. He pitched for the local town team while attending Shelton High, graduating in 1952. His parents insisted he attend college before thinking about a baseball career.
Stock earned a spot as a walk-on with the Cougars at Washington State College (now University) at Pullman, coached by Buck Bailey. In 1955 he earned honorable mention in balloting for his college division all-star teams. After three seasons of college ball, Stock signed with the Baltimore Orioles for $4,000 after being scouted by Don McShane.
The Orioles assigned Stock to the Class C Aberdeen (South Dakota) Pheasants, where the tall (6-feet-2) and lean (188 pounds) right-hander went 14-6. "I was just a young kid who threw hard and had pretty good control of the ball," Stock said in 2007.3
His career was interrupted by two years of Army service, but he exchanged his military uniform for a baseball uniform in time for the start of the 1959 season. Stock made his major-league debut with the Orioles on April 19, pitching the fifth and sixth innings in relief against the visiting Washington Senators, surrendering a bases-empty home run to Jim Lemon, the third batter he faced. He struck out two batters (first baseman Norm Zauchin and pitcher Russ Kemmerer, both looking) of the seven he faced. The O's lost, 4-2.
Six days later he earned his first save. The Orioles scored a run in the top of the 11th at Yankee Stadium to go up, 2-1, and Stock was summoned by manager Paul Richards with the heart of the order coming to the plate in the bottom of the inning. Mickey Mantle smacked a single to center, then stole second. Elston Howard went down looking. Moose Skowron grounded out to the second baseman with Mantle, the tying run, advancing to third. The game was decided when pinch-hitting Enos Slaughter was cajoled into popping up in foul territory, the ball caught by third baseman Brooks Robinson.
After just seven games (and 12⅔ innings) with the Orioles, Stock was optioned to the Triple-A Miami Marlins. Days later, he went on the disabled list with a sore shoulder. Later he was sent to the Vancouver Mounties of the Pacific Coast League, where he went 6-6 in 14 starts.
Stock began the 1960 season in Miami, where he showed promise. "It's tempting to bring up Wes Stock from Miami since he's going so well," Richards said in June. "But the best thing to do with that kid is to let him have a good year down there, bring him up next spring and let him fall into line."4 In the end, he split the season between Miami (21 games) and Baltimore (17 games). After pitching in the Puerto Rican winter league in 1960-61, Stock found a permanent spot with Baltimore as a middle reliever, paired with left-hander Billy Hoeft as set-up men for the closer, Hoyt Wilhelm.
After 42 career relief appearances, Stock got the first start of his big-league career on July 6, 1961, at Griffith Stadium in Washington. He gave up two singles and a walk before leaving after five innings of a scoreless game with a blister on his finger. The Senators won, 1-0, Wilhelm taking the loss.
On June 15, 1964, Stock was traded to the Kansas City Athletics for catcher Charlie Lau, going from first place to last. "It's a little tough to leave a club like Baltimore," he said, "but, after all, I get paid for pitching wherever I am."5 Stock had gone a remarkable 19-4 with the Orioles over five-plus seasons and was riding a 10-game winning streak. At the plate, he had yet to record his first base hit, going 0-for-36 with 26 strikeouts.
The pitcher rolled his winning streak to 12 games before taking the loss in a 3-2 decision against the Chicago White Sox. He gave up a home run to opposing pitcher Gary Peters in the 13th inning, the homer coming only after the batter twice fouled on bunt attempts. Stock had not lost a game in two years — from July 12, 1962, to July 19, 1964.
More remarkably, he showed a hint of ability at the plate, stroking a run-scoring, bases-loaded single off Steve Ridzik of the Senators in his first at-bat after being traded. He went 3-for-15 for the A's in 1964.
In 1965 Stock attempted to add a screwball to his repertoire of fastball, slider, and changeup, but found that the pitch distorted his regular three-quarter delivery and he lost the control that had been the hallmark of his career. He was still a workhorse, but one without much success.
The A's released Stock in April 1966, and he rejoined Vancouver as a player-coach, pitching in one game before being recalled to Kansas City.
In 1967 he found himself to be an old-timer surrounded by young'uns like Hunter, aged 21, and Odom, 22. "When you have a staff of 22-year-olds," Stock said, "it's tough to be a 33-year old."6 He was released, signed as a coach, and briefly put back on the active list (giving up three hits, two walks, and two earned runs in his only inning of work) before replacing Cot Deal as pitching coach in July. Over nine seasons with the O's and A's, Stock's record was 27-13 with appearances in 321 games, only three of them starts. Alvin Dark, who had hired him, was fired as manager and replaced by Luke Appling. Stock was told his contract would not be renewed.
He spent two seasons as a roving minor-league pitching instructor for the New York Mets before being hired as pitching coach by the brand-new Seattle Pilots. The franchise wound up moving to Milwaukee before season's start in 1970. Stock's philosophy about pitching mechanics was basic: "We try to teach all our young pitchers to throw pitches with the same motion."7 Stock got strong reviews for his work with young pitchers including Skip Lockwood, Bill Parsons, and Jim Slaton. The A's lured Stock from the Brewers, where a week before the end of the 1972 season he was told his contract would not be renewed. He got some on-the-job introduction to the staff he would inherit the following spring.
After four seasons with the A's, Stock became the first pitching coach of the expansion Seattle Mariners in 1977, once again fashioning a staff from the chaff discarded by the established clubs. He worked under three managers over five seasons before leaving the playing field for the broadcast booth, where he provided color commentary on the Mariners for two seasons on KSTW-TV. "That was a real challenge," he said later. "I wasn't the best in English. I was a good ol' country boy."8
Stock returned to the A's as pitching coach in 1984, putting in another three seasons. He retired from baseball in 1994, at age 60. In 2014 he maintained a home on an island in Puget Sound, not far from where he grew up, and another in Scottsdale, Arizona. His two sons both played professional sports — Kevin Stock was a minor-league infielder in the Texas Rangers system, while Jeff Stock played soccer for the Seattle Sounders and Vancouver Whitecaps before going into business purchasing and operating theme parks.
Sources
In addition to the sources cited, the author also consulted:
 "Ducks place six on All-ND team," Eugene Register-Guard, June 1, 1955, 2.
Retrosheet.org
Baseball-Reference.com
Notes
1 Melvin Durslag, "Catfish Gives Stock Vision of an Angler's Paradise," The Sporting News, February 24, 1973, 41.
2 Ron Fimrite, "Vida's Down With the Growing-Up Blues," Sports Illustrated, September 10, 1973.
3 Dan Raley, "Where Are They Now? Wes Stock, Ex-Major League Pitcher, Coach," Seattle Post-Intelligencer, July 17, 2007.
4 The Sporting News, June 22, 1960.
5 The Sporting News, July 4, 1964.
6 The Sporting News, April 29, 1967.
7 The Sporting News, June 5, 1971.
8 Seattle Post-Intelligencer, July 17, 2007.
Born
April 10, 1934 at Longview, WA (USA)
If you can help us improve this player's biography, contact us.
http://sabr.org/sites/default/files/WesStock.JPG
600
800
admin
/wp-content/uploads/2020/02/sabr_logo.png
admin
2012-01-04 20:29:27
2020-12-13 08:49:58
Wes Stock