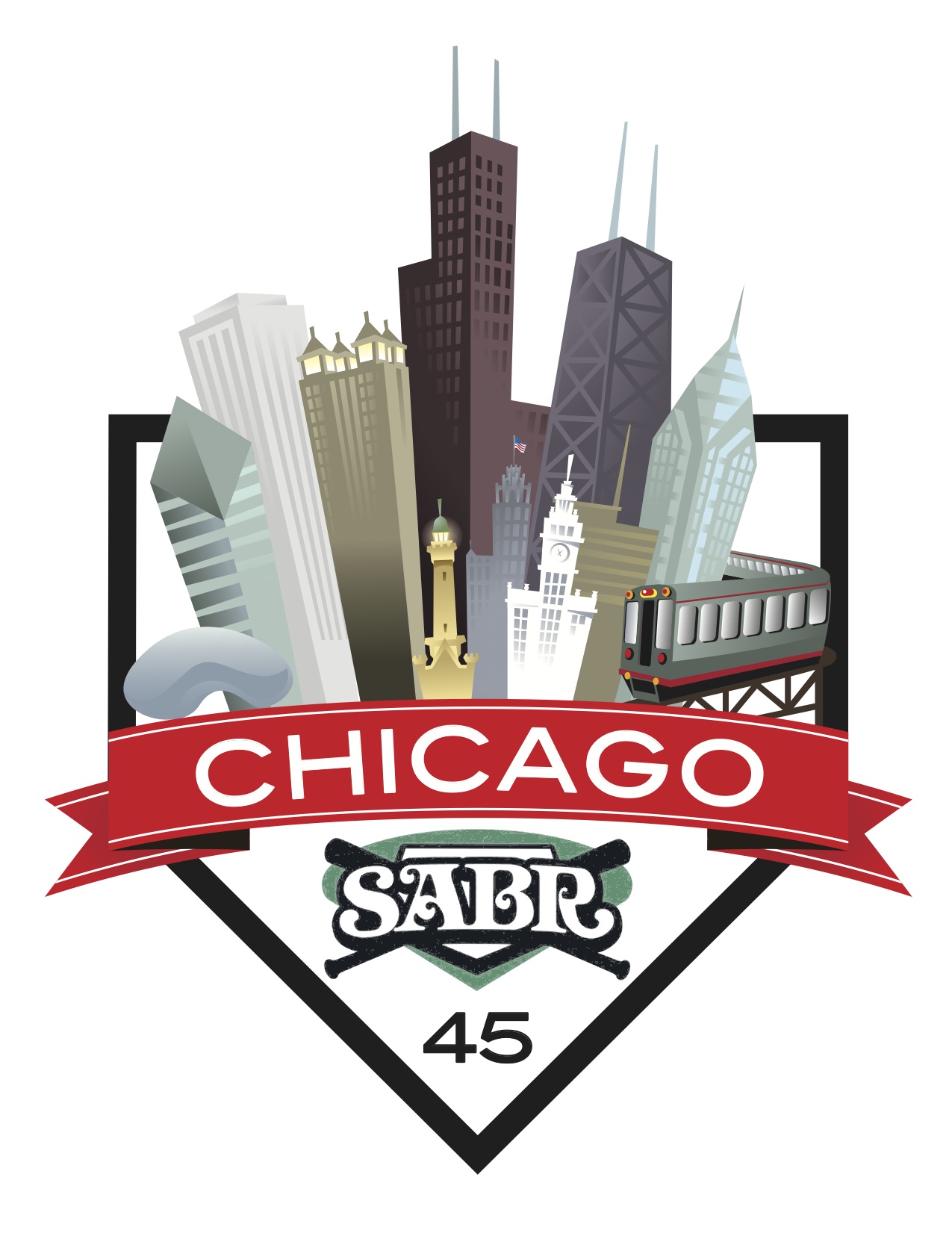 From 12:30-1:30 p.m. on Saturday, June 27, SABR 45 attendees will have the opportunity to ask questions and talk with presenters of the poster presentations in the Exhibit Hall on the fourth floor of the Palmer House Hilton in Chicago.The posters will be available for viewing all week in the Exhibit Hall. The top poster presentation, as selected by on-site judging, will win the USA Today Sports Weekly Award. Check out a list of past winners here.
To view the list of SABR 45 oral research presentations, click here.
Here are the poster presentation abstracts and presenter bios:
P1: The Pyramid Rating System: JAWS On A Career Scale
Paul Moehringer
Is this the infamous One Great Statistic? Moehringer proposes an iterative system, wherein he ranks each season's players using a standard deviation measure, eliminates the extreme value, reruns the ranking process, and repeats for all players. In this poster, he sets forth the theory and assumptions behind his method. The author suggests that his methods can also be applied to evaluating potential draft picks.
Paul Moehringer<pmoehrin@gmail.com> currently works as a data analyst in Mount Olive, New Jersey where he grew up. A lifelong Met fan, Paul graduated from the University of Massachusetts Amherst with a bachelor's degree in Economics in 2010 and joined SABR in 2013. Paul is also a member of the SABR run Great American Fantasy League where he manages the Chicago Cubs.
P2: Emergence of Relief Pitching: 1871 to 2013
Wayne Towers
When Rivera and Hoffman stand above 600 career saves, does a total in the 300s (like Hall of Famers Eckersley, Fingers, Gossage, and Sutter) still mark a top-notch closer? From this starting point, Towers peers across the entire history of pro ball and identifies five broad (and alliterative) eras of relief pitching – Precursors, Progenitors, Pioneers, Practitioners, and Professionals. Relievers who exemplified each era, as well as some who presaged future eras, are discussed in this review of baseball's most-often redefined on-field role.
Wayne M. Towers <wctowers@yahoo.com>, Ph.D., is a retired college professor and works in the Education and Conservation Department at SeaWorld San Diego. Along the way, he worked at the Oklahoman and Times daily newspaper and as a data analyst for multiple business research firms. He is a lifelong baseball fan and a schizophrenic fan of the Pittsburgh Pirates of his youth and the San Diego Padres of his son's youth. His published work includes "World Series Coverage in the 1920s" (Journalism Monographs).
P3: Boom and Bust: How Hitters Perform In Their Contract Year and the First Year after Signing a Long Term Contract
Heather O'Neill
As evidenced by the SABR Analytics Conference and many other resources, baseball economics is ever more quantitative. In the decades since the institution of free agency, the idea that players do especially well in their "contract year" and that their performance falls off after they sign longterm contracts has become conventional wisdom. Numerous investigators have attempted to develop models of such behaviors, and baseball execs are always on the lookout for models with predictive power. O'Neill's model employs sophisticated analysis of variance models that (she argues) remove the effect of unmeasured traits and characteristics, leading to her conclusion that many contracts are much longer than the optimal length.
Heather O'Neill <OCBP54@aol.com> Professor of Economics at Ursinus College, applies quantitative analysis to real world scenarios in the variety of applied microeconomic courses she teaches, including the Economics of Sports. An avid athlete since childhood, she finds time spent in motion frees the mind to ponder new research and teaching innovations.
P4: Baseball's Worst Hitters
Fred Worth
Baseball fans love to discuss the greatest players in the game. Was Mays better than Mantle? Is Tim Raines doomed to miss the HOF because the 2nd-best leadoff man of all time played at exactly the same time as the best? No one ever played third as well as Mike Schmidt, right? Fred Worth, however, asks us to look at the other end of the spectrum, to ponder the game's worst batters. Taking into account the range of playing eras and the plethora of available measures, he categorizes a variety of "worsts", such as worst power, worst on-base skills, worst at a specified fielding position, and so forth.
Fred Worth <worthf@hsu.edu>, PhD, professor of mathematics, has been at Henderson State University for 24 years. Worth, a baseball fan for 50 years, has been a member of SABR for over a decade, publishing a couple of statistical articles in the Baseball Research Journal. McFarland Publishing is publishing his book College Mathematics through Sports, a mathematics for the liberal arts course using sports as motivation for all topics. Worth is active in biographical research in baseball, particularly in burial sites. He has been to over 4000 graves of players, managers, etc. A lifelong Mets fan, he hates the Yankees.
P5: How Do They Play in Snowshoes? Major League Teams That Fielded Three Canadians
David Matchett
O Canada! We SABRen are well aware of northern neighbor(u)rs such as Larry Walker, Ferguson Jenkins, Terry Puhl, Justin Morneau, and Eric Gagne, but Matchett takes it far beyond that. Noticing that Blue Jays free agent Russell Martin, trade acquisition Michael Saunders, and prize rookie Dalton Pompey were all Canadians, he started searching for other MLB clubs with at least that many Canadians. And who all appeared in the same game. And who all started in the same game. And all-Canadian batteries, Canadian managers, Canadian umpires, Canadians facing countrymen in the same game … you get the picture,
David Matchett <davidgoexpos@rogers.com> grew up in Lachine, Quebec and had his 6th birthday a month before the Montreal Expos played their first game. Some of his earliest memories are of sitting in Jarry Park with his father cheering on Rusty "Le Grand Orange" Staub and hoping to see a home run hit into the swimming pool just beyond the right field fence. David's fandom took off when Hall of Famers Andre Dawson and Gary Carter finally made the team a contender and he is one of the rare individuals who actually has fond memories of the Olympic Stadium. David earned a degree in finance and later moved to Toronto to pursue his career, arriving the same day that the Blue Jays acquired Dave Winfield for their World Series run in 1992 and he remains a die-hard Jays fan. David first discovered SABR when he bought a few back issues of the Baseball Research Journal on his initial trip to Cooperstown in 1981 and he has been a member for 20 years, serving on the board of the Toronto Hanlan's Point chapter since 2005. David is a Certified Financial Planner and is the Vice President of Training and Practice Management for RBC Dominion Securities, which is part of one of the world's largest financial institutions. He lives in downtown Toronto, a 15-minute walk from Rogers Centre, and when he isn't watching a game or doing research he enjoys travel, movies and enjoying all of Toronto's cultural activities with his friends. David has presented at many SABR chapter meetings in Toronto but this is his first time presenting at a SABR Conference.
P6: The Hearst Sandlot Classic
Alan Cohen
Newspapers and all-star games used to be a powerful and mutually advantageous combination, led by the Chicago Tribune's creation of the MLB All-Star Game. In that spirit, the New York Journal-American unveiled the Hearst Sandlot Classic – pitting New York's best youngsters against a team of U.S. all-stars – in 1946. Players ranged from youthful professionals to amateurs truly off the sandlots. Backed by the Hearst chain, the annual game was held in the Polo Grounds through 1958, and Yankee Stadium for the remainder of its 20-year existence. Future Hall of Famers, MVPs, Cy Young winners, and batting champs were among the 88 participants who made it to the majors, and at least one of them played in every World Series between 1951 and 1975.
Alan Cohen <ADC0317@comcast.net> is a retired insurance underwriter who has been a member of SABR since 2011. He has written more than 20 biographies for SABR's bio-project, and has contributed to five SABR books. His first article about the Hearst Sandlot Classic, which launched the careers of 88 major-league players, appeared in the Fall, 2013 edition of the Baseball Research Journal. He serves as the datacaster (stringer) for the New Britain Rock Cats of the Class-AA Eastern League. A native of Long Island, he now resides in West Hartford, Connecticut with his wife Frances, two cats and two dogs.
P7: Should Ernie Banks Have Won Both the 1958 and 1959 MVP Awards?
Steve Krevisky and Elliot Hines
The late Ernie Banks was the shortstop on the "I won consecutive MVPs" team. He won those two awards even though the Cubs were a sub-.500 club and finished fifth in the eight-team National League in both seasons. Krevisky and Hines investigate these anomalous Most Valuable Player Awards, trying to determine how and why it happened (and happened twice!). Applying both traditional and advanced statistical measures, they compare Banks and his MVP competitors.
Steve Krevisky <SKrevisky@mxcc.commnet.edu> is a Professor of Mathematics at Middlesex Community College, Middletown, CT, where he often uses baseball stats in his classes. He is President of Connecticut SABR Smoky Joe Wood chapter and a frequent presenter at national and regional SABR meetings. He has been a member of teams that have seven times won the trivia contest at the national SABR meetings.
Elliot Hines is a frequent presenter at New York regional SABR meetings. He has given the trivia contest at the New York SABR meetings. He was co-presenter with Steve at the national SABR convention in Philadelphia. He also attended the national convention in Boston in 2002.
P8: Comparing Overlapping Careers
Steven Landau
Player-to-player comparisons are problematic. Even two men playing in the same league in the same year are actually experiencing different conditions – Player A plays half of his games in Ballpark X, while Player B plays his home games in Ballpark Y. in addition, each player never faces his own club's pitchers. Adjustment techniques are available, but not really satisfactory. Landau's solution is to narrow the comparison to comprise only the game situations the players have in common – road games in locations not including either player's home. The approach only really works when teams played balanced schedules without interleague play; that is, in 8-team/154-game leagues and 10-team/162-game leagues. In the former, the two players share 66 games (11 in each of the other six ballparks), and they share 72 games (9 in each of eight ballparks) in the latter. Several prominent pairs of players (e.g., Williams-DiMaggio, Mays-Aaron, Marichal-Koufax) are discussed.
Steven Landau <steven.landau21@gmail.com> remembers attending the 50th anniversary of the opening of Fenway Park (Tigers beat the Red Sox). When he is not poring over baseball statistics, he works primarily in analyzing the interconnections between transportation and economic development for the Economic Development Research Group, where he is vice-president. A native Bostonian, with lifelong interests in history and baseball statistics, Steve has long followed the debates over Williams and DiMaggio, which inspired the research he is presenting. This is his second SABR conference and first presentation.
P9: Diamonds on the Line: Profits through Investment Gaming
Clay Graham
Alas, betting on sports is as venerable a tradition as the sports themselves. But this poster isn't about your father's (or even Pete Rose's) $10 or $50 wagers. No, it's about applying statistical modeling technology to extensive databases of batter-pitcher confrontations, pitcher-catcher-basestealer interactions, base-out situations, and many other associated data observations … all with an eye toward efficient use of the betting lines and betting amounts to generate return on your investment. Is this sabermetrics, probability theory, social psychology, or a way to make a living? And do the conclusions drawn from such analysis reveal anything meaningful about the game itself?
Clay Graham <thelastviking@aol.com> Clay Graham is currently an adjunct Professor at DePaul University teaching courses in statistics, economics and business analytics. He's a management consultant with Advantage Analytics,llc specializing in analytical and graphic econometrics. He has a B.S. from Purdue and graduate degrees in Economics (M.A.) and Business (M.B.A. – Kellogg School of Management, Northwestern University). He was a NASA Scholar (National Aeronautical and Space Administration) during his Ph.D. studies at Northwestern (concentration in advanced large scale computer modeling and mathematical simulation). Clay has functioned in various advisory capacities to Purdue and Northwestern Universities. Earlier this year, Clay's research paper entry into the "Business of Sports" track at the prestigious MIT Sloan Sports Analytics Conference captured top honors. He has served as an Advisor to the White House and Members of Congress in the areas of economics, environmental control and management strategy. He currently consults in the investment gaming industry and with Major League Baseball teams.
P10: Quantifying the Possible Effects of the Cubs' Day-Game-Only Policy on Pitcher Durability
Alan Reifman
Famously, Wrigley Field was by far the last MLB park to install lights for night baseball. It seems logical to suggest that playing so many games in the hot summer sun would begin to wear down Cubbie pitchers at the end of the season. But is that really the way it works? Is there some way to quantify the nature and magnitude of the day-game effect? Reifman tackles the problem in this poster presentation.
Alan Reifman <alan.reifman@ttu.edu>, Ph.D., is Professor of Human Development and Family Studies at Texas Tech University, where he has been a faculty member since 1997. He received his Ph.D. in social psychology from the University of Michigan. Professor Reifman teaches and conducts research on the transition to adulthood. In addition, he teaches courses on statistics and research methodology. As an offshoot of his statistical interests, Prof. Reifman conducts frequent analyses of baseball and other sports. He is author of the 2012 book Hot Hand: The Statistics Behind Sports' Greatest Streaks. His more recent baseball analyses have appeared at Seamheads.com.
P11: Hall of Fame Self-Closers: Two 300-Game Winners and Five Windy City Mainstays
Herm Krabbenhoft
Once upon a time, 300-game winners finished what they started. In the 21st century, over 200 of the victories of Maddux, Johnson, Glavine, et al. ended with relievers on the mound. In contrast, when Spahn and Wynn reached the 300-win milestone, fewer than 100 of their wins were finished out by relievers. In fact, both of them recorded more complete-game losses than bullpen-aided victories. In essence, Wynn and Spahn were their own closers … they had "self-saves". The question addressed by Krabbenhoft is how much more successful Spahn and Wynn might have been if they had had the assistance of effective bullpens. As always, Herm's analysis is thorough and detailed.
Herm Krabbenhoft <BQR9343@aol.com>, a retired chemist, joined SABR in 1981. He has given 31 research presentations at the previous 22 National SABR Conventions which he has attended. His current research interests include: (a) Ascertaining the effectiveness of starting pitchers in self-saving their games when they have leads of three runs or less in the ninth inning, for which he gratefully thanks all the volunteers who contributed to the invaluable Retrosheet box score file; (b) Determining accurate RBI records for the players of the Deadball Era, for which he thankfully acknowledges the superb help and guidance from Steve Boren, Keith Carlson, Bob Harris, Bill Lamb, Dave Newman, Pete Palmer, Tom Ruane, Dave Smith, Gary Stone, and Dixie Tourangeau.
P12: What's All the Lack of Fuss About?: Evolution of the Indianapolis Indians Logo
Geri Driscoll
One former "Indians" is now the Cardinal. Another became the Big Green. Warriors became Golden Eagles, Redmen are now Red Storm. Once the Fighting Sioux, the University of North Dakota has no nickname at all. In professional sports, Chief Wahoo and the Tomahawk Chant have drawn opposition, and of course the Washington NFL franchise still faces deep and strong objections to its nickname. Through it all, the second-oldest minor league franchise was, is, and will be known as the Indianapolis Indians. Why has this club been able to escape the well-deserved criticism seen elsewhere? Driscoll suggests that the evolution of the team's culturally-cognizant logo has been a key factor.
Geri Driscoll <gstrecker@bsu.edu> is a Negro Leagues historian writing a biography of Oscar Charleston and a spinoff book on pre-WWI baseball in the Philippines. She lives in old Bush Stadium, home of the Indianapolis Indians from 1931-1996. The park also served as home field for the 1940 Indianapolis Crawfords, with Charleston as manager and first baseman. Geri is also a three-time recipient of the McFarland-SABR Research Award.
P13: Starting Them Young
Steven Glassman
Only about 4% of all major league players were teenagers when they played their first games in the Big Show. In this poster, Glassman examines those players in detail. Has the percentage changed over time? What are the effects of the advent of the amateur draft and the increasing quality of college programs? Outside circumstances (such as the dearth of talented players during World War II) are also described.
Steven Glassman <sportsphan@comcast.net> has been a SABR member since 1994 and regularly makes presentations for the Connie Mack Chapter. Steven is attending his 10th convention. "Starting Them Young" will be his sixth convention poster presentation, Steven also wrote "Philadelphia's Other Hall of Famers" for The National Pastime: From Swampoodle to South Philly—Baseball in Philadelphia & the Delaware Valley (Online Edition) for SABR 43. The Temple University graduate in Sport and Recreation Management has worked in the Sports Information field for Temple University, West Chester University, Albright College, and Rutgers University-Newark. He currently works as a full-time scoreboard operator for The Sports Network in Hatboro, PA. Steven is also a part-time volunteer Director of Sports Information for Manor College in Jenkintown, PA. He has been attending Philadelphia Phillies games since the 1970's and has been a partial season-ticket holder since 2003. Steven also serves as a part-time right fielder/first base coach/scorekeeper for his summer league softball team. Originally born in Philadelphia, PA, Steven currently resides in Warminster, PA.
P14: Stealing Home: How American Society Preserves Major League Baseball Stadiums, Ballpark, & Fields
Brandon Grilc
Ballparks are buildings. Each is different in terms of its relationship with its city, region, neighborhood, and social milieu. As they age and are replaced by more efficient, more modern facilities, a tension arises between preservation and demolition, between memorialization and dismissal. Grilc, a professional preservationist, identifies five ways in which a former MLB ballpark can be memorialized. Presenting examples observed during his studies of numerous former stadium sites, he considers the fate of the ol' ballyard when its useful life reaches its eventual end.
Brandon Grilc <bgrilc@uoregon.edu> is a 2014 Yoseloff scholar and recent graduate from the University of Oregon's Historic Preservation graduate program. Currently, Brandon is a practicing preservationist for a development firm in Portland, Oregon and a director for the Friends of Civic Stadium. His past research includes The Rise and Fall of Multi-Purpose Stadiums on the West Coast and Civic Stadium: Preserving the Pacific Coast League. As a SABR member, this is his second SABR convention and his first research presentation.
P15: The Longest Home Runs at Wrigley Field since 1938
Sam Pathy
The author is a serious student of tape-measure shots. What better, then, than a study of the longest roundtrippers to rocket out of the Friendly Confines? Unlike most major league parks, many of Wrigley's big shots actually leave the whole ballpark. Pathy's research defines nearly 50 long home runs at Wrigley Field. In this presentation, we learn the stories of those homers, some hit by famous sluggers, some by obscure, long-forgotten players.
Sam Pathy <spathy@columbuslibrary.org> is a public librarian and a native Chicagoan. He work has previously appeared in The Baseball Research Journal, and he is the author of Wrigley Field Year By Year: A Century at the Friendly Confines. He lives in Worthington, Ohio.