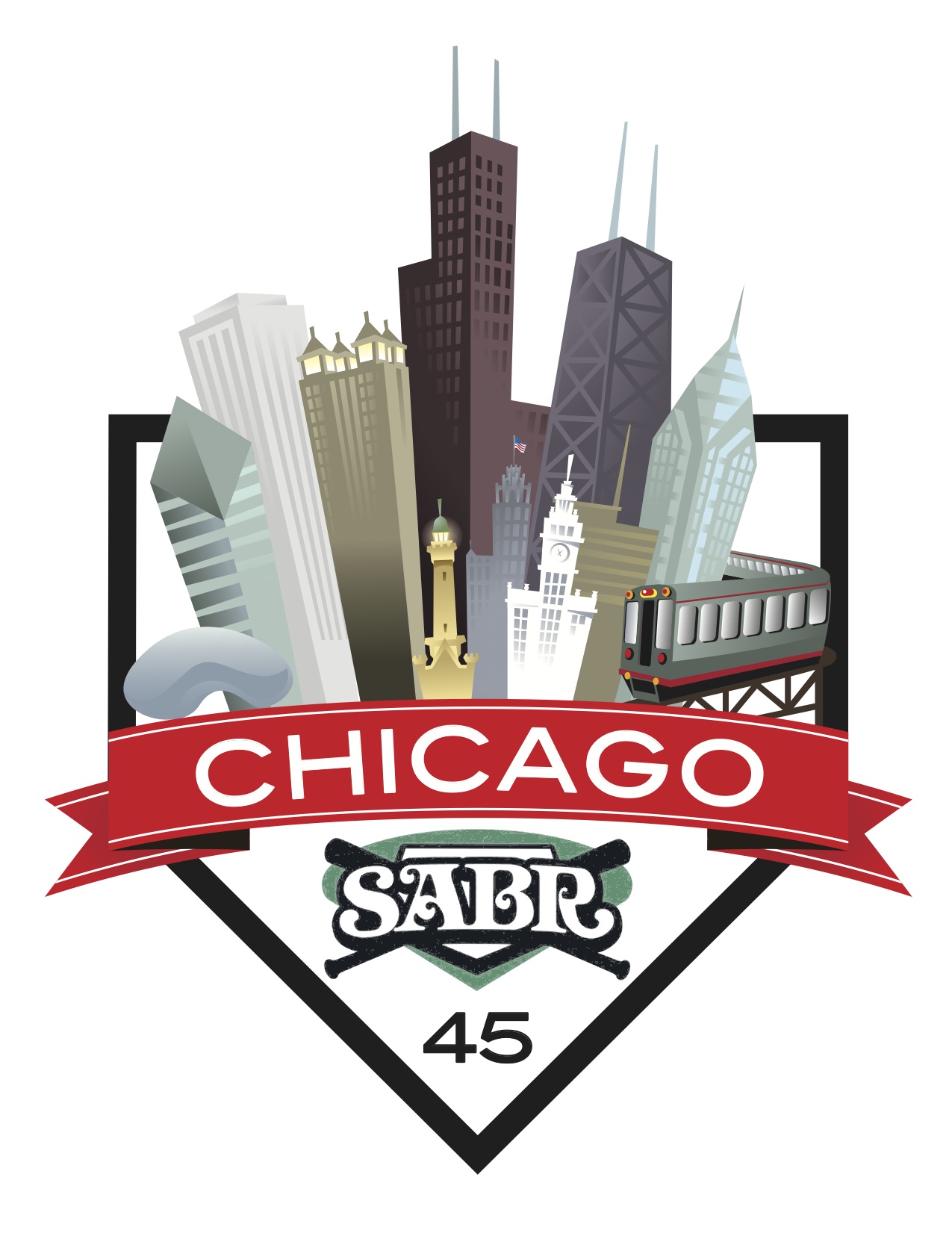 Here is the schedule of research presentations for SABR 45, June 24-28, 2015, at the Palmer House Hilton in Chicago.
Research abstracts and presenter bios are available below. When available, click a link below to listen to audio highlights from that presentation.
Click here to view abstracts for SABR 45 poster presentations that were on display all week during the convention.
Friday, June 26
8:00-8:25 a.m. (Grand Ballroom)
RP01: Juan Marichal and John Roseboro: The Fight of Their Lives
John Rosengren
You've seen the photo: Marichal with his bat raised over the tumbling Roseboro. It captures baseball's ugliest moment, when the Giant pitcher clubbed the Dodger catcher, opened a two-inch gash, set off a 14-minute brawl, and forever linked the two men. Rosengren examines the forces at work that influenced the infamous moment, including Marichal's worries about his family back home during the Dominican Civil War and Roseboro's protection of his own home during the previous week's Watts Riots. Rosengren will also discuss the consequences of the fight, which included the plot twist of the two men transforming the incident into an occasion of forgiveness – a testament to their true temperaments.
John Rosengren <www.johnrosengren.net> is an award-winning author whose books include Hank Greenberg: The Hero of Heroes, The Fight of Their Lives: How Juan Marichal and John Roseboro Turned Baseball's Ugliest Brawl into a Story of Forgiveness and Redemption, and Hammerin' Hank, George Almighty and the Say Hey Kid: The Year That Changed Baseball Forever. His articles have appeared in Men's Journal, Reader's Digest, Runner's World, Sports Illustrated and SB Nation/longform, among other publications. He lives in Minneapolis with his wife Maria and their two children. He plays catcher for the Richfield Rockets in a 35-over wooden bat baseball league.
8:00-8:25 a.m. (State Ballroom)
RP02: Mike Burke and Lee MacPhail: Their Six Years Trying to Resurrect the Yankees
Mark Armour
In late 1964 CBS bought the New York Yankees, who had won the previous five AL pennants and 14 of the last 16. They fell to sixth place the next year, and then tenth the year after. To most Yankee fans, the "CBS Years" (1965-72) are considered a dark period. Armour will examine these eight years, but particularly beginning in late 1966, when CBS put the club in the hands of Mike Burke, as president, and Burke hired Lee MacPhail as general manager. He will discuss the collapse, focusing on the 1964 team and what happened to it, how the front office dealt with their decline, how things changed under Burke and MacPhail, how they dealt with their situation, and the health of the team that CBS sold to George Steinbrenner in 1973.
Mark Armour <markarmour04@gmail.com> is the founder and director of SABR's Baseball Biography Project. He is the co-author, with Dan Levitt, of In Pursuit of Pennants: Baseball Operations from Deadball to Moneyball, published by the University of Nebraska Press in 2015.</markarmour04@gmail.com>
8:30-8:55 a.m. (Grand Ballroom)
RP03: A Legacy of What-Ifs: Horace Stoneham and the Integration of the Giants
Steve Treder
Owner Horace Stoneham's Giants weren't the first major league team to commit to racial integration, but they were among the pioneers. Within just a few years, the Giants were demonstrating more success with African-American and black Latin talent than any other team. Treder will more closely examine the Giants' practices through the 1950s, '60s, and into the '70s, and reveal some less flattering patterns. Stoneham's Giants were quick to recognize in this talent pool the innate athletic gifts – size, strength, and speed – characteristic of outfielders and first basemen, while rarely identifying or developing the finer and more cerebral talents needed for middle infield, catching, or pitching. The team's subsequent struggles in achieving the championships that seemed to be at hand illustrate racial integration's immense impact upon major league baseball, both in the quality of play and the challenge to management.
Steve Treder <SteveT@wmgnet.com> contributed a weekly column to The Hardball Times online from its founding in 2004 through 2011, and has been a co-author of many Hardball Times Annual and Hardball Times Season Preview books. His work has also been featured in Nine, The National Pastime, and other publications. He has frequently been a presenter at baseball forums such as the SABR National Convention, the Nine Spring Training Conference, and the Cooperstown Symposium. In his day job, Steve is Senior Vice President at Western Management Group, a compensation consulting firm headquartered in Los Gatos, California. When Steve grows up, he hopes to play center field for the San Francisco Giants.
8:30-8:55 a.m. (State Ballroom)
RP04: Andy Coakley vs. the Cubs: Baseball's Forgotten Labor Struggle
Tara Krieger
On September 2, 1908, the Chicago Cubs acquired 25-year-old right-hander Andy Coakley from the Cincinnati Reds. Coakley was well-dressed, articulate, college-educated, and at the top of his game, helping the Cubs to overtake the Giants for the NL pennant and eventually the World Series. However, he received not a penny of the winners' share and objected, loudly. Within months, he was on the trading block. Over the next two seasons, Coakley was repeatedly punished for standing up for what he was worth. Krieger focuses on the politics of how the entirety of professional baseball could conspire to turn against a player who refused to keep quiet. It will also explore the media's role in helping to vilify Coakley and how his case was a major catalyst in the formation of an early attempt by the players to unionize – the Players' Fraternity.
Tara Krieger <tmk2130@aol.com> is an attorney in the New York area. A member of SABR since 2005, she has spent time as a staff writer at Newsday and The Poughkeepsie Journal, and as an editorial producer at MLB Advanced Media. She is an editor of and contributor to BioProject, but this is her first research presentation, which she somehow had the foresight to plan and present less than a week before her wedding.
11:15-11:40 a.m. (Grand Ballroom)
RP05: An Aging Fan Base: Using Twitter to Develop a New Generation of Baseball Fans
Allison Levin
In his first public statement as the 10th commissioner, Rob Manfred expressed that he would work to bring young fans back to the game. Almost simultaneously, Twitter reported that that its largest demographic was men age 13-20. Levin discusses how baseball can engage young fans through Twitter under the theory of parasocial relationships, which suggests that when celebrities post information and/or personal details, no matter how trivial, on Twitter their followers begin to feel as if they and the celebrity are friends. Using statistical models and content analysis, Levin will show through the exemplar of the 2014 World Series what variables lead to popular tweets and trending hashtags. She will shed light on how Commissioner Manfred and MLB can use Twitter to meet their stated goal of getting a new generation interested in baseball.
Allison R. Levin (MA, JD) <allison.levin@gmail.com> is an independent scholar and president of Social Network Advisors for Professional Sports. She examines the intersection of economics, technology and sport. In particular, her research focuses on the various ways the increasing use of social media impacts professional sports. By examining major sporting events through the lens of Twitter, Allison is working on a model to predict when and why go online to discuss live sporting events.
11:15-11:40 a.m. (State Ballroom)
RP06: When the Yankees Came Back to Columbus: Baseball and Cultural Conflicts in Columbus, Georgia, 1960-1966
Hart Mizell
The Columbus (Georgia) Yankees bore the Confederate flag on patches on their jerseys and on the stadium marquee in the mid-1960s. Mizell discusses his research on the Southern League Yankees affiliate in the Deep South as the civil right movement reached its apogee. He describes his surprising discovery that popular resistance to the team came not from the expected sources, the African American community and progressive white supporters of the "New" South, or from unredeemed Confederates objecting to a team called the Yankees playing in Columbus during the centennial observations of the end of the Civil War — but from the religious right, over beer sales. In some respects, the Columbus Yankees and the controversies that swirled around the team represent a defining institution in Columbus in the mid-1960s. No other local entity fully demonstrated the economic, political, or social turbulence that marked that transformative era. A century after the Civil War ended, the Yankees returned to be a catalyst of change in Columbus.
Hart Mizell <mizell_hartwell@columbusstate.edu> is a graduate student at Columbus State University, where he earned a B.A. in History under the mentorship of Dr. Dan Crosswell. He is currently working as the Director of Baseball Operations at Georgia Southern University. Originally from McRae, Georgia, Hart played collegiate baseball at Middle Georgia and Columbus State before playing professionally for the Joliet Slammers of the Frontier League. Hart is currently working on histories of the Class-D leagues in Georgia and a record of 1800s baseball in Georgia. Hart is the son of Griff and Allison Mizell. Hart has one sibling, Aaron.
4:00-4:25 p.m. (Grand Ballroom)
RP07: What Makes a Dynasty? Hitting, Fielding and Pitching
David Kaiser
Conventional wisdom has long held that pitching is the key to a franchise's long term success. Kaiser reviews a substantial database of dynasties using data from 1901-2014 and techniques that isolate both fielding and hitting contributions. He discusses his finding that it turns out to be almost impossible to construct a dynasty based upon dominant pitchers, largely because so few pitchers sustain outstanding performance for more than a few years. Instead, he argues that even the dynasties remembered as being grounded in pitching, such as the 1909-14 A's, the 1948-54 Indians, the 1956-59 Braves, the 1966-75 Orioles and the 1971-75 A's, often had pitching staffs that were only marginally above average, and almost always owed more of their success to hitting than pitching.
David Kaiser <kaiserd2@gmail.com> a historian, is a frequent contributor to the SABR-L list, a two-time trivia competition finalist at SABR conventions, and the author of Epic Season: The 1948 American League Pennant Race. He lives in Watertown, Massachusetts.
4:00-4:25 p.m. (State Ballroom)
RP08: Fred Goldsmith and the Curveball: Did He Invent the Pitch that Changed the Game?
David Fleitz
Fred Goldsmith led two lives. As a young man, he pitched for Cap Anson's pennant-winning Chicago White Stockings of the early 1880s, winning 107 games and establishing himself as one of baseball's premier curveball pitchers. After he left the game, he mounted a 40-year campaign to convince the world that he not only threw the curveball, but was, in fact, the inventor of the pitch that changed the game. Fleitz will present and review Goldsmith's evidence, and determine how strong his claim is as compared to those made by Candy Cummings, who was elected to the Hall of Fame as the supposed inventor of the curve, along with other pitchers of Goldsmith's era.
David Fleitz <dfleitz@wowway.com> is a writer, SABR member, and computer systems analyst from Pleasant Ridge, Michigan. While working in the information technology field, David wrote numerous freelance articles for magazines and newspapers before turning his attention to writing books. Since 2001, he has written eight books on baseball history, including biographies of Shoeless Joe Jackson, Louis Sockalexis (the first Native American major league player), and Cap Anson. His latest work, Napoleon Lajoie: King of Ballplayers, was published by McFarland in 2013. David is also a three-time winner of the individual trivia championship at SABR's national convention.
4:30-4:55 p.m. (Grand Ballroom)
RP09: Home Team Scoring Advantage in the First Inning Largely Due To Time and Travel
David W. Smith
For over 100 years, the first inning has had the highest rate of scoring for both teams. This difference is highly significant by standard statistical tests such as the t-test and Analysis of Variance. Smith expands on the results he presented at SABR44 in two ways: first, it is now possible to get the exact length of the first inning for the visiting team for recent seasons so it is no longer necessary to rely on the indirect measures used previously. These new results show even more clearly that the longer the top of the first inning, then the more scoring by the home team in the bottom of the first, demonstrating the harm to the visiting starter by sitting on the bench for a long time before taking the field. The second area of focus is a more detailed examination of travel, including direction, number of time zones covered, and larger effects later in the season.
David W. Smith <dwsmith@retrosheet.org> joined SABR in 1977 and has made research presentations at 19 national SABR conventions and many more at regional meetings. In 2001 at SABR31 in Milwaukee, he won the USA Today Sports Weekly Award for his presentation on the 1951 NL pennant race. In 2005 he received SABR's highest honor, the Bob Davids Award and in 2012 he was honored with the Henry Chadwick award. He is a past co-chair of the statistical analysis committee and the recipient of the first SABR Special Achievement award. He is also the founder and President of Retrosheet, a non-profit organization dedicated to the collection, computerization and free distribution of play by play accounts of Major League games. He recently retired after 40 years as a Biology Professor at the University of Delaware.
4:30-4:55 p.m. (State Ballroom)
RP10: Red Stockings, White Stockings, and Cal McVey
John Liepa
Much has been written about baseball's first all-professional team, the Cincinnati Red Stockings, and how Hall of Famers Harry and George Wright revolutionized the game with their practices, discipline, uniforms, schedules, and mostly, lop-sided victories. Most of the other players disappeared into obscurity, with the notable exceptions of Andy Leonard and Cal McVey. Liepa will focus on McVey, reviewing the journey of the youngest picked player on that team from Iowa to Indianapolis, from Ohio to Boston and Baltimore with various stops in Chicago along the way. His Chicago days included games with the Cincinnati Red Stockings and playing with fellow Iowan Cap Anson for the inaugural National League pennant-winning team, the 1876 Chicago White Stockings. Cal's career finally concluded with the San Francisco Pioneers in 1885.
John Liepa <d.liepa@mac.com> is an Emeritus Professor of History and taught for 38 years at Des Moines Area Community College. A life-long baseball card collector, John owns an extensive collection of cards and memorabilia representing Iowa's 220 Major Leaguers and featuring Iowa's seven Hall-of-Famers. He has been a SABR member since 1987 and a charter member of Iowa's "Field of Dreams" SABR Chapter. He has had numerous articles on Iowa baseball history published, including articles for the Iowa Cubs' (AAA) yearbook the past six years. Over the past 4-1/2 years, he has done 68 presentations on baseball history throughout Iowa, often appearing as Montrose, Iowa's Calvin McVey, Iowa's first professional baseball player.
5:00-5:25 p.m. (Grand Ballroom)
RP11: If It's Wednesday (or Sunday), It Must Be Woodie
Don Zminda
Madison Bumgarner's success in Game 7 of the 2014 World Series, in which he worked five innings of relief on two days' rest, highlighted the fact that, in the current game, starting pitchers are seldom asked to pitch on three days' rest between starts, much less two. Zminda will discuss the last pitcher to regularly pitch on two days' rest, knuckleballer Wilbur Wood, who made 25 starts on two days rest and threw 376.2 innings for the White Sox in 1972. He will focus on how working on short rest impacted Wood's career, as well as how it affected the White Sox and other staff members of the team during the early 1970s – some of whom also started on short rest on occasion during the period under manager Chuck Tanner and pitching coach Johnny Sain. Zminda will also overview other "iron men" of the lively-ball era and how they produced on short rest.
A SABR member since 1979, Don Zminda <dzminda@gmail.com> has worked for STATS LLC since 1990 – first as Director of Publications and more recently as the company's Director of Research for sports broadcasts. He has co-authored or edited more than a dozen baseball books, including the annual STATS Baseball Scoreboard (1990-2001) and the SABR Bio Project publication Go-Go to Glory: The 1959 Chicago White Sox. A Chicago native, Don is a graduate of Northwestern University (BS Journalism, 1970) and lives in Los Angeles with his wife Sharon.
5:00-5:25 p.m. (State Ballroom)
RP12: "Not 'Pop' Anson!": Historical Memory and Cap Anson's Color Line Legacy
Zachary Moser
As Jackie Robinson and Branch Rickey became the moral bulwarks of organized baseball's popular integration narrative, writers and fans alike sought the narrative antithesis of these men, and many readily attributed the creation of the color line almost wholly to Chicago player-manager Cap Anson. Moser analyzes Anson's more complicated role in the creation of the color line, re-contextualizing Anson in the dense historical environment of professionalization and white supremacist ideology of the late-nineteenth century and performing a historiographical survey, tracing the evolution of Anson's legacy vis-à-vis the color line to present day, with a particular focus on integration-era journalism and historical works concerning segregation in organized baseball.
Zachary Moser <zacharymoser10@gmail.com> graduated from the University of Illinois in May 2014 with a bachelor's in history. Under the advisement of Professor Adrian Burgos Jr., he completed an honors senior thesis entitled "Whiteness in Washington: Clark Griffith, Labor, and the Color Line," for which he received high distinction. He currently writes for Baseball Prospectus Wrigleyville. His research interests include the intersection of race, labor, and sport; his non-academic interests include punk rock, beer, and exploring new cities.
5:30-5:55 p.m. (Grand Ballroom)
RP13: The Increased Importance of Quality Starts
John Burbridge
One of most maligned baseball statistics during the past 30 years has been Quality Starts, which has been criticized due to the shortness of the six inning minimum and the fact that a start with a 4.50 ERA could be viewed as being "quality". Burbridge will review the development of the statistic, the criticism and recent trends to make it more desirable. He will argue that changes in the game, such as the increasing dependence on relievers and changes in pitching strategy, should bring greater attention to quality starts. He will point to examples such as the 2010 Padres and 2014 Royals that actively planned for starters to only go six innings, with designated relievers for the 7th, 8th and 9th.
Dr. John J. Burbridge Jr. <burbridg@elon.edu> is currently Professor Emeritus at Elon University. He has also served as dean of the Martha and Spencer Love School of Business at Elon. While at Elon he introduced and taught Baseball and Statistics. John has presented at SABR Conventions and the Seymour meetings. He is a lifelong New York Giants baseball fan (he does acknowledge they moved to San Francisco). The greatest Giants-Dodgers game he attended was a 1-0 Giants' victory in Jersey City in 1956. Yes, the Dodgers did play in Jersey City in 1956 and 1957.
5:30-5:55 p.m. (State Ballroom)
RP14: 1915/2015: Commemorating the Centennial of Oscar Charleston's Rookie Season with the Indianapolis ABCs
Geri Driscoll
Negro League legend Oscar Charleston was inducted into the Hall of Fame in 1976, and Bill James has ranked him the fourth greatest player of all time, behind only Ruth, Wagner, and Mays. The spark of that greatness was already evident during his 1915 "rookie" season with the ABCs. Driscoll will draw from newspapers and other accounts to survey and asses that season in relation to Charleston's career and contemporaries, showing that his reputation does, indeed measure up to the facts. Despite Charleston's early success on the mound, his manager, C.I. Taylor, chose to use his talents in centerfield, where his one-handed "circus catches" drew thunderous applause and showers of coins from appreciative fans (one handed catches didn't become the norm until better gloves were developed in the 1950s). Driscoll discusses Charleston's stormy rookie year, including suspensions, regular conflicts with his manager and the impact of his military background on his relationships with his teammates and Taylor.
Geri Driscoll <gstrecker@bsu.edu> is a Negro Leagues historian writing a biography of Oscar Charleston and a spinoff book on pre-WWI baseball in the Philippines. She lives in old Bush Stadium, home of the Indianapolis Indians from 1931-1996. The park also served as home field for the 1940 Indianapolis Crawfords, with Charleston as manager and first baseman. Geri is also a three-time recipient of the McFarland-SABR Research Award.
6:00-6:25 p.m. (Grand Ballroom)
RP15: Happiness Is Leading the Majors in RBIs: Who was Happiest in 1917 – Zimmerman, Veach, Cobb, or Felsch?
Herm Krabbenhoft
In 1917, according to numerous sources (including MLB.com, Baseball-Reference.com, Total Baseball, The ESPN Baseball Encyclopedia), Heinie Zimmerman topped the NL with 102 RBIs (Hal Chase being the runner-up with 86) while Bobby Veach headed the AL with 103 RBIs (with Ty Cobb and Happy Felsch next in line, each with 102. Krabbenhoft, through extensive research from game descriptions in multiple independent newspaper accounts, will definitively identify each circuit's true RBI champion as well as the Major League RBI leader. His findings are particularly important for White Sox fans since, according to the above-mentioned sources, no ChiSox player led the AL in RBIs during the franchise's first seven decades.
Herm Krabbenhoft <BQR9343@aol.com>, a retired chemist, joined SABR in 1981. He has given 31 research presentations at the previous 22 National SABR Conventions which he has attended. His current research interests include: (a) Ascertaining the effectiveness of starting pitchers in self-saving their games when they have leads of three runs or less in the ninth inning, for which he gratefully thanks all the volunteers who contributed to the invaluable Retrosheet box score file; (b) Determining accurate RBI records for the players of the Deadball Era, for which he thankfully acknowledges the superb help and guidance from Steve Boren, Keith Carlson, Bob Harris, Bill Lamb, Dave Newman, Pete Palmer, Tom Ruane, Dave Smith, Gary Stone, and Dixie Tourangeau.
6:00-6:25 p.m. (State Ballroom)
RP16: Chicago Hates Cincinnati! How Pro Baseball Conquered the Windy City
Bruce Allardice
Allardice will examine how and why professional baseball came to Chicago in 1870, supplanting the non-professional baseball that had dominated until then. He will review how baseball was played in Chicago as early as 1858, how it became popular with the urban middle class, and how it then spread to the urban working class. He also will statistically analyze the growth of baseball in Chicago. Finally, he will end with a look at how Chicago's "Cincinnati envy" led hotelier Potter Palmer (who built the Palmer House in which this convention is being held) to form Chicago's first professional baseball team, the White Stockings.
A professor of history at South Suburban College and longtime SABR member, Bruce S. Allardice <bsa1861@att.net> has authored or coauthored six books, and numerous articles, on the Civil War. He's also coauthored two articles on Civil War baseball published in the journal Base Ball, and numerous articles in the Black Sox Research Committee Newsletter. Professor Allardice currently heads up the "Civil War Baseball" subcommittee SABR, is on the Review Committee for the Protoball (Spread of Early Baseball) website, and is a member of SABR's Biography Committee, specializing in researching the lives of 19th Century ballplayers. His article on The Rise of Baseball in the South received SABR's 2013 McFarland Baseball Research Award. His oral presentation at the 2012 SABR convention on "The Rise of Baseball in the South" won the convention's 2nd place award for best presentation. Professor Allardice is a graduate of the University of Illinois, and a lifelong resident of the Chicago area.
Saturday, June 27
9:00-9:25 a.m. (Grand Ballroom)
RP17: Remember the Cannon Street YMCA All-Stars: Bigotry and Boyhood in 1955
Chris Lamb
When the Cannon Street YMCA all-star team registered for the Little League city tournament in Charleston, South Carolina, 1955, it put the all-stars, the activist president of the YMCA, Little League Baseball, and the forces of integration on a collision course with the segregationist state director of Little League Baseball, the editor of the city's newspaper, the state's political establishment, and the Southern way of life. Lamb will describe how the mere presence of black children on a baseball field could case the greatest crisis in Little League history. He interviewed the players and reviewed contemporaneous newspaper accounts for what Creighton Hale, once the CEO of Little League Baseball, called "the most significant amateur team in baseball history."
Chris Lamb <lambch@iupui.edu> is a professor of journalism at Indiana University-Purdue University at Indianapolis. He is the author of Conspiracy of Silence: Sportswriters and the Long Campaign to Desegregate Baseball (University of Nebraska Press) and Blackout: The Untold Story of Jackie Robinson's First Spring Training (University of Nebraska Press). His next book is From Jack Johnson to LeBron James: Sport, Media, and the Color Line. It will be published by the University of Nebraska Press in December 2015.
9:00-9:25 a.m. (State Ballroom)
RP18: When Chicago Came to Milwaukee in the '60s
Dennis Degenhardt
Needing to prove that Milwaukee was still a good baseball town following the Braves departure for the greener media pastures of Atlanta, Bud Selig's Milwaukee Brewers Baseball Club looked for opportunities to showcase Milwaukee and County Stadium to return baseball to the beer city. Degenhardt will discuss how the Chicago White Sox, faced with poor attendance in a decaying Southside neighborhood, played one game per opponent in Milwaukee in the late 1960s, including how the Chisox were accepted in Milwaukee and why Selig's group did not succeed in moving the team ninety miles north.
Dennis Degenhardt <bovine9@charter.net>, a SABR member since 1997, thanks to a Christmas gift from his wife, is attending his seventh convention since his first in Milwaukee in 2001. This is his first research presentation at the national level. He has been active at the local level serving as the Treasurer of the Ken Keltner Badger State Chapter since 2001. For the past thirteen years, Dennis's day job is President/CEO of Glacier Credit Union in West Bend, WI. When he retires, in about two years, he will do the job he wants when he grows up, baseball researcher.
10:30-10:55 a.m. (Grand Ballroom)
RP19: Why Can't a Woman Be More Like a Man? Gender and Professional Athletes
Michael Haupert and Lisa Giddings
In 1943, to prepare for a potential shortage of men who could play professional baseball during WWII, MLB owners formulated a plan to field a women's professional baseball league, the All American Girls Professional Baseball League (AAGPBL). Rather than discussing the social and on-field history of the league, Haupert and Giddings will focus on the aspect of the league that made it both unique and noteworthy: all of the women were professional ballplayers. They will review wages earned by the players, the contribution each made to her team's revenues, and how those wages compared across industries and genders, using a database of financial information for AAGPBL. They arrive at some surprising discoveries about these women's share of revenues compared to their male counterparts, while also relating the wage gap between male and female players to the modern NBA-WNBA salary gap, exploring the evolution of male-female wages and productivity in professional sports.
Michael Haupert <mhaupert@uwlax.edu> is Professor of Economics at the University of Wisconsin-La Crosse. He has been a SABR member for more than 25 years and is currently the co-chair of the Business of Baseball Committee.
Lisa Giddings is Associate Professor of Economics at the University of Wisconsin-La Crosse.
10:30-10:55 a.m. (State Ballroom)
RP20: Disco Demolition Night
Rick Schabowski
Disco Demolition Night, which took place on Friday, July 12, 1979, started off as an unusual radio promotion, but morphed into a high-energy demonstration resulting in the forfeit of a baseball game, and is still considered a legendary moment in not only Chicago, but All-Time baseball history. Schabowski has assembled pictures, video and performed interviews to help capture the SABR motto, "Bringing the History of Baseball to Life." He will show the large-scale disorder that took place, the efforts to attempt to quell the demonstration, and the events' place in history.
Rick Schabowski <RICKIU76@aol.com> is a retired machinist from Harley-Davidson who is currently teaching for the Wisconsin Regional Training Partnership. He is also President of the Wisconsin Oldtime Ballplayers Association, President of the Ken Keltner Badger State Chapter of SABR, Treasurer of the Milwaukee Braves Historical Association, and a member of the Hoop Historians. He has contributed to a number of SABR book projects.
11:00-11:25 a.m. (Grand Ballroom)
RP21: The Colonel and Hug: The Odd Couple… NOT!
Steve Steinberg and Lyle Spatz
Jacob Ruppert bought the New York Yankees 100 years ago (in 1915) and hired Miller Huggins as the team's manager in 1918. Over the next 12 years, they transformed the club from a forlorn franchise to an emerging dynasty (with the help of others, including business manager Ed Barrow and slugger Babe Ruth). On the surface, it was an improbable partnership of two disparate individuals: The wealthy and urbane brewery owner and the modest, cerebral Midwesterner. Steinberg and Spatz will reveal remarkable similarities between the men that go a long way to understanding their successful partnership and the progressive organizational foundation they built that transformed the club.
Steve Steinberg <ssteinberg@trinorth.com> and Lyle Spatz <lspatz@comcast.net> are the co-authors of The Colonel and Hug: The Partnership that Transformed the New York Yankees, the stories of Jacob Ruppert and Miller Huggins and how, a century ago, they laid the foundation for the future Yankees' greatness. Steve's and Lyle's previous collaboration, 1921: The Yankees, the Giants, and the Battle for Baseball Supremacy in New York, was awarded the 2011 Seymour Medal. Steve has also written Baseball in St. Louis, 1900-1925 and many articles revolving around early 20th-century baseball, including a dozen for SABR publications. He has been a regular presenter at SABR national conventions. Lyle has recently published Willie Keeler: From the Playgrounds of Brooklyn to the Hall of Fame. He has also written biographies of Bill Dahlen and Dixie Walker, among other books, and has edited books on the 1947 Brooklyn Dodgers and the 1947 New York Yankees.
11:00-11:25 a.m. (State Ballroom)
RP22: "Little League Home Runs" in MLB History
Chuck Hildebrandt
Many of us played Little League baseball when we were kids, or have had kids who've played in Little League. So we are all familiar with the term "Little League Home Run", especially when jokingly applied to major leaguers. In this fun presentation, Hildebrandt will identify instances in major league history in which the batter scored on the play by means of the "little league home run", commonly understood as when the defending team throws the ball all over the place, allowing the batter and runners to score on the play. Hildebrandt will seek to establish an accepted definition for this phenomenon; share some interesting characteristics and stats surrounding these incidents; and most fun of all, show video of actual "little league home runs" in action.
Chuck Hildebrandt <chuck.sabr@gmail.com> has served as chair of SABR's Baseball and the Media Committee since 2013, and has been a SABR member since 1988. Chuck lives with his lovely wife, Terrie, in Chicago, where he is an ex-pat Tigers fan who compensates for his loss with Cubs season tickets.
11:30-11:55 a.m. (Grand Ballroom)
RP23: When McCarthy Lost His Mojoe: The Red Sox Years
Bryan Soderholm-Difatte
In his first two years after being recruited by Boston in 1948 to turn the franchise into a dynasty, Joe McCarthy managed the Red Sox from a huge mid-summer deficit into contention with a shot at the pennant on the very last day. In both years — 1948 in a playoff with the Indians, and 1949 at Yankee Stadium — they were eliminated by the pennant-winning team in the last game they played. Soderholm-Difatte will look at why the Red Sox lost in broader context, including observations on how the McCarthy Sox differed from McCarthy's Yankees. He will also examine whether McCarthy's pitching decisions in the 1948 playoff game and the final game of the 1949 season, both of which backfired, had merit or were ill-considered, drawing on game data from earlier in the season and historical precedent.
Bryan Soderholm-Difatte <brysholm@aol.com> writes the blog "Baseball Historical Insight." His forthcoming book, The Golden Era of Major League Baseball, focusing on the years between Jackie Robinson integrating major league baseball and the beginning of the expansion era, will be published this fall by Rowman & Littlefield. Bryan is a former senior analyst at the Central Intelligence Agency and currently lives in the Washington, DC area.
11:30-11:55 a.m. (State Ballroom)
RP24: Split Season 1981: Fernandomania, The Bronx Zoo and the Strike That Saved Baseball
Jeff Katz
In the midst of 1981, one of baseball's greatest seasons, came the first mid-season strike in sports history. Bookended by Pete Rose's run at Stan Musial's all-time National League hit record, Katz will discuss how the strike was a tipping point in the struggle for control of the game between owners and players and of major cultural import, coming in a year of strikes, including the PATCO strike (air traffic controllers) that overlapped with the baseball strike.
Jeff Katz <JKKatz@stny.rr.com> is the author of Split Season: 1981 Fernandomania, The Bronx Zoo and The Strike That Saved Baseball (Thomas Dunne Books). In bookstores now, Split Season is the never-before-told, behind the scenes story of the exciting and memorable 1981 baseball season, the year of Fernando Valenzuela, Pete Rose and the last Yankees-Dodgers World Series, and the mid-season, owner-provoked strike that cut the heart out of the American summer. Katz's first book, The Kansas City A's & The Wrong Half of the Yankees (Maple Street Press) was released in 2007. Katz is also the Mayor of Cooperstown, the "Birthplace of Baseball" and home to the National Baseball Hall of Fame and Museum.
12:00-12:25 p.m. (Grand Ballroom)
RP25: Pat Gillick and His "Many Rivers": One General Manager's Approach to Gaining an Edge
Dan Levitt
In 2011, Pat Gillick was inducted into the Baseball Hall of Fame for his genius in building great baseball teams. By succeeding at four distinct challenges and showing a unique ability and keenness for finding talent others might have overlooked, Gillick earned a place among the very best GMs in history. His obsessive search for the best players, wherever they may have been, allowed him to thrive in the face of diverse challenges. Levitt will highlight Gillick's overall philosophy, and how he tailored his unique approach at each of his four clubs to their specific needs and challenges. He will discuss Gillick's "One needs to fish in many waters" approach of having great scouts and then widening his talent search to non-traditional avenues, such as taking risks on multi-sport athletes, using the Rule 5 draft for veteran minor leaguers and working with Epy Guerrero to be at the forefront of creating an identifiable presence in the Dominican Republic.
Dan Levitt <Dan.Levitt@RyanCompanies.com> is co-author (with Mark Armour) of In Pursuit of Pennants: Baseball Operations from Deadball to Moneyball, released this spring. He is also the author of several critically recognized books, including The Battle that Forged Modern Baseball: The Federal League Challenge and Its Legacy and Ed Barrow: The Bulldog Who Built the Yankees' First Dynasty. Dan's research and writing has appeared in several leading baseball journals and web sites. He lives in Minneapolis with his wife and two boys.
12:00-12:25 p.m. (State Ballroom)
RP26: They Came Before Minnie, Alexei & Abreu: Chicago's Cuban Connection and a Reconsideration of Baseball's Integration Story
Adrian Burgos Jr.
Most baseball fans know the deep connection that Cuban great Minnie Miñoso has with Chicago; he pioneered racial integration on Chicago's MLB diamonds and emerged as an all-star with the White Sox. Today, the Southsiders figure as one of MLB's more active recruiters of Cuban talent, including their signing of last year's American League Rookie of the Year, José Abreu. Less known to baseball aficionados is the long history of Chicago's connection to Cuban baseball, and the importance of that history to baseball's integration story. Burgos will argue for understanding Chicago and the Negro Leagues as setting precedent for greater racial inclusion through the incorporation of Cuban talent in the Black baseball circuit, and illuminate the particular challenges that Latino players have confronted in the United States.
Adrian Burgos, Jr. <adburgosjr@aol.com> is Professor of History at the University of Illinois whose expertise includes Latinos in baseball and the Negro Leagues. The author of Cuban Star: How One Negro League Owner Changed the Face of Baseball (Hill & Wang, 2011) and Playing America's Game: Baseball, Latinos, and the Color Line (University of California Press, 2007), he has consulted for the National Baseball Hall of Fame's ¡Viva Baseball! exhibit, Ken Burns' The Tenth Inning and on the forthcoming Jackie Robinson documentaries, among other exhibits and documentaries on baseball, Latinos, and the Negro Leagues.
2:30-2:55 p.m. (Grand Ballroom)
RP27: The Best Baseball Story Ever? A Critique of Bleacher Bums
David Krell
Wrigley Field is more than a ballpark. It is, for fans of the Chicago Cubs, a second home where relationships form, develop, and strengthen. Chicago's vibrant theater scene provided the platform for the Organic Theater Company's 1977 play Bleacher Bums, a work of fiction that depicts a group of Cubs fans during a game against the St. Louis Cardinals. Krell will highlight the impact of Bleacher Bums on baseball, theater, and the Chicago Cubs fan base. Through exclusive interviews with cast members, contemporaneous reviews, and in-depth literary critique, he will explain the importance of this excellent, though mostly underrated, baseball story.
David Krell <david@davidkrell.com> is the author of the 2015 book Our Bums: The Brooklyn Dodgers in History, Memory and Popular Culture. David has spoken at SABR's Frederick Ivor-Campbell 19th Century Baseball Conference, Jerry Malloy Negro Leagues Conference, and Annual Convention. He has also been a speaker and a moderator at the Cooperstown Symposium on Baseball and American Culture. David has written articles for Memories and Dreams—The Official Magazine of the Baseball Hall of Fame, Base Ball: A Journal of the Early Game, and the New York State Bar Association's Entertainment, Arts and Sports Law Journal.
2:30-2:55 p.m. (State Ballroom)
RP28: The Twenty-Year's War: The Cubs, the White Sox, and Baseball Broadcasting
James Walker
Faced with sharply declining attendance after 1930, anti-radio owners, primarily on the East Coast, pushed for elimination of all regular season broadcasts. The arguments presented by Cubs and White Sox management at the annual owners' meetings were decisive in repelling this attack on radio. Walker will review the debate between pro and anti-radio owners documented in the minutes of the National League, American League, and joint owners' meetings from this period. He will discuss how the battle over radio broadcasting established the legal precedent for team ownership and control of radio rights, leading to the great disparities in media revenues obtained by large and small media market teams.
James R. Walker <walker@sxu.edu> (Ph.D. University of Iowa) is professor emeritus in the Department of Communication at Saint Xavier University in Chicago. His most recent book is Crack of the Bat: A History of Baseball on the Radio, University of Nebraska Press (2015). His earlier book, Center Field Shot: A History of Baseball on Television (2008), co-authored with Rob Bellamy, was a 2009 SABR Baseball Research Award winner. Two examples of recent work on baseball and the media can be found at a web site, The Conversation (https://theconversation.com/search?q=James+Walker).
3:00-3:25 p.m. (Grand Ballroom)
RP29: The Court Martial of Jackie Robinson and Hollywood's Version of Robinson's Legacy
Lisa Doris Alexander
Since his debut with the Brooklyn Dodgers in 1947, there have been three cinematic accounts of Jackie Robinson's story, which the late Jules Tygiel has said "is to Americans what the Passover story is to the Jews: it must be told to every generation so that we must never forget." The first generation told Robinson's story in the form of the 1950 film The Jackie Robinson Story, while the current generation told it in the form of the 2013 film, 42. Alexander will discuss the somewhat forgotten 1990 made-for-TV film that came between those two, The Court Martial of Jackie Robinson. She will describe similarities and differences between the three films and discuss what messages The Court Martial of Jackie Robinson send about Jackie Robinson, professional baseball, and race relations in the United States. These three films span over sixty years and can provide insight into how race and racism in the United States were framed at the time of each film's release.
Lisa Doris Alexander <lisa.alexander@wayne.edu> is an Associate Professor of African American Studies at Wayne State University in Detroit, Michigan whose research focuses on issues of race, class, gender, and sexuality in popular culture. She is the author of When Baseball Isn't White, Straight, and Male: The Media and Difference in the National Pastime. Her work has appeared in NINE: A Journal of Baseball History and Culture, Black Ball: A Negro League Journal, The Journal of American History, and The Journal of Popular Film and Television. Professor Alexander is currently working on a book discussing the history of African American film.
3:00-3:25 p.m. (State Ballroom)
RP30: Heresy: Bill Veeck Was Not a Good Owner for Fans
Andy McCue
Bill Veeck's reputation is that of an owner for fans. Through terms with the Indians, Browns and White Sox (twice), Veeck gained much publicity for his off-beat promotions, his habit of sitting with fans in the bleachers and his willingness to challenge the rich and the powerful (such as the Yankees). Yet, in an examination of Veeck's writings, the performance of his teams, and their performance after he sold them. McCue will reveal a man who was much too focused on the short-term and taking profound joy in bearding the Yankees in their den rather than maneuvering around them to get his way. McCue will argue that an objective look at his legacy raises serious doubts about whether a fan would really want him managing their favorite team.
Andy McCue's <agmccue44@earthlink.net> Mover and Shaker: Walter O'Malley, the Dodgers and Baseball's Westward Expansion won this year's Seymour Medal as the best work of baseball history or biography. A SABR member since 1982, his earlier work in Baseball by the Books: The History and Complete Biography of Baseball Fiction won the inaugural MacMillan-SABR Research Award in 1987. He is a recipient of the Bob Davids Award.
3:30-3:55 p.m. (Grand Ballroom)
RP31: For an Actor, He's a Good Ballplayer: Baseball and Vaudeville in the Deadball Era and Beyond
R.J. Lesch
From 1890 through 1920, as baseball's popularity soared and its players became known to the public at large, theatrical promoters began to put ballplayers on the stage, sometimes in "legitimate" theaters, but usually in the variety circuits that flourished during the period. Lesch will explore the nature of variety theater in the days before radio and television, and its place in North American popular culture, compared with that of spectator sports. He will review the initial resistance to book baseball players and other types of "freak acts" into variety theaters, and how that was overcome; the boom in baseball players on the variety stage, during the 1910s; and the contrast between a ballplayer's experience on stage and that of a typical stage performer. Lesch will illustrate the growth of baseball's popularity in America and the ballplayers' crossover from the sporting public's consciousness into that of the public at large, even before the explosion of American mass media in the 1920s.
R.J. Lesch <rjlofiowa@gmail.com is a business analyst living in Carlisle, Pennsylvania, with wife Laura and two stepchildren. R. J. has been a SABR member since 1998. He is delighted to be a member of the Deadball Era and Baseball and the Arts committees, and was a co-founder of the Field of Dreams Chapter.
3:30-3:55 p.m. (State Ballroom)
RP32: Baseball in New York 1947-1957: Dollars, Sense, and Nonsense
Steven A. Riess
The Golden Age of New York baseball was between 1947 and 1957, when major league baseball was totally dominated by New York City. While over two dozen books have been written about this subject, little attention has been given to the financial aspects of New York City baseball, which relates directly to such issues as player recruitment, franchise movement, and profits. Riess will talk about the profitability of the Yankees and Dodgers, and comparative unprofitability of the Giants. He will also discuss his conclusion that media returns provided essential components of profitability. He will break down financial data to consider a wide variety of factors, ultimately concluding that the data supports the widespread contention that the Dodgers did not leave Brooklyn because of profit concerns, but because they were looking for super profits, and that the Dodgers could leave town only because they had a partner, the Giants, who, as the "second team" was in dire straits and ready to jump ship for the West Coast.
Steven A. Riess <s-riess@neiu.edu (Ph.D., University of Chicago, 1974) is a Bernard Brommel Research Professor, emeritus, at Northeastern Illinois University in Chicago. The former editor of the Journal of Sport History, he is the author of several books including Sports in Industrial America (2nd ed.), The Sport of Kings and the Kings of Crime. Horse Racing, Politics, and Crime in New York, 1865-1913 (2011), Touching Base: Professional Baseball and American Culture in the Progressive Era, rev. ed., (1999), and City Games: The Evolution of American Society and the Rise of Sports (1989), and editor of Sports in America: From Colonial Times to the Twenty-First Century, 3 vols. (2011) and A Companion to American Sport History (2014). He is currently writing Horse Racing, the Chicago Way: Politics, Crime, and the Turf in the Windy City, Chicago, 1840-1910.
For more information on SABR 45, visit SABR.org/convention.