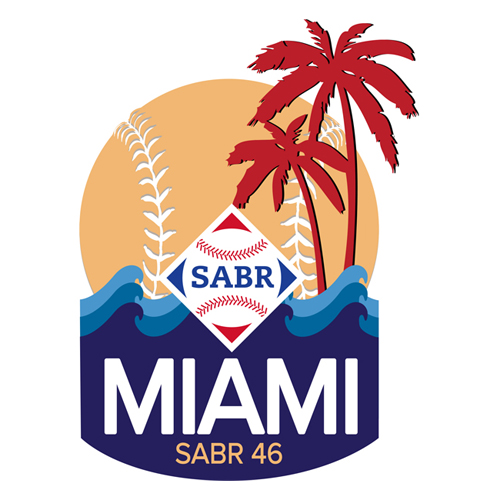 View the schedule of research presentations for SABR 46, July 27-31, 2016, at the Hyatt Regency Miami below.
Research abstracts and presenter bios are available below. When available, click a link below to listen to audio highlights from that presentation.
Click here to view abstracts for SABR 46 poster presentations that were on display all week during the convention.
Thursday, July 28
11:45 a.m. – 12:10 p.m. (Tuttle/Monroe)
RP01: How the Dodgers (Inadvertently) Saved Baseball in 1977
Michael Fallon
Though handwringing about baseball's ongoing decline and impending demise is almost as old as the game itself, the sense of crisis was never more pronounced than in the 1970s. Fallon discusses how the 1977 Dodgers and their effusive manager, Tommy Lasorda, fielded a dynamic array of youthful, homegrown everyday players and the usual coterie of live-armed pitchers. He traces seven key, lesser-known Dodger storylines that played out that year, leading up to the Dodgers' World Series battle against its ancient AL rival—the colorful 1977 version of the New York Yankees.
Michael Fallon <michaelf@visi.com> is originally from suburban Southern California. Since 1997, he has published hundreds of reviews, articles, and essays for publications such as City Pages in Minneapolis, Orange County Weekly, the St. Paul Pioneer Press, Pittsburgh City Paper, Minneapolis-St. Paul magazine, the Utne Reader, Public Art Review, and Art in America. He is also the author of two books—Creating the Future: Art and Los Angeles in the 1970s (Counterpoint Press, 2014) and Dodgerland: Decadent Los Angeles and the 1977-78 Dodgers (University of Nebraska Press, 2016). Follow him on Twitter @michaelsfallon, where he is currently live-tweeting the Dodgers' 1977 season.
11:45 a.m. – 12:10 p.m. (Brickell)
RP02: Celebrating Latinos and the 1965 Baseball Season: A Journey through Topps and Social-Historical Influences
Anthony Salazar
Do you remember what it was like when you were a kid, opening a pack of baseball cards? To me, it was like opening a Christmas present. It wasn't until recently that Salazar decided to start collecting cards from 1965, the year of his birth. When his first batch of hard-fought and won auction items arrived — a lot of 25 cards — he was pleased to discover six Latino players among the batch. As a Latino baseball historian and researcher, his natural inclination was to wonder who these players were, and how did they fit into the scheme of the story of Latino ballplayers in 1965. Salazar not only tells the story of these six players, but also describes the social-historical context of the Latino experience in Major League Baseball and the United States. Outside the white lines of baseball, America in 1965 experienced tremendous social and political upheaval from the increase of US troops to Vietnam, the Voting Rights Act, to the US invasion of the Dominican Republic, and the Watts Riots. These outside events had a major impact on the players of color, including African American and Latino players.
Anthony Salazar <salazar8017@yahoo.com> is the chairman of SABR's Latino Baseball Committee, and is editor of its publication, La Prensa del Béisbol Latino. He has authored numerous articles on the Latino experience in baseball, and consulted with baseball teams, media networks, production companies, museums, and other organizations looking to tap into the Latino market. Salazar has also served on SABR's national Board of Directors.
12:15 -12:40 p.m. (Tuttle/Monroe)
RP03: The Evolution of Defensive Metrics in Major League Baseball
Chris Dial

Pinch-hitting at the last minute, SABR Director Chris Dial delivered a presentation on the evolution of defensive metrics in Major League Baseball.
Chris Dial <pfeiffer86@gmail.com> has served on the SABR Board since 2014. He was named in 2013 to the SABR Defensive Committee which adds a sabermetric component to the selection of the Rawlings Gold Glove Awards and Rawlings Platinum Glove Award, presented by SABR. He is the developer of a statistical measure called Runs Effectively Defended (RED), a defensive analysis system used in the formation of the SABR Defensive Index (SDI). Dial also helped create and develop the SABR initiative of Chartered Communities, which launched in the fall of 2009; he is co-chair of the Baseball Think Factory chartered community. He holds a bachelor's degree in Chemistry from what is now Pfeiffer University in North Carolina. He is Director of Integration at Catalent Pharma Solutions, where he has worked since 1998.
12:15 -12:40 p.m. (Brickell)
RP04: No-Hitters Gone Global: Even Johnny Vander Meer Draws Company with the Breakdown of Borders
Dirk Lammers
Johnny Vander Meer's 1938 no-hitters in consecutive starts set a record most baseball aficionados think may never be duplicated and will certainly never be broken. But 50 years ago, on an island 220 miles to the southwest of Miami, Centrales' right-hander Aquino Abreu matched Vander Meer's back-to-back accomplishment in Cuba's Serie Nacional de Beisbol. In some cases, the foreign feats exceed those of their domestic brethren, such as when Tsuneo Horiuchi hit three homers during his no-hitter, beating Rick Wise's two homer day in his 1971 no-hitter against the Cincinnati Reds. This photo-rich presentation by Lammers matches up MLB players' top no-hit feats with their foreign counterparts.
Dirk Lammers <dirk@nonohitters.com> is the author of Baseball's No-Hit Wonders: More Than a Century of Pitching's Greatest Feats, published by Unbridled Books in March 2016. He also contributed a biography of the Oakland Athletics' Dallas Braden and a Games Project story on Braden's 2010 perfecto for SABR's upcoming no-hitters book. Lammers is an award-winning journalist for The Associated Press and blogs at NoNoHitters.com.
12:45-1:10 a.m. (Tuttle/Monroe)
RP05: The Hall of Famous
Chuck Hildebrandt
Enshrinement into the Hall of Fame is the just reward for a career of superior achievement, but sometimes players get a boost from something beyond their actual performance on the field — something famous they did, or something famous about them — that enhances the perception of their qualifications far beyond that which their actual record warrants. So, where should we enshrine such players? How about the "Hall of Famous"? Come learn just what is the "Hall of Famous" and thrill to the induction of its inaugural class. And while you're at it, have a few laughs and enjoy a little audience participation.
Chuck Hildebrandt <chuck.sabr@gmail.com> has served as chair of the Baseball and the Media Committee since its inception in 2013. Chuck won the 2015 Doug Pappas Award for his oral presentation "'Little League Home Runs' in MLB History," and received an honorable mention for his 2014 oral presentation, "The Retroactive All-Star Game Project," which was also the cover story for the Spring 2015 Baseball Research Journal. Chuck lives in Chicago with his lovely wife, Terrie. Chuck is also a Chicago Cubs season ticket holder, although he is a proud native of Detroit. So, while Chuck's checkbook may belong to the Cubs, his heart belongs to the Tigers.
12:45-1:10 a.m. (Brickell)
RP06: The St. Louis Browns' "Youth Movement"
Steven Glassman
The Florida Marlins began rebuilding after winning the 1997 and 2003 World Series. But their rebuilding pales in comparison to the St. Louis Browns. On October 27, 1949, Browns President William O. DeWitt announced that 14 players would be put on the trading block because they are 28 years old or older. This was part of the franchise's "five-year plan." Glassman addresses the local and national reaction to, and the impact of DeWitt's announcement. He breaks down, chronicles and analyzes the effect of each of the Browns' transactions during this "youth movement."
Steven Glassman <sportsphan@comcast.net> has been a SABR member since 1994 and regularly makes presentations for the Connie Mack Chapter. This is his 11th convention. "The St. Louis Browns' Youth Movement" will his fourth oral presentation. The Temple University graduate in Sport and Recreation Management is currently a volunteer Director of Sports Information for Manor College. He has attended Phillies games since the 1970s. Steven serves as first base coach/scorekeeper for his summer league softball team. He currently resides in Warminster, Pennsylvania.
2:45-3:10 p.m. (Tuttle/Monroe)
RP07: Marvin Miller takes on Topps Chewing Gum, Inc.
Mark Armour
Fifty years ago the Major League Baseball Players Association named Marvin Miller to the new post of Executive Director. Although Miller and the players would wage many public battles with the baseball owners over the next 15 years, their first skirmish was not with the team magnates but with a Brooklyn-based chewing gum company. Topps Chewing Gum, Inc. effectively held a monopoly on baseball cards from 1956 through 1980. They maintained this position by signing minor league players to exclusive binders, making it difficult for possible competitors to break into the market. In 1966 Topps paid players who appeared on cards just $125 per year, even as the sales of cards continued to rise throughout this period. Armour explains how the players boycotted Topps, winning more advantageous terms, and resulting in increased support for Miller due to this object lesson in the power of collective bargaining. Armour also discusses the impact the boycott had on the 1968 and 1969 baseball cards, and analyzes the boycott's effect on Topps itself.
Mark Armour <markarmour04@gmail.com> is the founder and director of the Baseball Biography Project, and the author or co-author of several books and dozens of articles on baseball. His ten-part series on Topps baseball cards recently ran at The National Pastime Museum website.
2:45-3:10 p.m. (Brickell)
RP08: Mis-Management 102: How Did the Houston Astros End Up in the American League West Division?
J.R. Wildridge
It makes no sense that Houston, a National League franchise since their inception in 1962, now plays in the American League. As such, they now play the Texas Rangers, their "natural rival" — to use a term from interleague play — 19 times a year for the honor of claiming the "Silver Boot." While there will probably never be a perfect organization with a fair and reasonable schedule of games, to include travel across the country (and the globe), a systematic approach is needed to create logical divisional alignments and schedule of play. Wildridge proposes a methodology that involves the use of U.S. Census data, as well as the divisional and regional alignments of the U.S. Census Bureau, to create "logical" divisional alignments. Divisional alignments can also impact playing formats. He also applies a "what-if" context, reviewing several scenarios to determine the expected results of applying his methodology.
J. R. Wildridge <j.r.wildridge@gmail.com> is director of T-50 marketing at Lockheed Martin Aeronautics Company, Fort Worth, Texas, a position he has held since 2006. Responsible for the strategy and guidance of worldwide marketing of the T-50 aircraft, an advanced jet trainer co-developed with Korea Aerospace Industries, he has traveled the world promoting the aircraft and training system, and directed LM Aero activities in support of T-50 sales campaigns, in close coordination with KAI. Among his achievements, he is the recipient of Lockheed Martin's AeroStar award for management efforts with international aircraft sales and upgrade programs, and a Stellar award for campaign proposal efforts and program integration. He holds a BS in Mechanical Engineering from Purdue University, and earned a Master of Science in Management from Purdue's Krannert School of Management in 1984. A member of SABR since 1994, this is his first presentation at the national SABR convention. His particular baseball interests lie in Ballparks, the Negro Leagues and statistical analyses. He looks forward to seeing MLB "Opening Day" in Korea sometime soon.
3:15-3:40 p.m. (Tuttle/Monroe)
RP09: MLB Arbitration in the Orioles-Nationals Cablecasting Lawsuit
Charles H. Martin
Major League Baseball has used arbitration extensively for labor disputes since its first collective bargaining agreement was signed in 1968. Like other industry groups, MLB also uses arbitration to resolve disputes among its members. In 2012, MLB asked its Revenue Sharing Definitions Committee to resolve a contract dispute between the Orioles and Nationals owners over the amount of cable television rights fees that should be paid to the Nationals. Martin discusses the case, and how the results of this litigation could change forever how MLB conducts its business. He notes how it might also expose the inherent disadvantages of arbitration for parties who will never have the resources and skills of a wealthy MLB club owner to overcome those disadvantages.
Charles H. Martin <every1sguide@gmail.com> is an attorney in the District of Columbia and the State of Florida, practicing contracts, sales and international law. He taught these subjects as a full-time professor in U.S. and foreign law schools. He is a Washington Nationals fan, and is the author of Every1's Guide to Electronic Contracts, and Lawyerball. Both books are available on Amazon, and Lawyerball is in the Amazon SABR Bookstore. More information about Lawyerball and related research sources are available at www.lawyerball.com.
3:15-3:40 p.m. (Brickell)
RP10: It is Almost Midnight: Do You Know Where Your Baseball Team Is? The San Francisco or the St. Petersburg Giants?
Robert Garratt
In June of 1992, when San Francisco Giants' owner Bob Lurie lost his fourth public initiative in five years to finance a new stadium to get his baseball club out of Candlestick Park, he had had enough. He put the team up for sale. After two months in which no local buyer expressed serious interest, Lurie agreed in principle to sell the Giants to a Florida-based group that planned to move the team to St. Petersburg. But as the sale moved toward completion, events began to develop that went well beyond the rather straightforward arrangement that Lurie thought he had made. Based on contemporaneous accounts, Senate hearings, transcripts and personal interviews with key participants, Garratt discusses the politics and dramatic eleventh-hour maneuvers that constituted both a pivotal moment in Giants' history and a colorful chapter in the story of our national pastime.
Robert Garratt <garratt@pugetsound.edu> is an emeritus professor of English, University of Puget Sound. A member of SABR for seven years, Garratt has previously presented at the Northwest Chapter of SABR, and at the national meeting. His paper on the 1992 sale of the Giants is part of his forthcoming book on a history of the San Francisco Giants.
3:45-4:10 p.m. (Tuttle/Monroe)
RP11: Take Me Out to the Courtroom: A Look at Baseball Cases in the Florida Courts
Louis H. Schiff
Because of its central role in American life, baseball, more than any other sport, regularly finds itself in court. As a result, there are now more than 10,000 published judicial decisions on baseball. While many previous writers have examined these decisions from a national perspective, Schiff discusses cases originating in Florida courts, highlighting cases arising out of South Florida, beginning with the Florida Supreme Court decision upholding the Sunday ban on baseball in 1905. He discusses how these decisions demonstrate that Florida judges and lawyers have played a leading role in the development of baseball's jurisprudence. He also provides a unique look at how Florida has evolved from a sleepy baseball backwater to the home of two major league teams, 14 minor league teams, 15 spring training teams, and both of the schools that train MLB umpires.
Louis H. Schiff <schiff@baseballandthelaw.org> has served as a Broward County (Florida) Court Judge since 1997. He co-authored the first baseball and law text book, Baseball and the Law: Cases and Materials (Carolina Academic Press, 2016.) Judge Schiff earned his B.S. Journalism from the University of Florida (1977) and graduated from Hamline University School of Law (1980). He is an adjunct law professor at Mitchell Hamline School of Law, as well as a faculty member of The National Judicial College, Florida New Judges College and the Florida College of Advanced Judicial Studies. Judge Schiff has been married 33 years to Leslee. He is a Miami Marlins full season ticket holder.
3:45-4:10 p.m. (Brickell)
RP12: The Stoneham Giants: From Father to Son to … Son-in-Law
Steve Treder
For nearly 60 years, the Giants were a family-owned business, a dynasty spanning three generations. Purchased in 1919 by Charles Abraham "C.A." Stoneham, the New York Giants were the most prominent and valuable property in baseball. Hs 32-year-old son, Horace, a passionate fan, took ownership when C.A. died in 1936, with plans to pass the franchise down to his son, Pete Stoneham. Treder discusses how Pete was unable to provide any help to Horace, requiring Horace's son-in-law, Charles Rupert to try to reverse the Giants' financial slide in the late 1960s. Even though Horace Stoneham owned the Giants' franchise for 40 years and was among the most impactful figures in the game for many of those years, his biography has never been written. Treder presents a unique familial angle to this story.
Steve Treder <SteveT@wmgnet.com> contributed a weekly column to The Hardball Times online from its founding in 2004 through 2011, and has been a co-author of many Hardball Times Annual and Hardball Times Season Preview books. His work has also been featured in Nine, The National Pastime, and other publications. He has frequently been a presenter at baseball forums such as the SABR National Convention, the Nine Spring Training Conference, and the Cooperstown Symposium. His current project is a biography of Horace Stoneham. In his day job, Steve is Senior Vice President at Western Management Group, a compensation consulting firm headquartered in Los Gatos, California. When Steve grows up, he hopes to play center field for the San Francisco Giants.
Friday, July 29

8:00-8:25 a.m. (Tuttle/Monroe)
RP13: The Night Frank Verdi Got Shot and the Demise of the Havana Sugar Kings
Ryan Brecker
After the success of La Revolución, much had changed in Havana in 1959. For the International League's Sugar Kings, the new Cuba became a harsh reality in midseason, when stray bullets from a midnight celebration of Castro's July 26th Movement struck Verdi, the third base coach of the Rochester Red Wings, and Sugar Kings shortstop Leo Cardenas. While the injuries were minor, the incident was a major factor in the departure – less than a year later – of professional baseball from Cuba. Using contemporary sources, Brecker describes that pivotal ballgame and its relationship to the turbulent transformation of Cuba.
Ryan Brecker <rbrecker@gmail.com> lives in Penfield, New York, with his wife Stephanie and daughters Cadence and Quinn. He is an Emergency Physician by night as well as Chair of the Luke Easter SABR Chapter, and Treasurer for the Rochester Baseball Historical Society.
8:00-8:25 a.m. (Brickell)
RP14: Hometown Heroes: The Single Franchise Baseball Stars of the 20th Century
Clay Sigg
While many longtime baseball players are linked in our minds to a specific club (think of Honus Wagner and the Pirates, Christy Mathewson and the Giants, or Ron Santo and the Cubs), relatively few played their entire careers with one franchise. Many of the single-franchise players, for instance Ripken, Kaline, Schmidt, and Jeter, are or will be Hall of Famers. So too are players such as Tim Salmon, Steve Rogers, Red Rolfe, and Dave Concepción. Sigg examines single-franchise players, reviewing factors (free agency and others) that may affect their prevalence. In addition, he identifies individual personality characteristics that may play a part in determining which players spend their entire MLB careers with the same club.
Clay Sigg <csigg@surewest.net> is a national pastime historian and a member of SABR since 2005. An American Baseball Coaches Association (ABCA) member, he is president of Baseball 360 Plus, a nonprofit dedicated to enhancing youth baseball. Sigg is a ballpark aficionado, having viewed games in all 30 current major league ballparks and 11 past big-league stadiums. He is an inductee into the University of California at Davis Baseball Hall of Fame. Sigg lives in Granite Bay, California.
8:30-8:55 a.m. (Tuttle/Monroe)
RP15: The Short but Sensational Life of the Havana Sugar Kings
John Burbridge and John Harris
Finishing in third place and outscored by 51 runs, Cincinnati's International League affiliate somehow won the 1959 Governor's Cup and the Junior World Series. But what happened on the diamond in their last full season was hardly the only commotion surrounding the Havana Sugar Kings. In a mere 5½ seasons, the club went from dreams of a future MLB franchise to entanglement in a world geopolitical crisis. When the team was transferred to Jersey City in the middle of the 1960 season, the club's many Cubans faced an overwhelming predicament. Some, such as Cookie Rojas, Mike Cuellar, and Leo Cardenas, chose to forsake their homeland, while others returned to home and family. Burbridge and Harris recount the tale of the Sugar Kings.
Dr. John J. Burbridge Jr. <burbridg@elon.edu> is currently Professor Emeritus at Elon University, where he was both a dean and professor. While at Elon he introduced and taught Baseball and Statistics. John has presented at SABR Conventions and the Seymour Conference meetings. He is a lifelong New York Giants baseball fan (he does acknowledge they moved to San Francisco). The greatest Giants-Dodgers game he attended was a 1-0 Giants' victory in Jersey City in 1956. Yes, the Dodgers did play in Jersey City in 1956 and 1957 along with the Havana Sugar Kings in 1960 and 1961.
In addition to writing on baseball history, John R. Harris has written extensively on photography and camera technology. His photographs have appeared in the New York Times and have been exhibited at the International Center of Photography, Museum of Modern Art and Victoria & Albert Museum. He is a lifelong Cleveland Indians, Browns and Cavaliers fan and briefly played baseball for his alma mater, Fordham University.
8:30-8:55 a.m. (Brickell)
RP16: The Unluckiest Pitchers: Won-Loss Records and Selection to the Hall of Fame
David Kaiser
Baseball analytics have begun receiving grudging acceptance as a form of evidence to be used by BBWAA members when voting for the Hall of Fame. For hitters, that is. When it comes to starting pitchers, however, total wins and W-L record are still the name of the game for admission to the HOF. Kaiser explains how these two measures can be misleading, and shows which factors other than pitching skill contribute to the W's and L's that end up being credited to the pitcher. The argument is illustrated through examination of four superb hurlers who didn't receive plaques in Cooperstown: Hippo Vaughn, Wes Ferrell, Billy Pierce, and Dave Stieb.
David Kaiser <kaiserd2@gmail.com>, a historian, is the author of seven books, including Epic Season: The 1948 American League Pennant Race. He is currently at work on an analysis of how great players make great teams, 1901-2016, and frequently contributes to the SABR-L listserv. He lives in Watertown, Massachusetts.
10:15-10:40 a.m. (Tuttle/Monroe)
RP17: A Replays Play
Mark Pankin
In 2014, MLB expanded its "review" program far beyond its original use for determining home runs, permitting challenges and reviews for a great number of game events. With two and a half years of expanded review in the books, Pankin presents his analysis of the program … as a four act play. The acts convey several subtexts, including expanded review's effect on HR review, stats on types of reviews and their success rate, more stats on challenge success by team and other items. In the finale, Pankin follows up on last year's provocative paper by Dave Smith, offering proposals for first-inning tactics that managers might want to consider.
As Retrosheet's webmaster, Mark Pankin <sabr@pankin.com> helps in the development and maintenance of the HR and expanded replays pages on the site. He has made numerous presentations at SABR meetings, many based on mathematical models he has developed, and more recently his research interests have broadened to historical aspects such as the postseason "city series" played in the first half of the last century. He has a Ph.D. in math and works in Arlington, Virginia, as an investment advisor. One of his treasured possessions is his "NO DH" license plate.
10:15-10:40 a.m. (Brickell)
RP18: Boys Will Be Boys: The Implicit Acceptance of Domestic Violence in Baseball
Allison Levin
Athletes are celebrities. Like NBAer Charles Barkley, they may reject the idea that they are role models, but in today's social media-addicted society they can't really escape scrutiny. When they make mistakes (DUIs, offensive statements, etc.), "image restoration strategies" are available to mitigate the damage. However, this model fails when the subject is domestic violence, which is too often dismissed or even hushed up. Social media researcher Levin demonstrates recent trends in the way domestic violence is framed by the media and MLB, and shows where discourse on the subject takes place (as well as where it doesn't occur). Commissioner Manfred has recently started to assess punishment for domestic violence, and Levin has suggestions regarding how MLB players and the media can redefine the rhetoric about domestic violence.
Allison R. Levin, MA, JD <allison.levin@gmail.com> is a consultant and professor. Her research builds upon an eclectic background in political science, economics, women's studies, communications and law. In recent years she has focused on the effects of social media on pop culture, communications and sports. She has been invited to present her work at conferences both nationally and internationally. Her research on athlete's use of social media appears in Casing Sport Communication (2016). Her current presentation on domestic violence in baseball will appear as part of a comprehensive study of the implicit acceptance of celebrity domestic violence to be published in View Points on Media Effects: Pseudo Reality and its Influence on Media Consumers (Sage, 2017).
10:45-11:10 a.m. (Tuttle/Monroe)
RP19: The Myth of the Closer
David W. Smith
No one questions that relief pitcher usage has changed immensely in recent decades. If we are to believe managers and coaches, and (more importantly) the baseball media, today's rigidly defined progression has contributed mightily to winning. A number of researchers have sought to determine whether the evidence bears out this anecdotal belief. None, until now, have unleashed the full power of Retrosheet's database. Examining the last 95 years of game data, Dave Smith shows that the probability of victory when leading by 1-3 runs in the ninth inning has been remarkably constant the whole time, whether the starter goes the distance or the manager deploys a fresh "assigned role" reliever every inning from the sixth or seventh on, or any pattern in between.
David W. Smith <dwsmith@retrosheet.org> joined SABR in 1977 and has made research presentations at 20 national SABR conventions and many more at regional meetings. In 2001, he won the USA Today Sports Weekly Award (now the Doug Pappas Award) for his presentation on the 1951 NL pennant race. In 2005 he received SABR's highest honor, the Bob Davids Award and in 2012 he was honored with the Henry Chadwick Award. A past co-chair of the statistical analysis committee and recipient of the first SABR Special Achievement award, he is also the founder and President of Retrosheet, a nonprofit organization dedicated to the collection, computerization and free distribution of play by play accounts of Major League games. He is an Emeritus Professor of Biology after 40 years of service at the University of Delaware.
10:45-11:10 a.m. (Brickell)
RP20: Ty Cobb as Seen Through the Eyes of a Batboy
Millard Fisher
Has any player been "psychoanalyzed" more than Ty Cobb? Traumatized by the fact that his mother had fatally shot his father, Cobb was a misanthropic and cruel racist. He spiked infielders and beat up a disabled fan. He was loathed by teammate and opponent alike. … Or was he? Not according to the research carried out by Millard Fisher. Through interviews and conversations with Jimmy Lanier (Cobb's batboy), testimonials from Tigers who played with (and/or for) Cobb, and his own studies over two decades, Fisher paints a very different alternative picture of the Georgia Peach.
Dr. Millard Fisher is a devout baseball fan who reads extensively all types of baseball material, and particularly enjoys biographies and history of the game. He is an avid and loyal Braves fan. When not cheering for them, he speaks internationally on health issues and medicine, and has had numerous research presentations on those subjects. He was on the President's committee that formulated guidelines that targeted health implications for tobacco usage. In addition, he is a consultant to several national and international organizations such as the World Future Society, the Centers for Disease Control, and the National Institutes of Health. Dr. Fisher is past president of the Magnolia/Georgia SABR Chapter, and a frequent speaker at the National Baseball Hall of Fame in Cooperstown. He resides in Stone Mountain, Georgia.
Saturday, July 30
11:15-11:40 a.m. (Monroe-Flagler)
RP21: What Would Josh Gibson Make? How to Calculate a Wage that Was Never Earned
Michael Haupert
While Jackie Robinson paved the way for the players who would come after him, for many stars of the Negro Leagues the color barrier fell too late. They were denied both the opportunity to play in MLB, and the opportunity to reap the riches of MLB salaries. Haupert uses standard economic modeling to estimate the salaries these players could have earned had they been able to ply their trades in MLB. Building on previous research on the subject of labor markets, he uses salary and team revenue databases for players in MLB, the Negro Leagues, and the AAGBL to explore the relative value of players to their teams across leagues. Haupert's research converts the performance of players in the Negro Leagues to salaries those performances would have earned them in MLB. This allows for a novel way of measuring the cost to African American players of the discrimination they faced. He also makes some surprising discoveries about the salaries paid to the women in the AAGBL.
Michael Haupert <mhaupert@uwlax.edu> is Professor of Economics at the University of Wisconsin-La Crosse. He is co-chair of the Business of Baseball Committee. His primary areas of research are the financial history of professional sports and entertainment. He is currently working on the history of baseball labor markets.
11:15-11:40 a.m. (Brickell)
RP22: Opening Night in Miami, 1956: Bill Veeck and His Big Surprise
Sam Zygner
Until the evening of April 18, 1956, the city of Miami's baseball fans had only experienced the national pastime by enjoying major league exhibition games in the spring, and faithfully following lower rung minor league teams competing in circuits like the Florida International League and Florida East Coast League throughout the summer. In the winter of 1955, businessman Sid Salomon Jr. realized a dream of owning a professional baseball franchise and purchased the Syracuse Chiefs, promptly relocating the Philadelphia Phillies affiliate to Miami. To help ensure his club's success, Salomon recruited his long-time friend, Bill Veeck to run his club. Zygner discusses the opening night game between the Marlins and the Buffalo Bisons, based on his research that includes personal interviews with players and personnel who participated in the game.
Sam Zygner <sflasabr@hotmail.com> is the author of the book, The Forgotten Marlins: A Tribute to the 1956-1960 Original Marlins. He has been a member of SABR since 1996 and is the Chairman of the South Florida Chapter of SABR. He received his MBA from Saint Leo University. His writings have appeared in the Baseball Research Journal, The National Pastime, Nine, and La Prensa de Miami. A lifelong Pittsburgh Pirates fan, he has shifted some of his focus to Miami baseball history.
11:45 a.m. -12:10 p.m. (Tuttle/Monroe)
RP23: The Nuances of Free Agency: How the Evolution of the Collective Bargaining Agreement Has Affected Team Building
Dan Levitt
Ever since free agency was officially written into the fourth CBA in 1976, the rules and procedures governing free agency and the compensation associated with signing a free agent have continually shifted. Understanding the trade-offs involved in entering the free agent market and how to maneuver one's own expiring contracts has long been a hallmark of smart front offices. Levitt summarizes the significant free agent negotiation and compensation rules from that landmark fourth CBA through the most recent one, the eleventh ratified in late 2011, highlighting their impact on team building along with interesting examples.
Dan Levitt <danrl@attglobal.net> is the author of numerous baseball books and essays. He is a longtime SABR member, and in 2015 Dan won the Bob Davids Award. His books have won the Larry Ritter Book Award, the Sporting News-SABR Baseball Research Award, and have twice been finalists for the Seymour Medal.
11:45 a.m. -12:10 p.m. (Brickell)
RP24: Face Paint & Foul Balls: The Fascinating History of the Miami Ethiopian Clowns
Matthew Clifford
Not long before the Negro Leagues were established in 1937, there was a group of African-American baseball entertainers … and they called themselves the Miami Ethiopian Clowns. Some players painted their faces up like clowns while donning a grass skirt in the outfield while others carried an extra base in their uniform shirt (just in case they needed it) as they stepped up to bat. The Clowns' audience records surpassed the crowds who paid to see regular "professional" Negro League games. Clifford describes how this Florida team of slapstick goofs had the same potential, determination and talent as any major league team from their era. As they climbed to top of their careers, baseball greats like Satchel Paige and Hank Aaron shared the diamond with the Clowns and both players told the press that the Miami troop with painted faces could make the crowds roar with laughter while hitting and fielding like true professionals when the jokes were over.
Matthew M. Clifford <matthewmclifford@yahoo.com> is a freelance writer from the suburbs of Chicago, Illinois. He joined SABR in 2011 to enhance his research abilities and help preserve accurate facts of baseball history. His background in law enforcement and forensic investigative techniques aid him with historical research and data collection. He has reported several baseball card errors and inaccuracies of player history to SABR and the research department of the National Baseball Hall of Fame. Clifford also writes for SABR's digital BioProject and he has written articles for SABR's The National Pastime and the Baseball Research Journal.
12:25-12:40 p.m. (Tuttle/Monroe)
RP25: Monetary Mound: An Econometric Analysis of Pitcher Salary
Shane Piesik
Do Major League Baseball (MLB) pitchers receive pay commensurate with the revenues their performance generates in the year they become a free agent? This contribution is known as marginal revenue product (MRP) in economic theory. Piesik discusses whether current pitchers were paid less than, equal to, or greater than their MRP. His findings include the impact of performance measures on pitcher salary and an algorithm to determine the MRP of pitchers. His research uses contract year performance measures shown to increase owners' willingness to pay for pitchers' labor, finds the impact of performance on revenue, and estimates MRP.
Shane Piesik <Shane.Piesik@ksc.keene.edu> is the statistical analyst for the Seacoast Mavericks of the Futures Collegiate Baseball League. He graduated this year from Keene (N.H.) State College with a B.A. in economics and minor in management. He is currently pursuing an M.S. in analytics at the University of New Hampshire. His primary research interests include the labor markets of Major League Baseball, professional sports as a public good, and algorithmic decision making.
12:25-12:40 p.m. (Brickell)
RP26: The Hall of Fame Overcomes Separate but Equal to Honor the Negro Leagues
Dennis Corcoran
The Hall of Fame honors the Negro Leagues today with statues of Satchel Paige and Buck O'Neil and exhibits such as "Pride and Passion: The African American Baseball Experience." Corcoran discusses the arc of the role the Negro Leagues have played in the Hall of Fame, from Ted Williams' 1966 induction speech, through the initial plans to put the Negro League Hall of Famers in a separate room that led Satchel Paige to say, "I was just as good as the white boys and I ain't going in the back door of the Hall of Fame", the special Committee on African American Baseball and Buck O'Neil's Lifetime Achievement Award.
Dennis Corcoran <djcinductionguru@gmail.com> is a historian who wrote Induction Day at Cooperstown: A History of the Baseball Hall of Fame Ceremony. He is a Villanova graduate and was so happy when they won the NCAA Men's Basketball Championship on April 4, 2016. What makes it extra special for him is that he was the manager of the basketball team many years ago, and the coach, Jay Wright invites anyone who was part of "The Basketball Family" to come back every year for the Basketball Banquet so he's been going back for several years now. Dennis is also a retired full-time teacher, who subs in Chappaqua, New York.
2:15-2:40 p.m. (Tuttle/Monroe)
RP27: Baseball and the Yellow Peril: Waseda University's 1905 American Tour
Robert Fitts
At the turn of the 20th century Japan was striving to become a world power. It had defeated China in 1895 and in 1904 declared war on Russia. As its power grew so did anti-Japanese sentiment in the United States. In the midst of increasing tension, Isao Abe, one of the founding fathers of Japanese baseball and the founder of the socialist movement in Japan, brought his Waseda University baseball team to America in the spring of 1905. His goals were twofold — to teach his players "scientific baseball," and to increase international cooperation and peace through the mutual love of the game. Fitts will not only focus on the tour's importance to the development of international baseball but also discuss the socio-cultural aspects of Waseda's visit to America. He will show how the media depicted the Japanese players, how the tour affected American attitudes toward Japanese, and discuss the tour's role in international diplomacy.
A recipient of the Doug Pappas Award, Seymour Medal, and SABR Baseball Research Award, Rob Fitts <robertfitts@verizon.net> focuses on the history of U.S.-Japan baseball relations. He has written four books on the topic: Mashi (University of Nebraska Press 2015); Banzai Babe Ruth (University of Nebraska Press 2012); Wally Yonamine (University of Nebraska Press 2008); and Remembering Japanese Baseball (Southern Illinois University Press, 2005). His articles have appeared at MLB.com, Sports Collectors Digest, NINE, Baseball Research Journal, and National Pastime among others. He is also the founder of SABR's Asian Baseball Research Committee. Rob is currently working on a history of early Japanese-American baseball.
2:15-2:40 p.m. (Brickell)
RP28: An Examination of Moneyball Statistics on Marlins Draftees 2002-2012
Mary Ann Barragan
Major League Baseball's amateur draft is one of the key components in the future success of a team. Millions of dollars and countless of hours are put in by general managers, scouts and managers to invest in potential major leaguers. As time progressed a few teams have shifted their focus from using the observations of scouts to using the statistics of players to evaluate them. Barragan conducted an ANOVA test on draft picks from 2002-2012 to determine if there is a significant difference between collegiate and high school draftees, using on-base percentage, slugging average and OPS. She discusses whether there is a real need to value potential draftees by their level of education, and examines her hypothesis that college players will not have better statistics then high school players due to the market stabilizing as more teams valued these statistics.
Mary Ann Barragan <mbarr010@unm.edu> is a Technical Analyst at the University of New Mexico and is currently working on her Masters in Sports Administration. In April 2016, she presented at the Frederick Ivor-Campbell 19th Century Base Ball Conference on the Dolly Vardens. However, as much as baseball history has fascinated her, her greatest passion is applying statistical methods to analyze data. Her current research is on a 10-year span of the MLB draft, where major-league statistics are tested to see if there is a difference between college and high school picks.
2:45-3:10 p.m. (Tuttle/Monroe)
RP29: The Five Greatest Myths of Cuban Baseball
Peter Bjarkman
Major League Baseball's sitting official historian, John Thorn, has been quick to remind us that much of our cherished baseball history "is a lie from beginning to end" and that almost all of it "is bunk, tossed up with a wink and a nudge" (Baseball and the Garden of Eden). Cuba's overly rich and parallel national pastime (both pre-Castro and post–revolution) is hardly any exception to this dictum – several of its most formative moments, most indelible heroes, and most engrained defining legends are also products of rampant mythmaking propped up by decades of shoddy scholarship. Bjarkman, based on two decades on the ground in Cuba and his several books (including The History of Cuban Baseball, 1864-2006) and hundreds of articles examining Cuba's baseball saga explodes several of the island's most durable if least defensible historical misconceptions. In the end Cuba's baseball saga proves to be something both lesser and at the same time greater than the fabrications of its most industrious mythmakers; and it is all the more intriguing for that very reason.
Peter Bjarkman <bjarkman@mindspring.com> is the author of Cuba's Baseball Defectors: The Inside Story, plus several additional books and hundreds of articles on Cuban baseball history.
2:45-3:10 p.m. (Brickell)
RP30: The Hidden Value of Competitive Balance Picks in the MLB Draft
Ronnie Socash
What are compensation and competitive balance draft picks worth? Online sources such as FanGraphs report that most team executives value compensation round draft picks acquired through a player rejecting a qualifying offer and signing with another team between $5 and 10 million dollars. Competitive balance picks that slot in just behind the first round of compensation picks are even less valuable. Socash uses WAR values of players drafted over the past ten years and, based on trades, signing bonuses and other factors, discusses what kind of dollar value teams are putting on these picks. He will discuss whether there are market inefficiencies stemming from these tradeable compensation round draft picks. For example, by helping pay off dead contracts for a team in the competitive balance round, a team with a strong financial backing has the opportunity to steal away a top prospect well below market value.
Ronnie Socash <rjsocash7@ufl.edu> is entering his fourth year at the University of Florida majoring in Telecommunications. After interning at Columbia University for the past two summers as a teacher's assistant for a Sports Business class, he decided to pursue his career goal of working for a Major League team. Besides his baseball research, Ronnie also works at ESPN Gainesville 95.3 and is the Executive Director of the UF Campus Diplomats, an organization that serves as the ambassadors to the Dean of Students Office.
3:15-3:40 p.m. (Tuttle/Monroe)
RP31: The Bay of Pigs and the Cultural Isolation of 1960s Cuban Players
Thom Henninger
Much like the current generation of Cubans making its mark in Major League Baseball, the Cuban players of the 1960s suffered isolation from family and friends on the island, triggered by poor Cuban-U.S. relations. As relations soured following the Cuban Revolution, Fidel Castro informed Cuban major leaguers in early 1961 that they could continue their baseball careers in Cuba or the United States, but not in both countries. Players who chose to continue major league careers could not return to their homeland. Following the failed Bay of Pigs invasion, the borders between Cuba and the United States were closed. Henninger shares the stories behind players who were in the United States when the border snapped shut, including Zoilo Versalles and Tony Oliva, and how they were cut off from family and friends. Through these stories, many of which are first-hand accounts from the players themselves, he celebrates their careers and perseverance through political events beyond their control.
Thom Henninger <tphenninger@hotmail.com>, a St. Paul native and lifelong Twins fan, is associate editor at Baseball Digest. For 17 years he wrote for STATS LLC, during which time he prepared a web-based, weekly baseball column, "Thom's Take," and his work also appeared in ESPN Insider and Baseball America. He has authored Tony Oliva: The Life and Times of a Minnesota Twins Legend and contributed to Play It Again: Baseball Experts on What Might Have Been.
3:15-3:40 p.m. (Brickell)
RP32: Career Saves: Charting the Rising Impact of the One Inning Save: Is 400 the New 300?
Wayne Towers
Mariano Rivera (652 saves: 1995-2013) and Trevor Hoffman (601 saves: 1993-2010) establishing the 600 career saves club led to examining whether 300 saves remained a viable benchmark for evaluating relief-pitching careers. Using career save totals and innings per save data, Towers revisits key analyses by Bill James, William McNeil, Pete Palmer and John Thorn. He analyzes the increasing standards for Hall of Fame relief pitchers. By and large, this growth was generally attributed to the rise of the one inning or less save. By comparing their rates of shorter save appearances, Towers explains how two three triads and a third dyad of distinguished right-handed relief pitchers emerged from his research.
Wayne Towers, Ph.D. <wctowers@yahoo.com> is a retired college professor and works in the Education and Conservation Department at SeaWorld San Diego. Along the way, he worked as a data analyst at the Oklahoman and Times daily newspaper and for multiple business research firms. He is a schizophrenic fan of the Pittsburgh Pirates of his youth and the San Diego Padres of his son's youth. His published work includes World Series Coverage in the 1920s (Journalism Monographs). Portions of this work were presented as part of "Emergence of Relief Pitching: 1871-2013" at the SABR 45 national convention in Chicago.
For more information on SABR 46, visit SABR.org/convention.