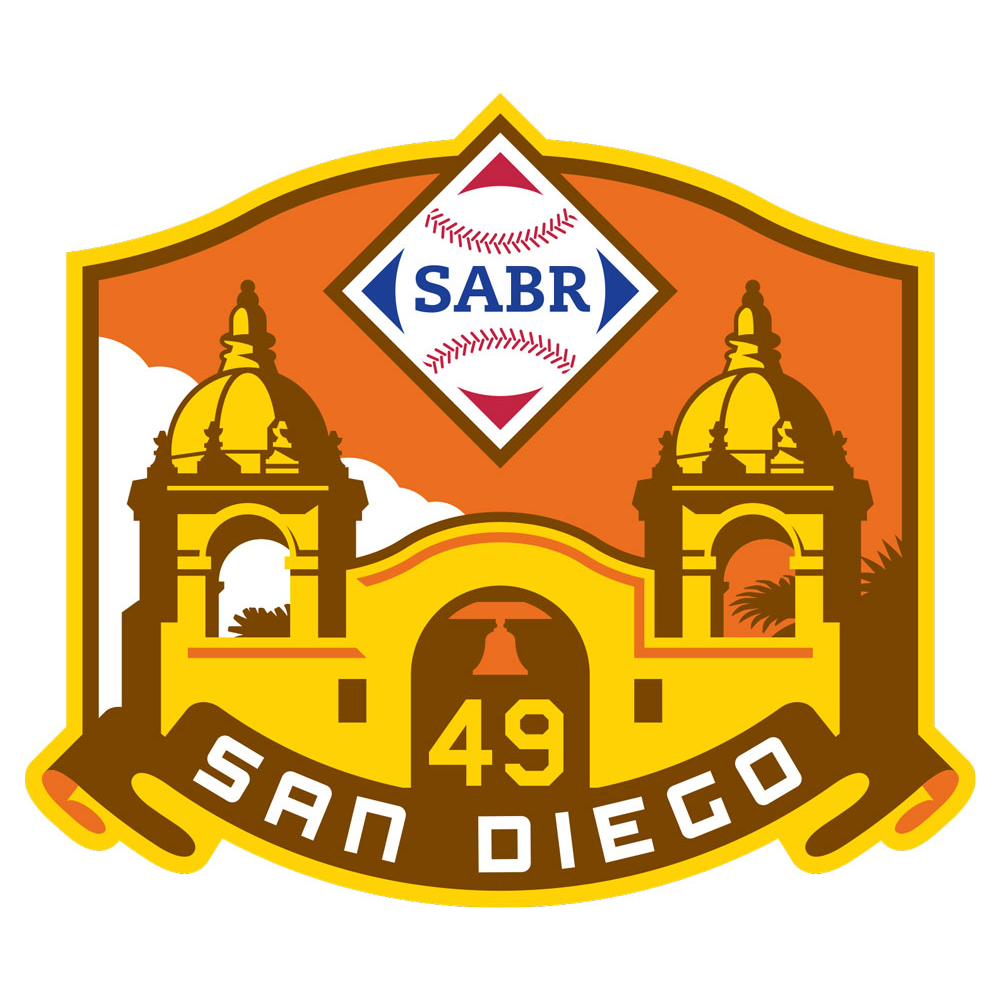 We're excited to announce the research presentations for SABR 49, which will be held June 26-30, 2019, at the Manchester Grand Hyatt in San Diego. Full research abstracts and presenter bios are available below.
Click on a link below to listen to audio highlights or download the PowerPoint slides, where available.
Thursday, June 27
11:45 a.m.-12:10 p.m. (Seaport A/B Ballroom)
RP01: Sweet! 16-Year-Old Players in Major League History
Chuck Hildebrandt
Joe Nuxhall, at age 15, is well known for having been the youngest player in major league history. After getting duly crushed in his pitching debut, it should seem obvious that a minor child of fifteen shouldn't be allowed to play major league baseball against full-grown men in peak physical condition. Yet, as recently as 1956, fifteen separate teams thought it perfectly appropriate to allow a minor child of sixteen to take the field for them. This presentation will briefly recap the lead article in the current Baseball Research Journal by introducing these kids, determining how they could have been allowed to play big-league ball in the first place, and contemplating whether it could ever happen again. We will also feature bonus material, so even if you've read the article, come learn something new about 16-year-old big leaguers.
Chuck Hildebrandt <chuck_sabr@gmail.com> founded the Baseball and the Media Committee in 2013 and currently serves as its chair emeritus. Chuck is a two-time Doug Pappas Award winner for his oral presentations "'Little League Home Runs' in MLB History" (2015) and "Does Changing Leagues Affect Player Performance, and How?" (2017). Chuck has authored three articles for the Baseball Research Journal, including the cover story, "The Retroactive All-Star Game Project", in the Spring 2015 issue. A Detroit native and proud Tigers fan even through their too-frequent rebuilding phases, Chuck lives with his lovely wife Terrie in Chicago, where he also plays in an adult hardball league when he's not recovering from various knee surgeries.
11:45 a.m.-12:10 p.m. (Seaport F Ballroom)
RP02: The Life and Legend of Oscar Charleston: Getting to Know Baseball's Greatest Forgotten Player
Jeremy Beer
Ranked by Bill James as the fourth greatest player in baseball history, Negro Leagues great Oscar Charleston remains virtually unknown even among serious baseball fans. Furthermore, many of the "facts" about Charleston that circulate in the literature and on the Internet consist of falsehoods, half-truths, and unexamined legends. In this presentation, Beer will bring the real Oscar Charleston to life. He addresses and corrects myths about the biggest star in black baseball prior to Satchel Paige, whose greatness was attested to by many in MLB, and who may have been the first black scout to work for any of America's major sports leagues.
Jeremy Beer <jbeer@americanphilanthropic.com> is the principal partner at American Philanthropic, LLC. His dozens of essays and articles on topics related to sports, culture, or philanthropy have appeared in such outlets as the Washington Post, First Things, National Review, the Utne Reader, and the Baseball Research Journal. He is the editor of America Moved: Booth Tarkington's Memoirs of Time and Place, 1869–1928, and the author of The Philanthropic Revolution: An Alternative History of American Charity. His most recent book, Oscar Charleston: The Life and Legend of Baseball's Greatest Forgotten Player, will be published by the University of Nebraska Press this fall. Beer has a doctorate in psychology from the University of Texas at Austin. He and his wife live in Phoenix, Arizona, where he serves as a member of the Friends of SABR Committee.
12:15-12:40 p.m. (Seaport A/B Ballroom)
RP03: Gentle Black Giants: A History of Negro Leaguers in Japan
Bill Staples Jr.
In July 1983, baseball historian Kazuo Sayama traveled over 6,000 miles from Japan to attend the SABR annual convention held in Milwaukee, Wisconsin. There he met historian John Holway, who asked him if he knew anything about a Negro Leagues team that barnstormed Japan in the late 1920s and 30s. Sayama did not … but this question would change his life forever. For the next three years, Sayama worked tirelessly to unearth the hidden story and legacy of these mysterious ballplayers. What he discovered — through archival research and interviews with the Japanese ballplayers who compete against the Negro Leaguers — touched his heart and opened his eyes to a missing chapter in Japanese baseball history. After collaborating with Sayama on another topic, Staples worked with a team of translators to translate Sayama's resulting book, Gentle Black Giants, to English. Staples will share the key findings, lessons learned, and insights about the translation process with the SABR community. As Staples writes in the preface of the new book, "You don't have to be a member of SABR or well-versed in Japanese baseball history to appreciate the Royal Giants. Anyone who loves baseball, or has a passion for Negro Leagues history, U.S.-Japan relations, civil rights, or cross-cultural encounters, will enjoy" this story.
Bill Staples Jr. <billstaplesjr@gmail.com> is a board member for both the Nisei Baseball Research Project (niseibaseball.com) and Japanese American Citizens League-Arizona Chapter, chairman of the SABR Asian Baseball Committee, and research contributor to the Negro Leagues Baseball Museum in Kansas City. He has spoken at numerous baseball symposia, museum and conferences, including SABR 41. He is the author of the 2012 SABR Baseball Research Award-winning biography, Kenichi Zenimura, Japanese American Baseball Pioneer (McFarland, 2011), funded in part by a 2010 SABR-Yoseloff Baseball Research Grant.
12:15-12:40 p.m. (Seaport F Ballroom)
RP04: Trader Jack: The San Diego Years
John J. Burbridge Jr.
Jack McKeon at eighty-eight years old just became a special assistant to Washington Nationals general manager Mike Rizzo. Jack has had an amazing career in baseball beginning as a minor league player in such places as Gloversville, New York, and York, Pennsylvania, to leading the Florida Marlins to a World Series championship in 2003. However, a defining period in Jack's career was his tenure in San Diego from 1980 until 1990, where he served as general manager and as their manager for a short period. Burbridge focuses on McKeon's years in San Diego, including winning the 1984 NL pennant, with a focus on his wheeling and dealing. He will review and analyze some of McKeon's major deals, including the short- and long-term impact on the Padres, while also recognizing McKeon's efforts in emphasizing international scouting.
Dr. John J. Burbridge Jr. <burbridg@elon.edu> is currently Professor Emeritus at Elon University where he was both a dean and professor. He is also an adjunct at York College of Pennsylvania. While at Elon he introduced and taught Baseball and Statistics. He has authored several SABR publications and presented at SABR Conventions, NINE and the Seymour meetings. He is a lifelong New York Giants baseball fan. The greatest Giants-Dodgers game he attended was a 1-0 Giants' victory in Jersey City in 1956. Yes, the Dodgers did play in Jersey City in 1956 and 1957.
Note: Due to a medical situation, John Burbridge Jr. was unable to attend the convention. His son, John Burbridge III, delivered this presentation instead.
12:45-1:10 p.m. (Seaport A/B Ballroom)
RP05: Trapped in America: How the Masanori Murakami Debacle Redefined U.S.-Japan Baseball Relations
John Carvalho
In 1964, the Nankai Hawks sent pitcher Masanori Murakami to the San Francisco Giants. Murakami would be the first Japanese player signed to a contract by a U.S. team. The move was seen as a sign of improvement not only about Japanese baseball players, but also in the relationship between American and Japanese baseball leadership. The relationship would soon sour, however. After playing the last month of the season with the Giants, Murakami announced his desire to return to Japan, citing homesickness. The Giants, along with baseball leadership, claimed that Murakami's contract with the Giants could not be broken, and that he would have to play the 1965 season in San Francisco. Japan's baseball leadership, along with his family, claimed that Murakami had been tricked into signing a contract he did not understand and vowed that he would not return. Carvalho examines the dispute with a focus on how it was an example of baseball's reserve clause expanded into a principle to govern international baseball relations. That principle, plus American baseball's sense of power, magnified the crisis.
John Carvalho <johncarvalho56@gmail.com> is a professor of journalism at Auburn University, where he has taught since 2003. He is the author of Frick*: Baseball's Third Commissioner (McFarland, 2016). His research on Frick focuses mainly on its relationship to Frick's earlier career as a New York sports journalist. Carvalho is currently editing a sports media history anthology for Routledge Publishing, with a release target of late 2020/early 2021. He earned his Ph.D. from the University of North Carolina at Chapel Hill and taught at Campbell University from 1994-2003. His first job, which included coverage of the Kansas City Royals' AA franchise for the Jacksonville Journal, launched his 14 years of professional media experience. In Jacksonville, he snuck Dan Quisenberry and other Royals prospects onto the golf course where his parents were members.
12:45-1:10 p.m. (Seaport F Ballroom)
RP06: The 1978 Padres
Gary Sarnoff
Heading into the 1978 season, the San Diego Padres were expected to have another losing season. Since their existence began in 1969, the franchise had yet to experience a single winning season. Expectations were high in 1977, when team owner Ray Kroc traded for George Hendrick and signed free agents Gene Tenace and Rollie Fingers. The belief was that these new Padres would fit in well with current Padres players Dave Winfield, Butch Metzger and Randy Jones. The team responded by going 69-93. To make matters worse for the coming '78 season, manager Alvin Dark was fired during spring training and replaced by pitching coach Roger Craig. But instead of another bad season, the Padres posted a winning record! Sarnoff examines how they did it, leading to the city of San Diego coming out in big numbers to set a franchise attendance record.
Gary Sarnoff <runtowin89@hotmail.com> is an active SABR member who has attended 14 of the last 15 SABR conventions. He serves as chairman of SABR's Ron Gabriel Award Committee, the committee that annually awards the author(s) of the best research, published or unpublished, about the subject of the Brooklyn Dodgers. He has contributed to SABR's Baseball Biography Project and Jerry Malloy Conference. He has authored two books: The Wrecking Crew of '33: The Washington Senators' Last Pennant and The First Yankees Dynasty: Babe Ruth, Miller Huggins and the Bronx Bombers of the 1920s. He resides in Alexandria, Virginia.

1:15-1:40 p.m. (Seaport A/B Ballroom)
RP07: Foul Tip Impacts to Catchers' Masks in the American League East: A Study of Subconcussive Head Impacts to Catchers
Graham Tebbit
Head impacts are a growing concern in sports because they may lead to acute or long-term changes in the brain, which may be detrimental to the health and performance of athletes. Studies examining concussions in baseball found catchers are significantly overrepresented as compared to other positions and a large proportion of concussions were the result of Foul Tip Impacts (FTIs). Tebbit examines whether the frequency or average speed of FTIs predicted a decrease in several batting performance measures from four teams in the American League East. His research used video from MLB.TV to track the incidence and relative risk of multiple FTIs in a game. He then used a model that to predict whether there would be decrease in xwOBA, SLG or strikeout rate. Tebbit discusses his methodology and results in what he believes to be the first study to objectively (as opposed to using self-reports) and quantitatively examine how many FTIs catchers experience.
Graham Tebbit <g.tebbit@mail.utoronto.ca> is a Master's of Science candidate at the University of Toronto from the Faculty of Kinesiology and Physical Education. Graham is a former NCAA Division 1 pitcher from Hofstra University where he graduated with a Bachelor of Arts degree in Psychology. His accomplishments in baseball provided him an opportunity to pitch in the Cape Cod, the CanAm league, and semi-professionally in the Intercounty Baseball League alongside former MLB players, such as Scott Thorman and Brian Sikorski. Academically, Graham was awarded the Guinness Fellowship in High Performance Sport.
1:15-1:40 p.m. (Seaport F Ballroom)
RP08: Gaylord Perry's 1978 NL Cy Young Season Reexamined
Gordon Gattie
In early 1978, 39-year-old Gaylord Perry was traded by the Texas Rangers to the San Diego Padres for pitcher Dave Tomlin and $125,000. The Padres, who had not finished above .500 since the team's 1969 inception, desperately needed veteran pitching. Gattie examines Perry's season, culminating in his becoming the oldest pitcher to ever win the Cy Young Award (surpassed 26 years later by Roger Clemens). He presents highlights from Perry's 1978 season, provides insights about the NL Cy Young Award voting, and addresses incorporating newer statistical measures with historical data and traditional measures to reexamine historical award voting.

Gordon Gattie <ggattie@gmail.com> is an engineer for the U.S. Navy. His baseball research interests include ballparks, historical records, statistical analysis, and the knuckleball. A SABR member since 1998, Gordon earned his Ph.D. from SUNY Buffalo, where he used baseball to investigate judgment performance in complex dynamic environments. Ever the optimist, Gordon dreams of a Cleveland Indians-Washington Nationals World Series matchup. Lisa, his wonderful wife who also enjoys baseball, continues to challenge him by supporting the Yankees. Gordon has contributed to multiple SABR publications and the Games Project.
4:15-4:40 p.m. (Seaport A/B Ballroom)
RP09: World War One & Free Agency: The Fateful 1918 Battle for Jack Quinn between the New York Yankees and the Chicago White Sox
Steve Steinberg
Jack Quinn was repeatedly given up on, called "finished" and "too old." Released in 1912 by the Highlanders, overlooked by the Bigs after the Federal League dissolved in late 1915, traded by the Yankees after the 1921 season, waived by the Red Sox in 1925, released by the Athletics late in 1930, and then signed with Brooklyn, he repeatedly came back. Steinberg tells the story of an overlooked, yet revealing and far-reaching episode in the long career of spitball pitcher Jack Quinn: the battle for his services between the Yankees and the White Sox. He explains how, with the looming backdrop of World War One and baseball's shortened season, the National Commission makes a ruling on Quinn's ownership in August 1918 that will go a long way towards contributing to its very demise.
Steve Steinberg <www.stevesteinberg.net> is a baseball historian of the early 20th century. He has co-authored two award-winning books with Lyle Spatz, 1921: The Yankees, the Giants, and the Battle for Baseball Supremacy in New York (winner of the Seymour Medal) and The Colonel and Hug: The Partnership that Transformed the New York Yankees. His Urban Shocker: Silent Hero of Baseball's Golden Age was awarded the 2018 SABR Baseball Research Award. His latest book, The World Series in the Deadball Era, is a joint effort of SABR's Deadball Era Committee. Steve has also published more than 20 articles, many in SABR journals.
4:15-4:40 p.m. (Seaport F Ballroom)
RP10: Nineteenth-Century Women in Baseball
Katie Neipris
The cover illustration of British expat Henry Chadwick's instructional baseball manual Beadle's Dime Base-Ball Player (1866) depicts six figures in billowy shirts and pants and prototypical baseball caps. Most strikingly, the figures' gender remains ambiguous; their non-form-fitting uniforms do not offer any insight into their body type, while their facial features appear surprisingly feminine to the extent that one hesitates to label them as distinctly male or distinctly female. Inside, however, Chadwick relegates women to Rounders, due to the "manliness" required to play baseball Neipris examines the extent to which baseball writers and administrators consciously employ the American-male / British-female binary to emphasize the masculinity of "true" American baseball and shy away from its British origins. Based on research of contemporaneous sources and current works, Neipris maintains that American baseball evolved from an offshoot of British cricket to a sport that demonstrated the potential of capitalism to inform entertainment and national identity to be conferred in terms of masculinity over foreign femininity.
Katie Neipris <kneipris@ucsd.edu> is a second-year Literature Ph.D. student at UC San Diego. She earned her Bachelor's in English at UCLA and double-minored in Spanish and Film, Television, and Digital Media. Born and raised in Seal Beach, she is a lifelong Angels fan who has played softball since age four. She studied literature at Oxford in 2012 and creative writing at Cambridge in 2015. Katie worked in television development for three years before starting her Ph.D. program. She is a member of SABR, Sigma Tau Delta Honors Society, and Phi Beta Kappa.
4:45-5:10 p.m. (Seaport A/B Ballroom)
RP11: The Business of Being the Babe
Michael Haupert
Babe Ruth is often cited as the greatest player in Major League Baseball history. If not the greatest, then he is certainly the most celebrated, and, arguably, the first true superstar in the sport, if not all sports. Ruth transcended the game, and with the aid of agent Christy Walsh, he profited tremendously from that transcendence. Using newly discovered documents, Haupert looks at the financial accomplishments of Ruth both on and off the field. Using records from the files of Ruth's agent Christy Walsh, Yankee account books, as well as Ruth's personal tax and bank records, Haupert reconstructs a financial history of Ruth's career as a baseball player and celebrity. The results show just how successful Ruth (with the considerable help of his agent) was at leveraging his baseball celebrity off the field to supplement his considerable baseball income. These results, when compared with the revenues the Yankees earned from Ruth, paint a picture of the financial juggernaut that professional baseball had already become by the 1920s.
Michael Haupert <mhaupert@uwlax.edu> is Professor of Economics at the University of Wisconsin-La Crosse, and co-chair of the SABR Business of Baseball Committee.
4:45-5:10 p.m. (Seaport F Ballroom)
RP12: Going, Going, Gone! Reasons Girls Ceased Participation in Baseball
A.J. Richard
In 1974, Little League Baseball was forced to let girls play. Also in 1974, LLB created Little League Softball and began funneling girls into softball instead of baseball. Today we still live with that legacy that, "Boys play baseball. Girls play softball." Richard discusses the results of conducting a qualitative study by interviewing women over the age of 18 who played competitive baseball as a member of a team and quit at some point before the age of 18. By identifying the reasons girls quit baseball, we can better understand how the existing baseball culture excludes girls. Richard maintains that, by understanding the experiences of girls playing baseball, we can develop strategies to keep girls in the game they love, encourage girls and boys to play together on inclusive teams, and create a culture which benefits both girls and boys through baseball.
A.J. Richard <amatulla@uni.edu> is a graduate student and graduate assistant at the University of Northern Iowa studying Leisure, Youth and Human Services. She's loved baseball as long as she can remember. Her favorite player of all time is Roberto Clemente; she wishes she could have been there when he got his 3,000th hit. In 2015 she "discovered" Jackie Mitchell. This led to discovering the history of girls and women in the game as well as the fact girls and women continue to play the game. AJ is interested in the Negro Leagues and gender and racial segregation in the game. She started Women Belong in Baseball to raise awareness, provide information about opportunities, and help girls and women who love the game connect. She earned the nickname "Crash" because when she plays baseball, she's not the most graceful person in the world. She does go all out.
5:15-5:40 p.m. (Seaport A/B Ballroom)
RP13: We Love Baseball, Hotdogs, Apple Pie, and Chevrolet…and Beer, Cat Food, and Margarine: Baseball and Advertising in the Era of Mad Men
Roberta J. Newman
In 1947, the advertising trade paper Printer's Ink opined that the rapid spread of commercial television was all but inevitable. 1947 also marked the first baseball season to feature regularly televised games. By 1960, nearly 90% of American households possessed television sets. As fans of Mad Men know, the late 1950s through the early 1970s represented a period of unprecedented growth and creativity in the advertising industry. Some of the best and most enduring products of advertising's "creative revolution" moved away from selling products by means of touting their benefits and embraced the idea of selling images; and baseball provided a ready source of images waiting to be sold and an audience ready to buy. Using a close analysis of television advertising and related print ads from era, Newman examines ways in which the game and its players were represented in advertising by looking closely at some iconic baseball-related commercials of the era. She considers how advertising, and with it, baseball celebrities and baseball imagery, served both as reflectors of the zeitgeist and a precipitator in shifts in consumption patterns and, with them, shifts in social behavior.
Roberta J. Newman <rn5@nyu.edu> is a cultural historian whose current work focuses on the intersection of baseball and advertising. Her most recent book is Here's the Pitch: The Amazing, True, New, and Improved Story of Baseball and Advertising (2019). She is also co-author of Black Baseball, Black Business: Race Enterprise and the Fate of the Segregated Dollar (2014), a study of the business of the Negro Leagues in its cultural context. Her work on these and other topics have appeared NINE: A Journal of Baseball History and Culture and other publications. Though never a Dodgers fan, Newman is a Brooklyn native. She is a Clinical Professor of Liberal Studies and New York University.
5:15-5:40 p.m. (Seaport F Ballroom)
RP14: Waiting in the Wings: Could Anyone Have Taken Down the 1960-64 Yankees?
Bryan Soderholm-Difatte
The 1960-64 Yankees are one of only two teams — the 1949-53 Yankees the other — to go to five consecutive World Series. Four of their five pennants were by margins of greater than 5 games and three were blowouts by more than 8, compared to four of five of the 1949-53 Yankees pennants being won by 5 games or less, and only one by 8½. Unlike the 1949-53 Yankees, however, they won only two World Series. And unlike the 1949-53 Yankees, which won 103 games in 1954 and then four more pennants, they fell of the table with the major leagues' third-worst record in 1965. Soderholm-Difatte addresses two questions. The first: how good were the 1960-64 Yankees really? Soderholm-Difatte will show how unbalanced the team really was, leading to the second question: why were there no American League teams waiting in the wings to take them down?

Bryan Soderholm-Difatte's <brysholm@aol.com> presentation is adapted from his latest book, Tumultuous Times in America's Game: From Jackie Robinson's Breakthrough to the War Over Free Agency (Rowman & Littlefield, 2019). He is also the author of America's Game: A History of Major League Baseball Through World War II (2018) and The Golden Era of Major League Baseball: A Time of Transition and Integration (2015). Bryan grew up in the New York area, went to college in the Los Angeles area, graduate school in Boston, worked professionally and still lives in the Washington DC-Baltimore region, and has close personal ties to Denver and San Francisco, which gives you an idea of the teams he follows most closely.
5:45-6:10 p.m. (Seaport A/B Ballroom)
RP15: The Rise and Fall of Arnholt Smith
Michael Bates
Arnholt Smith was a self-made millionaire, one of the founders of the Padres, Mr. San Diego, a close friend of future Presidents, and, according to Forbes Magazine, "one of the great swindlers of our time." Bates traces his rise from a penniless family on the lam from his father's perjury conviction in Washington to become an industrialist and bank owner whose self-dealing led to the failure of the United States Bank of San Diego and a felony conviction for embezzlement and tax fraud. His self-inflicted financial ruin almost led the Padres to decamp from San Diego for Washington, D.C., before the team was rescued by Ray Kroc.
Michael Bates <bates8791@gmail.com> is the co-founder of The Platoon Advantage and co-host of the podcast This Week In Baseball History (@TWIBHistory) with his long-time collaborator, Bill Parker. His writing has appeared on ESPN.com, Baseball Prospectus, The Hardball Times, Notgraphs, MLB Daily Dish, SB Nation's baseball main page, and The Score. This is his second oral presentation at SABR. Mike lives in Iowa City, Iowa, where he works as a data and quality manager at the University of Iowa Hospitals and Clinics.
5:45-6:10 p.m. (Seaport F Ballroom)
RP16: A Return to Greatness: The Tumultuous History of the Bullpen Cart
Allison Levin
The bullpen cart came into baseball with little fanfare when in 1950 the Cleveland Indians used a little red wagon to escort players to the field. The next explicit usage of transportation for pitchers to the mound occurred in 1951 when the Chicago White Sox used what would be formally called a bullpen cart during a series with the New York Yankees. Levin conducts a rhetorical content analysis of the evolution of these original bullpen carts of the 1950s, to their heyday in the 1970s, an era where bullpen carts became so ubiquitous that game stories would mention relievers being brought in by cart, much the way we now say a closer entered to his music without a second thought. Levin will look to the absolute disappearance of the bullpen cart by the end of the era by applying the content analysis to some of the most popular theories as to why teams and pitchers stopped using the transportation. She will also look at the return of the bullpen cart by several teams in the 2018 and 2019 seasons. Helping us understand the history and rationale behind the rise, fall and rise again of the bullpen cart.
Allison R. Levin <allison.levin@gmail.com> (MA, JD) is a Professor of Sport Communication at Webster University. Her research builds upon an eclectic background in political science, economics, women's studies, communications, and law. She has been invited to present her work at conferences both nationally and internationally. Her research on athlete's use of social media appears in Casing Sport Communication (2016). In recent years Allison's research has focused on baseball fandom. Allison lives in St. Louis and is a lifelong Cardinals fan despite having a father from Cubs country and a mother from Yankees country.
Friday, June 28
9:05-9:30 a.m. (Seaport A/B Ballroom)
RP17: Don't Get Big Ideas: The Pacific Coast League Owners' Quest for Major League Status
Andy McCue
As World War II drew to a close, the Pacific Coast League's owners eyed their fast-growing area and the squads of major leaguers they had produced in recent decades. Both the size of their cities and the quality of their players were major league. Attendance was stronger than some major league franchises. Why did they have to stay minor league? Thus, they sought exemption from the minor league draft and a formal path to major league status. The major leagues politely ignored them for several years, and the owners briefly considered dropping out of Organized Baseball. Then, Congressional hearings intervened and criteria for promotion were outlined. But, by then, attendance was falling. More important, the civic boosters and sports opinion makers of their cities were also clamoring for major league status, and not just with what they too often saw as a jumped-up minor league. McCue examines the attempt, the structure of major league baseball at the time and the forces that stymied the league.

Andy McCue <agmccue44@earthlink.net>, a former president of SABR, won the Seymour Medal for Mover and Shaker: Walter O'Malley, the Dodgers, and Baseball's Westward Expansion. He is also the author of Baseball by the Books: A History and Complete Bibliography of Baseball Fiction. He is working on a tale of the American League's mismanagement of its affairs through expansion era, from the 1950s into the 1980s.
9:05-9:30 a.m. (Seaport F Ballroom)
RP18: Baseball's Most Confounding Rule
Mark Pankin
The rule for what can happen when a team sends the wrong batter to the plate has two parts, both of which are uncomplicated. Nonetheless, it has resulted in confusion and wrong actions by players, managers, umpires, and at least once by a league president. With the apparent exception of Earl Weaver, managers often have failed to take full advantage of the strategic possibilities that can occur when the other team commits a violation. Pankin explains the batting-out-of-turn (BOOT) rule and discuss its history, shows how often it has happened, and looks at some of the causes of teams violating it. He takes the audience through examples of the confusion or misinterpretation that have resulted, including a nonsensical ruling by a league president. Finally, he illustrates some of the potential strategic advantages available after a BOOT, ones that have rarely been used.
Mark Pankin <sabr@pankin.com> is the retrosheet.org webmaster and has made numerous presentations at SABR meetings, many, unlike this one, based on mathematical models he has developed. More recently his research interests have broadened to historical aspects such as the postseason "city series" played in the first half of the last century. He has a Ph.D. in math, has retired as an investment advisor, and is now living in Alexandria Virginia. One of his treasured possessions is his "NO DH" license plate.
9:35-10:00 a.m. (Seaport A/B Ballroom)
RP19: San Diego Breaks Pacific Coast League Color Barrier
Alan Cohen
Not long after Jackie Robinson broke the major league color barrier in 1947, the Cleveland Indians bought a young infielder from the New York Cubans and decided that he should be converted into an outfielder. The player was sent to the San Diego Padres of the Pacific Coast League. In 1949, Minnie Minoso joined with Luke Easter to form the nucleus of the Padres who advanced to the PCL playoffs for the first time since 1942. Cohen discusses how they were not the first black players with the Padres, or for that matter, in the PCL. He explores the introduction of these players from their first black player signing in November 1947, Johnny Ritchey, through the Padres' affiliation with Bill Veeck's Cleveland Indians that brought them Minoso, Easter, Artie Wilson, Roy Welmaker, Al Smith and Suitcase Harry Simpson.
Alan Cohen <adc0317@comcast.net> has been a SABR member since 2011, serves as Vice President-Treasurer of the Connecticut Smoky Joe Wood Chapter, and is the datacaster (stringer) for the Hartford Yard Goats of the Double-A Eastern League. He has written more than 50 biographies for SABR's BioProject and has contributed stories to The National Pastime and the Baseball Research Journal. He is expanding his research on the Hearst Sandlot Classic, an annual youth All-Star game of bygone years. He has four children and six grandchildren and resides in West Hartford, Connecticut, with his wife Frances, a cat (Morty) and a dog (Buddy).
9:35-10:00 a.m. (Seaport F Ballroom)
RP20: Behind the Numbers: The Untold History of Official Scorers
Christopher J. Phillips
Given the importance baseball fans have long placed on statistics, and how important data collection has become to modern baseball analytics, we know remarkably little about the history of official scorers. Data don't simply emerge after a game is played or a season is finished. Individual people, with particular expertise and credibility, are required to create, verify, and maintain data. Phillips explores the history of scoring, particularly that of official scorers, showing how technologies and strategies have been used to take individual judgments of credit and turn them into reliable performance statistics. Leagues attempted to write rules for judgment, attempted to control how scorers watched the game, and attempted to implement technologies like video replay to standardize across scorers. Though the product of official scorers is simply a list of numbers, the process remains inescapably subjective. Fallible humans make judgments of credit, judgments which must be disciplined and managed in order to ensure the resulting statistics are reliable and credible.
Christopher J. Phillips <cjp1@cmu.edu> teaches in the history department at Carnegie Mellon University. He is the author of Scouting and Scoring: How We Know What We Know About Baseball (Princeton, 2019) and writes more broadly on the spread of data and statistical analysis into baseball, wine tasting, medicine, and education. He earned his Ph.D. in history of science from Harvard University.
10:05-10:30 a.m. (Seaport A/B Ballroom)
RP21: Haney and Harris: A Collision in the 1949 PCL!
Steve Krevisky
Bucky Harris led the 1949 San Diego Padres to a fourth-place finish, featuring such stars as Luke Easter, Max West, Minnie Minoso, Al Rosen, and others, many of whom made their mark in the majors. They faced Fred Haney's Hollywood Stars for the PCL championship, seventy years ago. Krevisky explores how Harris, a veteran manager handling a Cleveland Indians farm team, handled his team. He analyzes the statistics and backdrop to this season. Haney was also an experienced manager, leading the Stars to a first-place finish, and the eventual 1949 PCL championship. Krevisky brings to light how these two managers handled their respective teams during a time of great change, including the integration of the PCL.
Steve Krevisky <Skrevisky@mxcc.edu> has been Professor of Mathematics at Middlesex Community College since 1985. Steve is Chapter President of the Connecticut SABR Smoky Joe Wood Chapter and a frequent presenter at national and regional SABR meetings. He also has been a member of teams that have won the SABR national trivia championship 7 times. He has frequently presented on math and sports topics at national and international math and statistics conferences. An avid Yankee fan, Steve tries to teach his students that Ruth + Gehrig = Mantle.

10:05-10:30 a.m. (Seaport F Ballroom)
RP22: The Evolution of the Rules
Richard Hershberger
Baseball emerged in the mid-19th century from an informal schoolyard game, adapted for organized adult play. This set off a cycle of innovation as clubs sought competitive edges, changing how the game was played. Some of these changes were judged undesirable, and the rules adjusted. The new rules often created an unanticipated problem requiring more rule changes. This cycle lasted for a half century, with the rules finally stabilizing around the turn of the 20th century. Hershberger describes the overall arc of the evolution in the later 19th century. He identifies the most common conditions that were judged to be problems requiring solutions — pace of play; scoring being higher or lower than is thought desirable; and the umpire being in an untenable position. These are themes that run through baseball history, and are still true today. He shows, as an example, how the foul strike rule illustrates these points.
Richard Hershberger <rrhersh@yahoo.com> is the author of Strike Four: The Evolution of Baseball. He has published numerous articles on various aspects of 19th century baseball, concentrating of late on the development of the rules. His most recent SABR publication is "Revisiting the Origin of the Infield Fly Rule" in Baseball Research Journal (Fall 2018). His day job is as a paralegal in Maryland.
Saturday, June 29
11:30-11:55 a.m. (Seaport A/B Ballroom)
RP23: Time Between Pitches: Cause of Long Games?
David W. Smith
The average Major League game has taken over three hours each season since 2011. In 2018, Smith showed that a major cause of longer game times since 1988 (when pitch data became available) has been an increase in the number of pitches per game Since the increase in pitch number explained much more of the increased time than any other factor, Smith digs deeper, considering the effect of each different type of pitch result on the time it took for the next one to be delivered. He examines the precise timing of every pitch thrown in the 2018 season to dissect the patterns more carefully, and will also quantify and discuss other factors along with the differences between individual pitchers.
David W. Smith <dwsmith@retrosheet.org> joined SABR in 1977 and has multiple papers in the Baseball Research Journal. He has made research presentations at 23 national SABR conventions and many more at regional meetings. In 2001 at SABR31 in Milwaukee, he won the USA Today Sports Weekly Award (now the Doug Pappas Award) for his presentation on the 1951 NL pennant race. In 2016 he won the Doug Pappas Award for his presentation on the use of closers. In 2005 he received SABR's highest honor, the Bob Davids Award, and in 2012 he was honored with the Henry Chadwick award. He is a past co-chair of the statistical analysis committee and the recipient of the first SABR Special Achievement award. He is also the founder and President of Retrosheet, a non-profit organization dedicated to the collection, computerization and free distribution of play by play accounts of Major League games. He is an Emeritus Professor of Biology after 40 years of service at the University of Delaware.
11:30-11:55 a.m. (Seaport F Ballroom)
RP24: MLB Relief Pitching from the 1920s through the 1950s: The Three Stepping Stones: Firpo Marberry, Johnny Murphy, and Ellis Kinder
Wayne M. Towers
While Hall of Famer Hoyt Wilhelm (1952-1972) marked the earlier days of fulltime relief pitching, particularly in the 1960s, three relievers proved stepping stones in the transition from starters moonlighting as relievers in the 1910s to fulltime relief pitching in the 1950s. Firpo Marberry (1923-1936) marked the mid-1920s through mid-1930s; Johnny Murphy (1934-1947), the mid-1930s through mid-1940s; and Ellis Kinder (1946-1957), the mid-1940s through mid-1950s. Towers examines how these three relievers whose careers together spanned the period from the introduction of the live ball through franchise realignment represented the emergence of the art of relief pitching.
Wayne M. Towers <wctowers@yahoo.com>, Ph.D., is a retired SeaWorld San Diego educator and retired college professor. Prior to retiring, he also worked as a data analyst for the Oklahoman and Times daily newspaper and for multiple business research firms. His published work includes "World Series Coverage in the 1920s" (Journalism Monographs).
12:00-12:25 p.m. (Seaport A/B Ballroom)
RP25: They Deserved Each Other: The Tempestuous New York Giants Ownership of Charles Stoneham, John McGraw, and Frank McQuade
Daniel Levitt
In 1919, when John Brush's heirs put the New York Giants up for sale, manager John McGraw hustled to put together a syndicate to purchase the team. He ultimately persuaded Charles Stoneham to purchase the franchise and landed a small piece of the ownership for himself. An intermediary who helped put the two together, Judge Frank McQuade, also bought in to a small ownership percentage. The three men started squabbling almost immediately. Years later, McQuade attempted to leverage his Tammany Hall connections to take control of the franchise, only to have Stoneham oust him as team treasurer. Levitt brings new perspectives and deeper understanding of the Giants by examining the testimony from McQuade's ensuing lawsuit and discussing behind the scenes machinations by all three parties, their shady business dealings, and violent and abusive incidents that had slipped past the press.
Daniel R. Levitt <danrl@attglobal.net> is the author of several baseball books and numerous essays. He is a longtime SABR member and a recipient of the Bob Davids Award and the Chadwick Award. His books have won the Larry Ritter Book Award, the Sporting News-SABR Baseball Research Award, and have twice been finalists for the Seymour Medal.
12:00-12:25 p.m. (Seaport F Ballroom)
RP26: How Many Runs Did Ty Cobb Score in His Major-League Career?
Herm Krabbenhoft
Depending on which record book or internet website one consults, the number of runs the Georgia Peach scored is 2244, 2245, 2246 or 2243. Krabbenhoft asks the question, which one of these four numbers is correct? Or, are they all wrong? He describes how, by reviewing contemporaneous game accounts from numerous daily newspapers in Detroit and Philadelphia, as well as at least one newspaper from the city of the opposing team, he was able to reach an independently agreed conclusion. For nearly 80 years Ty Cobb had the Major League record for most runs scored, lifetime; and he still holds the AL record. This presentation provides insight into how one solves a long-standing mystery about one of the most important records in MLB history.
Herm Krabbenhoft <bqr9343@aol.com> has been a SABR member since 1981. His research interests include leadoff batters, ultimate grand slams, triple plays, quasi-cycles, and consecutive games streaks for getting on base safely, scoring runs, and batting in runs. He has authored many articles in various SABR publications, including the Baseball Research Journal, The National Pastime, The Inside Game, and Nineteenth Century Notes. This is his 25th oral presentation at a SABR National Convention.
12:30-12:55 p.m. (Seaport A/B Ballroom)
RP27: Why Hall of Famers Were Not Enough: The Case of Charles and Horace Stoneham's Giants, 1929-37 and 1961-68
David Kaiser
From 1929 through 1937 the New York Giants' roster included three Hall of Famers at the peak of their careers — Bill Terry, Carl Hubbell, and Mel Ott. From 1961 through 1968, the same Giants — still owned by Horace Stoneham — included Willie Mays, Orlando Cepeda, Willie McCovey, and Juan Marichal. Year after year, in both of these eras, the top three Giants outperformed the top three players on any other NL team. Yet the Giants won only three pennants in 1929-37, and only one pennant in 1961-68. Kaiser uses the methodology he developed for his book, Baseball Greatness, to show how parallel weaknesses in these teams prevented them from becoming the dynasties they might have been.
David Kaiser <kaiserd2@gmail.com>, a historian, is the author of nine books, including Epic Season: The 1948 American League Pennant Race; Baseball Greatness, Top Players and Teams According to Wins Above Average, 1901-2017; and his recent autobiography, A Life in History. He has given numerous presentations at three New England SABR chapters, and three other presentations at national SABR conventions. He also contributes frequently to the SABR-L email listserv. He lives in Watertown, Massachusetts, and regularly updates Baseball Greatness at baseballgreatness.com.
12:30-12:55 p.m. (Seaport F Ballroom)
RP28: Dear Mr. Aaron
Melissa (Missy) Booker
The 2019 season marks the 45th Anniversary of Henry "Hank" Aaron breaking Babe Ruth's all-time home run record of 714. In 1973 and 1974, Aaron was a star for the Atlanta Braves at the end of his career. Ruth was a legend on and off the field and many did not want to see his home run record broken. Some fans of Ruth became incensed as Aaron, a black man, came within striking distance of breaking Ruth's records. Others were simply upset that the record might be broken by a black man. Fans voiced their displeasure in different ways. Some fans tossed rocks at Aaron and taunted him with chants about Ruth during games. Other taunted him with racial slurs during games. Other fans took to writing letters to Aaron and to the editorial pages of newspaper. Booker performs a word analysis of the letters received by Aaron during the 1973 and 1974 seasons, focusing on how the letters written to Aaron and the editorial pages of America's newspapers became about the felling of a legend's record by a black man.
Melissa (Missy) Booker <mbooker@hotmail.com> is a native of Columbus, Ohio, and a 1995 graduate of Stephens College. Her research primarily focuses on baseball and American Culture, and the person behind baseball statistics. Her favorite research topics include how Leroy "Satchel" Paige is not definable by statistics, and Booker T. Washington's connection to the game of baseball. She has presented at five SABR conferences: SABR 48 (2018), the Jerry Malloy Negro League Conference (2012, 2014, 2017) and the Frederick Ivor-Campbell 19th Century Base Ball Conference (2015). She has also presented at two Cooperstown Symposiums on Baseball and American Culture. She lives in Covington, Kentucky, with her research partner, Coco the Cat, and works for the Cincinnati Reds as the Coordinator for Baseball Analytics.
3:25-3:50 p.m. (Seaport A/B Ballroom)
RP29: 1946: Major League Baseball's 1491
Steve Treder
The season of 1947, when Jackie Robinson boldly took the major league field, is perhaps the most prominent in baseball history. In recent decades a consensus has emerged that due to the profound impact of integration on both the quality of play, and on the sport's cultural diversity, the birth of "modern" major league baseball occurred in 1947. Many other baseball events occurred that year, ranging from Leo Durocher's season-long suspension for openly consorting with mobbed-up gangsters to a dazzlingly dramatic Dodgers/Yankees World Series. But, just as 1491 was to 1492, 1946 exhibited a depth all its own. Treder reviews the broad ways in which a 1946 that seemed a continuation of the past actually poised baseball for its future, including the introduction of air travel, re-integration of players returning from military service, the Mexican League player "raid", a strike vote by the Pirates, and the "Boudreau Shift."

Steve Treder <stevet@wmgnet.com> wrote a weekly column for The Hardball Times from its inception in 2004 through 2013. He is the only writer to have contributed to every Hardball Times annual book from the 2004 original through 2017. His articles have appeared in The National Pastime and in NINE, and he has presented at many SABR national conventions. When he grows up, he hopes to play center field for the San Francisco Giants.
3:25-3:50 p.m. (Seaport F Ballroom)
RP30: Kenesaw Mountain Landis and the Curious Incident of the Dog in the Night-Time
Robert F. Garratt
When Judge Kenesaw Mountain Landis became commissioner of baseball in November 1920, the sport was in turmoil, rocked by the scandal of the 1919 World Series and the rumors that some members of the Chicago White Sox cooperated with gamblers to lose games. Landis was elected by the owners to save baseball for the American public and was given extraordinary powers to do so. Commissioner Landis moved fast, banishing a number of players from the game, including eight members of the White Sox, followed by others with even remote ties to gambling. But in one interesting case, that of New York Giants' owner Charles A. Stoneham, he was strangely, and like the dog in the Sherlock Holmes story, curiously silent. Garratt explores how as decisive as Landis was with ballplayers, sometimes on the flimsiest of evidence, he was essentially inactive on owner Stoneham (save from asking Stoneham and John McGraw to divest themselves of a Cuban racetrack), even to the point of suggesting publicly that nothing had been proven about the Giants' owner. How could someone so intent on removing the taint of gambling from the game be so curiously silent with an owner?
Robert F. Garratt <garratt@pugetsound.edu> is an Emeritus Professor of English and Humanities at the University of Puget Sound where he taught courses on modern British and Irish literature, and international modernism. Rob grew up in the San Francisco Bay Area an ardent fan of the San Francisco Giants. Upon his retirement from full-time teaching at the university, he began research on major league baseball's move in 1958 to California. Rob's latest book, Home Team: The Turbulent History of the San Francisco Giants, was honored by SABR as a 2018 Seymour Medal finalist. Currently, Rob is at work on a biography of Charles A. Stoneham. His baseball writing has appeared in the journal NINE, in the SABR BioProject and in the SABR team histories series. He lives on Whidbey Island with his wife, Sally.
3:55-4:20 p.m. (Seaport A/B Ballroom)
RP31: 'When All Hell Broke Loose': Race, Labor, and the Problem of Postwar 'Normalcy'
Rich Megraw
In the spring of 1946, Americans awaited baseball's Opening Day with more than the usual anticipation. For almost half a century, despite the constant tinkering of owners and league executives, baseball had successfully conveyed the illusion of permanence, perhaps the one national institution impervious to change, set self-consciously against the protean flux of modern America. Small wonder, then, that editors, journalists, and opinion-makers across the country equated the approach of the 1946 baseball season with the return of normalcy following nearly four years of global tumult. Megraw examines how the war also transformed baseball, marking the early postwar years as, perhaps, the most turbulent and transformative period in its history. He focuses on the immediate issues of postwar readjustment: how federal laws governing the employment of returning servicemen, the signing of Jackie Robinson, the extravagant offers of Jorge Pasquel, and the efforts of Robert Murphy to organize the American Baseball Guild made 1946 one of the more tumultuous years in modern baseball history.
Rich Megraw <rmegraw@ua.edu> is an Associate Professor of American Studies at the University of Alabama, where he is presently at work on a book analyzing the transformation of baseball during the early Cold War years.
3:55-4:20 p.m. (Seaport F Ballroom)
RP32: The Afterlife of Hugh Fullerton: What Happened After the Black Sox Scandal
Steve Klein
Before the crooked World Series of 1919, before the center of sports writing in the United States dramatically shifted from Chicago to New York City, and before baseball lost its sheen as America's Game, Grantland Rice called Hugh Fullerton America's greatest sports writer. So why don't we remember Fullerton with the same regard and affection that we hold Rice or Ring Lardner today? On the 100th anniversary of the Black Sox fix and scandal, Klein addresses key questions such as why organized baseball attacked Fullerton's reputation after his expose of the fixed 1919 World Series, why Fullerton left Chicago for New York in late 1919, what was Fullerton doing from 1920 until his death in 1945, and why did his politics shift to the right. He also discusses how the Fullerton family's connection to Willam McGuffey and the late 19th century McGuffey readers help explain Fullerton's life and legacy.
A journalist, teacher, media consultant, sports content specialist and online writing instructor, Steve Klein <steve.klein@cox.net> is Professor Emeritus/Journalism at George Mason University in Fairfax, Virginia. He shaped the direction of the Journalism concentration in the Communication Department at GMU as Coordinator from 1999 to 2013. He also coordinated a new minor in Sport Communication in collaboration with the Recreation, Health & Tourism Department. Steve was honored by the Communication Department, as well as Mason Student Media, as professor and faculty member of the year in 2007. A working journalist for four decades at several newspapers (USA Today, the Lansing State Journal, the Stamford Advocate, the Cleveland Plain Dealer, the Akron Beacon Journal, the South Bend Tribune, the Wisconsin State Journal), Steve also taught at Michigan State University, American University, the University of Mary Washington, Cape Cod Community College and GMU for 25 years. Steve has a BA from the University of Wisconsin-Madison (1970) and an MA from Michigan State University (1997). His Master's thesis on sports writer and journalist Hugh Fullerton has been a starting point for many scholars researching the Black Sox Scandal.
For more coverage of SABR 49, visit SABR.org/convention.