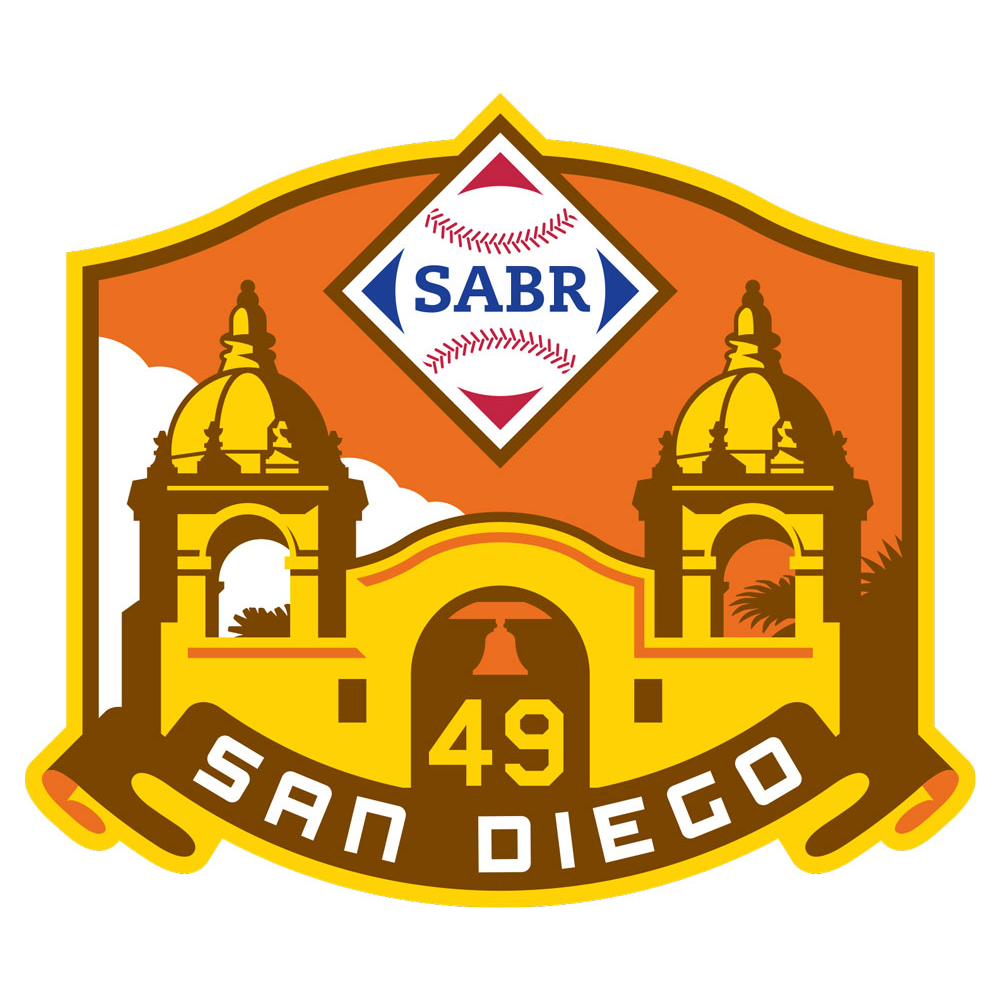 From 12:00-1:00 p.m. on Saturday, June 29, 2019, attendees at SABR 49 will have the opportunity to ask questions and talk with presenters of the poster presentations at the Manchester Grand Hyatt hotel in downtown San Diego.
The posters will be available for viewing all week during the convention. Full abstracts and presenter bios are below.
The top poster presentation, as selected by on-site judging, will win the SABR Convention Poster Presentation Award. Check out a list of past winners here.
To view the list of SABR 49 oral research presentations, click here. For tips on designing and displaying your SABR poster presentation, click here.
P1: Turning Players into Numbers: Scouting as Scientific Practice
Christopher J. Phillips
Over the past half-century, as analytics and data-driven front offices have become ascendant, scouts have increasingly been dismissed as lacking "objective" knowledge. They operate — the claim goes — on the basis of hunches, subjective judgments, and guesswork. This dismissal, however, ignores the history of scouting and the ways in which scouts have long deployed technical tools to regulate their judgments and ultimately turn them into numbers. Arguably, scouts are more audacious quantifiers than advocates of data analytics: after all, they don't just count up strikeouts or measure launch angles. They turn bodies directly into numbers. Phillips traces the history of amateur scouting, examining how clubs attempted to make the process of player acquisition more objective, reliable and standardized. In an era in which proponents of "big data" and "data analytics" tell us they can upend traditional expertise in domains from diagnosing diseases to flipping burgers, the history of baseball is a reminder of the ways so-called traditional forms of expertise have long also been data-driven.
Christopher J. Phillips <cjp1@cmu.edu> teaches in the history department at Carnegie Mellon University. He is the author of Scouting and Scoring: How We Know What We Know About Baseball (Princeton, 2019) and writes more broadly on the spread of data and statistical analysis into baseball, wine tasting, medicine, and education. He earned his Ph.D. in history of science from Harvard University.
P2: Same Place Different League
Alan Cohen 
Those players who donned the uniform of the San Diego Padres in 1968 were the last to do so in the long history of the Padres in the Pacific Coast League. Steve Arlin was a 22-year-old pitcher who went 3-6 for the Padres in 1968. On June 17, 1969 he made his major league debut with the big-league Padres, hurling four innings against the Dodgers. He was one of several players who transitioned from the minors to the majors without leaving San Diego. Cohen presents a story of minor league Padres who returned to San Diego as major leaguers, some in home team garb, others as visitors, some famous, some not.
Alan Cohen <adc0317@comcast.net> has been a SABR member since 2011, serves as Vice President-Treasurer of the Connecticut Smoky Joe Wood Chapter, and is the datacaster (stringer) for the Hartford Yard Goats of the Double-A Eastern League. He has written more than 50 biographies for SABR's bio-project and has contributed stories to The National Pastime and the Baseball Research Journal. He is expanding his research on the Hearst Sandlot Classic, an annual youth All-Star game of bygone years. He has four children and six grandchildren and resides in West Hartford, Connecticut with his wife Frances, a cat (Morty) and a dog (Buddy).
P3: "Thank Goodness, we've solved the breakfast problem at last!": Baseball, Children, Parenting, and Innovations in Depression Era Advertising
Roberta J. Newman
Professional baseball and the business of advertising developed along remarkably similar tracks. So it comes as no surprise that both industries responded to the economic pressures of the Great Depression in similar ways, embracing innovation, however slowly, or that advertising would draw upon its connection to the professional sport in an effort to stay afloat during hard times. Newman examines some of these innovative ways in which Depression era advertising used baseball and its biggest stars to market consumer goods, most specifically breakfast cereal, to children and their mothers. She focuses on the development of the idea of parenting and the ways in which it influenced consumerism. She also displays the introduction of market research techniques that helped the advertising industry, at least in part, figure out the best ways to reach this new market segment.   Her poster shows how these innovations, embraced out of necessity, provided the twinned industries with techniques that would continue to serve them for years to come.
Roberta J. Newman <rn5@nyu.edu> is a cultural historian whose current work focuses on the intersection of baseball and advertising. Her most recent book is Here's the Pitch: The Amazing, True, New, and Improved Story of Baseball and Advertising (2019). She is also co-author of Black Baseball, Black Business: Race Enterprise and the Fate of the Segregated Dollar (2014), a study of the business of the Negro Leagues in its cultural context. Her work on these and other topics have appeared NINE: A Journal of Baseball History and Culture and other publications. Though never a Dodgers fan, Newman is a Brooklyn native. She is a Clinical Professor of Liberal Studies and New York University.
P4: The Mystery of the Diamond Solved
Cesar Love
Legendary sportswriter Red Smith provided the famous quote about the baseball diamond: "Ninety feet between bases represents man's closest approach to absolute truth … and nobody knows for sure how it came to be." Love augments research into the Baseball Convention of 1857, in which the 90-foot diamond became institutionalized, with mathematics and philosophy. He proposes an answer through the age old puzzle of how to square the circle.
Cesar Love <cesarlove714@hotmail.com> is the author of Baseball: an Astrological Sightline, a book that demonstrates the transcendental nature of baseball through the methodology of astrology. This book introduces the astrological birthcharts of all 30 Major League teams currently playing in the United States. The history and tendencies of these teams become quite lucid when viewed from this perspective. Also, the mysteries of baseball become intelligible through the methods of astrology presented in this book. What was the curse placed on the Cubs? And how was it lifted? Why do the Yankees excel in post-season play? Why did so many pitchers excel in 1968? These questions are answered here through the lenses of astrology. Love is also the author of two books of poetry: While Bees Sleep and Birthright. He is a member of the Lefty O'Doul Chapter of SABR and works for the Oakland Athletics in guest services.
P5: Where in the World is a No-No in San Diego?
Dirk Lammers
Barring a miracle pitching performance during the opening 44 games of the 2019 season, the San Diego Padres are set to break the New York Mets' record for no-hit futility just six weeks before the kickoff of SABR 49. Many San Diegans trace the origins of the Friars' dubious streak — which will likely hit 8,056 regular-season games without a no-hitter at conference time — to the "Kirby Kurse", named for Clay Kirby, pinch-hit for in the eighth inning of the no-hitter only to see the Padres lose in the ninth. Lammers' poster, based loosely on the '90s kids' detective game show, Where in the World is Carmen Sandiego, provides a gumshoed quest for the elusive Padres no-hitter. He also includes some data analysis on each of the Padres' no-no failures and the innings in which they were lost, eventually taking us back to the Pacific Coast League Padres of the fifties and sixties.
Dirk Lammers <dirkl@lammers.net> is an award-winning journalist and the author of Baseball's No-hit Wonders: More Than a Century of Baseball's Greatest Feats (Unbridled Books, 2016), a Foreword INDIES Book of the Year Silver Award Winner in the sports category. Lammers has discussed no-hitters on multiple MLB Network television and SiriusXM radio shows, and his longtime blog, NoNoHitters.com, has earned media attention from the New York Times, the Wall Street Journal and dozens of other publications.
P6: A Glimpse Inside? The Rhetoric of Player-Selected Walk-up Music
Allison Levin
With the advent of the modern baseball stadium and the need for constant fan engagement and entertainment at baseball games, pop music replaced the traditional organist in-between innings. Eventually, players got the option to pick songs to play as they came up to bat during home games. These walk-up songs are of utmost importance to some players who have a song list and indicate to the stadium staff the different situations in which each song should play. Levin uses this player selected music to glimpse into the mindsets of players, the cultures they represent and their personalities. She analyzes the music using the R programming language and the Spotify API to look at characteristics such as danceability, energy, and mood of each the song. She hopes to start a conversation of how players express themselves through the music they play and its relationship — if any — to top tier player performance.
Allison R. Levin <allison.levin@gmail.com> (MA, JD) is a Professor of Sport Communication at Webster University. Her research builds upon an eclectic background in political science, economics, women's studies, communications, and law. She has been invited to present her work at conferences both nationally and internationally. Her research on athlete's use of social media appears in Casing Sport Communication (2016).   In recent years Allison's research has focused on baseball fandom. Allison lives in St. Louis and is a lifelong Cardinals fan despite having a father from Cubs country and a mother from Yankees country.  
P7: The Chicago Cubs and Jack McKeon: Act One
John J. Burbridge Jr.

The 2003 National League Championship Series pitted the Florida Marlins managed by Jack McKeon against the Chicago Cubs who had not won a World Series since 1908. As the Cubs appeared to be near victory in game six at Wrigley Field, the Marlins erupted in the top of the eighth inning for eight runs fueled by the Steve Bartman incident and a major miscue by Cubs shortstop, Alex Gonzalez. The Marlins proceeded to win that game and then closed out the series with a win in game seven before going on to beat the Yankees In a memorable World Series behind Josh Beckett's MVP performance. Overlooked by many, this was not the first time that a ball club involving Jack McKeon thwarted the Chicago Cubs in their efforts to overcome the Billy Goat curse. As general manager of the Padres, his team came back to upend the Cubs in 1984 for the NL pennant in another eventful and unexpected rebound. Burbridge's presentation relives that 1984 NLCS, which has been describe as "the most exciting week in the history of Padres baseball, and generally broadens our understanding of McKeon's contributions as GM of the Padres.
John J. Burbridge Jr. <burbridg@elon.edu>, Ph.D., is currently Professor Emeritus at Elon University where he was both a dean and professor. He is also an adjunct at York College of Pennsylvania. While at Elon he introduced and taught Baseball and Statistics. He has authored several SABR publications and presented at SABR Conventions, NINE and the Seymour meetings. He is a lifelong New York Giants baseball fan. The greatest Giants-Dodgers game he attended was a 1-0 Giants' victory in Jersey City in 1956. Yes, the Dodgers did play in Jersey City in 1956 and 1957.
P8: Relief Pitching in the Nineteenth Century: From the Boston Red Stockings (1871-1875) to the National Agreement of 1903
Wayne M. Towers
Given the penchant for the save statistic in the 21st century (about one in every four games) the frequency of saves in the 19th century (about one in every 33 games) appears modest. But, in addition to demonstrating the use of relief pitching from the very beginnings, it also provides an indication of early relief pitching practices and identifies some early (albeit part-time) precursors of modern relieving. Towers separates 19th century relief pitching into three eras, showing how some pitchers — well-known HOFers and less heralded men — laid the groundwork for the emergence of systematic relief pitching in the 20th century.
Wayne M. Towers <wctowers@yahoo.com>, Ph.D., is a retired SeaWorld San Diego educator and retired college professor. Prior to retiring, he also worked as a data analyst for the Oklahoman and Times daily newspaper and for multiple business research firms. His published work includes "World Series Coverage in the 1920s" (Journalism Monographs).
P9: Variability among Batters and Seasons in Left-Right Splits
Herb Wilson
A well-established pattern in baseball is that batters hit pitchers of the opposite hand better than they hit same-handed pitchers. However, this pattern is based on league or season averages and masks variation among batters and among seasons in batters' ability to hit left-handed and right-handed pitching. Wilson applies logistic regression to over sixty years of Retrosheet event data to examine season-to-season variability of batting splits for both batting average and wOBA for individual batters.
Herb Wilson <whwilson@colby.edu> is a Professor of Biology at Colby College in Waterville, Maine. He is an ornithologist by training but also teaches a course in The Science of Baseball at Colby. In this course, he uses baseball data to explore relevant aspects of physics, psychology, evolution, physiology and medicine. About half of the class is devoted to statistical analyses to address original hypotheses using the R programming language. Herb has been Co-chair of the SABR Educational Resources Committee since 2014. Herb is a rabid Boston Red Sox fan.
P10: An Analysis of the Relationship Between Pitcher Size and UCL Tears
Zachary Rewolinski
A UCL tear is a death sentence on the season of a player and can have large repercussions on the team and league as a whole, making it crucial for front offices to understand what puts players at a heightened risk for this injury. Due to these heavy consequences, UCL injuries have been thoroughly researched in numerous ways and fields. Zach takes an novel approach by examining these injuries in correlation with pitcher size. He analyzes the BMI, weight, age, and fastball velocity of MLB pitchers in years 2000-2017 to determine the impact of pitcher size on UCL tear probability. The results of this study will aid executives and front offices in evaluating pitchers and their risk of needing Tommy John surgery. Moreover, these findings may aid pitchers in lowering chances for injury by guiding their offseason training goals.
Zachary Rewolinski <zrewolinski@gmail.com> will be entering his first year at Rice University this fall, where he plans to study Statistics, Computer Science, and Sport Management. He has had a high level of interest in sabermetrics ever since reading Moneyball years ago and has acted on this interest by learning programming languages such as R and Python in order to perform research. Looking towards the future, he hopes to find a career in the front office of an MLB team. Note: Stuart Jones will be pinch-hitting at SABR 49 to present Zach's work.
P11: Now Taking the Field: Baseball's All-Time Dream Teams for All 30 Franchises
Tom Stone
What would all-time dream team lineups and rosters look like if WAR were used as a starting point for the analysis? Stone starts with WAR as a baseline, then considers more traditional metrics and honors. He will show his methodology and discuss some interesting angles such as what the most difficult selections were, which teams are very strong or very weak at certain positions, which players made it onto more than one all-time team roster and who is likely to make it onto a dream team roster soon.
Growing up in the 1970s and 80s, Tom Stone <trstone1@gmail.com> developed a keen interest in baseball's rich history and statistics, including how to compare players across time. Now Taking the Field: Baseball's All-Time Dream Teams for All 30 Franchises is the result of nearly twenty years of research, and is the first of several baseball books he plans to write. Tom is a senior research analyst at i4cp, the Institute for Corporate Productivity, a human capital research firm. He has twenty years of experience in corporate learning and development and the broader human resources industry. He is a popular conference speaker and has spoken at over 150 regional, national, and international conferences on a wide range of topics. He is also co-author of the book Interact and Engage! 50+ Activities for Virtual Training, Meetings, and Webinars (ATD Press, 2015).
P12: Fred Cook: American pitcher, Canadian lieutenant
Aidan Jackson-Evans
Frederick Russell Cook was an early 20th century pitcher who played for several years under a pseudonym and later fought in the First World War with the Canadian Expeditionary Forces, despite being an American citizen. Cook studied engineering at Princeton University before dropping out to embark on a professional baseball career that took him to San Antonio, Cleveland, Grand Rapids, Columbus and Toronto. Jackson-Evans sheds lights on this previously un-researched ballplayer and brings recognition to his service during the war. Cook's lack of children, the inability of his family to pay for a headstone, and the use of a pseudonym (Winchell) in his major league career have contributed to him being largely forgotten. Many aspects of his life and career — fights on the road, working on ranches in the winter and his Princeton team's refusal to play against a black ballplayer — intersect with broader historical realities of the era. His efforts during the First World War have remained unrecognized, in part because of the unusual nature of his service. By telling the story of this individual we can better understand the position of American ballplayers during this time of war.
Aidan Jackson-Evans <ajacksonevans@gmail.com> was raised in London, England, and resides in Maine. He became a fan of baseball through summer vacations to San Francisco and trips to 24 Willie Mays Plaza. He has written on advanced baseball statistics for USA Today Sports Weekly and spoken on baseball history at Colby College. He writes online for High Heat Stats and can be found tweeting statistics of varying frivolity at both @ajacksonevans and @HighHeatStats.
P13: The Replication of Pitcher Usage in Tabletop Baseball Simulation Leagues: A Content Analysis of the Rules that Govern Pitcher Usage
John L. Williams and Chris Maben
Baseball Simulation Leagues (BSLs) began forming shortly after the publication of tabletop baseball simulation games such as APBA, first published in 1951, and Stat-O-Matic which began publishing in 1961. BSLs provide a gaming structure that allows their members to take on the roles of Owner, General Manager, and Manager. Their teams play a 162-game schedule followed by a post season that concludes with the league's version of a World Series. Williams and Maben use a content analysis coding scheme to catalogue and compare the structures used by BSLs to govern pitcher usage, replicating the challenges faced in real baseball, across seven coding categories.
Christopher Maben <christopherjmaben@gmail.com> is a former student athlete turned scholar, currently adjunct faculty member in the Communication Studies department at California State University, Sacramento, both teaching and writing about the intersection of sport, media and culture. Additionally, Chris tutors and counsels student athletes, working to ensure that they succeed both in the class and on the field. Chris was a two-sport college athlete. He was an All-American offensive lineman and team captain for the UC Davis Aggies (1998-2002). and a heavyweight wrestler, competing in the Pac 10 conference.
John L. Williams <laudercsus@gmail.com> is a Professor in the Communication Studies Department of California State University, Sacramento. He has been researching simulation baseball leagues for several years. This presentation is part of an ongoing research effort that examines the rules used by these leagues to create realistic simulations.
For more information on SABR 49, or to register, visit SABR.org/convention.