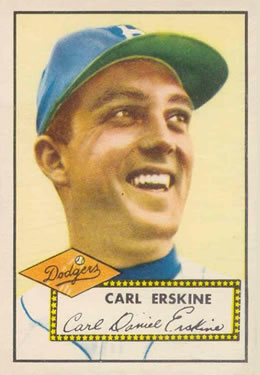 April 13, 1955: Brooklyn Dodgers start championship season with win over Opening Day
---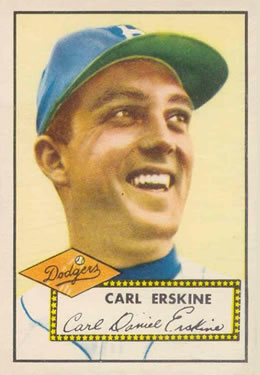 The Brooklyn Dodgers opened their 1955 season against the Pittsburgh Pirates on a chilly and drizzly weekday afternoon at Ebbets Field. One newspaper account reported, "The thermometer hung in the 40's; the thin, cutting spray hung like a gray sheet over the field."1
Brooklyn wanted to atone for the previous year's second-place finish to their crosstown rival New York Giants. The Dodgers ended their 1954 season with a four-game winning streak culminating with a four-hit shutout by rookie hurler Karl Spooner, who made NL history by striking out 27 batters over two successive games.2 However, Brooklyn had been eliminated from the pennant race during its preceding five-game losing streak which included a backbreaking 7-1 loss to New York when the Giants clinched the pennant.3
After years finishing with losing records, the 1950s Brooklyn Dodgers were perennial playoff contenders. The steadfast infield was anchored by All-Star first baseman Gil Hodges and shortstop Pee Wee Reese, with youngster Jim Gilliam hitting leadoff and future Hall of Famer Jackie Robinson returning to the infield after spending splitting time between the infield and outfield the past two seasons. Patrolling the outfield were Sandy Amorós, Duke Snider, and Carl Furillo. Brooklyn's pitching staff was led by Carl Erskine, Russ Meyer, Johnny Podres, and Billy Loes, with Don Newcombe hoping to regain his pre-military-service form. "The Boys of Summer"4 were seeking their first World Series victory and were determined to silence the recurring "wait until next year" chant.5 However, entering the 1955 season the Baseball Writers Association of America predicted that the Milwaukee Braves would win the NL pennant with Brooklyn finishing second and the 1954 World Series champion Giants third.6
Pittsburgh was heading in the opposite direction. After multiple World Series appearances during the 1900s and 1920s, the Pirates finished last for three consecutive years with over 100 losses, and hadn't finished above .500 since 1948. Branch Rickey, Pittsburgh's general manager and Brooklyn's former GM, was cautiously optimistic about his club having an improved pitching staff and outfield, though he acknowledged a weak spot at third base.7 Similarly, Pirates manager Fred Haney praised the "championship qualities" of outfielder Frank Thomas, shortstop Dick Groat, and the catching duo of Toby Atwell and Jack Shepherd.8
Brooklyn manager Walter Alston selected Erskine as his Opening Day starter.9 The Dodgers' ace led Brooklyn pitchers with 18 wins, 260 innings, 166 strikeouts, and 92 walks the previous year. He won 20 games in 1953 and led the NL that season with a .769 winning percentage, but slipped to an 18-15 record with 4.15 ERA in 1954. Erskine was expected to improve over the previous season,10 and appeared ready to meet those expectations when he blanked the Washington Senators in his final exhibition start.11 The lanky right-hander threw a fastball, rainbow curve, and changeup, with a sharp curve that "swooped down on you like a falcon on a chipmunk."12
Haney chose Max Surkont to take the hill for Pittsburgh; Surkont and Erskine had faced each other several times before.13 The tall right-hander had pitched at least 170 innings in each of the previous four seasons. He led Pirates pitchers with 29 games and 208⅓ innings pitched in 1954, while finishing second on the staff with nine wins, 78 strikeouts, and 78 walks. The veteran relied primarily on his fastball, though he reportedly threw a spitball.14 Surkont was signed as a 15-year-old in 1938 by then-Cardinals GM Rickey but didn't play for him until Surkont was acquired by Pittsburgh from Milwaukee in a 1953 trade.15
Brooklyn's season started with a Tom Saffell bunt groundout from Erskine to Hodges. Curt Roberts popped out on the first pitch, and Román Mejías grounded out for a quick inning. In the bottom half, Brooklyn leadoff hitter Gilliam grounded out to first base. After a popout, Snider singled and Hodges walked as the Dodgers generated the season's first scoring threat. Amorós struck out to end the inning.
After the first, Erskine and Surkont settled into in a pitchers' duel. Over the next four innings, each team had runners on first and second base just once: Brooklyn during the third inning with two outs and Pittsburgh in the fifth with no outs. The game remained scoreless through five frames.
In the Pittsburgh sixth, Roberts laced a double to left field with two outs, but Erskine induced a Mejias groundout to keep the Pirates off the scoreboard. In the Brooklyn sixth, Snider started the inning with a double into the right-field gap, the first time that afternoon that a Dodgers leadoff hitter reached base. Hodges singled to center, scoring Snider and giving Brooklyn its first run of the new season. Amorós attempted to sacrifice and move Hodges forward, but his popout was caught in foul territory. Robinson doubled off the right-field wall, with Hodges reaching third. Furillo was intentionally walked and the bases were loaded. Campanella hit a groundball to short on his first pitch, a potentially tailor-made double-play ball. As Robinson ran toward third, he smartly allowed the ball to hit him, causing one out instead of giving Pittsburgh an opportunity to end the inning with a double play.16 Hodges remained at third base while Furillo moved to second base as the bases remained loaded. The opportunity was lost as Erskine grounded out and Surkont escaped the jam, but the Dodgers led, 1-0.
Erskine encountered trouble in the top of the seventh inning. He walked Thomas on a full count. Sid Gordon singled. With runners on first and second, Preston Ward hit into a 4-6-3 double play and Thomas advanced to third. Atwell singled Thomas home on a hit through the right side of the infield with Pittsburgh's first, and only, run. Groat grounded out and the score was tied 1-1 heading into the seventh-inning stretch.
In the Brooklyn half, leadoff hitter Gillam worked a full count on Surkont. On the next pitch, Gilliam's long ball "struck the foul-pole netting inches above the right field screen"17 and gave the Dodgers a 2-1 lead. Gilliam's ball bounced back onto the field as doubt arose about whether it actually cleared the fence. Umpire Al Barlick, who clearly saw the play, signaled "home run."18 Reese doubled on another full count and Snider walked as Brooklyn threatened to extend the lead. Hodges struck out looking but Reese advanced to third on a long fly out by Amorós. Robinson's bunt passed the mound, scoring Reese and moving Snider to second. Furillo placed an exclamation point on the inning, blasting a three-run, 400-foot line drive into the left-center stands.19 Campanella flied out to end the inning. Brooklyn scored five times to take a 6-1 lead.
In the eighth inning, Gene Freese, making his major league debut pinch-hitting for Surkont, singled to center field. Mejías walked as Pittsburgh placed runners on first and second with two outs. Erskine got Frank Thomas to ground out to keep the Pirates from scoring. Ron Kline, appearing in his first major-league game after spending the previous two years in the US Army during the Korean War,20 retired the Dodgers in order in the Brooklyn half.
Erskine returned to the mound for the ninth inning. Gordon grounded out to third base and Ward's bunt attempt failed. With two outs, Atwell walked to keep Pittsburgh hopes alive. On a 1-and-2 pitch, Groat hit a fielder's choice grounder to third with Atwell forced out at second base as Brooklyn recorded its first win in 1955.
The weather was gray, "but to the incorrigible faithful in the seats, it was the most beautiful of days."21 Erskine earned the complete-game victory, allowing one run on seven hits while striking out four; the seventh inning was the only inning in which the Pirates managed multiple hits. The Opening Day win was his first in four season-opening starts.22 He bounced back in 1955 with an 11-8 record and 3.79 ERA in 194⅔ innings. The Dodgers' offense was led by Gilliam's solo homer, Furillo's three-run clout, Snider's 3-for-3 day, scoring twice, and Robinson's all-around effort.
The Dodgers started the season with a 10-game winning streak, which included four wins over Pittsburgh, and stood at 22-2 after Newcombe blanked Chicago on May 10.23 Brooklyn was never seriously challenged for the NL title, building a double-digit lead by mid-June. Brooklyn won the pennant by 13½ games over Milwaukee and 18½ games over New York.
The Dodgers won the World Series in 1955 with a seventh-game shutout by Podres and Hodges' two RBIs, the team's only championship in Brooklyn.24
Sources
Besides the sources cited in the Notes, the author consulted Baseball-Almanac.com, Baseball-Reference.com, Retrosheet.org, and the following:
Golenbock, Peter. Bums: An Oral History of the Brooklyn Dodgers (New York: Putnam Books, 1984).
James, Bill. The New Bill James Historical Abstract (New York: The Free Press, 2001).
Neyer, Rob, and Eddie Epstein. Baseball Dynasties: The Greatest Teams of All Time (New York: W.W. Norton & Company, 2000).
Thorn, John, and Pete Palmer, et al. Total Baseball: The Official Encyclopedia of Major League Baseball (New York: Viking Press, 2004).
baseball-reference.com/boxes/BRO/BRO195504130.shtml
retrosheet.org/boxesetc/1955/B04130BRO1955.htm
Notes
1 Dick Young, "B-r-r-ooks Chill Pirates, 6-1; Gilliam, Furillo HR," New York Daily News, April 14, 1955: 80.
2 Tommy Holmes, "Spooner's Second Masterpiece Almost Duplicate of First Start," Brooklyn Daily Eagle, September 27, 1954: 27.
3 Dave Anderson, "Giants Generous at Dodger Funeral," Brooklyn Daily Eagle, September 21, 1954: 13.
4 Roger Kahn, The Boys of Summer (New York: The New American Library, 1973).
5 Chris Kieran, "2d Shutout, 12 Whiffs Give Spooner 2 Records," New York Daily News, September 27, 1954: 67.
6 Carl T. Felker, "Scribes Pick Tribe and Braves for Flags, Drop Giants to Third," The Sporting News, April 13, 1955: 6.
7 Branch Rickey, "Bucs Best in Years — Rickey," Pittsburgh Post-Gazette, April 14, 1955: 14.
8 Fred Haney, "Bucs Improved; How About Rivals? — Haney," Pittsburgh Post-Gazette, April 14, 1955: 16.
9 Dick Young, "Erskine Zeros Nats, 6-0; Furillo HR Paces Attack," New York Daily News, April 7, 1955: 648.
10 Jack Hand, "Dodger Success May Hinge on Roy And Don," Wilkes-Barres (Pennsylvania) Times Leader, The Evening News, April 1, 1955: 29.
11 Young, "Erskine Zeros Nats."
12 Whitey Herzog and Jonathan Pitts, You're Missin' a Great Game: From Casey to Ozzie, the Magic of Baseball and How to Get It Back (New York: Simon & Schuster, 2007), 3.
13 Jack Hernon, "Three New Faces in Lineup as Pirates Open Season Against Dodgers Today," Pittsburgh Post-Gazette, April 12, 1955: 16.
14 Bill James and Rob Neyer, The Neyer/James Guide to Pitchers: An Historical Compendium of Pitching, Pitchers, and Pitches (New York: Fireside Books, 2004), 397.
15 Associated Press, "Braves Get O'Connell From Pirates," Wisconsin State Journal (Madison), December 27, 1953: 37.
16 Young, "B-r-r-ooks Chill Pirates."
17 Young, "B-r-r-ooks Chill Pirates."
18 Young, "B-r-r-ooks Chill Pirates."
19 Jack Hernon, "Pirates Off and Losing as Dodgers Win, 6-1," Pittsburgh Post-Gazette, April 14, 1955: 47.
20 Bill Nowlin, "Ron Kline," SABR Biography Project, sabr.org/bioproj/person/68478256. Accessed November 7, 2019.
21 Young, "B-r-r-ooks Chill Pirates."
22 Hernon, "Pirates Off and Losing."
23 Edward Prell, "Sox Win; Cubs Get 1 Hit, Lose 3-0," Chicago Tribune, May 11, 1955: 53.
24 Joe Trimble, "Dodgers Champs! Podres Wins, 2-0," New York Daily News, October 5, 1955: 83.
Additional Stats
Brooklyn Dodgers 6
Pittsburgh Pirates 1
---
Ebbets Field
Brooklyn, NY
Box Score + PBP:
Corrections? Additions?
If you can help us improve this game story, contact us.
Tags
https://sabr.org/sites/default/files/images/ErskineCarl-1952Topps.jpg
600
800
admin
/wp-content/uploads/2020/02/sabr_logo.png
admin
2020-03-25 17:17:09
2020-05-28 15:48:37
April 13, 1955: Brooklyn Dodgers start championship season with win over Opening Day