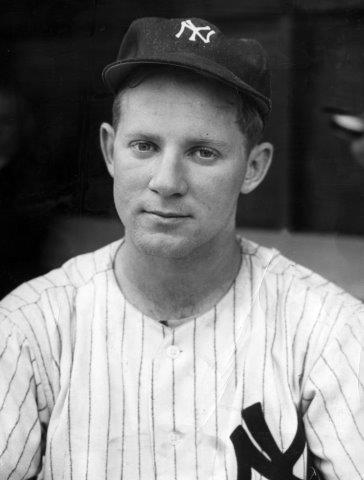 April 13, 1955: Whitey Ford pitches and hits Yankees to lopsided Opening Day win
---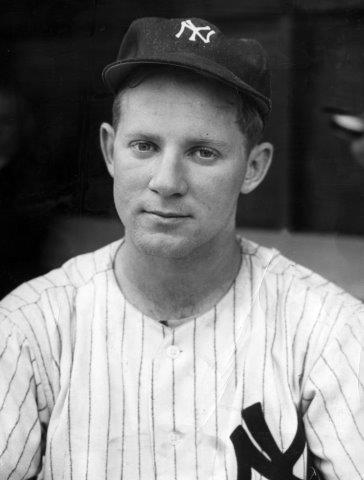 The "first-place Washington Senators" may seem like an oxymoron, but that was exactly the scenario when the undefeated Senators visited Yankee Stadium for a two-game series in April 1955. In Washington's Griffith Stadium the day before, the Senators had defeated the Baltimore Orioles 12-5. The New York weather hovered around the 80-degree mark in mid-April, but Mother Nature wouldn't cooperate. The scheduled April 12 Yankee Stadium home opener was rained out.
Despite a successful spring season (15-9), little was expected of a Senators team that finished the 1954 season in sixth place, 45 games behind the champion Cleveland Indians. The New York Yankees finished the spring with a .643 winning percentage (18-10). They were coming off 103 wins in 1954, eight games out of first. It was unfamiliar territory for a team that had dominated the American League, having finished first for five consecutive years before 1954. Whether manager Casey Stengel was sincere or not, he expressed doubts about his team's chances in 1955.
"I ask myself, how do I stand on pitching? Have I found a replacement for Allie Reynolds,1 13 and 4 for me last season, and he saves a lot of other games and scares the opposition every time he comes out of the pen?"2 Stengel also lamented on losing pitchers Harry Byrd (nine wins) and Jim McDonald (four wins).3
Stengel was not alone. Seven of nine writers who covered spring training didn't think the Yankees could overtake Cleveland.4
On April 13 the rain stopped but the temperature plummeted to the mid 40s. A chill wind accompanied by a low hanging mist kept most fans away. Only 11,251 diehards came out, the smallest non-wartime opening day crowd in Yankee Stadium history.5
Before the game, Washington Post sportswriter Shirley Povich, president of the Baseball Writers' Association of America, presented the American League's 1954 MVP award to Yogi Berra. Pitcher Bob Grim received the Rookie of the Year plaque.
Three left-handers were scheduled to start the game. First, New York City Mayor Bob Wagner, a southpaw, threw out the ceremonial first pitch. Chuck Dressen, in his inaugural season as the Senators manager, selected veteran Mickey McDermott to start. Stengel countered with Whitey Ford.6
Ford had no trouble getting loose. He set the Senators down in order in the top of the first. In the bottom of the inning, McDermott retired the first two batters before hitting Mickey Mantle with a pitch. It was the first time in his career (four years so far) that Mantle was HBP.7
Phil Rizzuto opened the Yankees' third with a walk and stole second. Gil McDougald walked, putting runners on first and second. Andy Carey drove them in with a triple to deep left-center field. McDermott worked out of the inning.
Up 2-0 in the bottom of the fourth inning, the Yankees chased McDermott. Hank Bauer led off with a single. After a fielder's choice, McDermott hit his second batter of the game, Rizzuto. A passed ball advanced the runners. Ford drove them in with a single. Ford took second on McDougald's single. Dressen brought in side-arming Ted Abernathy to relieve McDermott.8 It was Abernathy's major-league debut. He struck out Carey, but Mantle touched him for a three-run home run into the right-center-field bleachers.
With the score 7-0 going into the bottom of the fifth, the Yankees faced Bill Currie, the second Senators relief pitcher making his major-league debut. (Abernathy had been lifted for pinch-hitter Carlos Paula in the top of the inning.) After recording an out, Currie walked Bauer, then hit Bob Cerv, and walked Rizzuto to load the bases. Up came pitcher Ford, who again delivered a two-run single, giving him four RBIs in the game. Currie escaped further damage by striking out McDougald and retiring Carey on a pop fly to first.9
The Senators got a run back in the top of the sixth inning. With one out, Ford walked Jim Busby. Mickey Vernon reached base on a fielder's choice, and went to third on a single by Pete Runnels. It was only the second hit given up by Ford, the first a harmless fourth-inning Roy Sievers single. Ford slipped on the muddy mound, balking in a run.10
Currie was still on the mound as the bottom of the sixth got underway. The Yankees tacked on another four runs. Berra hit a two-run home run into the lower right-field seats. Bill Skowron then hit one far into the lower left-field seats for back-to-back homers. An error, a wild pitch, and Cerv's RBI single brought home the fourth run of the inning. It was now 13-1, Yankees.
Tony Roig pinch-hit for Currie in the top of the seventh inning. He struck out. In the Yankees' half of the inning, they faced Vince Gonzales, the third consecutive Senators reliever making his major-league debut. After getting two quick outs, Gonzales walked Berra, gave up a single to Skowron, and walked Bauer to load the bases. Cerv laced a triple to left field, clearing the bases, giving him four runs batted in for the game and making the score 16-1.
The onslaught continued in the bottom of the eighth inning. Ford led off with his third single. He moved to second on Carey's single and scored on Mantle's base hit. It was the Mick's fourth RBI of the game. Skowron then picked up his second and third RBIs with a two-run single. After a walk to Bauer, Gonzales retired Cerv on a groundball. It was the last batter he ever faced in the major leagues.11
The Senators were retired in order in the ninth inning. Despite the unfavorable weather conditions, Ford pitched brilliantly. He gave up only two hits. The single to Sievers in the fourth inning wasn't hit hard. Berra said after the game, "Ford was throwing a lot of hot stuff, and was faster than ever."12
Ford attributed his success to weight loss. "Casey told me he believed I carried too much weight (last year). I had an idea that I was at my best at 189 (pounds). I figured it gave me strength and stamina. But it turned out I was wrong. … Last winter I decided to follow Casey's advice. I went to St. Petersburg a month before March 1. I worked out on the beach with (Bob) Turley and went into the pennant season weighing 177. I want to stay that way because I am in top shape. I threw hard in that two-hitter. Real hard. …"13
The Yankees not only made team history scoring 19 opening-day runs, they also became the 13th team to sign an African-American player.14 Eight years after Jackie Robinson's debut, Elston Howard wore Yankee pinstripes.15
Sources
In addition to the sources cited in the Notes, the author relied on Baseball-Reference.com and Retrosheet.org.
https://www.baseball-reference.com/boxes/NYA/NYA195504130.shtml
https://www.retrosheet.org/boxesetc/1955/B04130NYA1955.htm
Notes
1 On February 25, 1955, Reynolds announced his retirement from baseball.
2 Dan Daniel, "Casey Won't Climb Out on Flag Limb — Pitching Too Shaky," The Sporting News, April 20, 1955: 8. Reynolds recorded seven saves in 1954.
3 On November 17, 1954, Byrd and McDonald were part of a multiplayer trade with the Baltimore Orioles.
4 The Yankees finished 1955 in first with a 96-58 record, three games ahead of Cleveland. The Senators ended the year 53-101, in eighth place, 43 games behind the Yankees.
5 The 1943 home opener vs. Washington drew 7,057. The 1944 Yankee Stadium opener, also against the Senators, drew 11,192.
6 In his career, Ford started seven opening day games, the first in 1954, the last in 1966. His record in openers was 2-3 with two no-decisions.
7 Mantle was HBP three times in 1955 and 13 times during his 18-year career.
8 Abernathy did not begin throwing underhanded until 1960. See Bob Hurte's SABR BioProject profile of him (sabr.org/bioproj/person/84302de3).
9 McDougald left the game with back pain. Physician Sidney Gaynor said McDougald suffered a sacrolumbar strain. Jerry Coleman replaced him in the lineup.
10 It was Ford's only balk in 1955. During his 16-year career, he committed five balks.
11 Unlike Abernathy, who enjoyed a 14-year big-league career, the Senators released Gonzales on April 19, 1955. Similarly, Currie appeared in two other games in April, totaling 4⅓ innings in three relief appearances. He was optioned to Double-A Chattanooga on May 11, 1955, when teams had to reduce their active rosters to 25. Like Gonzales, Currie never made it back to the majors.
12 Dan Daniel, "Streamlined New-Model Ford Impresses Stengel with His Speedy Getaway," The Sporting News, April 27, 1955: 11.
13 Dan Daniel.
14 The last three teams to integrate were the Detroit Tigers, Philadelphia Phillies, and Boston Red Sox.
15 Howard made his playing debut the following day, April 14, in Fenway Park. In his only at-bat, he singled home a run off Boston's Willard Nixon.
Additional Stats
New York Yankees 19
Washington Senators 1
---
Yankee Stadium
New York, NY
Box Score + PBP:
Corrections? Additions?
If you can help us improve this game story, contact us.
Tags
https://sabr.org/sites/default/files/images/Ford-WhiteyHS_NBL.jpg
600
800
admin
/wp-content/uploads/2020/02/sabr_logo.png
admin
2020-03-26 13:37:01
2020-05-28 15:49:30
April 13, 1955: Whitey Ford pitches and hits Yankees to lopsided Opening Day win