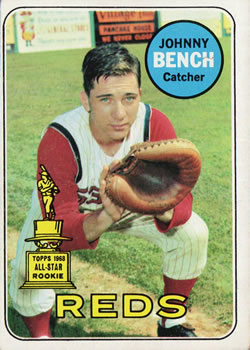 April 15, 1969: Reds rally in 9th, 10th, and win in 12th inning
---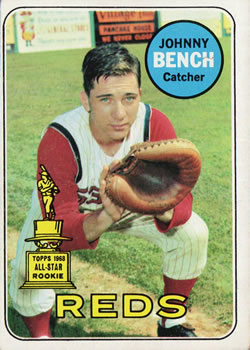 Offensive firepower made the San Francisco Giants and Cincinnati Reds favorites to capture the first NL West crown in the inaugural season of division play in 1969. The heavy-hitting teams looked to profit from baseball's decision to lower the height of the mound from 15 to 10 inches to increase scoring after the "Year of the Pitcher" in 1968. In their first meeting of the season, the Giants and Reds suggested that the days of 2-1 victories were a distant memory by showcasing slugging in a dramatic extra-inning affair.
A Tuesday night crowd of 5,726 at Crosley Field braved the overcast and ominous skies, which had forced the postponement the night before of the first contest of the two-game series between the Giants and Reds, and were treated to one of the most exciting games of the season. The Giants (3-3) were concluding a grueling season-opening road trip that had them crisscrossing the country three times. On the mound for the Reds (2-4) was right-handed strikeout artist Jim Maloney, a two-time 20-game winner. He began the game by whiffing Willie Mays, and mowed down the first nine batters he faced "as if they were hitting with balsa wood bats," gushed sportswriter Bob Hertzel in the Cincinnati Enquirer.1
Toeing the rubber for the Giants was Bobby Bolin, a nine-year veteran whose 1.99 ERA the previous season ranked second in the NL to the St. Louis Cardinals' Bob Gibson's 1.12. With two outs, Alex Johnson smashed a round-tripper deep to right field, soaring between the scoreboard and flagpole. Johnson, who had emerged the previous campaign as one of the league's best pure hitters, ranking fourth with a .312 batting average, was just getting started.
Mays broke the dry streak for the Giants by leading off the fourth with a single to left. "I'll do anything to help us win," said the 39-year-old with creaky knees.2 Asked why he thought Mays, in his 18th season, could lead off regularly for the first time in his career, first-year skipper Clyde King quipped about his new strategy, "Because he is the fastest man going from first to third on a single in baseball."3 Building on Mays' momentum, Ron Hunt beat out a single to third and cleanup hitter Willie McCovey, who was baseball's hottest hitter with three homers and four doubles in six games, was intentionally walked to fill the bases. Dave Marshall's single drove in two to give the Giants the lead, which they extended to 3-1 on Johnny Bench's passed ball.
Tony Perez led off the Reds' fourth with a double, but committed a baserunning blunder, according to Hertzell, when he was trapped off second on Bench's grounder to short. Bench subsequently scored on a double off the scoreboard by Tommy Helms.
Maloney's wildness got him into trouble in the fifth, but the Giants managed only one run. He committed a cardinal sin by walking pitcher Bolin, who advanced on a wild pitch and then scored on Mays' double to center. After another walk, Bobby Bonds lined to third sacker Perez, who doubled Mays off second to end the rally.
Bolin came unraveled in fifth, issuing a leadoff walk to Maloney and a one-out single to Bobby Tolan. Johnson followed with a home run to right, his third blast of the young season, giving the Reds a 5-4 lead and sending Bolin to the showers. "I'm not a home-run hitter," said Johnson, who had belted only two homers in 603 at-bats in 1968.4 He explained that his new lower grip on the bat gave him more "natural movement." "Last year I was carrying the bat but I've learned to use the movement and the ball is jumping off a little better."5
As the Reds took the field in the sixth holding their one-run lead, the light rain that had been falling intermittently intensified. After Maloney walked the first two batters he faced, home-plate umpire Satch Davidson ordered both teams off the field.6 When play resumed 38 minutes later, rubber-armed right-hander Clay Carroll took the mound and dispatched the next three batters.
The Reds' explosive offense (they led the league in runs, home runs, and batting average in '69) was offset by a porous defense – they ultimately finished 11th in the 12-team NL in fielding percentage – and a lackluster pitching corps. These two deficiencies were on full display for the rest of the game. With the Giants trailing 5-4 in the seventh, Hunt hit what appeared to be a routine, inning-ending grounder to third, but Perez's errant throw extended the frame. After Bonds singled, McCovey singled through the box to drive in Hunt and tie the game.
Still tied, 5-5, in the ninth, the Giants scored three unearned runs, resulting in a "chorus of boos," wrote Hertzel.7 Bonds reached on a one-out error by shortstop Woody Woodward and then McCovey was intentionally walked by reliever Wayne Granger, who had replaced Carroll to start the eighth. Two batters later, Marshall shot a two-out single past the pitcher to drive in two runs and then Jim Davenport doubled to give the Giants an 8-5 lead.
With so many offensive threats, the Reds proved that no opponent's lead was safe. Pete Rose initiated the comeback with a leadoff single off reliever Frank Linzy, and scored on Tolan's double in the left-field gap. Perez's one-out single plated Tolan to pull the Reds to within one run. Lee May singled, then Bench tied the game on a single to drive in Chico Ruiz (pinch-running for Perez). May attempted to end the game on Linzy's pitch in the dirt facing Helms, but was tagged out. After Helms was walked intentionally, Mike McCormick retired pinch-hitter Jim Beauchamp.
The Giants commenced the 10th with back-to-back blasts by McCormick, the 1967 Cy Young Award winner, and Mays, ending Granger's night with the Giants in the lead, 10-8. Jim Merritt, who paced the Reds with 17 wins in '68, worked around a one-out single and wild pitch to keep the Reds within striking distance.
Facing their third deficit of the game, the Reds began the 10th with three consecutive singles off McCormick. Apparently distrustful of his relief corps, Giants skipper King called on another starter, Gaylord Perry, to stave off the bleeding. Johnson's grounder to third knocked in Ted Savage (who had pinch-hit for Merritt). Perry intentionally walked Jimmy Stewart to load the bases and play for a force out at home or an inning-ending twin killing. That plan backfired when May belted a deep fly to drive in Rose and tie the game again, 10-10.
After a scoreless 11th (during which Perry worked around a leadoff single), Mays reached first on Stewart's error at third to start the 12th. Mays moved up a station on Hunt's sacrifice, but was gunned down by Bench attempting to steal third. (Bench went on to lead the majors by throwing out 57 percent of baserunners [40 of 70] in 1969.) George Culver completed his second inning of relief by erasing Bonds on a fly.
In a career day at the plate, Alex Johnson led off the bottom of the 12th with a triple. With few options, Perry intentionally walked Stewart and May. To the plate stepped 21-year-old Bench, who had emerged as baseball's best catcher the previous season, during which he was named NL Rookie of the Year and earned the first of 13 consecutive and 14 total All-Star selections. His single to right-center field drove in Johnson to give the Reds a dramatic 11-10 victory and end the game after 3 hours and 54 minutes.
The Reds pounded out 20 hits, more safeties than in any game the previous season, and walked nine times (including seven times intentionally). The list of heroes was long, but Johnson stood out, going 4-for-7 with two home runs, a triple, five RBIs, and three runs scored; Tolan also had four hits, Rose scored three times, and Bench's clutch hits tied the game in the ninth and won it in the 12th. With a home run and double, Mays continued his early-season renaissance after two noticeably down campaigns, improving his average to .345, while McCovey singled and drew three walks (twice intentionally), further cementing his reputation as the Giants' most feared slugger. Culver pitched two hitless innings to pick up the victory while Perry was collared with the loss.
"It was a long, hard, tough one to lose," said a dejected King.8
This article was published in "Cincinnati's Crosley Field: A Gem in the Queen City" (SABR, 2018), edited by Gregory H. Wolf. To read more articles from this book at the SABR Games Project, click here.
Sources
In addition to the sources cited in the Notes, the author also accessed Retrosheet.org, Baseball-Reference.com, and SABR.org.
https://www.baseball-reference.com/boxes/CIN/CIN196904150.shtml
http://www.retrosheet.org/boxesetc/1969/B04150CIN1969.htm
Notes
1 Bob Hertzel, "Battling Reds Wins in 12th, 11-10," Cincinnati Enquirer, April 16, 1969: 29.
2 Bob Hertzel, "Mays 'Leads' Giants," Cincinnati Enquirer, April 16, 1969: 29.
3 Associated Press, "Giants Take Day Off After Losing Marathon," Santa Cruz (California) Sentinel, April 16, 1969: 7.
4 Ibid.
5 Ibid.
6 Ibid.
7 Bob Hertzel, "Battling Reds Wins in 12th, 11-10."
8 Dick Couch (United Press International), "Johnson's 2 Homers Wreck Giants in the 12th," Fresno (California) Bee Republican, April 16, 1969: 44.
Additional Stats
Cincinnati Reds 11
San Francisco Giants 10
12 innings
---
Crosley Field
Cincinnati, OH
Box Score + PBP:
Corrections? Additions?
If you can help us improve this game story, contact us.
Tags
https://sabr.org/sites/default/files/BenchJohnny-1969.jpg
600
800
admin
/wp-content/uploads/2020/02/sabr_logo.png
admin
2019-10-08 14:19:58
2020-04-17 10:22:28
April 15, 1969: Reds rally in 9th, 10th, and win in 12th inning