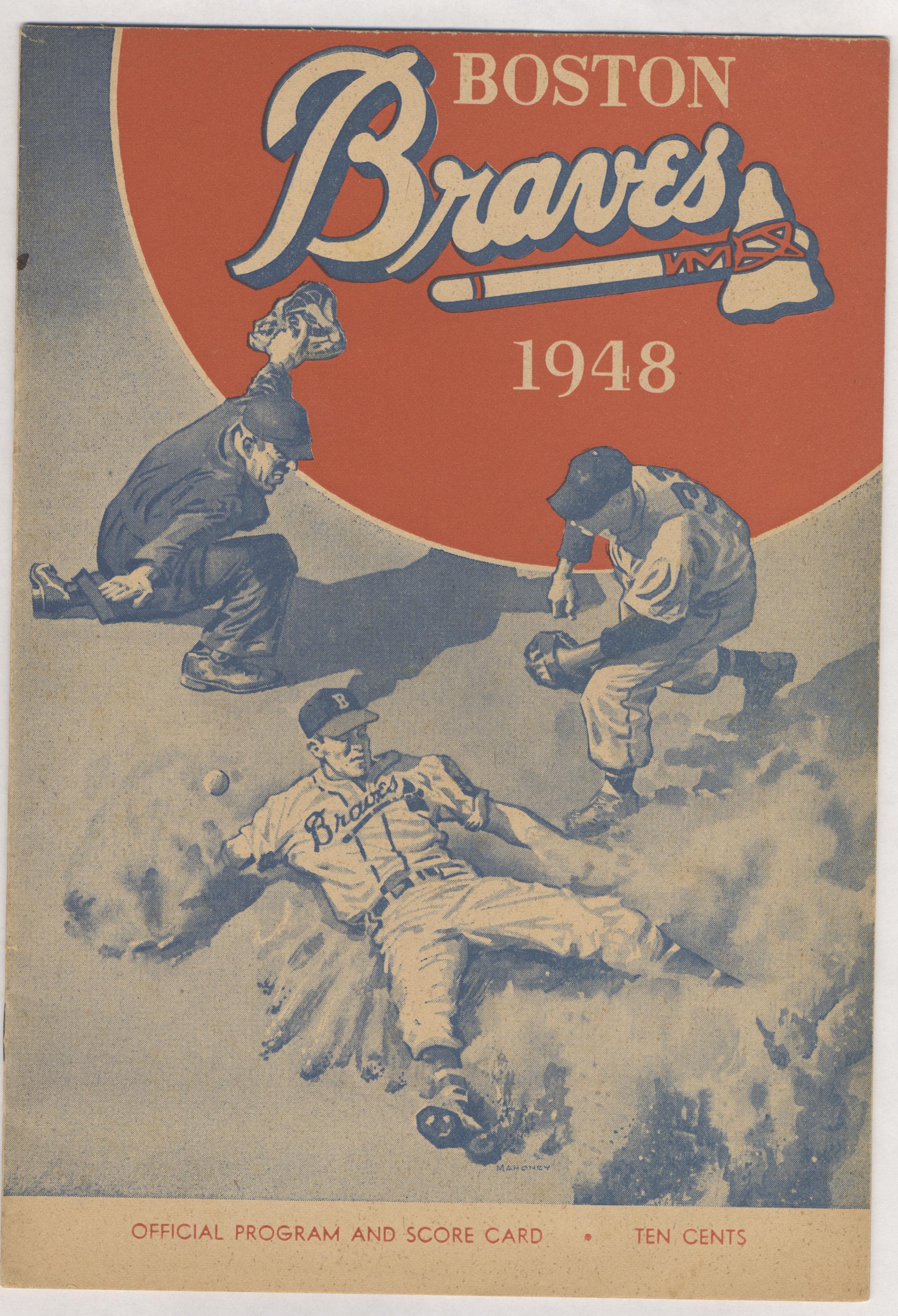 April 16, 1948: Braves, Red Sox face off in City Series brawl
---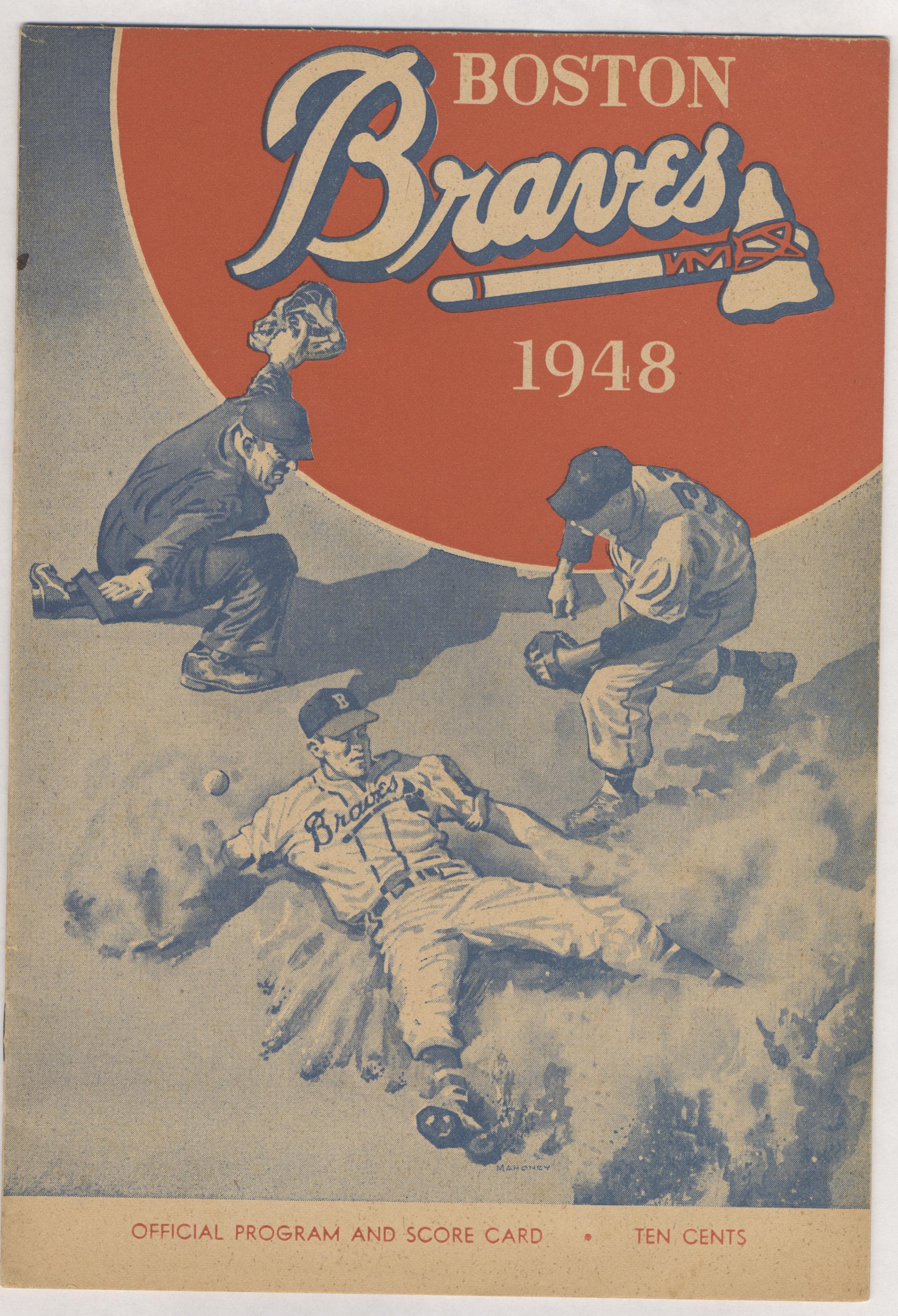 For decades the Braves traditionally started each big-league season in Boston with a handful of "City Series" games against their crosstown rivals, the Red Sox.[fn]A complete history of the City Series may be found in Frank J. Williams, The Battle for Baseball Supremacy In Boston: A Chronicle Of The Annual City "Championship Series" Between The Boston Red Sox And Boston Braves, 1905-1953 (Marlborough, Massachusetts: Boston Braves Historical Association Press, 1998). Williams tabulated wins and losses and reported, "Of the 104 games played, the Red Sox claimed 62 victories, the Braves 38 and four resulted in ties."[/fn] Although these were exhibition contests, both teams played to win – and anybody doubting the intensity they brought to the diamond no longer felt this way after what unfolded in one of these grudge matches at Braves Field on April 16, 1948.
The home team entered the contest with the confidence that comes from positive reinforcement. After finishing the previous year with a fine 86-68 record, the Braves had improved their roster with the pickup of elite outfielder Jeff Heath, scrappy second baseman Eddie Stanky, and hot-shot rookie shortstop Alvin Dark. Adding this trio to a lineup that already included National League MVP Bob Elliot at third base, .300-hitting Tommy Holmes in right field, and up-and-coming Earl Torgeson at first, along with a pitching staff anchored by 20-game winners Johnny Sain and Warren Spahn, made the Braves the darlings of the preseason prognosticators. A poll of 238 members of the Baseball Writers Association of America by The Sporting News predicted a Braves-New York Yankees World Series, which would be the first for the Tribe since 1914.[fn]Carl Felker, "Braves and Yankees Picked by Experts," The Sporting News, April 21, 1948. The Braves were picked first in the eight-team NL by 102 of the 238 scribes polled, with the Cardinals second at 77; in the AL, the Yanks edged the Red Sox in first-place votes, 119-106. Making his own predictions, The Sporting News's editor, J.G. Taylor Spink, forecast a rematch of the 1946 World Series – with the Cardinals squaring off against the Red Sox. Spink picked the Braves and Yankees for second place.[/fn]
If the Braves fulfilled their end of this prediction and the Yankees faltered, many experts believed, the American League entry in the fall classic would be none other than their neighbors from Fenway Park. Although injuries to their three top pitchers had caused the Red Sox to drop to third place in 1947 from their tremendous 104-50, pennant-winning campaign of '46, they too had spent the offseason bolstering their already formidable offense with the addition of slugging shortstop Vern Stephens to join Dom DiMaggio, Johnny Pesky, and Ted Williams atop their lineup. Sportswriters picking Boston's AL club as just a shade behind the Yanks were betting pitchers Boo Ferriss, Tex Hughson, and Mickey Harris would return to health, and that newcomers Jack Kramer and Ellis Kinder would round out the rotation.[fn]Ibid. Stephens, Kramer, and Kinder all came to the Red Sox from the St. Louis Browns in a pair of blockbuster trades on November 17-18, 1947. The Browns, longtime doormats in the American League, had briefly moved up to respectability in the mid-1940s but were back to last place and struggling financially by '47 – leading the front office to unload the trio for $310,000 of Sox owner Tom Yawkey's cash (with several lesser players also switching sides).[/fn]
Another factor that bolstered the prospects of an all-Boston "Trolley Series" in October was the men leading the two teams. Braves manager Billy Southworth, with three pennants already to his credit while at the helm of the St. Louis Cardinals, was generally considered the National League's top skipper. The Red Sox, with longtime pilot Joe Cronin moving up to general manager for 1948, were now under the leadership of the most successful manager of them all: Joe McCarthy. "Marse Joe" had guided the Yankees to eight AL pennants and seven World Series titles after capturing an NL pennant with the Chicago Cubs. The general consensus was that his Midas touch would be a big advantage for the Red Sox as well.
Long considered poor cousins to the Red Sox, the pumped-up Braves were determined to defend their home turf as 12,630 fans settled gathered at the Wigwam on April 16, 1948, for the third City Series game. Sain, coming off a 21-12 season, took the mound for the home team, but was driven from it in the second inning as McCarthy's potent lineup rocked him for five hits and two walks while taking a 5-1 lead. Lefty Clyde Shoun took over for Sain, and two batters later gave up a mammoth 450-foot home run over the center-field wall to Williams. The three-run blast helped end any speculation that the Splendid Splinter would be slow to show his usual power stroke after a preseason bout of appendicitis.
In the top of the fourth inning, with the Red Sox up 11-1, the day's main event occurred. Billy Hitchcock, a utility infielder who had come to the Red Sox from the St. Louis Browns in a separate trade a day after Stephens the previous November, pinch-hit for pitcher Joe Dobson and grounded to Braves hurler Ed Wright. Wright's throw to Dark caught Sam Mele in a rundown between second and third, but after tagging Mele, Dark's relay to first baseman Torgeson to try to double off Hitchcock – who had rounded the bag widely – was low and wild. Hitchcock slid in under Torgeson to get back to first, and as Torgy attempted to untangle from the runner and chase after the ball, Hitchcock grabbed his legs.[fn]Bob Holbrook, "Torgy, Hitchcock Scrap," Boston Globe, April 17, 1948. Holbrook's account mentions Dark's throw hitting Hitchcock as he slid and bouncing 15 feet away from the first-base bag. Other writers did not mention the ball hitting Hitchcock, or said Hitchcock only grabbed one of Torgeson's legs. Several mentioned in good humor that Torgeson as a former Army private was an enlisted man who punched out an officer in Hitchcock – a former major.[/fn]
"Action became rapid," Burt Whitman of the Boston Herald wrote of what came next. "It looked like a free-swinging of fists, both from the supine Hitchcock and from the now thoroughly aroused Torgy. Players of both teams rushed to the center of the battle. Manager Joe McCarthy was there as soon as some of the players. So was Ted [Williams]. So was umpire [Charlie] Berry. They pinned the two men, now on their feet, and both were sent to the showers."[fn]Burt Whitman, "Red Sox Overpower Braves, 19-6," Boston Herald, April 17, 1948.[/fn]
After these fireworks, the rest of the contest was anticlimactic as the Red Sox continued to pour on the offense en route to a 19-6 win. By game's end the American Leaguers had 24 hits, with Dom DiMaggio, Sam Mele, and rookie infielder Billy Goodman collecting four apiece. The Braves had 11 hits, including two each from Eddie Stanky and catcher Phil Masi, but also made five official errors and several other fielding mistakes. Not surprisingly in such a one-sided battle, all anybody wanted to talk about in postgame interviews was the fight.
Both combatants were World War II veterans known to play tough. Hitchcock, a rock-solid 6-foot-1, 185-pounder, was a football star at Auburn University, and the 6-foot-3 Torgeson had gotten used to defending himself as one of the few major leaguers who wore glasses. Their scuffle, in which Torgeson landed two good shots to Hitchcock's face before Williams's intervention, was in Torgy's telling a rematch of sorts. He claimed that two weeks earlier, during an April 4 spring-training game between the clubs in Sarasota, Florida, Hitchcock had grabbed him on another play around the first-base bag – prompting a warning that any future such nonsense would result in a fight. "The first time could have been an accident," Torgeson told Gerry Hern of the Boston Post. "But when it happens twice, that fellow's looking for it. You can't let anyone get away with stuff like that."[fn]Gerry Hern, "Ted Strikes Out as Peacemaker," Boston Post, April 17, 1948.[/fn]
John Drohan of the Post passed on that Hitchcock answered the query "Why didn't you pick on a guy your own size?" with the quick comeback "I couldn't find one." Torgeson, meanwhile, needed to get a new pair of glasses after his "cheaters had been broken in the scuffle."[fn]John Drohan, "Wigwam Fight A Wow," Boston Traveler, April 17, 1948.[/fn] Torgy was boastful to Henry McKenna of the Boston Herald; when McKenna asked if his glasses were broken on a punch by Hitchcock, the first baseman smiled and said, "Are you kidding? He hasn't hit me yet. The glasses were broken when someone jumped on them."[fn]Henry McKenna, "Get in First Punch – Torgy," Boston Herald, April 17, 1948.[/fn]
Changing the subject away from the fight, and trying to account for the shellacking, Braves skipper Southworth blamed it on the fact that "the wind favored their blows, pulling them away from our outfielders, and dropping ours into their hands. That won't happen again in a blue moon – or an east wind." Southworth also joked that after seeing Ted Williams hit, he was hoping three or four Braves players would also come down with appendicitis.[fn]Drohan.[/fn]
That would not happen, but by season's end it would be Southworth, Torgy, and the Braves who were still playing when the World Series rolled around. Although the Red Sox finished the year tied atop the American League with the Cleveland Indians, Ted and his teammates missed their chance at an all-Boston fall classic by losing a one-game AL playoff to the Cleveland Indians at Fenway Park.
This article appeared in "Braves Field: Memorable Moments at Boston's Lost Diamond" (SABR, 2015), edited by Bill Nowlin and Bob Brady. To read more articles from this book, click here.
Sources
Baseball-reference.com
"Torgy, Hitchcock Scrap," Boston Globe, April 17, 1948.
"Wigwam Fight A Wow," Boston Post, April 17, 1948.
"Braves and Yankees Picked by Experts," The Sporting News, April 21, 1948.
Kaese, Harold. The Boston Braves (New York: Putnam Press, New York, 1948).
Wisnia, Saul. The Jimmy Fund of Dana-Farber Cancer Institute (Charleston, South Carolina: Arcadia Publishing, 2002).
Additional Stats
Boston Red Sox 19
Boston Braves 6
City Series (exhibition)
---
Braves Field
Boston, MA
Corrections? Additions?
If you can help us improve this game story, contact us.
Tags
https://sabr.org/sites/default/files/1948BravesProgram.jpg
600
800
admin
/wp-content/uploads/2020/02/sabr_logo.png
admin
2017-08-09 21:31:02
2020-04-17 10:25:46
April 16, 1948: Braves, Red Sox face off in City Series brawl