April 18, 1923: Babe Ruth homers in Yankee Stadium's grand opening, hinting at franchise's dynastic future
---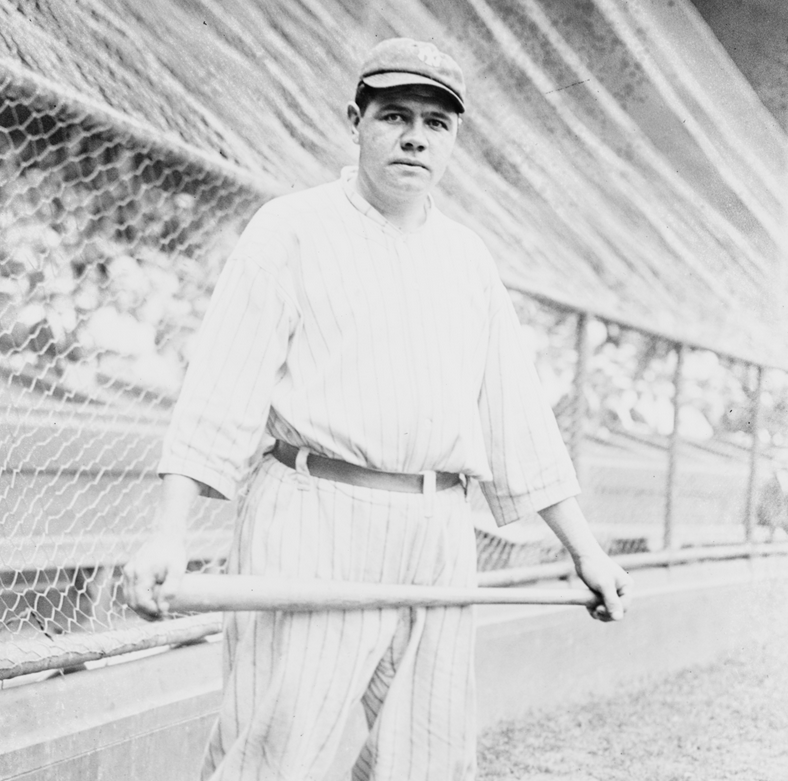 In 1913 the New York Highlanders were renamed the Yankees and moved from Hilltop Park into the Polo Grounds, the home field of the National League's New York Giants. Two years later, the franchise was under the new co-ownership of Jacob Ruppert and Tillinghast L'Hommedieu Huston, who initiated the team's transformation into an American League powerhouse by purchasing Babe Ruth from the Boston Red Sox in December 1919. The Big Bam's prodigious home-run output eventually resulted in the tenant Yankees outdrawing the landlord Giants in their own home park.
As a result, John McGraw, the Giants' manager, minority owner, and noted hater of the American League, could no longer abide the Yankees. It was not enough for him that he had led the Giants to consecutive World Series triumphs over his despised rivals in 1921 and 1922, including holding the vaunted Sultan of Swat to a .188 batting average with no home runs in a four-game sweep in the latter Series. He wanted the Yankees gone and persuaded majority owner Horace Stoneham to banish them in the hope that the team would falter and fold. When McGraw found out that the Yankees' new stadium would be built in the Bronx, right across the Harlem River from the Polo Grounds, he gleefully crowed, "They are going up to Goatville. And before long they will be lost sight of. A New York team should be based on Manhattan Island."1
Although McGraw was an innovator who had a long, successful career in baseball, his assessment of the Yankees' new home and the team's future could not have been more in error. The $2.5 million structure was situated on a 10-acre plot, and it took 500 workmen 11 months to complete "the first ballpark to be referred to as a stadium" just in time for opening day of the 1923 season.2 In light of its size and price tag, the New York Times rhapsodized:
Down on the Potomac, close by the National Capitol, they are thinking about erecting an impressive monument to the national game of baseball. But in the busy borough of the Bronx … the real monument to baseball will be unveiled this afternoon — the new Yankee Stadium … comprising in its broad reaches of concrete and steel the last word in baseball arenas.3
Everyone who was someone, along with a host of anyones — more than 25,000 of whom were unable to gain admission to the sold-out stadium — wanted to be part of the grand opening on April 18, 1923. The Yankees gave the official attendance that day as 74,200, but later amended that number to 62,200.4 The list of dignitaries present included Baseball Commissioner Kenesaw Mountain Landis, New York Governor Al Smith, and New York City Mayor John Hylan.
John Philip Sousa directed the Seventh Regiment Band as it marched to the center-field flagpole, where New York manager Miller Huggins and Boston skipper Frank Chance raised the American flag and the Yankees' 1922 pennant as the band played "The Star-Spangled Banner." After Governor Smith threw the ceremonial first ball to Yankees catcher Wally Schang, it was time to play ball. New York hurler Bob Shawkey threw the first pitch in Yankee Stadium history, a ball high and inside, to Schang with Chick Fewster at bat for Boston.
Another notable moment took place in the top of the second inning, when Red Sox first baseman George Burns got the first hit in stadium history. Burns then attempted to garner the first stolen base of the day, but he was gunned down at second base by Schang. Second baseman Aaron Ward made the first base hit for the home team when he singled in the third. After the game Burns received a box of cigars and Ward received 50 "ropes" [cigars] for their landmark hits.5
Ruth, whose popularity had made this new stadium both possible and necessary, naturally provided the day's biggest thrill as the Yankees scored all four of their runs in the third inning. Shawkey and Whitey Witt had reached base on consecutive singles, and Joe Dugan followed with a base hit of his own to drive in the first run. The next batter to step to the plate, with runners at first and third, was The Bambino.
Ruth was seeking redemption after a miserable 1922 season in which he had batted .315 with 35 homers after hitting .378 and clouting 59 round-trippers in 1921; there was also the cloud of that .188 World Series performance hanging over his head. Ruth knew "[t]he talk was that he was boozing it up a lot and couldn't be managed, and maybe he was through."6 He had spent the offseason walking the straight and narrow and working his way back into playing shape. In spite of his efforts, he had not performed well in spring-training exhibition games, and he told his teammates, as they left the clubhouse on Opening Day, "I'd give a year off my life to hit one today."7
Ruth now had his second opportunity of the day to deliver the desired blow. He fouled off Red Sox pitcher Howard Ehmke's first pitch, took a ball, hit another pitch foul, and watched ball two go by. Then Ehmke left a letter-high curveball over the plate that Ruth ripped several rows up into the bleachers for a three-run blast that gave the Yankees a 4-0 lead. As he crossed home plate, Ruth "lifted his Kelley and smiled from ear to ear as he faced the multitude and made those graceful bows rehearsed so many times in his great season of 1921."8
Ever the showman, and often a bit of a huckster, Ruth afterward asserted that his blast had been forecast earlier in the week. He claimed that Hendrik Willem van Loon, author of The Story of Mankind, had given him a silver dollar for good luck and had promised him, "You'll get a homer in the third inning with two on base."9 The fact that the certainty expressed in this story did not exactly jibe with Ruth's willingness to sacrifice a year of his life for an Opening Day homer did not faze The Big Bam.
Ruth's clout was the climax of the game, though the Yankees did threaten to score again in the fourth inning. Bob Meusel led off the frame with a double, but Ehmke fielded Schang's bunt and nailed Meusel at third base. After Ward struck out, Everett Scott, playing in his 987th consecutive game, delivered a double of his own.10 Schang tried to score from first base but was gunned down at home on a nice play from right fielder Shano Collins to first baseman Burns, who fired the relay throw to catcher Al DeVormer.
The Red Sox scored their lone run in the top of the seventh inning when Shawkey walked Burns and Norm McMillan drove him in with a triple. It was the only hiccup of the afternoon for Shawkey, who pitched a complete-game three-hitter to earn the first win in Yankee Stadium history.
The final noteworthy event occurred in the ninth inning, with Burns batting for Boston, when fans from the bleachers scaled the outfield wall and surrounded Ruth in right field. Home-plate umpire Tom Connolly stopped the game but soon realized "the futility of trying to clear the outskirts. Accordingly, Ruth had plenty of comrades in right when the game closed."11
The Yankees emerged victorious in their 1923 debut, and everyone seemed certain that Ruth was back on track. However, the New York Times summarized the importance of the day by stating, "But the game, after all, was only an incident of a busy afternoon. The stadium was the thing. For the Yankee owners it was the realization of a dream long cherished. For the fans it was something which they had never seen before in baseball."12 Perhaps to the chagrin of McGraw and Stoneham, the Times added, "The Yankees' new home, besides being beautiful and majestic, is practical. It was emptied yesterday of its 74,000 in quicker time than the Polo Grounds ever was."13
After slugging his Opening Day home run, Ruth had referred to his offseason training regimen and abstinence from his vices, saying, "I guess there must be something in that old gag about virtue being its own reward."14 By the end of the 1923 season, the tenants of the new "beautiful, majestic, and practical" baseball cathedral called Yankee Stadium would be World Series champions for the first time after defeating the denizens of their previous home, McGraw's Giants, in six games. Ruth batted .393 and led the league with 41 homers in the regular season. He redeemed himself in the World Series as well by battering Giants pitching for a .368 average and three home runs. It was indeed quite a reward.
Notes
1 Harvey Frommer, "Remembering the First Game at Yankee Stadium April 18, 1923," travel-watch.com/remembering1stgameatyankeestad1.htm, accessed May 18, 2018.
2 Ibid.
3 "Yanks' New Stadium to Be Opened Today: Record Crowd Expected to Witness Dedication of $2,500,000 Baseball Arena," New York Times, April 18, 1923: 17.
4 Robert Weintraub, The House That Ruth Built: A New Stadium, the First Yankees Championship, and the Redemption of 1923 (New York: Little, Brown and Company, 2011), 17-18. According to Weintraub, a boxing match was held at Yankee Stadium in May for which 10,000 extra seats were placed on the field. The total number of tickets printed for the match was 70,000, which indicated that the current capacity for baseball games was approximately 60,000. Yankees business manager Ed Barrow then admitted that he had added standing-room fans to his original estimate and amended his Opening Day figure to 62,200. Weintraub writes that even this figure is "probably still exaggerated, but [it was] nevertheless by far the largest crowd in the sport's history,"
5 Ed Cunningham, "Echoes from That Babe Ruth Swat," Boston Herald, April 19, 1923: 14.
6 John Durant, "April 1923: First Day at Yankee Stadium," si.com/vault/1963/04/22/602983/april-1923-first-day-at-yankee-stadium, accessed May 18, 2018.
7 Weintraub, 27.
8 "The Paying Colonels Draw Dividend When King George Whacks," Boston Herald, April 19, 1923: 14.
9 "Ruth Says Van Loon Predicted Home Run," Springfield (Massachusetts) Republican, April 19, 1923: 6.
10 Everett Scott played in a major-league record 1,307 consecutive games between June 20, 1916, and May 5, 1925. His record would eventually be broken by another Yankees player, a rookie who had debuted in 1923 but had played in only 13 games and had been left off the team's playoff roster. Lou Gehrig would eventually shatter Scott's record by playing in 2,130 consecutive games.
11 Cunningham, "Echoes from That Babe Ruth Swat."
12 "74,200 See Yankees Open New Stadium; Ruth Hits Home Run," New York Times, April 19, 1923: 1.
13 "74,200 See Yankees Open New Stadium: 15.
14 "Ruth Says Van Loon Predicted Home Run."
Additional Stats
New York Yankees 4
Boston Red Sox 1
---
Yankee Stadium
New York, NY
Box Score + PBP:
Corrections? Additions?
If you can help us improve this game story, contact us.
Tags
https://sabr.org/wp-content/uploads/2020/10/RuthBabe-5.jpg
600
800
admin
/wp-content/uploads/2020/02/sabr_logo.png
admin
2020-12-14 16:57:38
2020-12-14 16:57:47
April 18, 1923: Babe Ruth homers in Yankee Stadium's grand opening, hinting at franchise's dynastic future