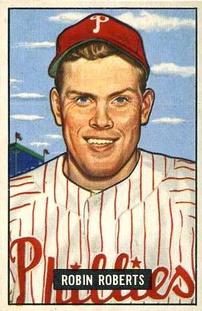 April 18, 1950: Robin Roberts wins first Opening Day start for Phillies
---
I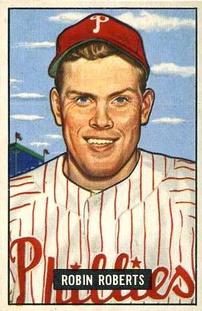 t was a "sticky, gray day and the sun never did break through the heavy haze," according to Tommy Holmes of the Brooklyn Eagle.1 A crowd of 29,074 arrived at Shibe Park for Opening Day 1950. The city bustled with excitement and "lines of traffic from every direction were jammed and tangled. The holiday spirit increased in intensity the closer one came to Shibe Park," reported Philadelphia's Evening Bulletin.2 Men could be seen in their fedora hats and ties, ladies in their wool dress coats, and servicemen in their tidy uniforms.3 The Phillies appeared in their new red pinstripe uniforms, red caps, and red stockings. "You look like the rinky dinks!" a Dodger player yelled from the dugout.4 Harold C. Burr of the Brooklyn Eagle commented, "At a distance they could easily be mistaken for walking strawberry and vanilla ice cream cones."5 Dick Young of the Philadelphia Daily News called them the "new gaudy peppermint-stick uniforms."6
Fans were treated to the playing of the Police and Firemen's Band, and also a performance of "The Fightin' Phils" by the Elliott Lawrence orchestra. The Marine color guard hoisted the American flag during the National Anthem, and wounded World War I veteran Si Rappaport threw out the first pitch from his wheelchair.7
Robin Roberts was making his first Opening Day start for the Phillies, after finishing 15-15 in 1949. He was opposed by the Dodgers' Don Newcombe, who was already considered one of the top pitchers in the league after a 17-8 rookie season in 1949.
The Phillies came out fired up from the very beginning. In the bottom of the first, Richie Ashburn singled and scored on Granny Hamner's double. As the next batter made his way to the plate, the crowd rose in a standing ovation. It was Eddie Waitkus, taking his first at-bat since tragedy struck the previous June. While in Chicago, Waitkus had received a message that a Ruth Anne Burns wanted to speak on an urgent matter with him in her hotel room. When Waitkus arrived, she shot him in the stomach with a .22-caliber rifle. Her real name was Ruth Ann Steinhagen; she was a Chicago-area obsessed fan who had been stalking Waitkus.8 The shooting is believed to have inspired author Bernard Malamud to write his famous novel The Natural, which was later made into a motion picture. Glad to be alive and able to swing a bat, Waitkus made an out to the shortstop. Del Ennis lined a doubled to left, scoring Hamner, and the Phillies led 2-0 after one inning. The exciting opening to the game "turned bedecked Shibe Park into a roaring amphitheater of appreciation and expectation," wrote Stan Baumgartner of the Philadelphia Inquirer.9
In the second inning, back-to-back doubles by Mike Goliat and Andy Seminick made the score 3-0 Phillies, and Don Newcombe was driven from the game. "Newcombe attempted to hurl his first opening day game in organized ball, but [Dodgers manager Burt] Shotton might just as well have brought the groundskeeper over from Ebbets Field and started him," wrote Burr.10
Carl Erskine came in to pitch for Brooklyn, and quickly got two men out. However, a single by Hamner scored Seminick, and then singles by Waitkus and Ennis scored Hamner. "Before today's opening battle," wrote Roscoe McGowen in the New York Times, "Manager Burt Shotton of the Dodgers had an upset stomach. Before anybody was out in the Phils' second inning, he must have had a wrecked nervous system."11
Once the dust had settled, the Phillies had a 5-0 lead going into the third inning. "We had already scored five runs off Newcombe in the opener by the time Jackie Robinson came up to the plate for his first time," Seminick recalled. "Jackie said to me, 'What do you guys think you're going to do, win the pennant?' I said, 'Yessir, we're going to do it this year. You bet.'"12
The Phillies struck again in the bottom of the third. Pat McGlothin was now pitching for the Dodgers. He allowed back-to-back singles by Dick Sisler and Mike Goliat, and then McGlothin balked, sending runners to second and third. A sacrifice fly by Roberts scored Sisler, and a Hamner single scored Goliat. The Phillies pushed their lead to 7-0.
With one out in the fourth, Willie "Puddin' Head" Jones singled and went to second on another balk by McGlothin. A single by Goliat scored Jones, and the Phillies led 8-0. That would be all of their scoring until the bottom of the eighth when Waitkus's single off Clem Labine scored Ashburn for their ninth run.
The Dodgers were overmatched by Roberts on this day, never even getting a runner to second base until a seventh-inning double by Robinson, who took third on Goliat's muff of the relay throw. Robinson scored on Carl Furillo's single for the lone Dodger run. Gil Hodges reached with a single, and Roy Campanella reached on an error by Jones to load the bases, the first Dodgers threat of the day. While still leading 8-1, the Phillies bullpen got active for the first time, and "Branch Rickey, Dodger boss who had sat dejectedly for six innings in his box near the Brooklyn bench, began to puff vigorously at his cigar," Baumgartner observed.13
However, pinch-hitter Gene Hermanski hit a hot shot back to the mound. Roberts quickly knocked it down, threw out the runner coming home, and Seminick threw Hermanski out at first, completing the double play and ending the rally.
All told, the Phillies carved out a 16-hit attack against five Brooklyn pitchers. Roberts was the only Philly batter not to get a hit, yet he still drove in a run with a sacrifice fly. He threw 119 pitches in the complete-game victory, giving up just the one run, scattering seven hits, striking out four, and allowing only one walk. He was consistent all day, with a nearly equal total of fly ball (12) and groundball (11) outs. Roberts "stood like a Rock of Gibraltar, turning back Brooklyn with his fine pitching and equally brilliant fielding," wrote Baumgartner.14
Roberts remembered years later, "The first game was significant to me not only because it was my first opening day start but because I had not yet beat the Dodgers."15 Roberts had been 0-3 against the Dodgers with an 8.79 ERA in 1949 and 0-5 lifetime.
Waitkus went 3-for-5 with an RBI in his return to the game. "I was scared to death," he said after the game. "One of two [hits] were lucky ones, but I'd rather be lucky than good."16
While Waitkus was returning to the game, another man was in his first ever game with the Dodgers. A 22-year-old Vin Scully was in the Dodgers radio booth for the very first time, calling the action for the team he would cover over the next 67 years.17
This article appears in "The Whiz Kids Take the Pennant: The 1950 Philadelphia Phillies" (SABR, 2018), edited by C. Paul Rogers III and Bill Nowlin. Click here to read more stories from this book at the SABR Games Project.

Sources
In addition to the sources cited in the text, the author wishes to thank the Newspaper and Microfilm Department of the Free Library of Philadelphia for research assistance.
Notes
1 Tommy Holmes, "The Dodgers Open in Deep Distress," Brooklyn Eagle, April 19, 1950.
2 John Theodore. Baseball's Natural: The Story of Eddie Waitkus (Lincoln: University of Nebraska Press, 2006), 70.
3 Ibid.
4 Holmes. As best as can be determined by the author, "rinky-dinks" in this era most likely referred to the red-and-white "Rinky Dink Surf Board Skateboard" popular at the time. The Dictionary of American Slang by Harold Wentworth and Stuart Berg Flexner (New York: Thomas Y. Crowell Co., 1975) describes the word's origin as "carnival use."
5 Harold C. Burr, "Barney a Big Leaguer Again for Two Innings," Brooklyn Daily Eagle, April 19, 1950.
6 Cited in Lyle Spatz, "Jackie Robinson on Opening Day, 1947-1956," in Jackie Robinson: Race, Sports, and the American Dream, eds. Joseph Dorison and Joram Warmund (Armonk, New York: M.E. Sharpe, 1998), 137.
7 Stan Baumgartner, "Phils Rout Dodgers, 9-1, in Opener; A's Bow 8-7," Philadelphia Inquirer, October 1, 1950: 47.
8 C. Paul Rogers III, "Eddie Waitkus," in Van Lingle Mungo ed. Bill Nowlin (Phoenix: Society for American Baseball Research, 2014); Nook E-book edition. Steinhagen was declared insane and sentenced to the Kankakee State Hospital, while Waitkus rehabbed. The incident was said to have inspired Bernard Malamud's baseball novel The Natural, which was also made into a movie of the same name in 1984, starring Robert Redford.
9 Baumgartner: 1.
10 Harold C. Burr, "Daylight Spring Tilts Pay Phils Dividends," Brooklyn Eagle, April 19, 1950.
11 Roscoe McGowen, "Roberts Defeats Brooklyn, 9 to 1," New York Times, April 19, 1950: 39.
12 Robin Roberts and C. Paul Rogers III, The Whiz Kids and the 1950 Pennant (Philadelphia: Temple University Press, 1996), 219.
13 Baumgartner: 47.
14 Ibid.
15 Roberts and Rogers, 218.
16 Theodore, 71.
17 The Brooklyn Eagle on April 18, 1950, lists Scully announcing on WMGM with Red Barber and Connie Desmond.
Additional Stats
Philadelphia Phillies 9
Brooklyn Dodgers 1
---
Shibe Park
Philadelphia, PA
Box Score + PBP:
Corrections? Additions?
If you can help us improve this game story, contact us.
Tags
https://sabr.org/sites/default/files/RobertsRobin-1951.jpg
600
800
admin
/wp-content/uploads/2020/02/sabr_logo.png
admin
2018-11-28 12:09:56
2020-04-17 10:23:44
April 18, 1950: Robin Roberts wins first Opening Day start for Phillies