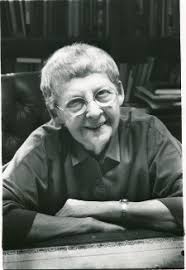 April 18, 1981: A first pitch for writer Eugenia Price
---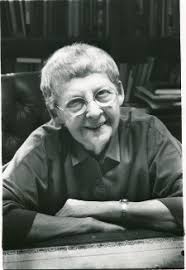 When inspirational writer Eugenia Price discovered St. Simons Island on the Georgia coast,
1
she was already an avid baseball fan. She and Joyce Blackburn, her researcher and editor, were enchanted by St. Simons on a happenstance book tour visit in 1961. "We found St. Simons the day after Thanksgiving. From our first glimpse by that special brown-gold autumn light, we were in love with it."
2
She and Ms. Blackburn became residents of the Island in 1965 and Ms. Price turned her writing concentration toward historical novels set on St. Simons and in other Georgia coast locations.
3
Her love of baseball, at least the National League variety, was ingrained. Born in West Virginia and having attended school and lived for much of her writing career in Chicago, Ms. Price wrote in At Home on St. Simons: "For over twenty-five years I was a Chicago Cubs fan; to have been a Cub fan all those years meant one had to be a baseball fan-atic. Like my father, I was. I am. For years I could tell you every fielding and batting average in the National League and every pitcher's record."4 But when the Braves arrived in Atlanta from Milwaukee for the 1966 season, just a year after her own move to the Southeast, Ms. Price immediately switched allegiance to "the fates of our beloved friends, the noble Braves."5
In 1981, she and Ms. Blackburn were looking forward to one of their frequent trips to Braves' spring training in West Palm Beach, Florida. "My doctor suggested the south of France for my prescribed annual month's rest. I could no more endure being in the south of France during spring training than I could endure the thought of a baseball strike."6
Later that spring Orlando Sentinel books columnist Ed Hayes wrote that "whenever possible during the long season [Ms. Price] makes the 250-mile trip [from St. Simons Island] to Atlanta to watch the Braves play. Evidently her love for the baseball club is reciprocal. Last month the Braves asked her to throw out the first baseball at their fifth home game."7
And so it was that Eugenia Price authored the ceremonial first pitch at Atlanta-Fulton County Stadium on Saturday evening, April 18, 1981, with 14,260 others in attendance. The Braves, 3-4 and on a three-game losing streak, were facing the San Francisco Giants, also under .500 but with a 6-2 win in the series opener the night before. Ex-Brave Doyle Alexander had mastered his former teammates, and San Francisco roughed up the well-traveled future Hall of Famer Gaylord Perry in the process.8
This night, after Ms. Price had completed her mound appearance9 and settled in to watch, Atlanta manager Bobby Cox sent out righty John Montefusco, acquired from the Giants the prior December in a trade for Alexander. Montefusco, 31, tabbed "the Count" — wordplay on his surname — had won the 1975 NL Cy Young Award with the Giants and had gone 6⅓ solid innings in a no-decision against Cincinnati six days earlier in his Braves debut. His opponent was journeyman Tom Griffin, another right-hander, pitching for his fourth major-league club since breaking in with Houston in 1969. "I like the Count. I like to beat the Count," Griffin quipped.10
Neither team advanced a runner beyond second base through the first two innings, but Montefusco faltered in the third. After Griffin flew out, Bill North's speed got him a bunt single to the first-base side of the infield, which North essentially turned into a triple by successively stealing second base, then third, while Enos Cabell was batting. Cabell then punched a single to left field through a drawn-in infield11 to score North. Joe Morgan quickly made it 3-0, Giants, with a two-run homer. Meanwhile, Griffin rolled along efficiently, pitching around a one-out triple by Glenn Hubbard in the fifth inning by striking out Rafael Ramírez and Bruce Benedict to thwart the threat.
Montefusco had negotiated the fourth and fifth innings without further damage but encountered more trouble in the San Francisco sixth. Leadoff hitter Larry Herndon singled and Milt May doubled him to third. Cox had seen enough and brought in Gene Garber. Always a fan favorite in his nine-plus Atlanta seasons whether pitching in middle relief as he did in 1981 or in his more usual role as closer,12 Garber quieted things by getting Chili Davis, Johnnie LeMaster, and Griffin on easy groundballs without a run scoring.
After Mike Lum pinch-hit for Garber in a nonproductive Atlanta sixth, Preston Hanna took the mound for the Braves in the seventh and walked North, who promptly stole second base. Even with their 3-0 lead, the Giants played "small ball," as Cabell bunted North to third. Morgan delivered a sacrifice fly to center field to increase the lead to 4-0.
The Braves finally gave their ceremonial pitcher a little something to cheer about in their eighth when, with one out, Claudell Washington pinch-hit for Hanna and touched Griffin for a triple to center, then gave way to pinch-runner Eddie Miller. Miller scored on a fielder's-choice groundout by Terry Harper.
Rick Camp pitched the ninth for Atlanta, yielding a one-out double to the pesky North, but retiring Cabell and then Morgan to avoid a run. The Braves had the heart of their order up in the ninth against Griffin, but Chris Chambliss, Bob Horner, and Dale Murphy all went out harmlessly as the game ended 4-1, Giants. In the game, Chambliss, Horner, and Murphy were 1-for-11, with an infield single by Murphy in the second inning their only collective incursion against Griffin.
Griffin said of his four-hitter: "A shutout would have been nice, but so was a complete game. I hadn't had one for a long time. He said his slider was working well and "I had pretty good command of all my pitches. That's the hardest I've thrown so far."13
Montefusco was the losing pitcher. Over the next three weeks he started five more games and after May 13 was banished to the Atlanta bullpen with a 4.82 ERA. Cox brought him back for two more starts in August. He finished the 1981 season with a 2-3 record in only 77⅓ innings pitched. Obviously disappointed with their return for Alexander, who had won 14 games in 35 starts for them in 1980, the Braves allowed Montefusco to leave as a free agent at the end of the season. With first the San Diego Padres, then the New York Yankees, he was 29-18 from 1982 through the 1986 season.
Although Eugenia Price did in fact lose two months of that 1981 season to a baseball strike she feared14 and the 1981 Braves stumbled to a fifth-place overall finish in the shortened season, better things were on the horizon for Braves fans. The 1982 Braves, under new manager Joe Torre, ran off 13 straight wins to open the season, were never more than four games out of the NL West lead, and won the divisional title before losing the League Championship Series to the eventual World Series-winning St. Louis Cardinals. Atlanta had a 92-70 season, good for second place in the division in 1983, but then generally bumbled around in the depths of the NL West through 1990. But in 1991, with Cox back for a second tour as manager, the club won the division at 94-68, took the National League pennant, faced the Minnesota Twins in a stunning World Series matching two "worst to first" teams, and started an unprecedented run of 14 straight divisional titles.15
Only one of those division-winning teams, the 1995 Braves, managed to win the World Series, but Eugenia Price got to savor it before her death on May 28, 1996. Her Braves, still in the midst of their regular-season dominance in the National League, had an offday in Chicago the day she passed away, but the next afternoon, John Smoltz twirled a complete-game, four-hit shutout of the Cubs that would certainly have pleased her. Those 1996 Braves advanced to the Series again but fell to the Yankees in six games.
Author's note
My own conversion to the Braves somewhat parallels Eugenia Price's experience. I grew up following the Pittsburgh Pirates, enjoying radio calls by the incomparable Bob Prince. A move to Southwest Florida in 1980, though, took me into what initially seemed to be a major-league baseball wilderness after teams broke spring camp. Ted Turner's WTBS came to the rescue with its telecasts of nearly all Braves games, and at the beginning of this very 1981 season I was pleased to find that our local radio station had joined the Braves' radio network — I had radio baseball once again as well as WTBS. Watching and listening to the Braves on a regular basis quickly made me into an Atlanta fan, and the TV team of Skip Caray and Pete Van Wieren16 nicely compensated for the loss of Bob Prince. Just as Ms. Price did, I even visited Braves spring training in West Palm Beach before they departed for Lake Buena Vista/Disney in 1998. I've remained a Braves fan, through thin, then thick, then thin again since that 1981 season and still count Greg Maddux's 95-pitch complete-game win in the opening game of the 1995 World Series as my favorite baseball game of all time, although I saw it only on television. I'm pretty sure Ms. Price enjoyed it too.
Sources
In addition to the sources cited in the Notes, I accessed the Baseball-Reference.com and Retrosheet.org websites for box scores and player, team, and season pages and game logs.
baseball-reference.com/boxes/ATL/ATL198104180.shtml.
retrosheet.org/boxesetc/1981/B04180ATL1981.htm.
Notes
1 St. Simons Island is one of the eight barrier islands, known as the Georgia Golden Isles, along the state's 100-mile Atlantic coastline from Savannah to St. Marys. Progressing southward from Savannah, the islands are Ossabaw, St. Catherines, Blackbeard, Sapelo, Sea, St. Simons, Jekyll, and Cumberland. Burnette Vanstory, Georgia's Land of the Golden Isles (Athens, GA: University of Georgia Press, 1981), map facing 1.
2 Eugenia Price, At Home on St. Simons (Atlanta: Peachtree Publishers, Ltd., 1981), 11.
3 A trilogy of historical novels set on St. Simons is probably Ms. Price's best-known fiction. In chronological order covering from roughly 1804 through 1927, the novels are Lighthouse, New Moon Rising, and The Beloved Invader. The novels were written and published in nonchronological order. The Beloved Invader (1965) was published first, followed by New Moon Rising (1969) and Lighthouse (1971). Eugenia Price entry, OrderofBooks.com, accessed February 18, 2018.
4 Price, 60.
5 Ibid.
6 Ibid., 63.
7 Ed Hayes, books column item on Eugenia Price, Orlando Sentinel, May 17, 1981: 71.
8 Perry was 42 years old and pitching his only season in Atlanta in 1981.
9 Any report of details of Ms. Price's first pitch has proved elusive, but I'd like to think that one of my favorite Braves from that 1981 team, backup catcher Biff Pocoroba, did the honors on the receiving end.
10 Associated Press, "Griffin Goes Distance for Giants, as Braves Sent Down With Count," Santa Cruz (CA) Sentinel, April 19, 1981: 49.
11 Ibid.
12 Garber came to the Braves in 1978 from the Philadelphia Phillies and logged 22 saves. He saved 25 games in 1979, then totaled only nine more in 1980 and 1981 combined. From 1982 through 1987, when he was traded to the Kansas City Royals in late August, he saved another 85 games for Atlanta.
13 Associated Press, April 19, 1981. Griffin's last complete game prior to this one had been on September 27, 1976, as a member of the San Diego Padres against the Cincinnati Reds in San Diego. He had started 33 times in the interim.
14 Major-league owners and the Major League Baseball Players Association came to an impasse in negotiations over compensation for free-agent signings. The players voted to strike and play stopped on June 12, 1981. A settlement ensued and play resumed with the All-Star Game on August 9 in Cleveland and a regular schedule starting August 10. As a result of the strike, MLB determined the 1981 World Series teams through split-season divisional playoffs and a championship series in each league. The Los Angeles Dodgers won the 1981 World Series, four games to two, over the New York Yankees. 1981 baseball strike entry, B-R Bullpen.com, accessed February 17, 2018.
15 The Braves were in second place behind the Montreal Expos in the NL East in 1994 when another strike stopped play on August 11. This time there was no in-season settlement, no further play, no playoffs, and no World Series. 1994 baseball strike entry, B-R Bullpen.com, accessed February 18, 2018.
16 Ernie Johnson Sr. was also part of the team, but Skip and Pete were "my guys."
Additional Stats
San Francisco Giants 4
Atlanta Braves 1
---
Atlanta-Fulton County Stadium
Atlanta, GA
Box Score + PBP:
Corrections? Additions?
If you can help us improve this game story, contact us.
Tags
https://sabr.org/sites/default/files/PriceEugenia.jpg
600
800
admin
/wp-content/uploads/2020/02/sabr_logo.png
admin
2018-06-14 01:48:07
2020-04-17 10:24:45
April 18, 1981: A first pitch for writer Eugenia Price