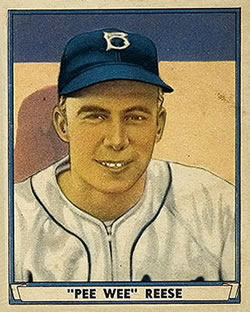 April 23, 1940: Pee Wee Reese goes 1-for-3 in Dodgers debut
---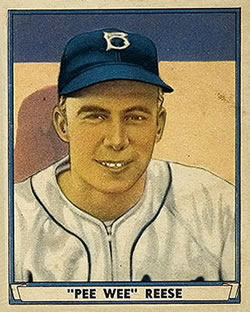 "I don't want to play with Brooklyn."1 It's unthinkable that these words were uttered by Pee Wee Reese, who became an icon for the borough. Reese reportedly declared his dislike when he signed with the Louisville Colonels of the American Association, which at the time had a working agreement with the Dodgers. But he changed his mind and became as identifiable with Brooklyn as egg creams, Nathan's Hot Dogs, and the eponymous bridge. Brooklyn was his home and domain for 15 seasons, a perfect match between the shortstop from Louisville and the multiethnic borough united by its baseball team. He had cost the Dodgers $40,000 and four players to the Louisville Colonels, each valued at $10,000.2 It proved to be the biggest bargain since Thomas Jefferson gave the green light for the Louisiana Purchase.
Reese's major-league tenure involved only the Dodgers. The journey began after two seasons with his hometown Colonels, for whom he batted .277 and .279 in 1938 and '39. Reese became team captain of the Brooklyn nine;3 appeared in seven World Series; fielded the last out of the Dodgers' only World Series championship in Brooklyn; and made 10 All-Star Game appearances.
It began on April 23, 1940.
Dodgers player-manager Leo Durocher took himself out of the lineup for that day's game against the Boston Bees because he "couldn't throw without wincing from pain," reported the Brooklyn Citizen.4 Whether it was replacing the skipper at shortstop or playing in front of more than 13,000 fans at Ebbets Field for his major-league debut, nerves appeared to affect the 5-foot-10 shortstop nicknamed after the pee wee shooter because of his childhood prowess with marbles, not his physical stature. Reese handled his first chance without aplomb and threw the ball wide, then bobbled another grounder.5 But his offensive performance in the Dodgers' 8-3 victory was formidable: 1-for-3; one walk; two runs scored; and one RBI.
Dickens might have called the reporting "a tale of two newspapers" and begun his account: "It was the best of Pee Wee. It was the worst of Pee Wee." The Brooklyn Eagle praised: "Peewee [sic] Reese in his first National League start fielded brilliantly in spite of one low throw."6
The Bees scored all their runs in the first inning when right fielder Max West bashed a three-run homer to score center fielder Bob Loane (double) and first baseman Buddy Hassett (single).
Bees pitcher Nick Strincevich allowed one Dodger to reach first base in the bottom of the first when he walked left fielder Joe Vosmik. In the bottom of the second, the Dodgers pounded the right-hander for five runs. The barrage commenced with first sacker Dolph Camilli, a Brooklyn favorite who batted .287 in 1940. Camilli doubled, right fielder Roy Cullenbine got a base on balls, and backstop Herman Franks hit his only home run of the year. Strincevich walked Reese, who got to second safely when Dodgers pitcher Tex Carleton grounded out 1-6-3. Center fielder and leadoff batter Charlie Gilbert knocked in the rookie shortstop with a two-run blast.
The Dodgers' output sent Bees skipper Casey Stengel looking for relief; he replaced Strincevich with Dick Errickson.
In the bottom of the sixth, the Dodgers amplified the scoreboard when Reese singled home Franks, who had doubled. An error by the Bees catcher, future Hall of Famer Al Lopez, sent Reese to second and Gilbert repeated his second-inning feat with another two-run bash.
With the Dodgers up 8-3, Stengel sent Al Javery to replace Errickson in the seventh inning; Javery held the Dodgers scoreless for the remainder of the game. Carleton went all nine innings for the Dodgers.
Reese's performance foreshadowed his rookie-season performance — he played in 84 games and hit .272. A broken heel bone sent Reese to the bench for a few weeks, otherwise it's likely that he would have seen action in at least 100 games. The following year, he became a starter and never played in fewer than 140 games from 1941 to 1956. His playing time tailed off for the last two years of his career — 103 games in 1957; 59 games in 1958.
Durocher had spotted Reese's potential during the Kentuckian's first spring training. When Dodgers general manager Larry MacPhail emphasized that the 34-year-old Durocher should continue playing shortstop for "another two or three years," the latter balked. "Sure I could," said the iconic Leo the Lip in his 1975 autobiography, Nice Guys Finish Last. "I could also see balls going by me by a yard that I used to get like nothing."7 Durocher recounted his explanation to MacPhail: "We're talking about something I know a little about, Larry. Reese would be in front of those balls, waiting. What we got here is a diamond that you found in Africa. What we got to do is polish the diamond up, and he is going to be as good a shortstop as they ever heard of in the major leagues."8
Publicly, Durocher lauded the newcomer: "[H]e's the greatest prospect I've seen in 15 years. Hell, maybe he's the best I've ever seen."9 Reese's contribution went beyond his career stats — leading the NL in runs scored once; leading the majors in stolen bases once; 2,170 hits; .269 batting average — when his talent for leadership emerged. Reese became the team's captain in 1949; it was his role for the rest of his career. Before the team's first season in Los Angeles, 1958, teammate Duke Snider said, "Pee Wee holds the team together — real steady and cool out there, and that's what you need. The team just seems to play better ball with him in the lineup."10
Reese's guidance extended into retirement as an unofficial spokesman during a tragedy in the Dodgers' circle. When Roger Kahn, author of The Boys of Summer and former Dodgers beat writer for the New York Herald Tribune, suffered the horror of his 22-year-old son dying from heroin in 1987, the former shortstop called up the chronicler.
"Do you remember that I was the captain of the team?"
"Of course," responded Kahn.
"Well, I just want to say for all the fellers, we are very, very sorry."11
Reese might have worn a Boston Red Sox uniform that April day in 1940 had Joe Cronin selected him; Cronin managed the Red Sox when Reese became available. There was speculation about the skipper protecting his job because he played shortstop while managing the team. But Cronin said, "Reese is a sensational fielder. There's no doubt about that, but the big question is: Can he hit? I couldn't see him playing shortstop for the Red Sox unless he can hit. We preferred to take our chances on DiMaggio, who's the same type of player as Reese, but whose record indicates he'll hit better than Pee-wee [sic]."12
Reese was inducted into the Hall of Fame in 1984. Illness prevented Cronin, a 1956 inductee, from attending the ceremony. But Reese brought things full circle in his speech when he wished Cronin well.13
Sources
The author used Baseball Reference and Retrosheet for box scores and play-by-play information.
baseball-reference.com/boxes/BRO/BRO194004230.shtml
retrosheet.org/boxesetc/1940/B04230BRO1940.htm
Notes
1 Tommy Fitzgerald, "Brooklyn in $75,000 Deal for Reese, Who 'Didn't Want to Be a Dodger,'" The Sporting News, July 27, 1939: 2.
2 Fitzgerald. During World War II, Reese served in the US Navy and played on teams at Norfolk Naval Station and in the Pacific Theater. So he did not play professional baseball for three seasons. "Pee Wee Reese," Baseball in Wartime, https://baseballinwartime.com/player_biographies/reese_peewee.htm.
3 Associated Press, "Reese to Captain Brooklyn Dodgers," Syracuse Post-Standard, February 3, 1949: 11.
4 Lee Scott, "Rookies Herman Franks and Charley Gilbert New Idols of Brooklyn Fans," Brooklyn Citizen, April 24, 1940: 10.
5 Scott.
6 "There's Power Plus in Those New Dodgers!," Brooklyn Eagle, April 24, 1940: 15.
7 Leo Durocher with Ed Linn, Nice Guys Finish Last (New York: Simon and Schuster, 1975), 133.
8 Durocher with Linn, 133-134.
9 Dillon Graham (Associated Press), "Durocher Is No. 1 Booster of Kid Who'd Bench Him," Kingston (New York) Daily Freeman, March 22, 1940: 15.
10 Frank Finch, "Here's the Pitch," Los Angeles Times, January 8, 1958: 62.
11 Roger Kahn, The Boys of Summer (New York: HarperCollins, 1972; Harper Perennial Modern Classics Edition, 2006), 454. Citation refers to the Harper Perennial edition.
12 United Press, "Cronin Doubted Reese Could Hit for Boston," New York Daily News, March 31, 1940: 262.
13 Pee Wee Reese, Hall of Fame Induction Speech, Cooperstown, New York, August 12, 1984.
Additional Stats
Brooklyn Dodgers 8
Boston Bees 3
---
Ebbets Field
Brooklyn, NY
Box Score + PBP:
Corrections? Additions?
If you can help us improve this game story, contact us.
Tags
https://sabr.org/sites/default/files/Reese-Pee-Wee-1941.jpg
600
800
admin
/wp-content/uploads/2020/02/sabr_logo.png
admin
2020-03-24 13:34:16
2020-05-28 15:47:59
April 23, 1940: Pee Wee Reese goes 1-for-3 in Dodgers debut