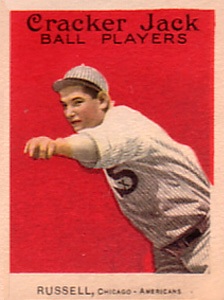 April 26, 1913: Chicago's Reb Russell earns a walk-off first win thanks to Shano Collins
---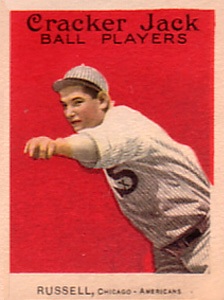 People were beginning to take notice of Ewell Russell. How could they not? The left-hander — he would soon be known as Reb Russell, but was being called Lefty or Tex in the early days of the 1913 season1 — had surprisingly made the Chicago White Sox roster. And now that the season was underway, he was pitching so well that the Chicago Tribune likened him to two of baseball's best hurlers, Ed Walsh and Christy Mathewson.2
Russell started 1912 at Bonham, Texas, in the Texas-Oklahoma League, and finished it by going 4-4 in late-season duty with Fort Worth of the Class B Texas League.3 He was acquired by Chicago after the season,4 and in the spring, "he produced more than any other recruit hurler."5 In one spring-training game in California, he "had all sorts of smoke," and struck out 16.6 The White Sox initially planned to farm Russell out for more seasoning, but coach Kid Gleason successfully lobbied to keep Russell with the club.7 The White Sox were fortunate that Gleason was so persuasive, because Russell won more games for them in 1913 than any other pitcher.
His first win came against the St. Louis Browns on April 26 at Comiskey Park. The visiting Browns had won Thursday's series opener.8 The second game was rained out,9 so Russell and his teammates had to wait an extra day to even things up. On April 21 Russell suffered a disheartening 3-2 loss to visiting Detroit in his first major-league start. He pitched well, but served up a ninth-inning triple to Bobby Veach, who scored the winning run on George Moriarty's single. Against the Browns, Russell and the White Sox were hoping for another well-pitched game but a better outcome, and that is exactly what happened, as Chicago topped the Browns, 1-0.
The rain that had prevented Friday's game was lingering. The first two innings were played in light rain, but the clouds blew away, bringing sunshine in the later innings.10 Russell "was never in a tight place"11 as he shut out the Browns on two hits. He retired the first eight men he faced before walking his pitching counterpart, Dwight Stone, in the third inning. He also walked Gus Williams in the fourth, but neither runner advanced beyond first base.
The Browns managed just two singles, both in the fifth inning. With one out, Bobby Wallace got the first St. Louis hit when he slapped a sharp grounder just out of the reach of shortstop Buck Weaver. Wallace remained at first when Sam Agnew flied out to center field, but he advanced to second when Stone bounced a single over the pitcher. Russell jumped for it and knocked it down, but it caromed toward third base, where no one could recover it in time to throw out Stone. If not for Russell's interference, Weaver would have handled the bounding ball easily. Russell's misplay proved harmless when Ernie Walker popped to shortstop for the third out.
St. Louis did not have another baserunner. Walker's popup was the first of 13 consecutive outs to end the game. Sam Weller of the Chicago Tribune described Russell as throwing with "a lot of speed and splendid control."12 He struck out just five, but two were in the first inning, and two more were in the ninth.13 For the most part, he caused the Browns to hit "feeble grounders"14 or popups to the infield.
Despite Russell's brilliant pitching, a win was not assured. Entering the bottom of the ninth, Chicago had not scored against Browns rookie right-hander Stone. He had been pitching capably in relief for St. Louis, but this was his first major-league start. Stone had climbed an even steeper ladder than Russell, ascending to the Browns from Class D Ogden, Utah.
Stone blanked the White Sox for eight innings even though he labored. Chicago had runners on base in every inning except the fourth. In the sixth, the White Sox left the bases loaded. In the seventh, Jack Johnston caught a line drive near the fence while on the dead run, to rob Ray Schalk of a leadoff triple.15 The White Sox added a double and a walk, but thanks to Johnston's catch, they did not score. In the eighth, with runners on second and third with two outs, "Weaver smashed into the pitcher's knees and was thrown out."16 As Clarence F. Lloyd wrote, "Men were constantly on bases, but Stone came through in nice fashion until the fatal ninth round when he weakened and yielded the winning marker."17
The bottom of the ninth started with Schalk singling to right, and Russell bunting him to second base. Stone issued a walk to Morrie Rath — Rath's third walk of the game — and Harry Lord's fly out to right field allowed Schalk to tag up and take third. Rath stole second base, putting two runners in scoring position with two outs.
Stone had weaved in and out of trouble all afternoon, but this time, he found no escape. Shano Collins worked the count to 3-and-2.18 On the next pitch, "he cracked a liner to deep left center"19 that could have been a triple. But a single was enough to bring Schalk home, so "after Collins ran to first base he turned back to the clubhouse."20 Russell and his Chicago teammates walked off in triumph, 1-0. It was the first of Russell's 80 career wins.
When the season came to a close, the White Sox were 78-74 and in fifth place. Russell pitched in a league-leading 52 games and led Chicago pitchers with 22 wins, 316⅔ innings pitched, eight shutouts, and 26 complete games. It was a remarkable season for someone originally slated for the minor leagues. While Shano Collins was the hitting hero of this game, his season was disappointing. He batted just .239 with 47 runs batted in; a big drop from 1912, when he hit .290 and drove in 81 runs.
https://retrosheet.org/boxesetc/1913/B04260CHA1913.htm
https://baseball-reference.com/boxes/CHA/CHA191304260.shtml
Notes
1 In the accounts of this game, St. Louis newspapers referred to him as Lefty Russell, while the Chicago Tribune used Tex. See St. Louis Globe-Democrat, "Russell's Brilliant Pitching Wins, 1-0"; Clarence F. Lloyd, "Stone Weakens in Ninth and Sox Beat Browns, 1-0," St. Louis Post-Dispatch, April 27, 1913: 3; and Sam Weller, "Defeat of Browns Uncovers 'Find' in 'Tex' Russell," Chicago Tribune, April 27, 1913: III, 1. The Tribune first referred to him as Reb on May 13 but would use either Reb or Tex throughout the 1913 season. I.E. Sanborn, "Macks, with 3 Hits off 'Reb' Russell, Defeat Sox by 3-0," Chicago Tribune, May 13, 1913: 15. The nickname appearing in any given article may have depended upon the reporter covering the game.
2 Weller.
3 Richard Smiley, "Reb Russell," SABR BioProject, https://sabr.org/bioproj/person/00eafbd0.
4 Smiley.
5 Chicago Tribune, "Rally Wins for Sox Seconds," March 13, 1913: 11.
6 "Rally Wins for Sox Seconds."
7 Smiley.
8 https://sabr.org/gamesproj/game/april-24-1913-gus-williams-hits-three-triples-power-browns-over-white-sox
9 St. Louis Star and Tribune, "Bulletin: Game Called Off," April 25, 1913: 10.
10 Weller.
11 Weller.
12 Weller.
13 "Russell's Brilliant Pitching Wins, 1-0," St. Louis Globe-Democrat, April 27, 1913: Part Five, 1.
14 Weller.
15 "Death of Shotton's Brother Robs Browns of Fleet Center Fielder," St. Louis Post-Dispatch, April 27, 1913: 37.
16 Weller.
17 Lloyd.
18 "Russell's Brilliant Pitching Wins, 1-0."
19 "Russell's Brilliant Pitching Wins, 1-0."
20 Weller.
Additional Stats
Chicago White Sox 1
St. Louis Browns 0
---
Comiskey Park
Chicago, IL
Box Score + PBP:
Corrections? Additions?
If you can help us improve this game story, contact us.
Tags
http://bioproj.sabr.org/bp_ftp/images/RussellReb.jpg
600
800
sabr
/wp-content/uploads/2020/02/sabr_logo.png
sabr
2021-01-08 02:54:30
2021-01-08 02:54:30
April 26, 1913: Chicago's Reb Russell earns a walk-off first win thanks to Shano Collins