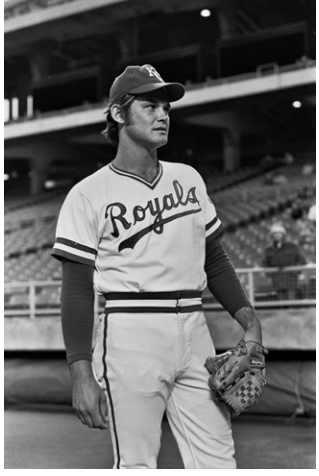 April 27, 1973: Royals rookie Steve Busby throws a no-hitter
---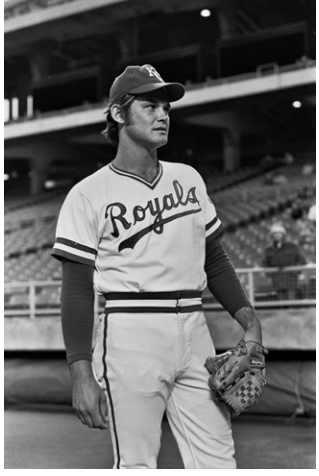 The Detroit Tigers and the Kansas City Royals were two contending teams heading in opposite directions when they met on the cold, raw evening of April 27, 1973. The Detroit Tigers were an aging ballclub that had won the 1968 World Series and made the playoffs in 1972. Starting pitcher Joe Coleman and third baseman Aurelio Rodriguez were the only regular contributors under the age of 30.
By contrast, the Kansas City Royals were an expansion team that quickly rose to contender status through a series of skillful trades by their general manager, Cedric Tallis. In the 1968 expansion draft, the Royals selected key assets including Dick Drago, Al Fitzmorris, Fran Healy, and Joe Foy.1
Tallis also chose well in the regular draft. He selected Paul Splittorff in the 25th round in 1968 and Doug Bird in 1969. Frank White was signed as an amateur free agent in 1970. The Royals' best draft to date was in 1971, when they selected a pair of California natives, Steve Busby and George Brett.
Busby showed very well in September 1972, working 40 innings for the Royals with a 1.58 ERA. In spring training in 1973, he pitched six innings of a combined no-hitter with Doug Bird against Detroit. Busby pitched seven no-hit innings against the St. Louis Cardinals in his next start. Busby was named the Opening Day starter, but struggled, starting the season 1-2 with an 8.04 ERA. In a start on April 20 he lasted only one inning and gave up five runs. Busby had some stiffness in his shoulder and was held back a few days before his next start, against Detroit. It was revealed afterward that Busby could have been demoted to Omaha if he did not show improvement in that start. Busby was opposed by 37-year-old right-hander Jim Perry.2
Busby, a three-sport star in high school who was also a good hitter, became the first major-league pitcher to throw a no-hitter without an at-bat because this was the year the American League adopted the designated hitter. Busby's batterymate for the game was catcher Fran Healy.
The Royals pitcher induced three groundouts in the first inning, and three outfield flies in the second. He got a strikeout, a foul out, and a groundout in the third.
Busby changed his grip about the fourth inning. He explained, "I couldn't control my fastball, it was sinking too much. So I changed and it started running in on left-handers. I had better success against them. I was still throwing the ball all over the place. Maybe I was wild enough to keep the hitters loose."3 This was the first American League no-hitter since rookie Vida Blue's against the Minnesota Twins on September 21, 1970. Jim Perry was the victim that night as well.
Ed Kirkpatrick hit a solo home run in the fifth inning and Amos Otis did likewise in the eighth. The Royals added another run in the ninth. Busby walked six batters, two of whom were eliminated via double plays. Only two runners made it past first base. In the fourth, Rich Reese walked and took second on a passed ball by Healy. Busby walked Bill Freehan to lead off the seventh. Freehan advanced to second on a groundout to first and went to third on a wild pitch. With one out, Busby struck out Norm Cash and got Dick McAuliffe to fly out to left field. "We were swinging at a lot of bad balls," Cash said after the game. "We were trying to hack it over the roof."4
The closest the Tigers came to a hit was in the ninth. Busby walked Duke Sims to lead off the inning. Rich Reese hit a line drive. "My cap flew over my head when I threw the ball," Busby said. "I hurried to pull my cap up because I thought it was coming at me. When I looked over at first I saw John stepping on the bag for the double play."5 Mayberry was playing a few feet behind first base, in perfect position to make the play. Reese said, "If Sims wasn't on base Mayberry would not have playing next to the bag. The ball would have been a hit."6 Mayberry countered, "I don't know if it would have been a hit without a runner on. I would have been playing deeper and it would have made the play tougher. But I still might have knocked the ball down after it bounced and tagged first. I think we were ready to catch anything,"7
Fran Healy, who was catching Busby for the first time, said, "He deserves all the credit. We were thinking the same way most of the time. He shook me off maybe three or four times."8
With his six walks, Busby was far from dominant.9 However, he made the right pitches when he needed to. The 23-year-old rookie threw an estimated 75 to 90 percent fastballs with the remainder being sliders and an occasional changeup or curveball. It was the first no-hitter in Royals history and also the first no-hitter for a Kansas City major-league team. (The Athletics played there for 13 years before moving to Oakland.)
"This is the greatest thrill of my life," said Busby.10 "I felt stronger because of the cold weather. I always pitch better when it's cool."11
Busby compared his spring-training no-hitter with this one and said, "Down there I tried to hit spots. Today I threw as hard as I could for as long as I could."12 This was the first no-hitter pitched in Tiger Stadium since Virgil Trucks defeated the Washington Senators 1-0 on May 15, 1952. Jim Busby, Steve's cousin, was the starting center fielder for the Senators that day.
Busby's no-hitter was one of two thrown against the Tigers in 1973. Nolan Ryan pitched one in Tiger Stadium on July 15, and once again Jim Perry was the victim. This was the first time an American League team was no-hit twice in one season since it happened to the 1923 Philadelphia Athletics.13 The Tigers finished in third place in the American League East in 1973 and in the bottom half of the division the following seven seasons. They returned to the postseason in 1984, capping off the one of the most dominant seasons with a World Series victory. The Royals won the American League West crown four out of five years from 1976 through 1980.
Busby became the 14th of 22 rookies to throw a no-hitter. Jim Bibby became the 15th later in 1973, the only time that two rookies threw no-hitters in the same season.14 Busby pitched another no-hitter in 1974, becoming the first pitcher to throw no-hitters in his first two full seasons in the major leagues. Pitching at Omaha in 1972, Busby lost a no-hitter in the ninth inning against Evansville. His prophetic manager at Omaha (and Kansas City), Jack McKeon, told Busby, 'You'll pitch a couple of no-hitters and it will be in the big leagues."15
This article was published in SABR's "No-Hitters" (2017), edited by Bill Nowlin. To read more Games Project stories from this book, click here.
Notes
1 Tallis then made a series of moves to build up the new team. On April 1, 1969, Tallis acquired Lou Piniella from the Seattle Pilots for John Gelnar and Steve Whitaker. Tallis traded Joe Foy to the New York Mets in December for Amos Otis and Bob Johnson. The following June he acquired Cookie Rojas from the St. Louis Cardinals for Fred Rico. On December 2, 1970, Tallis acquired Freddie Patek, Bruce Dal Canton, and Jerry May from the Pittsburgh Pirates for Jim Campanis, Jackie Hernandez, and Bob Johnson. Tallis got Houston's John Mayberry and Dave Grangaard for Lance Clemons and Jim York on December 2, 1971. On November 30, 1972, he acquired Hal McRae and Wayne Simpson from the Cincinnati Reds for Roger Nelson and Richie Scheinblum.
2 Joe McGuff, "Fear of Omaha Demotion Drove Busby to Success," The Sporting News, May 19, 1973: 9.
3 Sid Bordman, "Steve's Buzz Bomb Act Captures Tigers Again," The Sporting News, May 12, 1973: 3.
4 Ibid.
5 Bordman.
6 Associated Press, "Rookie Busby's No-Hitter Inevitable," unidentified newspaper clipping in Busby's player file at the National Baseball Hall of Fame, dated April 28, 1973: 10
7 Bordman.
8 Ibid.
9 This accomplishment is not common. Clyde Wright was the previous pitcher to throw a no-hitter while walking more batters (3) than he struck out (1) for the California Angels when he defeated the Oakland A's on July 3, 1970.
10 "Rookie Busby's No-Hitter Inevitable."
11 Bordman.
12 "Rookie Busby's No-Hitter Inevitable."
13 On September 4 New York Yankees hurler Sad Sam Jones pitched a no-hitter against the Athletics, winning 2-0. Three days later, on September 7, Howard Ehmke of the Boston Red Sox held the Athletics hitless and won 4-0. 14 On July 30, 1973, Texas Rangers right-hander Jim Bibby no-hit the Oakland A's in the Oakland-Alameda Coliseum, 6-0.
15 Bordman.
Additional Stats
Kansas City Royals 3
Detroit Tigers 0
---
Tiger Stadium
Detroit, MI
Box Score + PBP:
Corrections? Additions?
If you can help us improve this game story, contact us.
Tags
https://sabr.org/sites/default/files/Bubsy_Steve.png
600
800
admin
/wp-content/uploads/2020/02/sabr_logo.png
admin
2018-10-17 13:28:55
2020-04-17 10:23:52
April 27, 1973: Royals rookie Steve Busby throws a no-hitter