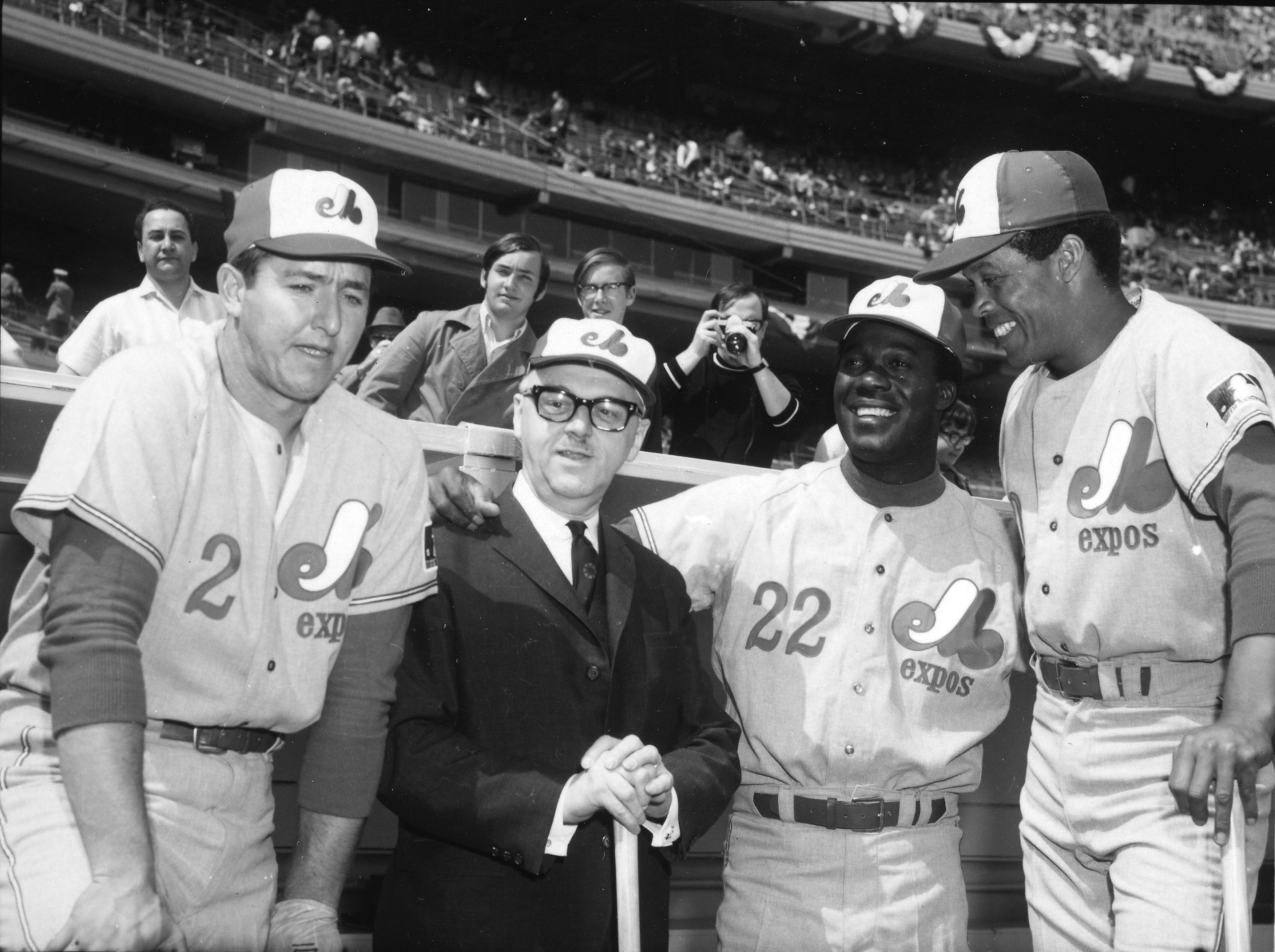 April 8, 1969: Bienvenue to MLB: Montreal Expos win inaugural game
---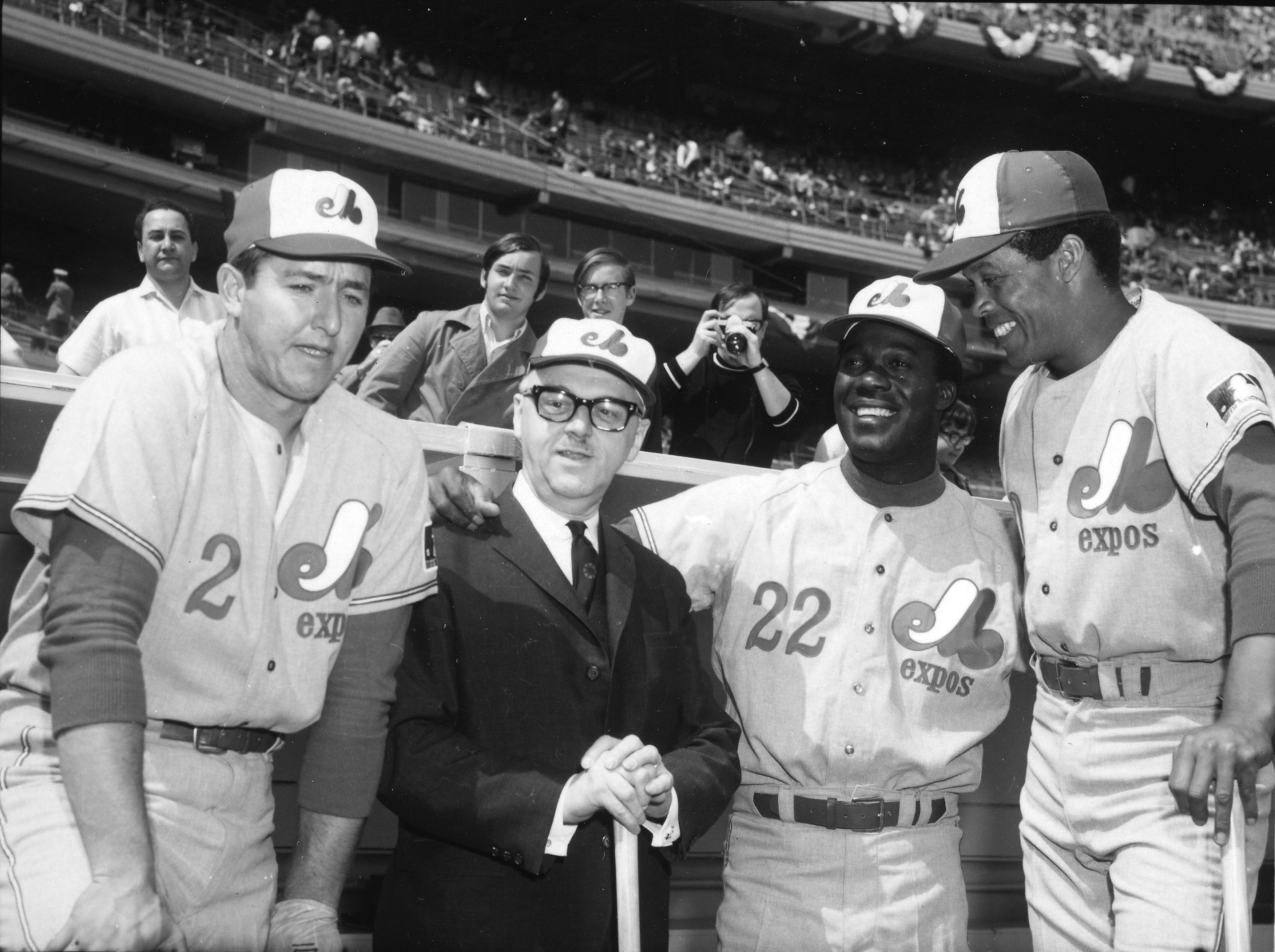 Montreal mayor Jean Drepeau with (from left) John Bateman, Jim "Mudcat" Grant, and Maury Wills on Opening Day in New York, April 8, 1969 (COURTESY OF THE McCORD MUSEUM, MONTREAL)
When the International Olympic Committee chose Montreal as the host city for the 1976 Winter Olympics, Jean Drapeau, the mayor of Montreal, told the press that the Olympics could no more have a deficit than a man could have a baby. As it turned out, the Olympic debt ballooned into the billions and was not paid off until 2006; the problems associated with the Olympics caused Drapeau to feel sickness not just in the morning, but noon and night as well.
Seven years prior to that debacle, Drapeau was a midwife of sorts for the rebirth of Montreal's great baseball tradition. Montreal had had professional baseball right up until 1960, and the city's Royals were the Triple-A affiliate of the Brooklyn/Los Angeles Dodgers from 1939 until the franchise moved to Syracuse for 1961. Jackie Robinson played his first professional season in a Montreal Royals uniform and many Hall of Famers, including Roy Campenella, Duke Snider, Roberto Clemente, and Don Newcombe, played at Delormier Downs, the Royals' home park, on their way to the majors.
Drapeau didn't sweat the details — everybody involved in any of his ambitious plans did his sweating for him. And when it came to making the Expos a reality, the perspiration flowed right up until the date of their first game, April 8, 1969, as financial and logistical problems — as in where to play — left many wondering if Opening Day would ever come.
But it finally did, at Shea Stadium against the New York Mets. Before the game Drapeau signed autographs for fans who no doubt wondered who he played for, and he reveled in the attention. He also threw out the ceremonial first pitch to Mets catcher Jerry Grote.
The game wasn't just a big event for Drapeau, as longtime Expos broadcaster Dave Van Horne discovered. As Canadian opera star Maureen Forrester sang Canada's national anthem, Van Horne looked over at his broadcast partner, born-and-bred Montrealer Russ Taylor, and saw tears streaming down his cheeks.
"I thought, 'Wow!,'" remembered Van Horne. "This is much bigger to every Canadian, not just Montrealers and Quebecers, than I had anticipated. I knew even prior to the first pitch that this was a big deal."1
The players may not have wept, but they too were caught up in the historical significance of what was happening.
"I think there was a special feeling," said Expos reliever Dan McGinn. "Everybody was excited."2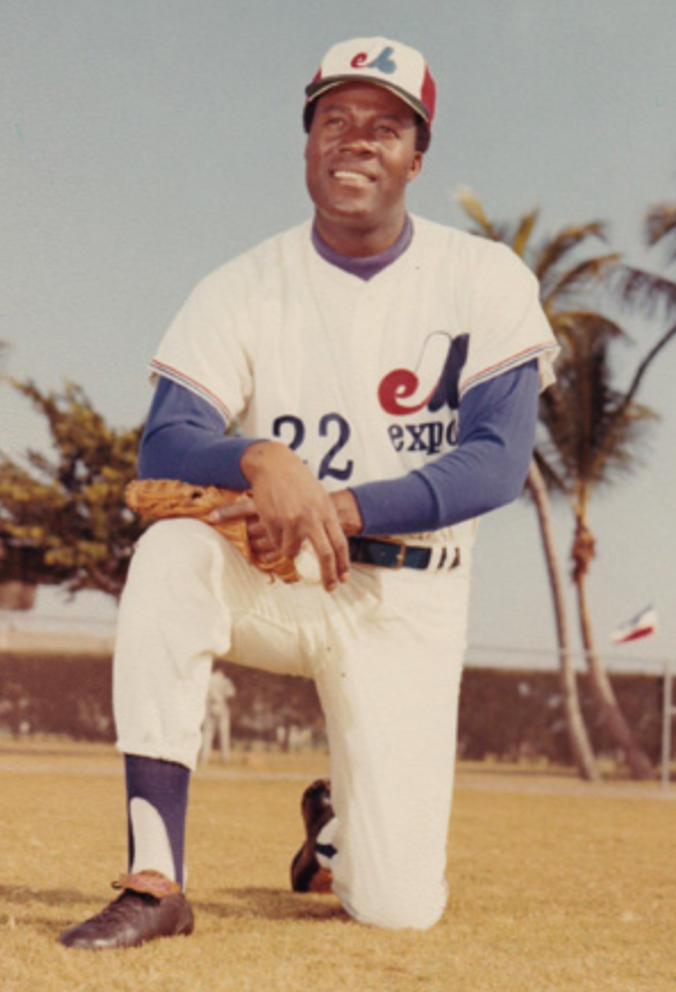 Tom Seaver started for the Mets. Seaver was entering his third campaign after consecutive 16-win seasons. His mound opponent was Jim "Mudcat" Grant, whom the Expos had picked in the expansion draft from the Los Angeles Dodgers, for whom he had gone 6-4 with a 2.08 earned-run average in 1968. Conventional wisdom says that pitchers have the advantage over hitters early in the season, but conventional wisdom couldn't get a ticket for this game, which the Expos won 11-10. Seaver and Grant contributed to the festivities by leading a parade of pitchers to and from the mound. The two teams combined to use nine hurlers, and that was back in the days before pitch counts, when starters were expected to throw as many innings as possible.
Mets fans were used to futility; prior to 1969, the Mets had never finished higher than ninth in the 10-team National League and their ineptitude was legendary. It seemed early on that they were in for more of the same, as the Expos took a 2-0 lead in the first inning when former Dodger Bob Bailey drove in two runs with a double.3 That here-we-go-again feeling continued when the Mets blew a great scoring opportunity in the bottom of the first. Singles by Tommie Agee, Ken Boswell, and Cleon Jones went for naught thanks in part to Rod Gaspar lining into a double play with Agee on first.
It was obvious pretty early that Grant wasn't going to have a long afternoon of work. In the bottom of the second, the first two Mets hitters, Ed Kranepool and Grote, singled. To make things more challenging for himself, Grant walked Bud Harrelson to load the bases with nobody out. He struck out Seaver for the first out, but Agee cleared the bases with a double to give the Mets a 3-2 lead. Grant had to surrender the ball to Expos manager Gene Mauch after Agee's hit.
"He [Grant] had no command of his breaking ball. He was wild in the strike zone," said Mauch. "… He usually hits the corners, but everything came down the middle and they hit him. And hit him good."4
Mauch brought in left-hander Dan McGinn, who not only became the first Expos relief pitcher, but the first to pick off a baserunner, when he nailed Agee at second.
"It was a play we had worked on in spring training and [shortstop Maury Wills] put on the sign," recalled McGinn. "I just did what I had been taught to do. We caught him; I don't think he had any idea we would be using a pickoff. He wasn't really paying enough attention."5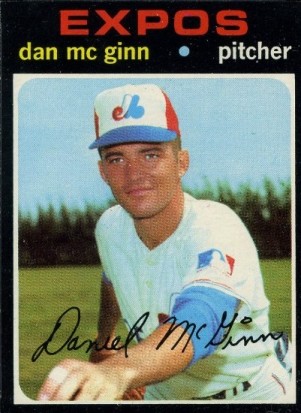 The Expos tied the game in the third when Rusty Staub drove home Wills, who had doubled. In the fourth McGinn added to his list of firsts, becoming the first Expo, pitcher or not, to hit a home run, a solo shot that bounced off and over the outfield wall and put the Expos up 4-3. It was McGinn's first major-league hit and only major-league home run.
"He (Seaver) threw a fastball and I just happened to make a good swing and he supplied all the power," said McGinn. "I was rounding first and [first base umpire Stan Landes] gave the home-run signal. In the dugout Rusty and Maury and Gene were all just standing there laughing as I went in. If you're going to hit one you might as well hit it off a Hall of Famer."6
McGinn didn't have much time to enjoy the glory as the Mets stormed back in the bottom of the fourth. He walked Grote to lead off the inning, then committed the franchise's first balk (he also threw the franchise's first wild pitch in the second inning), which sent Grote to second base. After striking out shortstop Bud Harrelson and inducing Seaver to ground out, McGinn walked Agee, who was much warier on the basepaths the second time around. Consecutive singles by right fielder Rod Gaspar and second baseman Ken Boswell scored Grote and Agee.
McGinn's day of firsts was over, as Mauch replaced him with Jerry Robertson, who promptly gave up a double to left fielder Cleon Jones. It scored Gaspar, but Expos center fielder Don Hahn (who would later spend four seasons with the Mets) threw to second baseman Gary Sutherland, who relayed the ball home to catcher John Bateman in time to get Boswell at the plate. This play saved at least one run because if Boswell had scored, the Mets would have led 7-4 instead of 6-4, with another runner in scoring position.
After neither team scored in the fifth, Mets manager Gil Hodges made a move he immediately regretted by sending journeyman pitcher Cal Koonce to the mound for the sixth inning. Koonce started the frame by walking the leadoff batter, pinch-hitter Ty Cline. A fielder's choice by Wills erased Cline, but Wills, showed he still had some of the base thief in him by stealing second. After Staub walked, Expos left fielder Mack Jones doubled to left, driving in two runs and tying the game, 6-6. The Expos took the lead in the top of the seventh. With two out and nobody on, Koonce committed the unpardonable sin of walking pitcher Don Shaw, a former Met, then compounded his troubles by walking Cline, who had stayed in the game replacing Hahn in center. Wills drove in Shaw with a single to left. By this time the Mets felt like the boxer who kept thinking he had the fight won only to see his opponent keep getting up off the canvas.
They felt positively punchy after the eighth. Al Jackson took the mound for New York, but maybe he should have given it back because he gave up a solo shot to Staub, then singles to Bailey and Bateman. Hodges replaced Jackson with Canadian Ron Taylor, who surrendered a three-run homer to third baseman Jose "Coco" Laboy, a rookie playing in his first major-league game after spending 10 years in the minors.
Going into the bottom of the ninth, the score was 11-6 Expos. Mets castoff Don Shaw, who had replaced Robertson on the mound in the sixth, was in his fourth inning of relief.
That turned out to be one inning too long, as the Mets made things interesting by scoring four runs, including three on a home run by pinch-hitter Duffy Dyer.
"I left Don Shaw in there too long," admitted Mauch. "He was getting tired, but I wanted him to finish it up if he could."7
With two out, Mauch brought in Carroll Sembera to finish the game off. He did, but not before giving up a single to left fielder Amos Otis and a walk to Agee. He finally struck out Rod Gaspar on three pitches, giving the Expos the win and relegating the famous Montreal Canadiens, who went on to win the Stanley Cup in 1969, to the back pages of the sports section.8
"Everybody was excited and jumping around (in the Expos' locker room after the game)," said McGinn. "It was a great feeling."
The Expos' first game ever was indeed a wild one. But even if a pitcher hit the franchise's first home run, and the bullpen needed a revolving door because of all the relievers they used, they still won. The front page of the next day's Montreal Gazette said it best:
"Look who's in first place!"9
This article appeared in "Au jeu/Play Ball: The 50 Greatest Games in the History of the Montreal Expos" (SABR, 2016), edited by Norm King. To read more articles from this book, click here.

Sources

In addition to the sources mentioned in the Notes, box scores for this game can be found on baseball-reference.com, and retrosheet.org at:
http://www.baseball-reference.com/boxes/NYN/NYN196904080.shtml
http://www.retrosheet.org/boxesetc/1969/B04080NYN1969.htm
Notes
Additional Stats
Montreal Expos 11
New York Mets 10
---
Shea Stadium
New York, NY
Box Score + PBP:
Corrections? Additions?
If you can help us improve this game story, contact us.
Tags
https://sabr.org/sites/default/files/1969-Expos-McNabb-Bateman-Drapeau-Grant-Wills.jpg
600
800
admin
/wp-content/uploads/2020/02/sabr_logo.png
admin
2017-08-17 23:49:24
2020-04-17 10:25:45
April 8, 1969: Bienvenue to MLB: Montreal Expos win inaugural game