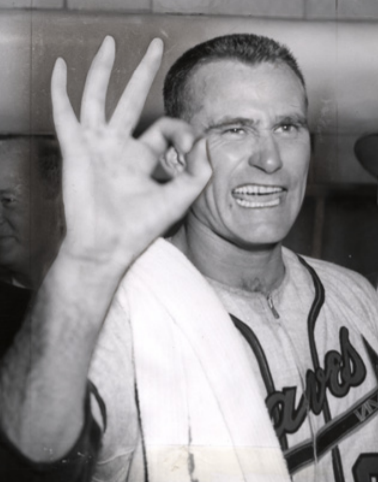 August 18, 1960: Lew Burdette tosses a no-hitter for Braves
---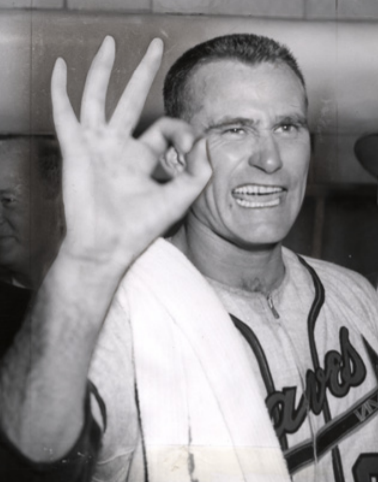 Lew Burdette had been close twice before. He had hurled two one-hitters — in 1954 and 1957 — but the third time proved to be charmed as he no-hit the Philadelphia Phillies 1-0 the night of August 18, 1960, in front of 16,338 fans.
The day of the game had been a difficult one for the 33-year-old veteran. After a flight home from a series in Cincinnati, Burdette didn't get to bed until 3:00 in the morning. It went downhill from there. "I got up for lunch and mowed the lawn," Burdette told sportswriters after the game. "That went all right; at least I didn't cut off any toes. Then I decided to replace a bulb in the dome light in the kitchen and that didn't go so good. I dropped the bulb as I was unscrewing it and it hit me on the head. That made me drop the chandelier, or whatever it was, and it broke a valve off the stove. So I knocked off and just rested until time to leave for the ballpark."1
The Braves, managed by Charlie Dressen, were in second place with a 62-49 record, 7½ games behind the Pittsburgh Pirates, while first-year manager Gene Mauch's Phillies were in last place with a 44-71 mark, 24½ games out of first.
Former Braves pitcher Gene Conley, who was 7-9 so far, faced off against Burdette (13-7) and pitched a masterful complete game himself, scattering 10 hits. The Braves had their first scoring opportunity in the third inning. Burdette singled to left with one out but was thrown out at third base trying to advance on a single by Billy Bruton. Bruton advanced to second on an error by Phillies first baseman Pancho Herrera, but was thrown out at home trying to score on a single by Del Crandall.
Even in the early moments of the game, Burdette sensed something special in this outing. "It was different out there tonight. I was mixing up sliders, screwballs, curves, and an occasional fastball. The big thing was that I was putting the ball where I wanted — hitting (Del) Crandall's target."2 The usually fidgety Burdette was working very quickly this evening. "I was faster than usual — as fast as I've been in the last couple of years," he said.3
Burdette lost a chance for a perfect game with one out in the fifth inning when he hit Tony Gonzalez. "I tried to throw Gonzalez inside, but I got too far inside," he said. "With the count 1-1, I definitely wasn't trying to give him a bad ball."4 Burdette got out of the inning facing the minimum three batters when Lee Walls hit into an unusual double play. Walls hit a high bouncer to third baseman Eddie Mathews, who threw to first base to retire Walls. Gonzalez attempted to advance to third, but was retired when Adcock threw to shortstop Johnny Logan covering the base.
While the Phillies were being held hitless, the Braves were shut out until they broke the scoreless tie in the bottom of the eighth. Burdette himself led off the inning with a double and he scored on a double by Bruton. Conley then retired Crandall on a fly ball to right, struck out Eddie Mathews, and induced Henry Aaron to ground out to end the inning.
In the top of the ninth, Burdette got catcher Jimmie Coker on a groundout and then faced two pinch-hitters. Ken Walters, batting for Ruben Amaro, grounded out to third base, and Bobby Smith, batting for Conley, flied out to Hank Aaron in right field. Once Aaron caught the ball, Burdette had his no-hitter. Lew had faced only 27 Phillies. He hadn't walked a batter; the only man to reach base was Gonzalez, and he was retired on the double play.
Burdette ranked the no-hitter as the second biggest thrill of his career. "This isn't quite the same as the feeling I had when I got that final out in the seventh game of the World Series against the Yankees in 1957," he said after the game.5 In the Braves clubhouse, he told catcher Crandall. "Nice going Del, wonderful … beautiful."6
"I swore I'd never come into a clubhouse after becoming an executive, but I think this is reason enough," commented Braves vice president Birdie Tebbetts after the game. "The only other time I've been here was when Del Rice was hurt in the middle of a game last year."7
Asked if he was worried as his no-hitter went along in the late innings, Burdette replied, "I never thought it could happen to me, so I didn't worry about it, but I was thinking about it and I wanted it."8
Warren Spahn kidded Burdette: "It wasn't your pitching that was so good. If it weren't for your hitting, you'd be pitching yet."9
Burdette admitted that he couldn't help thinking about the frustration of Harvey Haddix a year earlier when the Pirates right-hander pitched 12 perfect innings against the Braves only to lose in the 13th, with Burdette getting the victory. "Frankly, I was more worried about winning than a no-hitter," he said. "Was I worried about any single batter spoiling the no-hitter? They all bothered me. After all, I didn't have the lead run until the eighth inning."10 Burdette was appreciative of the defensive effort his teammates provided. "Actually, it was one of the easiest games I worked. They were hitting 'em at someone all night. Several balls were hit pretty good too. But I had that great defense tonight. Johnny Logan, for one, played a beautiful game at short."11
Burdette finished the season with a 19-13 record and a 3.36 earned-run average. After two more good seasons, the 36-year-old Burdette was traded, in the midst of a Braves youth movement, to the St. Louis Cardinals on June 15, 1963. The Cardinals traded him to the Chicago Cubs early in the 1964 season. After stints with the Phillies and California Angels he retired after the 1967 season.
This article appears in "From the Braves to the Brewers: Great Games and Exciting History at Milwaukee's County Stadium" (SABR, 2016), edited by Gregory H. Wolf. To read more stories from this book at the SABR Games Project, click here.
Notes
1 Cleon Walfoort, "Pitch by Pitch, Burdette Fights Tension, Silence," Milwaukee Journal, August 19, 1960.
2 Associated Press, "Lew Burdette Has No-Hitter Against Phils," Gettysburg (Pennsylvania) Times, August 19, 1960.
3 Walfoort.
4 Gettysburg Times.
5 Ibid.
6 Lou Chapman, "Lew Numb After No-Hit Win," Milwaukee Sentinel, August 19, 1960.
7 Associated Press, "Burdette Swarmed With Congratulations," Florence (Alabama) Times, August 19, 1960.
8 Dave O'Hara, Associated Press, "Fidgety Lew Happy Hurler After Tilt," Lakeland (Florida) Ledger, August 19, 1960.
9 Ibid.
10 Chapman.
11 Ibid.
Additional Stats
Milwaukee Braves 1
Philadelphia Phillies 0
---
County Stadium
Milwaukee, WI
Box Score + PBP:
Corrections? Additions?
If you can help us improve this game story, contact us.
Tags
https://sabr.org/sites/default/files/BerdetteLew.png
600
800
admin
/wp-content/uploads/2020/02/sabr_logo.png
admin
2018-03-29 16:02:28
2020-04-17 10:24:51
August 18, 1960: Lew Burdette tosses a no-hitter for Braves