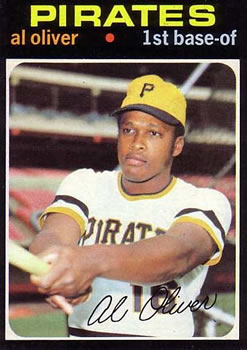 August 23, 1971: Al Oliver ignites 'Lumber Company' Pirates with 2-homer game
---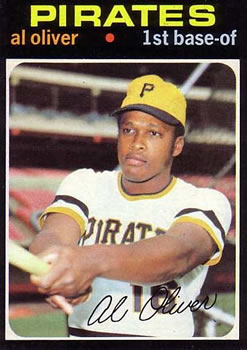 On August 23, 1971, 24-year-old Al Oliver had one of the greatest games in his 18-year major-league career. The game got little media attention locally, partly due to a newspaper strike against the Pittsburgh Press and Pittsburgh Post-Gazette that ran from mid-May until September.1In the second game of a twilight-night doubleheader at Atlanta Stadium, Oliver went 5-for-6 with two home runs, five RBIs, and four runs scored.
In the dog days of August in Atlanta, the Pirates entered the day in first place, 4½ games ahead of the Chicago Cubs, and had just lost three straight to the Cincinnati Reds. They had seen an 11-game lead cut by more than half over the past month. The Lumber Company, as the Pirates were called, needed to stop the bleeding and a twin bill in Georgia heat hardly seemed a tonic for turning things around.
Oliver's big game was also sandwiched between two games of great significance in Pirates and major-league history. The first occurred two weeks previously, when the Pirates were no-hit by the St. Louis Cardinals' Bob Gibson. Since Forbes Field opened in 1909, there had never been a no-hitter there in 60 years. Yet it took just 102 games for one to be pitched at Three Rivers Stadium. Gibson dominated the Bucs with 10 strikeouts in an 11-0 rout, for the only no-hitter of his career.2
In the second notable game, a week after Oliver's slugging outburst, Danny Murtaugh submitted a historic lineup populated entirely of African-American and Latino players. Oliver started at first base, hitting seventh. The game is covered in detail in a book published in 2006, The Team That Changed Baseball, by Bruce Markusen, and in a 2017 MLB Network documentary, The Forever Brothers.
Nothing in game one of the August 23 doubleheader forecast the offensive explosion Oliver would have in game two. In the first game, playing center field, he had only a single in five trips to the plate as the Pirates' combination of Steve Blass and Dave Giusti defeated Phil Niekro, 4-3. For the Bucs, the play of the game was a two-run, two-out triple in the sixth inning by catcher Manny Sanguillen that broke a 1-1 tie. It had followed a two-out walk to Willie Stargell and Bob Robertson's reaching base on an error. Only one of the Pirates' runs was earned in the game.3
In the second game, Murtaugh penciled in the same lineup. It included Rennie Stennett at second, Oliver in center, Roberto Clemente in right, Stargell in left, Robertson at first, Sanguillen behind the plate, Dave Cash at third, and Jackie Hernandez at shortstop. He sent right-hander Bob Moose (7-7) to the mound against Braves right-hander Tom Kelley.
Game two started out quickly enough for Oliver. After a leadoff strikeout by Stennett, Oliver got his hitting barrage started with a single, but he was then erased on the basepaths by a double play. In the third inning, with the Bucs down 2-1, Oliver continued hitting his stride. He tripled to score Stennett, who had walked, and then scored himself as Clemente homered, giving the Pirates a lead they would not surrender.
In the top of the fourth, Oliver followed Stennett's double with the first of his two home runs. It was a blast off reliever Jim Nash that put the Bucs up 8-2. They added to their lead with another run on an error by second baseman Felix Millan on a Sanguillen grounder. The rout was on.
Oliver's fourth consecutive hit of the game came leading off the sixth inning with a single off reliever Steve Barber. He scored three batters later on Robertson's 25th homer of the season. (The blast gave Robertson 25 homers for the second straight season, but he would hit only one more during the regular season, then clubbed three in Game Two of the National League Championship Series against the San Francisco Giants.)
In the seventh inning, Oliver flied out to center field to end the inning with a runner on second. It was the only time in the game the Braves retired him.
In the ninth inning, with the Bucs now up 13-4, Oliver strode to the plate needing a double to complete the cycle. But with reliever Nellie Briles on third base after a double of his own and a fielder's choice, he did two bases better. Oliver belted his second homer of the game, capping his 5-for-6 day. The final score was 15-4. Clemente also hit well in the game, finishing 3-for-5, with a home run, before Murtaugh replaced him with Vic Davalillo in the bottom of the eighth.
In relief, Nellie Briles was arguably the second star of the game. He gave up only one single in four innings. The game proved important to Briles, as it gave Murtaugh the confidence to insert him in the starting rotation for the remainder of the season.4
In Oliver's start the next day, he cooled off a bit but still ripped a two-run triple in four at-bats and scored on Clemente's groundout. But it would not be nearly enough as the Braves turned the tables on the Pirates with a 15-run game themselves, winning 15-5. The back-to-back days also presented fans an opportunity to see Hank Aaron hit a home run and move past Ty Cobb for career total bases (August 23)5and then pass Tris Speaker for career runs scored (August 24).6
Commenting about Oliver, one of the Lumber Company's leading long-ball hitters, Willie Stargell said, "It was a treat to see a dedicated individual and a great pure hitter come along. We knew right off the bat that we had a diamond. He came in with a tremendous amount of self-confidence as well."7 Dock Ellis had similar comments several years later after Oliver was traded to the Giants: "He was one of our team leaders. If a team listens to him, it can feed off his confidence, and that was the case with the Pirates. We were roommates coming up through the system, and he always used to say, 'If you can hit, you can hit. I don't need batting practice.' He was extremely confident, in a positive way."8
Years later, Oliver would recall this game as one of his best days, but not the most memorable. In a doubleheader on August 17, 1980, when he was with the Texas Rangers, he tied Jimmie Foxx of the Philadelphia A's for the American League record for most total bases in a doubleheader: 21.9Oliver went 3-for-5 in game one with a double, triple, and a home run. He followed that with a three-homer game in the nightcap, going 3-for-4, with four RBIs. Foxx had solely owned the record since 1933, and it remains the AL record today. Nate Colbert has the National League record with 22 total bases.
The doubleheader sweep in 1971 revitalized the Pirates. It started a run of 13 wins over the next 16 games en route to the Pirates championship season. Oliver finished the season with a.282 batting average, 64 RBIs, and 14 home runs. The Pirates defeated the Giants three games to one in the National League Championship Series, and then beat a dominant Baltimore Orioles team boasting four 20-game winners to win the World Series in seven games. Oliver batted .226 with a home run and 7 RBIs in the postseason.
Oliver went on to have an impressive career, and a case can be made for his inclusion in the Hall of Fame. During his playing years, from 1968 through 1985, only Pete Rose and Rob Carew had more hits than Oliver's 2,743. During that period, he was second in doubles (529), third in batting average (.303), and fourth in RBIs (1,326). Over a wider period of time, from 1950 to 1991, Oliver's.303 career BA placed him in the middle of the top 10 in that category for those with a minimum of 9,000 or more at-bats. All members of that list, save for Rose and Oliver, are in the Hall of Fame.10
Stargell summarized Oliver as a person this way: "He's a proud man who make no excuses. He possesses as many fine qualities as anybody I ever met."11
This article appears in "Moments of Joy and Heartbreak: 66 Significant Episodes in the History of the Pittsburgh Pirates" (SABR, 2018), edited by Jorge Iber and Bill Nowlin. To read more stories from this book at the SABR Games Project, click here.
Notes
1Al Oliver and Andrew O'Toole, Baseball's Best Kept Secret (Pittsburgh: City of Champions Publishing Company, 1997), 54.
2John Mehno, "Black and Gold: 1971 Pirates Scrapbook," Beaver County Times (Beaver, Pennsylvania), June 20, 2011.
3Associated Press, "NL Leaders Find Stride," Columbus (Ohio) Dispatch, August 24, 1971.
4Bruce Markusen, The Team That Changed Baseball(Yardley, Pennsylvania: Westholme Publishing, 2006), 104.
5 Associated Press, "Bucs Sweep, Cubs Win," Cleveland Plain Dealer, August 24, 1971.
6Associated Press, "Aaron Homer Brings Total Bases Record," Columbus (Ohio)Citizen-Journal, August 25, 1971.
7"Oliver Makes the Giants Healthier,"San Francisco Examiner, April 1, 1984.
8Ibid.
9Al Oliver, personal interview, March 13, 2017.
10Oliver and O'Toole, 193.
11Terence Moore, "Baseball 84," San Francisco Examiner, February 24, 1984.
Additional Stats
Pittsburgh Pirates 15
Atlanta Braves 4
---
Atlanta Stadium
Atlanta, GA
Box Score + PBP:
Corrections? Additions?
If you can help us improve this game story, contact us.
Tags
https://sabr.org/sites/default/files/OliverAl-1971.jpg
600
800
admin
/wp-content/uploads/2020/02/sabr_logo.png
admin
2019-01-29 11:19:52
2020-04-17 10:23:41
August 23, 1971: Al Oliver ignites 'Lumber Company' Pirates with 2-homer game