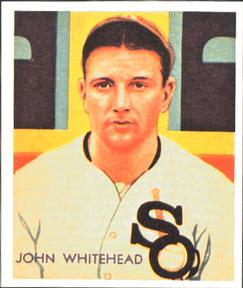 August 5, 1940: John Whitehead tosses abbreviated no-hitter for last big-league victory
---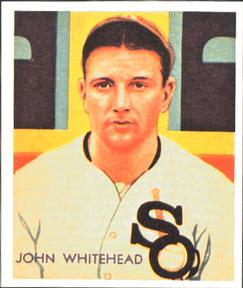 "For some time now large John has been in danger of being booted clear back to his Texas domicile," declared sportswriter W. Vernon Tietjen in the St. Louis Star and Times about the Browns' embattled pitcher John Whitehead.1 The AP noted that the robust right-handed hurler almost "ate his way out of the majors."2 The result was a two-month midseason banishment to the Double-A Toledo Mud Hens in the American Association to shed some weight and, suggested Tietjen, "make him more fit for the mound than the easy chair."3
With his big-league career in jeopardy, "Silent John" surprised his detractors by tossing a rain-shortened six-inning no-hitter against the Detroit Tigers in his second start after the demotion. Far from inaugurating a fairy-tale chapter, though, the victory proved to be Whitehead's last in his career. But for 78 minutes, Whitehead was atop the baseball world, and in "superb form as he handcuffed the Tigers," gushed beat writer W.J. McGoogan in the St. Louis Post-Dispatch.4
In the midst of a season-long 24-game homestand, skipper Fred Haney's Brownies (42-59) were in seventh place, 18½ games behind the league-leading Tigers, whom they hosted for a four-game series beginning with a doubleheader on Monday, August 5, at Sportsman's Park. In front of a paltry crowd of 2,158, the Tigers emerged triumphant in the first contest, 9-2, led by Schoolboy Rowe's six-hitter. The victory proved costly, however, as six-time All-Star second baseman Charlie Gehringer injured his right leg while scoring in the ninth inning on a damp field caused by light rain. ("The Mechanical Man" ultimately missed the next nine games.)
On paper, the second game seemed like a laugher for pilot Del Baker's squad from the Motor City. Longtime stalwart and three-time 20-game winner Tommy Bridges, who owned a 157-107 record in parts of 11 seasons, including 7-5 thus far in 1940, faced off against Whitehead. Sportswriter George Kirksey opined that Whitehead once "looked like one of the most promising pitchers in baseball," after beginning his career with eight consecutive victories as a member of the Chicago White Sox in 1935.5 However, the "high and fast life in the big time was too attractive" for the hurler, thought Kirksey, as Whitehead struggled with weight issues, and was traded to Browns in early June of 1939. Following a one-win season, Whitehead was slotted for mop-up duty in 1940, but struggled both before and after his demotion. He had lost all three of his decisions thus far, bringing his career record to 48-54, and sported an atrocious 8.44 ERA in 21⅓ frames.
Under dark, ominous skies, Whitehead came out firing strikes. He set down the first seven Bengal batters before issuing a one-out walk in the third to rookie Scat Metha, who had replaced Gehringer, but was left stranded when Bridges fanned and Dick Bartell fouled out.6
If Bridges had a bugaboo, it was his control. For six consecutive seasons (1931-1936) he had issued at least 100 walks, and free passes proved to be his demise in this game. He walked Joe Grace to lead off the third. After George McQuinn's grounder forced Grace at second, rookie Wally Judnich sent Bridges' offering "over top of the right field pavilion," wrote Charles P. Ward in the Detroit Free Press, for his 20th round-tripper of the campaign, giving the Browns a 2-0 lead.7
Detroit's second and final baserunner of the game was Hank Greenberg, en route to his second AL MVP award. Shortstop Johnny Berardino fielded the slugger's chopper but threw wildly to first sacker McQuinn, the Browns' only miscue of the game. Slugger Rudy York lined sharply to Judnich in center field to end the frame.
"[L]oose defensive work," wrote Tietjen, "hardly the kind you would expect from a club that proposes to succeed the Yankees to the American League throne," characterized the Tigers' fourth.8 Fielding was a thorn in the Tigers' tail all season long; their 194 errors were second to the Philadelphia A's 238. Harlond "Darkie" Clift beat out a bunt to the mound, then scampered all the way to third when Bridges committed one of the club's two errors in the game by tossing errantly over York's head at first. Light-hitting Don Heffner followed by chopping a single off the plate to drive in Clift for the Browns' third run.
St. Louis tacked in another run in the fifth when Bridges loaded the bases on walks to Rip Radcliff, Clift, and Heffner. The final of those was intentional in order to set up an inning-ending double-play opportunity facing slow-footed catcher Bob Swift. The rookie foiled that plan with an infield groundout that plated Radcliff, who had entered the doubleheader with the highest batting average in baseball (.361).
While Whitehead "showed fine control and had the Tigers hitting the ball into the dirt," in the words of Ward in the Free Press, he also benefited from some excellent defensive support.9 According to McGoogan, right fielder Joe Grace made two one-handed catches of liners that "seemed ticketed for the fence," saving potential extra-base hits.10 Whitehead, an adept fielder despite his girth (he led AL pitchers with 60 assists in 1936), fielded what McGoogan considered one of the "most difficult chances" by snaring Barney McCosky's "lazy bounder over his head" and sending a bullet to McQuinn.11
With the Browns leading 4-0 after 5½ innings, home-plate umpire Harry Geisel halted the game at approximately 6:30 as the intermittent light rain had morphed into a heavy shower an inning earlier and the field deteriorated rapidly. An hour later, he called the game because of the field conditions. The game officially lasted 1 hour and 18 minutes. The Browns' 43rd victory matched their total from the entire 1939 season. The Tigers' loss dropped them into a tie with the Cleveland Indians atop the AL standings, but they went on to capture the pennant by one game over the Tribe.
Whitehead's name graced headlines in sports pages across the country the next day. He punched out two and walked one in hurling the 52nd complete game and ninth shutout of his career. It was the Browns' first no-hitter since another quirky game when Bobo Newsom held the Boston Red Sox hitless through nine innings on September 18, 1934, only to yield a hit and lose the game, 2-1, in the 10th. The Browns' previous regulation no-hitters were by Ernie Koob and Bob Groom, who turned the trick against the Chicago White Sox on consecutive days, May 5 and May 6, 1917. (As of 2016 it marks the only time in major-league history that teammates tossed no-hitters on successive days.)
In September 1991, baseball's Committee for Statistical Accuracy changed the definition of a no-hitter. Led by Commissioner Fay Vincent, the committee declared that only a game lasting at least nine innings and ending with zero hits is considered a no-hitter. Fifty no-hitters were erased from the record books, most notably the 12-inning perfect game by Harvey Haddix of the Pittsburgh Pirates against the Milwaukee Braves on May 26, 1959, which he lost on Joe Adcock's walk-off double in the 13th. Struck, too, from the list of no-hitters were Newsom's and Whitehead's, the former because of a hit in the 10th, the latter because it was not nine innings.
This article appears in "Sportsman's Park in St. Louis: Home of the Browns and Cardinals at Grand and Dodier" (SABR, 2017), edited by Gregory H. Wolf. Click here to read more articles from this book online.
Sources
In addition to the sources cited in the Notes, the author also accessed Retrosheet.org, Baseball-Reference.com, SABR.org, and The Sporting News archive via Paper of Record.
Notes
1 W. Vernon Tietjen, "Whitehead Pitches Six-Inning No-Hit Game and Wins, 4-0," St. Louis Star and Times, August 6, 1940: 15.
2 Associated Press, "Schoolboy Wins, Bridges Beaten," Battle Creek (Michigan) Enquirer, August 6, 1940: 11.
3 Tietjen.
4 W.J. McGoogan, "Browns to Bat Against Newsom in Night Game," St. Louis Post-Dispatch, August 6, 1940: 1B.
5George Kirksey, United Press, "Tigers Held Without Hits by Whitehead," Belvidere (Illinois) Daily Republican, August 6, 1940: 6.
6 Neither Baseball-Reference.com nor Retrosheet.org has a box score for this game. Information about plays is garnered from newspapers.
7 Charles P. Ward, "Rowe Wins Opener, 9-2. Rain Shortens Nightcap," Detroit Free Press, August 6, 1940: 11.
8 Tietjen.
9 Ward.
10 McGoogan.
11 McGoogan.
Additional Stats
St. Louis Browns 4
Detroit Tigers 0
6 innings
Game 2, DH
---
Sportsman's Park
St. Louis, MO
Box Score + PBP:
Corrections? Additions?
If you can help us improve this game story, contact us.
Tags
https://sabr.org/sites/default/files/WhiteheadJohn.jpg
600
800
admin
/wp-content/uploads/2020/02/sabr_logo.png
admin
2018-11-13 14:44:30
2020-04-17 10:23:47
August 5, 1940: John Whitehead tosses abbreviated no-hitter for last big-league victory