Tommy Bridges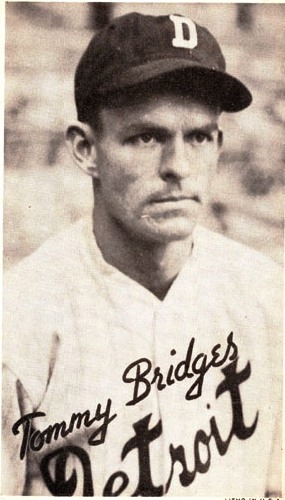 Everybody knows the story of the little engine that could. Tommy Bridges was the little pitcher with a big name who could. Small and frail looking, he didn't look impressive, but he possessed long, slender fingers that enabled him to put pressure on the ball. This pressure gave him one of the best curveballs ever in the major leagues. He also had excellent speed. In fact, his curveball, which looked like something dropping off a table, set up his fastball. As Bridges said, "A curve isn't worth a hoot unless they respect your fastball." His manager and catcher Mickey Cochrane said that Tommy won more games with his fastball than with his curve.

However, Bridges had a dark side that did not emerge until after he was demoted to the minor leagues. This small man with the large ears and the great curveball was destined to have a great fall. Little Tommy Bridges possessed a big heart and an imperfect psyche.

Thomas Jefferson Davis Bridges was born December 28, 1906, in Gordonsville, Tennessee, the son of Joe Gill Bridges, a country doctor in Smith County, and the former Florence Davis, who was from Nashville. Tommy was the first of two children. His sister Mary became a schoolteacher. Expected to follow in his father's footsteps, Tommy was taught to be a serious, studious, churchgoing person.

In 1929 Tommy began his baseball career with the Wheeling Stogies of the Class C Middle Atlantic League, where he was 10-3. In 1930 he was in the Three-I League with the Evansville Hubs and won 7 and lost 8. Impressed by his 20 strikeouts in one game, the Tigers brought him up in midseason.

Bridges made his major league debut on August 13, in relief against the Yankees, in grand style, getting Babe Ruth to ground out and striking out Lou Gehrig. He was 3-2 for the Tigers. Showing his mettle despite his size, Bridges became a regular with the Tigers in 1931, going 8-16.

On August 5, 1932, he had a perfect game going into the ninth inning against the Washington Senators. The score entering the ninth was 13-0 in favor of the Tigers. Tommy retired the first two batters. Senators manager Walter Johnson then sent up pinch hitter Dave Harris, a great curveball hitter, who lined one of Tommy's curves for a clean single. Some criticized Johnson for sending up a pinch hitter. Bridges got the next guy out, but his perfect game and no-hitter were gone. He did not complain, saying, "I would rather earn it the competitive way than have it handed it to me."

On May 24, 1933, Bridges fired a one-hitter and beat the Senators. The lone hit he gave up was a solo homer to Joe Kuhel. It was the first time in American League history that a pitcher had given up a home run in a one-hitter. That feat was matched later when Robin Roberts gave up a leadoff homer to Bobby Adams of the Cincinnati Reds and then retired the next 27 batters.

Bridges finally pitched a no-hitter in 1947 while playing for Portland in the Pacific Coast League. He was forty years old then and would retire three years later.

Tommy had his greatest years from 1934 to 1936, coinciding perfectly with the arrival of legendary catcher Mickey Cochrane as player-manager. Bridges won 22 and lost 11 in 1934. On a negative but historic note, Tommy gave up Babe Ruth's 700th homerun on July 13. In 1935 he won 21 and lost 10, and in 1936 he went 23-11 with 175 strikeouts to lead the league in those categories. The Tigers won the pennant in 1934 and 1935. They lost to the St. Louis Gashouse Gang in the 1934 World Series and triumphed over the Chicago Cubs in the 1935 Series.

Tommy was a big hero in the 1935 series. In the sixth game of the Series the Cubs looked like they might beat the Tigers. The score was tied in the ninth inning when Stan Hack led off with a triple against Bridges. Tommy reached back and retired the next three men without Hack being able to score. The Tigers scored in the bottom of the ninth when Cochrane reached second base and with two outs Goose Goslin singled him home to win the Series for the Tigers. After the game and the title Cochrane was lavish in his praise of Bridges. "A hundred and fifty pounds of courage. If there ever is a payoff on courage this little 150-pound pitcher is the greatest World Series hero." The city of Detroit celebrated into the wee hours of the next day.

Ironically, Bridges did not see the hit by Goslin that drove in Cochrane to win the Series for the Tigers. He was in the tunnel leading to the clubhouse grabbing a smoke. When Cochrane questioned him about Goslin's hit, Tommy said, "I heard the roar of the crowd when you [Cochrane] got a hit and decided to stay right here for luck."

In a nationwide poll Tommy Bridges was named the Number 2 sports hero of 1935, behind Notre Dame football star Andy Pilney. Along with Secretary of State Cordell Hull, Tommy Bridges brought fame to Smith County.

Bridges' curveball caused some to think he was throwing the outlawed spitball. Umpire Bill Summers asked Tommy if he was loading up the ball during a game. Tommy replied, "Why, Mr. Summers, don't you know the spitball has been outlawed for years? How would I ever learn to throw one?" On another occasion in 1941, Joe McCarthy of the Yankees accused Tommy of gross expectoration on a baseball. After McCarthy asked the umpire to inspect the ball, catcher Birdie Tebbetts of the Tigers (inadvertently, of course) fired the ball into the outfield whereupon all three outfielders handled the ball before returning it to the umpire.

Bridges continued as a starting pitcher through 1943, when he was called to military duty in the Army. He returned in time in 1945 to pitch a few games in the Tigers' World Series championship season, but by1947 he was told he was over the hill. Still feeling the need to play, he swallowed his ego and went down to the minors to pitch. From 1947 through 1949 he pitched for the Portland Beavers. He went 7-3 in 1947 with a fine 1.64 ERA but never made it back to the majors and retired after pitching for the San Francisco Seals in 1950. In his major league career Bridges won 194 games and lost 138. He racked up 1674 strikeouts and had an ERA of 3.57.

Tommy became a combination coach and scout for the Cincinnati Reds in 1951 and scouted for the Tigers from 1958 to 1960. His last job in baseball was as a scout for the New York Mets from 1963 to 1968. When he wasn't in baseball, he spent time as a tire salesman in Detroit.

In his glory days with the Tigers Bridges was considered a sober, sensitive, and intelligent man. He called his wife Carolyn (nee Jellicorse), whom he'd married on March 21, 1930, almost every night and was concerned about their daughter. Some time after Bridges went into the service he started to drink. After his return from the service and being relegated to the Pacific Coast League, Bridges' drinking became much worse. Then to make matters disastrous, he was caught in bed with another woman. Her enraged husband took a couple of shots at him, Bridges escaping unharmed. He divorced Carolyn to marry Iona Veda Kidwell, the other woman, on May 17, 1950. He and his wife returned to the Detroit area, where Tommy ran into Eldon Auker and Billy Rogell. They were shocked to see him in such a dissolute state. Rogell had become a city councilman in Detroit and had lined up a job, for Tommy, who never showed up.

How does a man like Tommy Bridges fall from being a solid citizen to a dissolute person? He reminds one of Hurstwood in Theodore Dreiser's Sister Carrie. Hurstwood was a married man and had a responsible job. But then he met Carrie and fell madly in love with her. He stole money from his employer, and his entire world fell apart. He couldn't get a decent job and slowly but surely slid down the social chute until he became a homeless drunk living on the streets of New York. Tommy Bridges, the little pitcher who could, became the civilian who could not.

Thomas Jefferson Davis Bridges died on April 19, 1968, in Nashville. His wife Iona Veda, daughter Mrs. Wilburn Smith of Mount Juliet, Tennessee, and mother survived him. Bridges is buried in Ridgewood Cemetery in Carthage, Tennessee.


Sources

Caren, Eric C. Baseball Extra: A Newspaper History of the Glorious Game from its Beginnings to the Present. From the Eric C. Caren Collection. Edison, New Jersey: Castle Books, 2000.

James, Bill. The New Bill James Historical Baseball Abstract. New York: The Free Press, 2001.

Light, Jonathan Fraser. The Cultural Encyclopedia of Baseball. Jefferson, North Carolina: McFarland, 1997.

Nemec, David, and Saul Wisnia. Baseball: More Than 150 Years. Lincolnwood, Illinois: Publications International, 1996.

The New York Times. Obituary. April 20, 1968.

Shatzkin, Mike, ed. The Ballplayers. New York: Arbor House/William Morrow, 1990.

Tommy Bridges files from the National Baseball Hall of Fame, Cooperstown, New York.