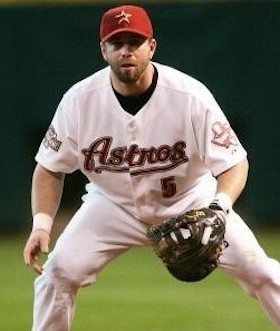 July 18, 2001: Astros' Bagwell hits for the cycle in 28-run slugfest
---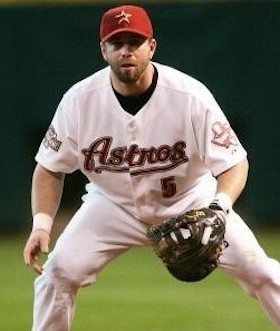 The 2001 All-Star Game featured the game's best hitters and pitchers. The American League won, 4-1, claiming its fifth consecutive midsummer classic while limiting the National League squad to just three hits. A week later the St. Louis Cardinals visited the Houston Astros for the first of a two-game series, and the two NL clubs (who each had just one member named to the All-Star team) exploded for 34 hits and 28 runs. The St. Louis Post-Dispatch described the outburst of runs as "the highest scoring game in the 1½ years this hitters' paradise has been open."1 A key feature of the Houston offense included Jeff Bagwell hitting for the cycle.
Rookie right-hander Roy Oswalt toed the rubber for the home-team Astros, making just his eighth career start. He was riding a six-game win streak, and he brought a record of 8-1 with an earned-run average of 2.30 into the contest. Oswalt was opposed by Cardinals southpaw Mike Matthews (3-4, 3.25 ERA), in his second big-league season. Neither pitcher lasted very long.
Fernando Viña led off the game with a grounder through the right side for a single. Plácido Polanco singled to left, and after Jim Edmonds struck out, Mark McGwire drove an RBI single to left, plating Viña. The Astros answered in the bottom of the first. Matthews plunked Craig Biggio, who advanced to second on Julio Lugo's sacrifice bunt. Bagwell singled (Biggio scored), Lance Berkman drew a four-pitch walk, then Moises Alou crushed a three-run home run (his 20th of the season) to give Houston a 4-1 lead.
In the bottom of the second, Houston's Brad Ausmus and Biggio each hit solo blasts over the wall, increasing the advantage to 6-1. The Cardinals added a run in the third when Edmonds stroked an RBI single to center.
In the fifth inning the fireworks took place. Edmonds reached on Biggio's fielding error and advanced to second when McGwire walked. Albert Pujols cleared the bases with a three-run homer (number 23 for the season). The hit parade continued, as Bobby Bonilla singled, Edgar Rentería doubled, and Eli Marrero brought them both home by lining a double to deep right. Six straight batters had reached and five had crossed the plate, creating a two-run lead for the visitors. When Luther Hackman (who had replaced Matthews on the mound in the third inning) sacrificed Marrero to third, Houston manager Larry Dierker made a pitching change, bringing Ron Villone in from the bullpen. Viña greeted him with a single to right that plated Marrero. The Cardinals now led, 8-6. Bonilla's hit into right-center gave the St. Louis slugger 2,000 career hits, making him the 219th major leaguer to amass that many.
The Astros responded right away. Back-to-back doubles by Bagwell and Berkman started the rally. Alou grounded a ball to second baseman Viña, who threw the ball away. Berkman scored, tying the score, and Alou went to second. After retiring Richard Hidalgo, Hackman uncorked a wild pitch, allowing Alou to advance to third base, and Hackman's day was done. Gene Stechschulte came on in relief. Vinny Castilla doubled, scoring Alou, then Ausmus singled (scoring Castilla) before Villone sacrificed Ausmus to second. Biggio lined a hit to left for an RBI and Lugo walked. Bagwell jumped on a 1-and-0 pitch and drove it out of the park for a three-run homer. It was his team-leading 26th long ball. Berkman kept up the attack with a single to left, then Alou smashed a double into the gap in left-center. Berkman raced around the bases but was tagged out at the plate for the final out of the inning. Houston had batted 12 men and scored eight runs.
The two teams traded solo runs in the sixth. McGwire blasted a home run for St. Louis. The round-tripper was his 11th of the season and 565th of his career. Up to and including this game, Big Mac had faced Villone 11 times in their careers, and all three hits had been home runs. In the home half, Castilla drove in Hidalgo, who had tripled to lead off for Houston.
In the seventh Villone was tagged for two more Cardinals runs, but Houston again answered. Biggio started the bottom of the seventh by reaching first base when Andy Benes, the fourth Cardinals hurler of the game, hit him with an 0-and-1 pitch. Biggio stole second while Lugo struck out and went to third on catcher Marrero's errant throw to second. That brought up Bagwell, who laced a triple into the right-center alley, driving in Biggio. Berkman followed with a single; Bagwell trotted home with Houston's 17th run. Alou and Hidalgo each walked, then Dave Veres was called in to relieve Benes. Veres struck out Castilla and Ausmus to prevent any further damage. The Astros hung on to win, 17-11.
With the triple in the seventh, Bagwell had hit for the cycle. This was his first triple in about 2½ seasons. He collected two of the four necessary hits for his rare feat in the fifth frame. He doubled to start the inning and homered to finish it. His 4-for-5 performance (he had flied out to end the second) included four runs scored and five runs batted in, and lifted his batting average to .283.
The Astros picked up their fifth win in seven meetings against the Cardinals.2 Overall, Houston won for the ninth time in 11 games. The club set a team record by banging out 11 extra-base hits. Alou extended his league-leading hitting streak to 23 games (it ended the next day with an 0-for-3 day against the Cardinals). Villone earned his fourth victory of the season.
St. Louis batters tied a season high with 18 base hits. Their 14 strikeouts also tied a season high. The Cardinals' road record dropped to 17-28 (4-15 in their last 19 away games). Hackman suffered his first loss. He allowed only two earned runs in two innings pitched, but the eight-run fifth inning enabled Houston to take the lead for good.
After the game, Bagwell was not too overwhelmed by his achievement, telling reporters, "It's cool but it's not something I put much stock in." He added, "It seemed like (the game) would never end."3 He turned down the ball when the Astros retrieved it in the seventh inning, saying, "I didn't need the ball. Stuff like that doesn't mean that much to me. I've been around too long to get too high about one game. Because I know tomorrow I can be on the other end."4
Bagwell's teammate Biggio ended the evening with two runs batted in, upping his career total to 785 and giving him sole possession of first on Houston's career RBI list. Three weeks earlier, Biggio, the Astros' leadoff man, had become the franchise leader in games played.
Bagwell's cycle was only the second ever at Enron Field. Arizona's Luis Gonzalez had hit for the first cycle in Houston's new ballpark on July 5, 2000. Luke Scott (July 28, 2006) and Brandon Barnes (July 19, 2013) hit for the cycle in the renamed Minute Maid Park. Bagwell's feat marked the fifth time that an Astros batter had hit for the cycle, joining César Cedeño (August 2, 1972, and August 9, 1976), Bob Watson (June 24, 1977), and Andújar Cedeño (August 25, 1992).
Sources

In addition to the sources mentioned in the Notes, the author consulted baseball-reference.com, mlb.com, retrosheet.org and sabr.org. Thanks to SABR member Bruce Slutsky for his suggestions.
baseball-reference.com/boxes/HOU/HOU200107180.shtml
retrosheet.org/boxesetc/2001/B07180HOU2001.htm
Notes
1 Rick Hummel, "Houston Has Its Way with Cards," St. Louis Post-Dispatch, July 19, 2001: D1.
2 For the 2001 season, Houston won nine of 16 games against St. Louis.
3 Hummel.
4 "Bagwell Is the Star in Astros' Victory," Los Angeles Times, July 19, 2001: D5.
Additional Stats
Houston Astros 17
St. Louis Cardinals 11
---
Enron Field
Houston, TX
Box Score + PBP:
Corrections? Additions?
If you can help us improve this game story, contact us.
Tags
https://sabr.org/sites/default/files/images/BagwellJeff.jpg
600
800
admin
/wp-content/uploads/2020/02/sabr_logo.png
admin
2019-06-21 14:45:51
2020-04-17 10:22:36
July 18, 2001: Astros' Bagwell hits for the cycle in 28-run slugfest