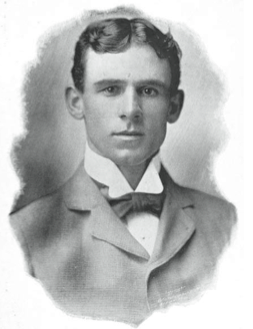 July 4, 1899: Baltimore's John McGraw is first player to steal second, third, and home in same inning
---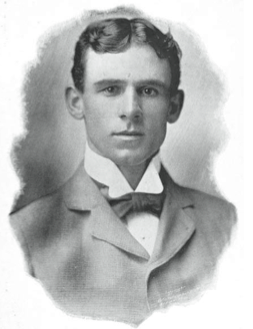 On America's birthday, July 4, 1899, the Baltimore Orioles hosted the Boston Beaneaters in an Independence Day celebration at Union Park. In the second game of a morning-afternoon doubleheader, Baltimore's John McGraw became the first player in major-league history to steal second base, third base, and home, in the same inning. His heroics helped secure a 5-4 victory for the Orioles. Further, the player-manager's "plucky Orioles celebrated in a glorious fashion for Baltimore rooters by doubly defeating the champions from the Hub and pulling them down two pegs in the League ladder."1
The Orioles had just returned after a 36-hour train ride from St. Louis, and the strain of travel had left them a bit rusty. They arrived in Baltimore at 7:00 AM, just hours before game time. This was McGraw's first season as player-manager.2 McGraw told reporters that "if they (the Baltimore players) could have had a little batting practice, it would have improved their hitting, but there was no time for that."3 The Orioles and Beaneaters played two close games, so close "that a base hit by the last batter would have tied the score in each case."4 Unfortunately, at least according to some, the umpiring crew of Jim McDonald and Al Manassau "was very bad – about the worst seen at Union Park this season – and both sides had cause for complaint."5
Baltimore edged Boston 2-1 in the morning opener. Boston's Jimmy Collins broke the scoreless tie in the top of the fourth inning by driving a triple to right field and scoring on a wild pitch. An inning later, Baltimore tied the game on an RBI double by Bill Keister. In the bottom of the sixth, Frank Kitson and McGraw each drew free passes. The write-up in the Baltimore Sun claims that the next hitter, Ducky Holmes, "failed to wait and struck out."6 It seems that Boston pitcher Ted Lewis was having trouble finding the strike zone.
Steve Brodie, batting after Holmes, watched as four balls missed the plate. His walk loaded the bases. Kitson scored the go-ahead run on a sacrifice fly by Jimmy Sheckard, and McGraw advanced to third on the play. With Keister batting, Brodie stole second base. McGraw raced for home on the throw to second, but he "was called out by McDonald, one of the most inexcusable decisions seen here in a long time."7 '
According to the Baltimore Sun, McGraw "touched the plate before the ball reached Boston catcher Marty Bergen and was so far across when Bergen got his arm back that he did not come within a yard of touching him. McGraw grew so furious that he was put out of the game."8 The Beaneaters threatened in the ninth, getting Bergen to second with two outs, but he was stranded when the game ended.
Spitballer Harry Howell pitched for Baltimore in the afternoon game, opposed by Boston ace Kid Nichols, who would win 21 or more games for the tenth straight season in 1899. The Orioles "made a savage onslaught on Nichols"9 to start the bottom of the first, with McGraw, Holmes and Brodie each singling. McGraw scored on a groundout by Sheckard, and a bad call by Umpire Manassau, who "called Brodie safe in the first inning, when he was easily caught off third by [Boileryard] Clarke's good throw,"10 after a force play at the plate. This umpiring gaff led to two Orioles runs, as Nichols subsequently gave up two walks and hit a batter.
The Orioles made two quick outs in the fourth inning when McGraw came up to bat. He reached first on a bunt single and promptly stole second base, and then third. Nichols walked Holmes, who became "engaged in dodging up and down the base lines."11 While Nichols was distracted, McGraw raced home with his third stolen base of the inning. This gave Baltimore a 4-0 lead, as McGraw thus became the first player in history to steal second, third, and home in the same inning of a game. The ball never left the infield during his at-bat or time on base.
Boston scored its first run in the fifth, on infield singles by Bobby Lowe and Nichols and a throwing error by McGraw. Baltimore answered in its half of the inning. Bobby Rothermel led off with a walk. Singles by Candy LaChance and George Magoon moved him around, making the score 5-1.
Umpire McDonald made another unpopular decision "by giving Boston both its runs in the eighth inning by calling Collin's foul a fair ball."12 With a man on, Collins hit a drive down the line that struck "a stone in the diamond (and) bounded foul by four feet."13 A fly ball, a grounder, and another infield hit accounted for the Beaneaters' two runs. With two outs in the ninth, Howell walked Herman Long. General Stafford stroked a single, and Collins drove a shot to Rothermel at second. Rothermel, according to the Baltimore Sun, "threw the runner out (but) Manassau called Collins safe and Long scored."14 Hugh Duffy grounded out to end the game. The final score was Baltimore 5, Boston 4.
Were it not for the attention given to the umpiring, McGraw's historic base-running may have captured more attention. He was 2-for-4 with two runs scored in the second game, to go along with his three stolen bases. In 1899, McGraw led the National League in walks (with 124) and on-base percentage (.547). He also stole 73 bases. Baltimore teammate Sheckard topped the circuit with 77 swipes.
Baltimore had nine hits in the game, while Boston put together 11 safeties. Despite losing the doubleheader, Boston went on to finish in second place in 1899, eight games behind the Brooklyn Superbas. McGraw's fourth-place Orioles ended up seven games behind the Beaneaters and 15 games out of first.
Dave Fultz of the Philadelphia Athletics was the first player in American League history to steal each base in the same inning (September 4, 1902). Ty Cobb and Honus Wagner did it four times apiece. Wagner's first three-base, same-inning theft occurred on August 1, 1899, less than a month after McGraw's performance. Cobb also owns the record for most steals of home plate in a career, with 54. According to baseball-almanac.com,15 there have only been 50 instances of a player stealing second base, third base, and home during the same inning. It has been done by 40 different ballplayers, only occurring 11 times since 1928. Going into the 2017 season, the last player to do it was Los Angeles Dodgers shortstop Dee Gordon, in an interleague game against the Los Angeles Angels on July 1, 2011.
But John Joseph McGraw, the pride of Truxton, New York, did it first.
Sources
In addition to the sources mentioned in the notes, the author consulted Baseball-Almanac.com, Baseball-Reference.com, MLB.com and Retrosheet.org.
Notes
Additional Stats
Baltimore Orioles 5
Boston Beaneaters 4
Game 2, DH
---
Union Park
Baltimore, MD
Corrections? Additions?
If you can help us improve this game story, contact us.
Tags
https://sabr.org/sites/default/files/images/McGrawJohn.png
600
800
admin
/wp-content/uploads/2020/02/sabr_logo.png
admin
2017-05-11 03:23:40
2020-04-17 10:25:51
July 4, 1899: Baltimore's John McGraw is first player to steal second, third, and home in same inning