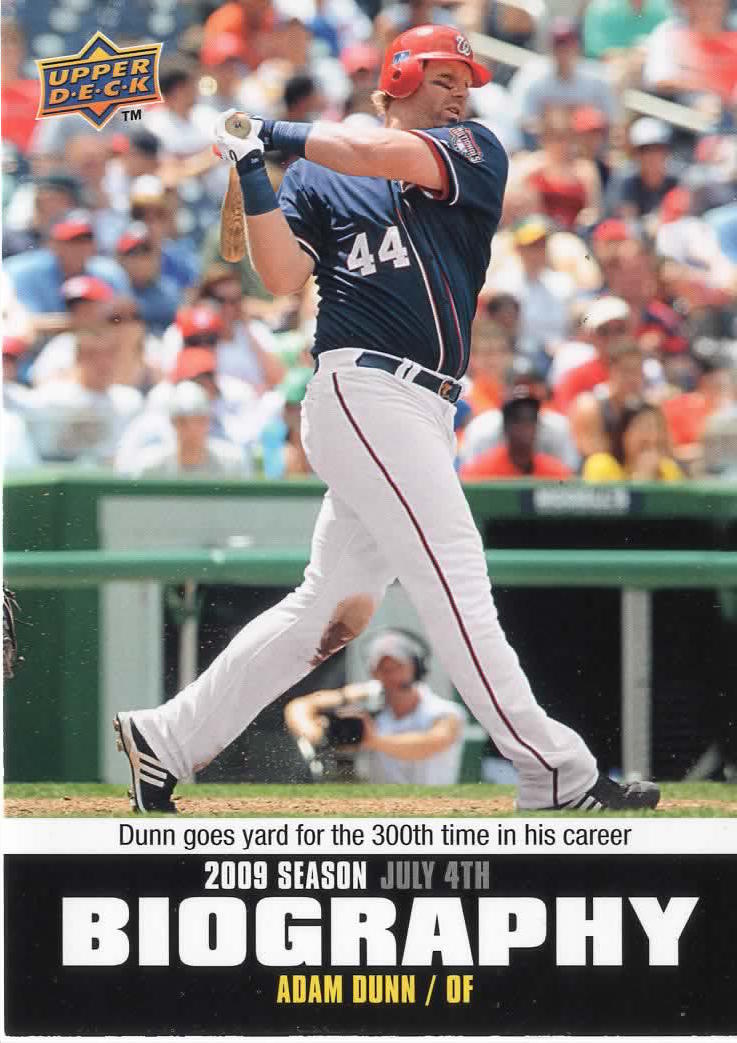 July 4, 2009: Adam Dunn's 300th career home run leads Nationals comeback win
---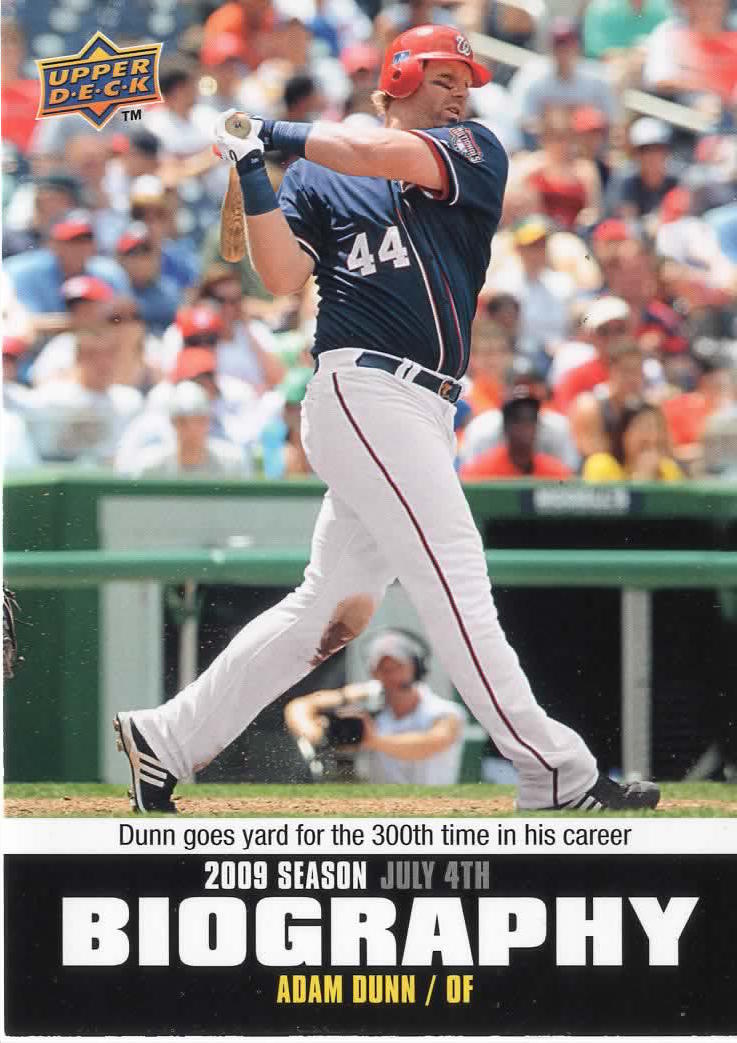 The Fourth of July is a halfway point between the opening day of the baseball season and the last game of the regular season. History teaches us that the pairing of Independence Day and baseball is a vibrant part of the American fabric. John Adams, a founding father and signer of the Declaration of Independence, wrote to his wife, Abigail, in 1776, "I am apt to believe that it will be celebrated by succeeding Generations, as the great anniversary Festival. It ought to be solemnized with Pomp and Parade, with Shows, Games, Sports, … from this Time forward forever more."1 Looking at the earliest days of the game, SABR author Patricia Millen captured the July 4, 1862, festivities at the Salisbury (North Carolina) Prison Camp where the Union soldiers enjoyed "music, a reading of the Declaration of Independence, sack races and footraces along with a greased-pig-catching contest and a baseball game."2
In 1929, Washington Post sportswriter Frank Getty observed, "Old Mr. McGillicuddy's diligent young men are in the spot customarily occupied by pennant winners on Independence Day."3 Getty was referring to Connie Mack's4 Philadelphia Athletics, who were well on their way to winning the American League pennant. They swept a Fourth of July doubleheader from the last-place Boston Red Sox to remain 9½ games ahead of the New York Yankees. While author Paul Dickson acknowledges that the Fourth of July is "a standard landmark for measuring a team's success," he notes that teams in first place on that date actually win their divisions less than half the time.5
Baseball history is dotted with great moments that occurred on the Fourth of July.6 In 1939, third baseman Jim Tabor helped the visiting Red Sox sweep a doubleheader with his own fireworks against the Philadelphia Athletics. SABR author Mike Huber wrote of Tabor's slugging in the second game in which he hit three home runs, including two grand slams.7 Tabor's entire day totaled 4 home runs, 11 RBIs, and 19 total bases. However, that day is best remembered for one of baseball's most emotional moments, Lou Gehrig's farewell speech at Yankee Stadium. His number-4 Yankee jersey was retired, making Gehrig the first player in major-league baseball to be so honored.
As Washingtonians prepared for the 2009 celebration of the Fourth of July, there was no mistaking their team for a pennant contender. The Nationals (23-55) were in last place in the National League East Division, 15½ games behind the fourth-place New York Mets. But by that date Nationals left fielder Adam Dunn had accumulated 299 career home runs, so the 23,708 fans at the game hoped that he could duplicate the Fourth of July 2008 feat of Albert Pujols. Pujols hit his 300th career home run in front of Cardinals fans on that day.
The pitching matchup brought the Nationals' John Lannan (5-5, 3.45 ERA) to the mound to face the Braves' Tommy Hanson (4-0, 2.48 ERA). Lannan debuted for the Nationals in July 2007 and pitched exclusively as a starter. His performance for a last-place team was certainly admirable. In his first 48 starts in the major leagues through May 2009, he made it into the eighth inning exactly once. Yet, he had pitched into the eighth inning in three of his last five starts. On the other hand, Hanson was less than one month into his major-league career and a winner in four of his five starts.
For six innings, it appeared that the Nationals were well on their way to a fifth consecutive loss. The Braves scored their first run in the third inning. Brooks Conrad singled to center and was sacrificed to second by Hanson. Nate McLouth singled to center for the RBI. In the top of the sixth inning, McLouth worked a leadoff walk and advanced to third base on Martin Prado's double. Consecutive singles by Chipper Jones and Garret Anderson stretched the Braves' lead to 3-0.
Meanwhile, Tommy Hanson sailed through six innings, "holding the team to two hits [Nick Johnson and Anderson Hernandez], flipping between a bending slider and a mid-90s fastball, and at one point penning 16 straight batters within the infield."8 When he took the mound in the bottom of the seventh inning, he had thrown 26 consecutive scoreless innings, but this start was now the longest of his short, six-start career.
Adam Dunn was the leadoff batter in the seventh during his rather uneventful afternoon to this point, having flied out to left in the first inning and walked in the fourth. That changed when Dunn hit Hanson's 2-and-2 fastball, a moon shot9 to the upper deck in right field, for his 22nd home run of the season and the 300th of his career. The Nationals' mood seemed to change. "After the seventh inning," Lannan said, "I told Dunn that we were going to win this game. I knew we were going to come back and win."10 Lannan did his part in the eighth, retiring the Braves with the help of the Nationals' fourth double play of the afternoon.
In the bottom of the eighth inning, reliever Mike Gonzalez took the mound for the Braves and promptly loaded the bases, yielding a single and two walks. Peter Moylan replaced Gonzalez and Ryan Zimmerman singled to center, scoring Ronnie Belliard and Josh Bard to tie the score, 3-3. Braves manager Bobby Cox remembered the seventh inning when Dunn came to the plate, so he countered with lefty reliever Eric O'Flaherty. Dunn hit O'Flaherty's first pitch up the middle to score Nick Johnson and advance Zimmerman to second base. Josh Willingham singled to left, scoring Zimmerman, to finish the Nationals' scoring at 5-3. The Braves ninth inning was left for Mike MacDougal to get his fourth save, preserving Lannan's sixth win.
For the afternoon, Dunn had added the game-winning hit to his personal career milestone of 300 home runs. He was clear in a postgame interview. "I mean, I would give back every single home run if we could be whatever our record is, but flipped-flopped. And I mean that from the bottom of my heart. Winning is everything in this game. Period."11 Nonetheless, Adam Dunn joined 122 other members in the 300-home-run club with only 13, including Dunn, having joined before reaching the age of 30.
There were other great moments for Dunn over the two years he spent as a Washington Nationals fan favorite on a team all too familiar with losing. On June 8, 2010, the atmosphere was electric at Nationals Park, when Dunn hit the game-winning home run in Stephen Strasburg's 14-strikeout major-league debut against the Pittsburgh Pirates.12 During those two years, only Albert Pujols and Prince Fielder hit more home runs than Dunn's 76.13 In the last week of the 2010 season, the Nationals offered Dunn a three-year contract worth roughly $35 million. It was not enough. In December 2010, he signed a four-year, $56 million contract with the Chicago White Sox.14
When Adam Dunn retired after the 2014 season, he was the king of the Three True Outcomes (TTO), a measure of walks, strikeouts, and home runs. "Recent statistical analysis has attached particular significance to these three categories in measuring a pitcher's ability, since on all other plays it becomes problematic to determine whether pitching or fielding is responsible for the result."15 Dunn's career statistics included 462 home runs (35th all-time), 1,317 walks (40th) and 2,379 strikeouts (third). He had produced a TTO event in 49.93 percent of his career plate appearances, the highest rate of any player with at least 4,000 plate appearances.16 On this Fourth of July afternoon, Dunn's milestone-setting TTO event in the seventh inning produced a most satisfying outcome for Nationals fans.
Author's note
The engaging Adam Dunn was introduced to the history of "monster shots"17 in Washington when the Cincinnati Reds paid their first visit to RFK Stadium in 2005 during the Nationals' inaugural season. Dunn was hanging around the batting cage before the game and got into a conversation with local radio/television sports-talk host Phil Wood, who was asked about the seats in the upper deck that were painted white. Wood responded, "That's where some of Frank Howard's home runs landed back in the day." He looked at me and said, "Where was home plate – at second base?"18 On this day, the ball leaving Adam Dunn's bat was viewed from Section 207 as its full flight trajectory carried it to the upper reaches of Section 239, 15 rows up.19
Sources
In addition to the sources cited in the Notes, the author accessed Baseball-Reference.com and Retrosheet.org.
https://www.baseball-reference.com/boxes/WAS/WAS200907040.shtml
http://www.retrosheet.org/boxesetc/2009/B07040WAS2009.htm
Notes
1 Charlie Bevis, Doubleheaders: A Major League History (Jefferson, North Carolina: McFarland & Company, 2011), 16.
2 Patricia Millen, "July 4, 1862: The Civil War POW Game," SABR Baseball Games Project. Originally published in Bill Felber, ed., Inventing Baseball: The 100 Greatest Games of the 19th Century (Phoenix: Society for American Baseball Research, 2013), 36-38.
3 Peter Morris, A Game of Inches: The Stories Behind the Innovations That Shaped Baseball (Chicago: Ivan R. Dee, 2006), 572. Quote from Frank Getty, Washington Post, July 5, 1929.
4 Connie Mack was born as Cornelius Alexander McGillicuddy. As Doug Skipper notes in Mack's SABR biography, many McGillicuddys became known as Macks except in legal documents.
5 Paul Dickson, The Dickson Baseball Dictionary, 3rd Edition (New York: WW Norton & Company, 2009), 343.
6 Josh Schoch, "MLB's 13 Greatest/Most Memorable 4th of July Moments," BleacherReport.com, July 3, 2013, accessed February 12, 2018, https://bleacherreport.com/articles/1689430-mlbs-13-greatestmost-memorable-4th-of-july-moments.
7 Michael Huber, "July 4, 1939: Boston's Jim Tabor hits two grand slams at Shibe Park," SABR Baseball Games Project.
8 Chico Harlan, "Dunn's 300th Sparks Nats to a Victory," Washington Post, July 5, 2009.
9 Dickson, 553. "A home run, especially one hit for a long distance. … The term came into popular use in the wake of the National Aeronautics and Space Administration's Apollo missions to the moon."
10 Ibid.
11 Ibid.
12 Steven C. Weiner, "June 8, 2010: Stephen Strasburg Strikes Out 14 in MLB Debut," SABR Baseball Games Project.
13 Adam Kilgore, "Adam Dunn Agrees to Deal with White Sox," Washington Post, December 23, 2010.
14 Ibid.
15 Dickson, 869.
16 Jay Jaffe, "The King of the Three True Outcomes, Adam Dunn, Calls It a Career, Sports Illustrated, October 1, 2014, accessed February 17, 2018, https://si.com/mlb/2014/10/01/adam-dunn-retires-three-true-outcomes-oakland-athletics.
17 Dickson, 553. "A home run of major proportions; a tremendous home run, high into the upper stands or out of the ballpark."
18 Phil Wood, email to author, February 10, 2018. (Note: Adam Dunn finally hit his first home run at RFK Stadium in the Reds' last game there, on August 2, 2007. That home run came off Nationals pitcher Mike Bacsik who, five days later, yielded Barry Bonds' 756th home run in a game in San Francisco.)
19 Harlan.
Additional Stats
Washington Nationals 5
Atlanta Braves 3
---
Nationals Park
Washington, DC
Box Score + PBP:
Corrections? Additions?
If you can help us improve this game story, contact us.
Tags
https://sabr.org/sites/default/files/Dunn-Adam-2009_0.jpg
600
800
admin
/wp-content/uploads/2020/02/sabr_logo.png
admin
2018-03-22 12:54:11
2020-04-17 13:34:03
July 4, 2009: Adam Dunn's 300th career home run leads Nationals comeback win