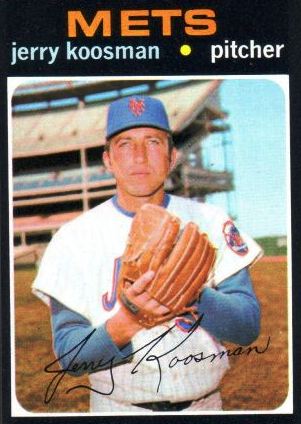 October 18, 1973: Koosman, McGraw combine for shutout as Mets take 3-2 lead in World Series
---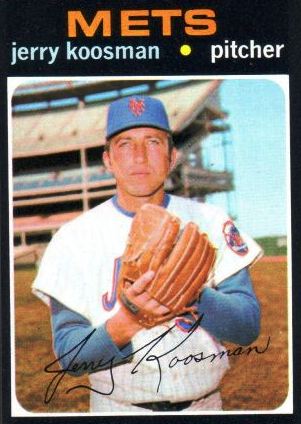 After alternating losses in Games One and Three with wins in Games Two and Four, the New York Mets entered the final game to be played at their home venue with an aim to break that pattern and to take the lead in the World Series. It was a "dark and wintry evening"1 in New York City on October 18, 1973, when 54,817 fans packed Shea Stadium to watch a rematch between Game Two starters Jerry Koosman and Vida Blue. Neither lefty had received a decision in that contest, but Koosman's outing had been particularly short as he had surrendered three runs in only 2 1/3 innings. On this night, Koosman redeemed himself by pitching 6-1/3 innings of shutout ball before turning the mound over to the ubiquitous Tug McGraw. Of his sterling performance in sub-50-degree weather, Koosman simply observed, "It helps to come from Minnesota."2 It also helped the Mets in their quest to become the most unlikely World Series championship team in major-league history.3
Koosman breezed through the first two innings, allowing only a harmless two-out walk to Sal Bando in the first, before the Mets provided all of the run support their pitchers would need on this night. Cleon Jones, who had smashed a home run against Blue in Game Two, led off the bottom of the second inning. Jones was still ailing from the flu that had caused him to exit the previous night's game after seven innings, but he found the strength to stroke a double that sailed over left fielder Joe Rudi's head. John Milner came to the plate and promptly slashed a single to right field to drive in Jones for a quick 1-0 Mets' lead. After this rocky start, Blue buckled down to retire the next three batters.
In the top of the third inning, Koosman displayed his tenacity when he made sure that A's speedster Bert Campaneris, who had reached base on a two-out single, would not get into scoring position via a stolen base by picking him off at first. Koosman explained, "I mixed up my moves to first base . . . a head fake, then a foot fake, anything to prevent Campaneris from detecting a pattern."4 He finally caught Campaneris "still standing 10 feet away" from first with his third pickoff attempt.5 The A's protested that Koosman had balked, but home-plate umpire Russ Goetz disagreed and the pickoff play ended Oakland's half of the inning.
The next scoring opportunity for either team came in the bottom of the fourth inning when Rusty Staub and Jones led off with back-to-back singles for the Mets. Milner attempted a sacrifice bunt, but Blue fielded the ball and threw it to Bando to force out Staub at third base. Jerry Grote fouled out, but then Campaneris mishandled Don Hahn's grounder and the bases were loaded with Mets. Blue escaped the jam unscathed when Bud Harrelson hit a pop fly to first baseman Gene Tenace for the third out.
After Koosman cruised through the top of the fifth, Blue experienced another scare in the bottom of the frame. Wayne Garrett drew a one-out walk, advanced to second when Blue uncorked a wild pitch while facing Felix Millan, and then reached third on Millan's grounder to Tenace. Once again, however, Blue kept the Mets from doing further damage as Staub hit a grounder to Campaneris for the final out of the inning.
The A's finally got a runner into scoring position in the top of the sixth. After Blue struck out to open the inning, Campaneris reached first via a base on balls. Rudi hit a foul fly that Mets backstop Grote caught for the second out before Bando reached base on an error by Garrett at third. Koosman remained as cool as the weather and induced a grounder from Reggie Jackson to Harrelson, who fielded the ball and stepped on second to get the force on Bando.
Jones led off the bottom of the sixth and, just as he had done in the second inning, smashed a ball that looked like it would go over Rudi's head in left field. This time around, Rudi made what was described as "perhaps the best defensive play of the first five games . . . as he raced back to his right and made a leaping, one-handed catch of the ball as he crashed into the screen."6 Blue likely breathed a sigh of relief, but he was soon in trouble again. After Milner grounded out, Grote hit a single and scored on Hahn's triple into the gap in left-center field. The Mets now led 2-0, and Blue's night was at an end as Darold Knowles entered the game in relief for Oakland.
Of all the members in the Mets' anemic lineup, Hahn was the least-likely candidate to power the team to an insurance run. He had batted only .229 with 10 doubles and two homers over 93 games with New York after beginning the season with Tidewater at the Triple-A level. Hahn identified what he believed were the two reasons for his successful at-bat against Blue. The first, he said, was that "The other day, Bud Harrelson pointed out that I was too tense at the plate, so I loosened up and I'm getting back my confidence."7 He also asserted, "Late in the season, I was pulling pitches, but earlier I was hitting to right field. The A's may not have watched me late in the season because they were playing me as a right-field hitter."8
With Hahn on third base, Knowles intentionally walked Harrelson to face Koosman, whom he struck out to quash the Mets' scoring threat.
Koosman returned to the mound in the top of the seventh and got into his first real jam of the game. He walked Tenace, the leadoff batter, and then surrendered a one-out double to Ray Fosse that put A's runners on second and third. Mets manager Yogi Berra called to his bullpen and brought in McGraw for the fourth time in five World Series games.
McGraw flirted with disaster by walking Deron Johnson to load the bases, but he then got pinch-hitter Angel Mangual — batting for Knowles — to pop out to shortstop and struck out Campaneris to preserve the two-run lead. Campaneris was caught off-guard by a Mets' pitcher for the second time on this night. McGraw revealed, "I got that called third strike with a fastball . . . I made it look like a screwball, hoping he'd think it was one, and I guess he did."9 As he ran off the mound after whiffing Campaneris, McGraw noticed that New York City Mayor John Lindsay was holding up a sign with the Mets' McGraw-inspired battle cry "Ya Gotta Believe" on it. "When I saw him," McGraw said later, "I just yelled, 'Yeah, you gotta believe.'"10
McGraw had originated the "Ya Gotta Believe" battle cry as a response to a locker room speech by Mets' owner M. Donald Grant in which Grant asserted, "We believe in you guys, every single one of you." The Mets had not been playing well, and teammates like Harrelson and Garrett believed that McGraw was mocking Grant when he yelled out, "Aaaaahhhh, ya gotta believe." Teammates urged McGraw to apologize to the owner, and he did; however, he still began to shout "Ya Gotta Believe" every time something positive happened for the Mets. Although fellow reliever Buzz Capra initially referred to the phrase as "that 'Gotta Believe' crap," starting pitcher Jon Matlack conceded that McGraw's enthusiasm and motto soon "spread like wildfire."11
McGraw pitched the eighth and ninth innings to earn the save and put an exclamation point on both the Mets' win and his own performance by striking out the final two A's batters of the game, Ted Kubiak and pinch-hitter Billy Conigliaro. He also declared that he would be ready to pitch again in Game Six, if needed, saying, "I got all winter to rest."12
The Mets now had a one-game edge in the series. However, though they believed in themselves, so did the A's. Bando, who was Oakland's team captain, asserted, "We never do anything easy. We never have. Now we just have to win two games."13 The A's did indeed win Games Six and Seven, by scores of 3-1 and 5-2, thus claiming their second consecutive World Series championship and putting an end to the idea that the 1973 "Ya Gotta Believe" Mets could pull off the same feat as the "Miracle" Mets had against the Baltimore Orioles in 1969.
This article was published in "Met-rospectives: A Collection of the Greatest Games in New York Mets History" (SABR, 2018), edited by Brian Wright and Bill Nowlin. To read more articles from this book at the SABR Games Project, click here.

Notes:
1 Joseph Durso, "Mets Beat A's, 2-0, Lead World Series by 3 Games to 2," New York Times, October 19, 1973: 1.
2 Lowell Reidenbaugh, "Hahn's Triple Trips Up A's; Mets Go Ahead in Series," The Sporting News, November 3, 1973: 8.
3 The Mets had a season record of 82-79, which is still the worst-ever ledger for a World Series competitor. The 2006 St. Louis Cardinals came within one game of that mark with a record of 83-78. Unlike the 1973 Mets, however, the Cardinals managed to win their World Series against the Detroit Tigers, thus becoming the championship team with the worst regular-season record in major-league history.
4 Reidenbaugh, 8.
5 Durso, 28. There is a minor discrepancy in the news reports as to how many throws to first Koosman made before he successfully picked off Campaneris. Durso reported that Koosman caught the runner on his third throw while Reidenbaugh reported that the pickoff occurred on a fourth throw; of primary importance, of course, is the fact that the pickoff occurred at all.
6 Reidenbaugh, 16.
7 Reidenbaugh, 8.
8 Ibid.
9 Dave Anderson, "McGraw Wins Guess Game," New York Times, October 19, 1973: 29.
10 Ibid.
11 The descriptions of incidents and the quotes included in this paragraph are all from the following source: Matthew Silverman, Swinging '73: Baseball's Wildest Season (Guilford, Connecticut: Lyons Press, 2013), 122-23.
12 Anderson, 29.
13 Leonard Koppett, "A's Are in a Precarious Spot, But Confidence Hasn't Sagged, New York Times, October 19, 1973: 28.
Additional Stats
New York Mets 2
Oakland Athletics 0
Game 5, WS
---
Shea Stadium
New York, NY
Box Score + PBP:
Corrections? Additions?
If you can help us improve this game story, contact us.
Tags
http://bioproj.sabr.org/bp_ftp/images4/KoosmanJerry.jpg
600
800
admin
/wp-content/uploads/2020/02/sabr_logo.png
admin
2019-10-15 14:35:51
2020-04-17 13:33:56
October 18, 1973: Koosman, McGraw combine for shutout as Mets take 3-2 lead in World Series