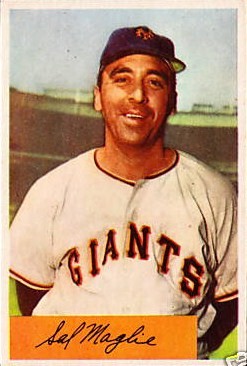 July 6, 1954: The Barber trims the Bums again
---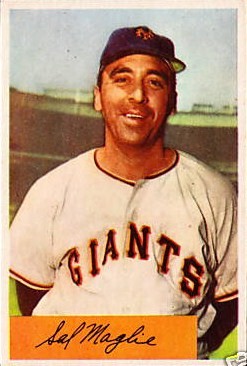 Salvatore Anthony Maglie came by his nickname, "Sal the Barber," honestly. His fastball, delivered high and hard but with control, made him one of the most feared pitchers in the first half of the 1950s. Maglie had learned the art of intimidation from Dolf Luque, first for Cienfuegos in the Cuban Winter League in 1946, and then with the Puebla Parrots when he jumped to the Mexican League in 1946 & 1947. "Luque took a good look at Sal — his unusual height, his black eyes, thick eyebrows and heavy beard — and saw a man who, with a little effort, could look thoroughly threatening."1 looks can be deceiving. "He isn't tough at all. He lets his beard grow before a game so he'll look fierce. I used to wonder what people were talking about when they said he scowled ferociously at the batters. Then I stayed home one day and watched him on TV. I hardly knew him," said his wife, Kathleen.2
But it wasn't just the look. "Luque further insisted that for a pitcher to own the strike zone he absolutely had to learn to throw high-inside, not just a little bit high and inside, now and then, but often, and close enough to the batter's head that the man could feel the breeze from the ball, hear it hiss past his ears," wrote Maglie's biographer Judith Testa.3 But Maglie had control of his weapon — only once in his career was he in the top 10 in hitting batters. His business was intimidation, not destruction.
The Brooklyn Dodgers were all too familiar with the business side of Maglie. Since becoming a regular starter for the Giants in 1950 after returning from being banned for jumping to the Mexican League, Maglie had his way with Brooklyn's Bums, winning 20 of 27 decisions before his July 6, 1954, start at Ebbets Field. "Maglie may never get to Cooperstown except by automobile but, in good times and bad, he is rough on the Dodgers," said columnist Tommy Holmes.4 Maglie had already bested the Dodgers twice in 1954, winning the season opener on April 13 at the Polo Grounds, and the Giants' return visit on the 18th. He missed a chance for a third win against the Dodgers on June 29, taking a shutout into the ninth inning before surrendering a game-tying home run to Roy Campanella with two out. The Giants eventually won that game, 4-3 in 13 innings.
Facing Maglie and the Giants this day was Dodgers veteran Preacher Roe. Roe was nearing the end of his career, but was 3-2 for the season so far after winning his last start, on June 27 against the St. Louis Cardinals.5 The Giants entered the game with a 3½-game lead on Brooklyn, aided by a three-game sweep that started with the extra-inning game on June 29. A crowd of 33,616 filled Ebbets Field, the largest of the season and most since a July 4, 1951, doubleheader, to see if the Dodgers could cut into that lead.
The Dodgers got off to the start they wanted, but could not finish Maglie off. Roe worked around a leadoff walk in the top of the first, and the Dodgers had two on the board before Maglie recorded an out. Jim Gilliam led off the inning with a single to right, and the recently called up Walt Moryn walked, moving Gilliam to second. Moryn was a sensation for the Dodgers. Called up on June 29, he was hitting .480 through his first eight games, including a home run and five hits in a doubleheader on July 5. "How can I take him out?" Dodgers manager Walter Alston wondered.6 When Duke Snider's double to left-center plated both Gilliam and Moryn, Maglie was officially on the ropes, bringing a visit to the mound from Giants manager Leo Durocher. "When I walked out there," said Durocher, "I asked Sal if he felt all right and he said, 'I haven't got anything.' But I gave him a pep talk. I told him 'Go ahead, stay in.' If the next man got a hit, I would have taken him out."7
The next man was Jackie Robinson, and he was just what Maglie needed. Robinson had gone 16 at-bats without a hit, and couldn't solve The Barber now, tapping a grounder to Maglie for the first out. "I can't understand it," said Robinson. "I've never been like this. I'm swinging good but I'm hitting terrible."8 Gil Hodges followed Robinson with a bloop to second that Giants second baseman Davey Williams caught and doubled off Snider at second, and the Dodgers had to settle for two runs.
Roe had faced the minimum through three innings, striking out four, but would unravel in the fourth frame. Whitey Lockman started the inning with a single to right, and two pitches later Alvin Dark tied the game with his sixth home run of the year, into the left field stands. Roe settled for a moment and struck out Hank Thompson, but Willie Mays, named to his first All-Star Game earlier in the day, hit his 27th homer, also to left, and the Giants had a lead they would not relinquish. The rattled Roe gave up singles to Don Mueller and Monte Irvin, and his evening was done. Bob Milliken replaced Roe and got Williams and Wes Westrum to end the third.
As Roe gave up the lead, Maglie became the pitcher the Dodgers were used to seeing. After he gave up two harmless singles in the next three innings, the Dodgers had a small threat, getting the tying run to second with two out in the fifth, but Maglie got Snider to ground out to end the inning. The Giants doubled their advantage in the top of the seventh inning when Irvin hit his 12th homer of the year to lead off the inning. "Monte was the big thing for us," said Durocher with a grin. "It's about the first time he really hit the ball well."9 Maglie continued to frustrate the Dodgers, especially Robinson, who did not get the ball out of the infield in four at-bats. After the game, Robinson bristled: "Did Maglie fool me? No, he didn't fool me."10 Durocher appreciated catching Robinson in a slump, saying, "I sure hope Robinson's in a slump. He scares me whether he gets a hit or not. He's quite a ballplayer."11
The Giants added an insurance run in the ninth when Williams's one-out single scored Mueller, who had doubled to lead off the inning, and for a moment it appeared that this would be an important run. Maglie was going for his fifth complete game of the year, but consecutive singles by Hodges, Campanella, and Carl Furillo loaded the bases with no one out. Durocher now needed to go to his bullpen and brought in Marv Grissom. Grissom had been an asset out of the bullpen for Durocher in 1954, and had an ERA of 2.00 and nine saves to that point in the season.12 Durocher made the correct choice, with Grissom the pinch-hitting George Shuba on a short fly to right, striking out Rube Walker, and inducing a game-ending groundout from Gilliam. The win increased the Giants lead to 4½ games, and improved Maglie's record against the Dodgers to 21-7, including 10-0 at Ebbets Field. His undefeated streak at Ebbets ended when he took the loss in a 9-1 Dodger victory on July 26. Maglie would be claimed off waivers by the Cleveland Indians in July 1955 then sold to the Dodgers in 1956. He would beat the Giants twice in his Dodger tenure, but never at Ebbets Field.
Sources
In addition to the sources listed in the notes, the author accessed Retrosheet.org, Baseball-Reference.com, SABR's BioProject via SABR.org, The Sporting News archive via Paper of Record, the New York Times archives, and the Chicago Tribune and Brooklyn Daily Eagle via newspapers.com.
Baseball-Reference: baseball-reference.com/boxes/BRO/BRO195407060.shtml
Retrosheet: retrosheet.org/boxesetc/1954/B07060BRO1954.htm
Notes
1 Judith Testa, Sal Maglie, Baseball's Demon Barber (DeKalb, Illinois: Northern Illinois University Press, 2007), 46.
2 Joseph Durso, "Sal Maglie, Star Pitcher of the 1950's, Dies at 75," New York Times, December 29, 1992. nyti.ms/29mkK0l.
3 Testa, 47.
4 Tommy Holmes, "Maglie Means Nothing but Misery to Flock," Brooklyn Daily Eagle, July 7, 1954: 20.
5 The June 27 victory against the Cardinals was the 127th and last of his career.
6 Dave Anderson, "Moran Earns Starting Post Tonight," Brooklyn Daily Eagle, July 6, 1954: 13.
7 Dave Anderson, "Batting Slump Baffles Robinson," Brooklyn Daily Eagle, July 7, 1954: 20.
8 Ibid.
9 Dave Anderson, "Leo Psychic About Giving Maglie the Thumb at the Right Time," Brooklyn Daily Eagle, July 7, 1954: 20.
10 Dave Anderson, "Batting Slump Baffles Robinson."
11 Ibid.
12 The save became an official statistic in 1969. en.wikipedia.org/wiki/Save_(baseball).
Additional Stats
New York Giants 5
Brooklyn Dodgers 2
---
Ebbets Field
Brooklyn, NY
Box Score + PBP:
Corrections? Additions?
If you can help us improve this game story, contact us.
Tags
http://bioproj.sabr.org/bp_ftp/images2/MaglieSal.jpg
600
800
admin
/wp-content/uploads/2020/02/sabr_logo.png
admin
2018-05-31 12:15:01
2020-04-17 10:24:46
July 6, 1954: The Barber trims the Bums again