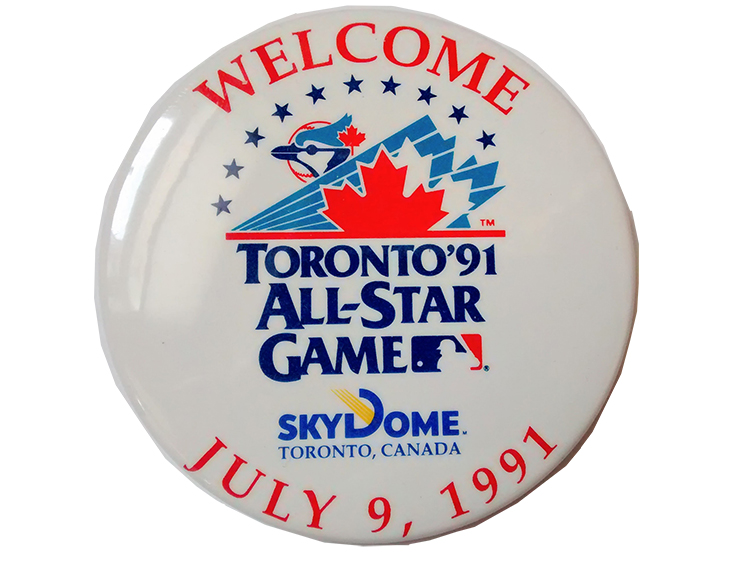 July 9, 1991: AL prevails as Toronto hosts All-Star Game and inaugural FanFest
---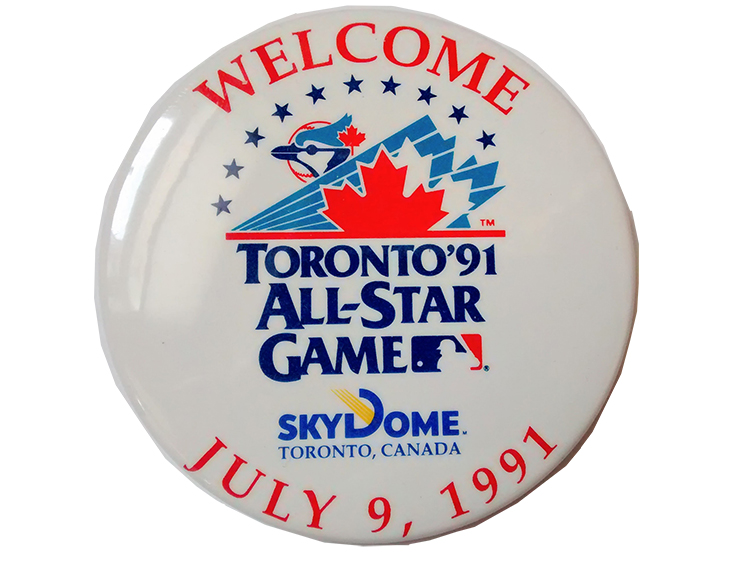 In spring training, newly acquired Toronto Blue Jays outfielder Joe Carter shared a goal he wished to achieve in 1991 that so far had eluded him. "I'd like to make [the All-Star team], especially with the game in Toronto. Everybody wants to be an All-Star. A lot of guys don't make it and it's not because they're not good enough."1
Carter's .302 first-half batting average was good enough to lead all Blue Jays and he ranked fourth best in the league in both home runs and RBIs, good enough for his wish to come true when he was selected as an All-Star reserve. Teammates Jimmy Key and Roberto Alomar and manager Cito Gaston joined him on the AL All-Star team.
As the best of both leagues descended on Toronto for the All-Star break, the city would also be the testing ground for a new five-day venture known as "All-Star FanFest."
"What we're trying to do is combine the best aspects of entertainment and sports. Baseball's been thinking about doing this kind of show for a couple of years now, and it's kind of nice that the first one will be in Toronto, said project director Drew Sheinman. "The whole event is baseball but it really will be personalized to Toronto and Canada, because that's where the game is."2
Housed inside Metro Toronto Convention Centre, mere steps from SkyDome, FanFest attendees walked through a re-created All-Star clubhouse and diamond, soaking in the sights and sounds of a ballpark. They saw more than 150 artifacts on loan from the Hall of Fame plus caps, jerseys, and food from around the majors and international leagues. Fans took cuts in batting cages, had their fastball measured by a radar gun and watched artisans create bats, balls, and gloves from raw materials. Collectors bought, sold, and traded baseball cards and memorabilia with vendors.
Most importantly, 53 former players and managers appeared for autograph sessions, among them Ferguson Jenkins, FanFest honorary chairman and Canada's first-ever Hall of Fame inductee.3
With US President George H.W. Bush and Canadian Prime Minister Brian Mulroney looking on, even more baseball royalty walked onto the SkyDome field during pregame ceremonies. AL honorary captain Rod Carew and NL honorary captain Henry Aaron welcomed Ted Williams and Joe DiMaggio at home plate to commemorate the 50th anniversary of their great 1941 achievements: the Splendid Splinter's All-Star Game-winning home run and .406 batting average and the Yankee Clipper's 56-game hitting streak.
The six-man umpiring crew took their positions and dedicated the game to wounded colleague Steve Palermo, shot three nights earlier outside a restaurant while helping two women who were being mugged.4 "I must confess, our thoughts are really in Dallas. He is still guarded. We still don't know much about his recovery time. We hope it will be brief," said AL President Bobby Brown.5
Finally, after a ceremonial first pitch from Jenkins, NL leadoff batter and seven-time All-Star Tony Gwynn, possessor of four batting titles and the majors' highest average at the break, opened the 62nd All-Star Game with a trademark opposite-field single to left off Jack Morris. With one out, Will Clark singled to right off the glove of a diving Alomar, and Gwynn, running on the pitch, moved to third. Bobby Bonilla then lined a pitch off the outside of Morris's right foot, knocking the pitcher down as Gwynn scored. Morris stayed in the game and limited the damage by getting Andre Dawson to bounce into an inning-ending 5-4-3 double play.
When Morris exited after two innings to have his foot examined at a local hospital, Key emerged from the AL bullpen to the sound of air horns and cheers from 52,383 fans. The veteran left-hander threw 15 pitches (9 strikes), stranding Ryne Sandberg (one-out double) on third base when he got Bonilla to chase an outside fastball for an inning-ending strikeout. "It was great to pitch in our home park in front of our home fans," Key said. "Yesterday I was overwhelmed just to see all these stars on my team. But today when I came out to the park I was more comfortable with it."6
In the bottom of the third, Dennis Martinez relieved NL starter Tom Glavine and gave up a single to center field by Rickey Henderson and an infield single to Wade Boggs. Up stepped Cal Ripken Jr. The first-half AL leader in hits and batting average, Ripken was also in the top 10 in on-base percentage, runs scored, and home runs. He had belted 12 long balls to win Monday's Home Run Derby, and followed up with a first-inning single in this game. Ripken slammed a hanging curveball just to the left of the batter's eye in center field for a three-run home run, giving the AL a 3-1 lead. "I've been swinging the bat very well as of late," Ripken said. "I hit the ball very hard tonight and I was pretty sure the home run was out. I usually hit the ball very well at SkyDome."7
To the delight of Toronto fans, Joe Carter replaced Rickey Henderson in left field to start the fourth inning, meaning all three Blue Jays on the AL roster would play in their home ballpark. The senior circuit got a run back when Dawson demolished a low fastball from Roger Clemens to dead-center, 434 feet away, the first NL All-Star home run since 1984.
Facing Jack McDowell in the sixth inning, the NL attempted to chip away some more. McDowell walked Clark to open the frame, then Bonilla lined a single to center, his second hit of the night. Félix José, who substituted for Dawson in right field, hit a grounder in the hole between first and second. Cecil Fielder gloved it and had only one play, throwing to second to force out Bonilla, putting runners at the corners. Paul O'Neill pinch-hit for starting left fielder Iván Calderon and hit a slow chopper to Fielder. The big first baseman fired the ball home and in a much lower-impact collision than Pete Rose–Ray Fosse 21 years earlier, Clark slid hard through catcher Carlton Fisk's legs but was tagged out, preserving the one-run lead.8
Sparked by Carter's leadoff single in the seventh, the AL tacked on an insurance run. He moved to second when Craig Biggio committed catcher's interference, allowing Paul Molitor to reach first base. Pinch-hitter Ozzie Guillen sacrificed both runners into scoring position, then another pinch-hitter, Rafael Palmeiro, was intentionally walked to load the bases. Harold Baines came up and came through, lining out to right for a sacrifice fly, scoring Carter to give the AL a 4-2 lead.
There was one last moment of noisemaking for Toronto fans in the ninth when George Bell, who left Toronto the previous winter to sign with the Cubs, pinch-hit for Barry Larkin. In 1987 Bell was the first Blue Jay to be an All-Star starter and the first to win the AL MVP Award. In nine years in Toronto, Bell had a love-hate relationship with fans, media, and front office. The catcalls, booing, and whistling began as he walked to the plate and when Oakland closer Dennis Eckersley struck him out on four pitches, sarcastic cheers rose up from the crowd.
It was the 24th All-Star win for the AL and the first time in 42 years that the junior circuit had put together a four-game win streak. For Toronto, it was a storybook night. Alomar, the second Blue Jay voted into an AL All-Star starting lineup, went 0-for-4 and was the only starter at a defensive position to play all nine innings.9 He called the deafening cheers from Blue Jays fans when his name was announced "maybe the happiest moment of my life," adding, "The ovation they gave me was something else."10 Carter walked, singled, and scored and Key earned the win in his home ballpark. "One inning," said Key, knowing that earning the victory was largely due to chance. "Maybe 50 years from now I'll look back and say, hey, I got an All-Star win and nobody will know the circumstances behind it."11
The last time a pitcher picked up an All-Star win in his home ballpark was in 1982, also in Canada, when Steve Rogers started and won at Montreal's Olympic Stadium. Ripken was named All-Star Game MVP and his continued excellence through the remainder of the season earned him the AL MVP Award.12
Perfect weather, an ultramodern ballpark, a competitive game and a who's who of baseball legends in attendance made the 1991 All-Star Game in Toronto a memorable one. Coupled with the successful first FanFest, Major League Baseball stumbled upon the realization that the All-Star break could be more than just a single marquee Tuesday-night game. Indeed, peripheral events leading up to the Game would be mandatory in the future to give avid and casual fans the ultimate All-Star experience.
Sources
Besides the sources cited in the Notes, the author also consulted the Baseball-Reference.com and Retrosheet.org accounts of this game and the CBS Major League Baseball broadcast of the game (CBS Television, Buffalo, WIVB, July 9, 1991).
Notes
Additional Stats
American League 4
National League 2
---
SkyDome
Toronto, ON
Box Score + PBP:
Corrections? Additions?
If you can help us improve this game story, contact us.
Tags
http://sabr.org/sites/default/files/1991-All-Star-button.jpg
600
800
admin
/wp-content/uploads/2020/02/sabr_logo.png
admin
2016-09-27 17:39:03
2020-04-17 10:26:01
July 9, 1991: AL prevails as Toronto hosts All-Star Game and inaugural FanFest