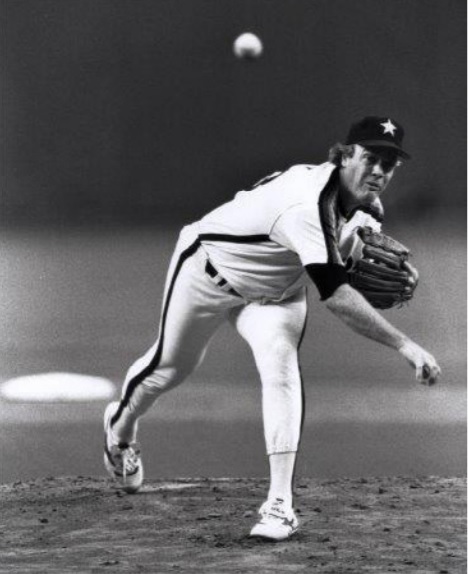 June 8, 1990: Mike Scott strikes out 15 as Astros walk it off in 10th
---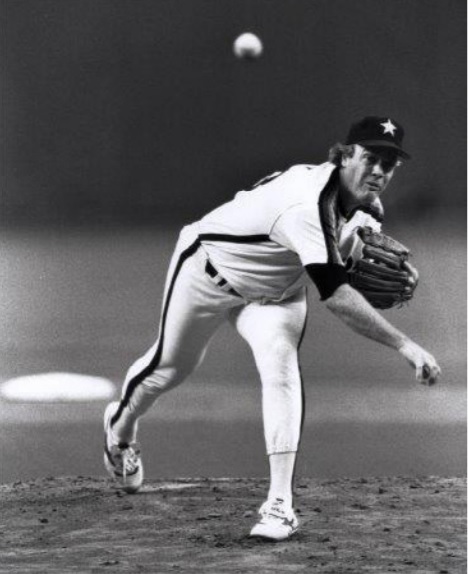 The 1990 season was two months old, and two teams heading in opposite directions began a three-game series on a Friday night at the Astrodome. The Cincinnati Reds had the best record in all of baseball at 34-15. The Houston Astros dwelled in the cellar with the worst record in the National League (20-34), 16½ games behind the Reds. They had lost seven games in a row. But before a crowd of 23,453, the hometown Astros began a significant turnaround. In the bottom of the 10th inning, pinch-hitter Glenn Wilson crushed a three-run home run to preserve a victory for Houston's Mike Scott, who pitched all 10 innings and struck out 15 Cincinnati batters, earning the victory.
As he took the mound, Scott had a surprisingly poor 2-6 record. He had won 20 games the season before, and the Astros knew he had the tools to be successful. In this game, his command and control of pitches was evident early on. He struck out the side in the first inning (all swinging), and then struck out two batters in each of the second and third innings (again, all swinging), setting down the entire Cincinnati lineup in order through three frames. Of Scott's first 30 pitches, 26 were strikes. Opposing Scott was lefty Tom Browning, who entered the game with an unremarkable 5-4 record but an impressive 2.30 ERA. He also struck out the side in the bottom of the first, but allowed a one-out single to Bill Doran. Houston touched Browning for a walk and a single in the bottom of the second, but he struck out two Houston batters. He retired the Astros in order in the bottom of the third, collecting another strikeout. At the end of the third inning, there was no score and fans had already seen 13 strikeouts.
Scott was on auto-pilot. He struck out Chris Sabo looking to lead off the fourth. Billy Hatcher beat out a groundball to third. Hatcher moved to second on a balk but Scott struck out Barry Larkin and got Eric Davis to foul out down the right field line to end any hopes of a threat. For the next several innings, Browning and Scott faced the minimum number of batters. Scott struck out Todd Benzinger swinging in the fifth and again struck out the side, all swinging, in the Reds' sixth. Browning allowed a single to Eric Yelding to lead off the Houston sixth, but picked him off.
Three up and three down went the Reds in the seventh, but Scott did not collect a K, a small moral victory on this night when the 1986 Cy Young Award winner was at his best. Houston mounted a rally in its half with one-out singles by Ken Caminiti and Eric Anthony, but Rafael Ramirez grounded into a 6-4-3 double play to end the inning. Scott chalked up one more strikeout in the top of the ninth, and the game entered extra innings in a scoreless tie. Scott had faced 28 batters through nine innings and allowed one hit, walked none, and struck out 14 Cincinnati batters. Browning had also pitched nine innings, facing 31 batters, allowing five hits and two walks, but no runs.
That set up an exciting 10th inning. Scott returned to the mound. Hatcher grounded out, then Larkin laced a line-drive single to right field. Davis grounded out with Larkin advancing a base. With Paul O'Neill batting, Larkin stole third base. O'Neill walked and Benzinger delivered an RBI single to right field. Scott struck out Mariano Duncan for the third out, but the Reds had taken a 1-0 lead.
Cincinnati manager Lou Piniella pulled a double switch, bringing in Ken Griffey to play first for Benzinger and calling on Randy Myers to relieve Browning. Myers was looking for his 12th save of the season. He struck out Caminiti leading off. Anthony walked and Louie Meadows ran for him. Ramirez hit a groundball single through the left side, and Alex Trevino lifted a fly ball to left-center field, advancing Meadows to third with two outs. This would have brought Scott to the plate, but skipper Art Howe opted instead for pinch-hitter Glenn Wilson, who was batting .226 with just 15 runs batted so far. Myers missed the strike zone on the first two offerings and then Wilson sent the 2-and-0 pitch out of the ballpark for a walk-off win, 3-1.
The 15 strikeouts were a career best for Scott. Fourteen were swinging strikeouts. After the game, he told reporters, "When people are not scoring, the pitching's got to hold the other team down. And when we're struggling, you've got to get some runs. That's just all part of being a team. You've got to pick each other up."1 Scott threw 116 pitches, 90 of them for strikes.
In addition to snapping the losing streak, the walk-off victory started a six-game winning streak. (Houston swept its three-game series with Cincinnati and its next series, with the Los Angeles Dodgers.) Before this stretch of games, Houston had not won more than three in a row all season.2 Before the game, Mike Scott had had only three outings of seven or more innings, with only one win to show for it. The Astros were not scoring runs and Scott wasn't getting people out. After this game, Scott had 12 starts of at least seven innings, winning six and losing three. His earned-run average fell from 5.53 coming into the June 8 game to 3.81 at the end of the season. The last Houston starter to pitch into the 10th inning had been Nolan Ryan, on July 1, 1985, against the San Diego Padres.3
Despite this burst of confidence, Houston went 54-53 over the rest of the season and finished in fourth place in the National League East, but that was better than dead last.
This article appears in "Dome Sweet Dome: History and Highlights from 35 Years of the Houston Astrodome" (SABR, 2017), edited by Gregory H. Wolf. To read more articles from this book at the SABR Games Project, click here.
Sources
In addition to the sources mentioned in the Notes, the author consulted baseball-almanac.com, baseball-reference.com, mlb.com, retrosheet.org, and sabr.org.
"Astros 3, Reds 1," New York Times, June 9, 1990.
Notes
1 Jayne Custred, "Clancy, Scott turn in back-to-back gems," Houston Chronicle, June 10, 1990.
2 The Astros put together another six-game winning streak, in August, but they also suffered two more seven-game losing streaks (one in June, as they were swept by the Reds and Dodgers, and one in July).
3 Jayne Custred, "Scott, Wilson power Astros to 3-1 victory," Houston Chronicle, June 9, 1990.
Additional Stats
Houston Astros 3
Cincinnati Reds 1
10 innings
---
Astrodome
Houston, TX
Box Score + PBP:
Corrections? Additions?
If you can help us improve this game story, contact us.
Tags
https://sabr.org/sites/default/files/ScottMike.jpg
600
800
admin
/wp-content/uploads/2020/02/sabr_logo.png
admin
2018-09-25 13:29:10
2020-04-17 10:23:55
June 8, 1990: Mike Scott strikes out 15 as Astros walk it off in 10th