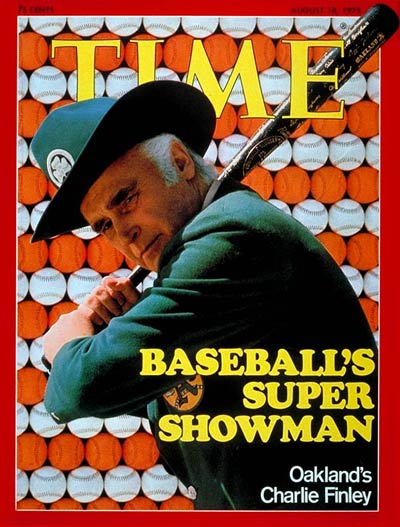 March 29, 1973: MLB experiments with Charlie Finley's orange baseballs
---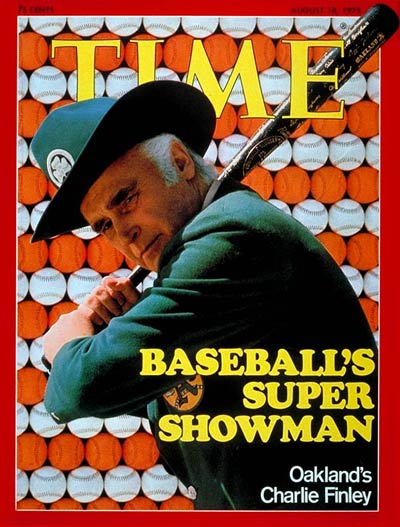 In 1963 Kansas City Athletics owner Charlie Finley proposed the use of orange baseballs as beneficial for players and fans.
Finley, an insurance magnate who'd bought the Athletics three years earlier from the estate of Arnold Johnson, said it was easy for him — and presumably other fans — to lose the ball while tracking it, a problem he also suggested players had, using a key play in the fourth and final game of the 1963 World Series as an example. "Joe Pepitone might not have lost sight of that throw in that final World Series game if the ball had been orange," he said.1
Finley was ill-regarded among other owners, and that idea, like many others he came up with (he also suggested green bats at the 1963 owners meetings2), was ignored. But a decade later, change was in the air — and Finley finally had the juice to make it happen.
The Athletics had moved from Kansas City to Oakland, and thanks to home-grown talent like Vida Blue, Jim "Catfish" Hunter, and Reggie Jackson, had become a powerhouse, winning the American League West in 1971 and winning the World Series the following year, and Finley had become a force to be reckoned with among major-league owners. His Athletics' green and gold uniforms — started in Kansas City — had spawned an outbreak of color among other teams. His vision of night World Series games had come to fruition in 1971. And American League owners approved his idea of a designated hitter for the 1973 season. (It would take another two decades, but another Finley idea was later adopted as well: interleague play.)
The Indians, on the other hand, were a moribund squad. They hadn't been in a real pennant race since 1959, the year before Finley bought the Athletics, and were playing in a decrepit ballpark in a city that at that point was most famous for its river catching fire. In sum, they were the perfect guinea pigs for Finley's latest stunt.
Finley was able to persuade American League and Indians officials to use the balls in a spring-training game on March 29, 1973.
"After a lengthy discussion with Mr. Finley, (owner) Nick Mileti and (manager) Ken Aspromonte, we concluded the idea at least merits further consideration," Indians general manager Phil Seghi said. "The results could be interesting."3
The A's had wanted to use orange balls a week earlier in a nationally televised game against their Bay Area rivals the San Francisco Giants, but National League President Chub Feeney squashed the idea.4
"Hitters will love the shade," Finley said when he was given permission. "But pitchers will not like it — for obvious reasons."5
On March 29, at the Athletics' home field in Mesa, Finley's baseball was used for the first time in front of a crowd that included Commissioner Bowie Kuhn. (Ironically, Finley himself wasn't there for his idea's debut. He was in Chicago, but listened to the game via long-distance telephone.)6
Catfish Hunter took the hill against Indians ace Gaylord Perry, but anyone looking for a pitcher's duel was almost instantly disappointed, as the offensive explosion Finley foretold did, in fact, come to pass, with 27 hits and 16 runs. Six home runs were hit, three by George Hendrick, who'd come to Cleveland just five days earlier with catcher Dave Duncan in a deal that sent Ray Fosse and Jack Heidemann to Oakland.
"I couldn't pick up the spin of the ball," Hendrick said. "Maybe I was just lucky."7
Hendrick couldn't pick up the spin of the ball because the balls were dyed orange — including the stitches, so batters couldn't use them to follow the ball's rotation. Because it was an exhibition, and only a relatively few of the balls were used, Spalding, the manufacturer, dyed the balls, and didn't tan the hides orange and use the familiar red stitches.
"All I can say is what my players told me, and I don't think any of them liked it," Aspromonte said.8
Well, John Lowenstein had no real objection to the ball. "I'm color-blind," he said.9
Perry said the ball was too slippery for him and Hunter, both of whom were forced to rely on breaking balls — to little effect.
"It's not near as slippery as most of the pitches (Perry) throws with the regular ball," Finley said, alluding to Perry's noted history doctoring the ball.10
The orange balls did do one thing Finley promised. They were easier to see. "The orange ball looks like a balloon to me," said Yankees scout Roy Hamey, who was at the game. Bill Rigney, in the broadcast booth for the A's, also said it looked bigger.11
"It's much too early to say anything conclusively," Kuhn said. "The only thing I know for sure is that it's more difficult to autograph."12
The balls were used once more, in an exhibition on April 2 in Palm Springs, California, against the Angels, won 8-3 by the Athletics. It was just as poorly regarded as it was the previous week. "It reminded me of an Easter egg," Angels starter Clyde Wright said. "I wanted to hide it."13
The idea never had any further traction, but it became an intrinsic part of Finley's legend. When he was profiled as "Baseball's Super Showman" in Time magazine in 1975, the cover featured a backdrop of white and orange baseballs.
"There's probably a carton or two of them stored in the barn on Finley's farm," Los Angeles Times sportswriter Mike Penner wrote upon Finley's death in 1996.14
Notes
1 Clifford Kachline, "A's Boss Finley Strikes Out with Orange Baseball," The Sporting News, December 21, 1963: 18. In the fourth and final game of the 1963 World Series, the Dodgers scored what ultimately was the winning run when Pepitone lost sight of third baseman Clete Boyer's throw in the sea of white shirts in the crowd and it bounced into the grandstand. The batter, Junior Gilliam, went to third and then scored on a sacrifice fly.
2 Ibid.
3 Russell Schneider, "Schneider Around," Cleveland Plain Dealer, March 4, 1973: 2C.
4 "More Color Installed by Athletics," Santa Cruz (California) Sentinel, March 29, 1973: 20. Accessed online at ucr.edu.
5 "Alert Orange for Finley," Desert Sun (Palm Springs, California), March 3, 1973: A10. Accessed online at ucr.edu.
6 Russell Schneider, "Schneider Around," Cleveland Plain Dealer, March 30, 1973: 4D.
7 Bob Sudyk, "Orange Balls Get the Raspberry," Cleveland Press, March 30, 1973: D2.
8 Russell Schneider, "Orange Ball Makes Indians See Red," Cleveland Plain Dealer, March 30, 1973: 2D.
9 Ibid.
10 Russell Schneider, "Schneider Around," Cleveland Plain Dealer, March 31, 1973: 2D.
11 Schneider, "Schneider Around," March 30.
12 Ibid.
13 Braven Dyer, Associated Press, "A's Baseballs Fail Color Test," Desert Sun, April 3, 1973: A8. Accessed online at ucr.edu.
14 Mike Penner, "Finley Had a Ball, but Not Orange," Los Angeles Times, February 20, 1996. Accessed online at latimes.com/archives/la-xpm-1996-02-20-sp-37923-story.html.
Additional Stats
Cleveland Indians 11
Oakland Athletics 5
---
Rendezvous Park
Mesa, AZ
Corrections? Additions?
If you can help us improve this game story, contact us.
Tags
https://sabr.org/sites/default/files/Finley-Charles-orange-baseballs-Time.jpg
600
800
admin
/wp-content/uploads/2020/02/sabr_logo.png
admin
2019-06-09 23:56:15
2020-04-17 10:22:37
March 29, 1973: MLB experiments with Charlie Finley's orange baseballs