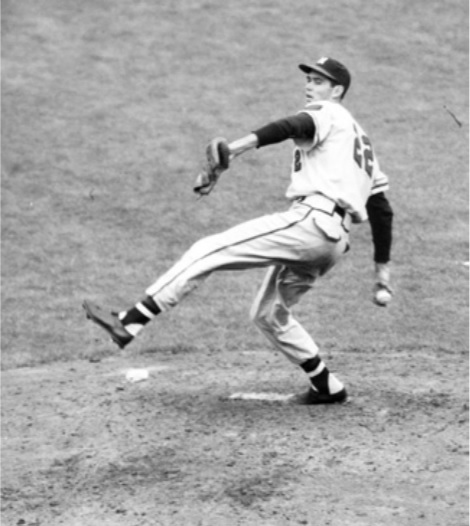 May 12, 1955: Crandall's walk-off homer in 12th gives Conley complete-game victory
---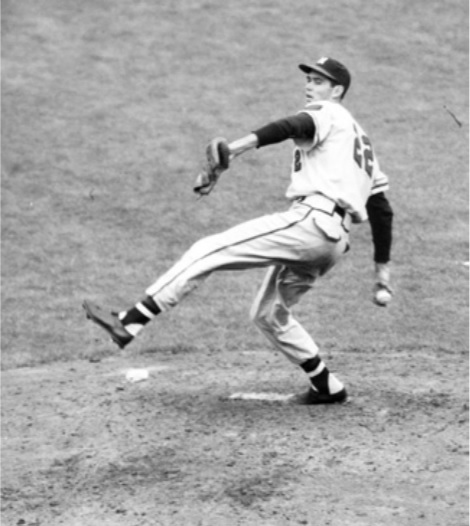 It was "my greatest thrill ever," said carrot-topped Del Crandall after launching a walk-off home run in the 12th inning to give the Milwaukee Braves a dramatic 2-1 victory over their arch-rival Brooklyn Dodgers.1 The 25-year-old backstop had been mired in a terrible slump, hitless in his last 23 at-bats, before his extra-inning heroics made a winner out of Gene Conley who tossed a complete-game six-hitter in a contest Red Thisted of the Milwaukee Sentinel described as a "sizzling engagement from the start, marked by superior pitching."2
Skipper Charlie Grimm's Braves had been playing inconsistently over the first four weeks of their third season in the Cream City since their relocation from Boston. Following losses in nine of 12 games, they had won four of their last five to improve to 13-12, good for third place, but already nine games behind streaking (and eventual pennant-winning) Brooklyn. The Dodgers had rolled over opposition thus far in the season. Catapulted by an 11-game winning streak that had ended the night before, Walter Alston's squad was 22-3 and enjoyed an 8½-game lead over the second-place New York Giants.
The pitching matchup featured two members of the 1954 NL All-Star team. Gene Conley, a towering 24-year-old, 6-foot-8 right-hander, seemed like an emerging star. He had won 14 games the previous campaign and was 3-1 so far in '55, just his second full season in the big leagues. The Dodgers' 28-year-old righty Carl Erskine, considered among the best hurlers in the NL, had posted a 68-39 record from 1951 through 1954, including a career-high 20 wins in 1953. With a 5-0 record and 1.43 ERA in '55, he was off to the best start in his career.
Just 10 days earlier, on May 2, Conley and Erskine were locked in a tense pitching duel at Ebbets Field. Both hurlers had held the opposition scoreless for 11 innings. After Erskine escaped a second-and-third, one-out jam in the 12th, Carl Furillo collected just the fourth hit of the game off Conley, but it was a game-winning two-run homer.
An overflowing crowd of 39,155 packed County Stadium on Thursday, May 12, hoping to see the Braves collect their first win of the season against the "Bums." Conley didn't seem quite as sharp as he had been on May 2 as he yielded a leadoff single to Jim Gilliam, who was promptly erased when Pee Wee Reese grounded into a double play. After Duke Snider singled, Conley whiffed Roy Campanella to end the frame. Following Erskine's 1-2-3 inning, 5-foot-7 Cuban-born Sandy Amoros led off the Brooklyn second with a single and then beat third baseman Eddie Mathews' throw on a force attempt at second base on Gil Hodges' grounder. After a failed bunt and a groundout, Conley ended the Dodgers' threat by fanning Erskine.
Henry Aaron, only 21 years old and emerging as an offensive threat in his second season, led off the bottom of the second with a solo blast (Braves beat writer Bob Wolf estimated that it traveled 450 feet) to begin what appeared to be a big inning.3 Andy Pafko singled, Joe Adcock walked, and both advanced a station on Erskine's wild pitch. But after Danny O'Connell grounded out , Crandall hit into what Wolf described as a "freak" double play when second baseman Junior Gilliam tagged Adcock and then fired a bullet to Campanella to nail Pafko at the plate.4
Erskine seemed on the "verge of being routed" in the third inning, wrote New York Times correspondent Roscoe McGowen.5 The Braves loaded the bases with one out, but Aaron lifted a pop fly to third baseman Jackie Robinson and Pakfo flied to left field to squander another excellent scoring opportunity. The Dodgers tied the score in the fourth when Amoros hit a 330-foot line-drive home run into the bleachers just inside the right-field foul pole.6
After Amoros's homer, Conley and Erskine kept the game scoreless until Crandall's decisive blast. The Braves managed only five singles from the fourth inning through the 11th, and no runner advanced beyond first base. After surrendering two singles in the sixth, Conley escaped a jam when Adcock leaped to pull down what McGowen described as a "hot liner" from Amoros and then doubled off Campanella to end the threat.7
Conley did not allow a hit in the final 6⅓ innings of the game. Feisty shortstop Johnny Logan made hitting even more difficult by occasionally waving his arms in an attempt to distract batters. McGowen, noting an especially egregious episode in the eighth inning with Snider at bat, reported that Logan's actions were in direct violation of rule 4.06 (b); however, the Dodgers players and coaching staff seemed unfazed and did not lodge a formal protest.8
The Dodgers best scoring opportunity came in the 11th inning. After Reese flied out to center fielder Billy Bruton for the first out, Snider hit a sharp grounder to the right of second baseman O'Connell, who made what Wolf described as a "miraculous fielding play."9 According to Thisted, O'Connell dove "headlong" toward Snider's grounder, "flagged the ball on the grass, rolled over and while on his back flipped it" to Adcock at first.10 "Danny's play on Snider in the 11th was the greatest I've ever seen," said Crandall ecstatically after the game.11 Conley issued walks to the next two batters and then Eddie Mathews booted Hodges' grounder to third, loading the bases. But Jackie Robinson, mired in a 4-for-29 slump, popped up to O'Connell for the third out.
After Conley set down the side in order in the 12th, Crandall led off the bottom of the frame against 23-year-old rookie reliever Ed Roebuck. Crandall belted the righty's second pitch over the 394-foot sign in left-center for a dramatic walk-off homer. "I didn't know how far the ball would go when I hit it," said the catcher. "When I rounded first I saw Snider running at top speed for the center-field fence. When I saw him place both hands on the wire fence I finally knew I had it."12
"[S]omething akin to delirium swept through the stands" as Crandall circled the bases, wrote Thisted.13 Wolf reported that Crandall "waved his arms in a hysterical salute to the equally hysterical crowd" and doffed his cap as he touched home plate to give the Braves a 2-1 victory in 3 hours and 3 minutes.14
In his "12 innings of heroics," Conley yielded only six hits, whiffed eight, and walked four in the longest outing of his eventual 11-year career.15 Conley earned his second of three All-Star berths in 1955; however, shoulder pain ended his season prematurely, in mid-August, with an 11-7 record. Erskine gave up nine hits and walked two in an 11-inning no-decision. After his hot start, he cooled down to finish 11-8 for the eventual World Series champs. Roebuck was collared with the first loss of his career.
Reporters gathered around the good-natured Crandall in the dressing room after the game. "Well, somebody had to give Conley a helping hand," he said jokingly between puffs on a celebratory cigar. "The old battery pulled this one out of the fire."16 Arguably the NL's best catcher, Crandall had gotten off to an alarmingly slow start, and entered the game batting .145. His game-winner was his first round-tripper since April 16 and his first RBI since April 20. "My big trouble has been taking my eye off the ball on the swing," Crandall said honestly. "I haven't been able to do anything about it until tonight."17
"[Roebuck] threw me a fastball low and outside," explained Crandall. "I must have done everything right."18 Crandall turned his season around and earned his third consecutive berth on the NL All-Star squad (he was named to eight All-Star teams from 1953 to 1962), and despite his early-season power outage finished with a career-high 26 homers.
This article appears in "From the Braves to the Brewers: Great Games and Exciting History at Milwaukee's County Stadium" (SABR, 2016), edited by Gregory H. Wolf. To read more stories from this book at the SABR Games Project, click here.
Notes
1 Bob Wolf, "Braves Nose Out Dodgers, 2-1, on Crandall's Homer in 12th. Conley Wins Mound Duel," Milwaukee Journal, May 13, 1955: 15.
2 Red Thisted, "Crandall Raps Homer in 12th; Braves Win, 2-1," Milwaukee Sentinel," May 13, 1955: Part 2, 2.
3 Wolf.
4 Ibid.
5 Roscoe McGowen, "Braves Down Dodgers: 39,155 See Brooks Bow in 12th on Home Run by Crandall, 2-1," New York Times, May 13, 1955: 28.
6 Ibid.
7 Ibid.
8 Ibid.
9 Wolf.
10 Thisted.
11 Sam Levy, "Crandall Celebrates Home Run With Cigar but Spurns Beer, Credit for Win," Milwaukee Journal, May 13, 1955: 1.
12 Ibid.
13 Thisted
14 Wolf.
15 Ibid.
16 Lou Chapman, "Didn't Think It'd Go Over – Del," Milwaukee Sentinel, May 13, 1955: Part 2, 3.
17 Ibid.
18 Ibid.
Additional Stats
Milwaukee Braves 2
Brooklyn Dodgers 1
---
County Stadium
Milwaukee, WI
Box Score + PBP:
Corrections? Additions?
If you can help us improve this game story, contact us.
Tags
https://sabr.org/sites/default/files/conley.jpg
600
800
admin
/wp-content/uploads/2020/02/sabr_logo.png
admin
2018-03-05 21:22:36
2020-04-17 10:24:53
May 12, 1955: Crandall's walk-off homer in 12th gives Conley complete-game victory